2020 has been a strange year for music in many ways. But of course it was always there in different forms. It's part of the human experience. My favourite album of the year was even a product of the corona lockdown and released as soon as May 19th. The first full lockdown of Denmark happened on March 11th, but of course Italy – where the album was recorded – was hit a month or two earlier. Other albums on my list released in 2020 are few. Most of the music I listened to was older – including a few entire discographies dating back to the 80s that were explored once again.
---
The new music that I remember the best from 2020…
---
Francesca Amati – Shelters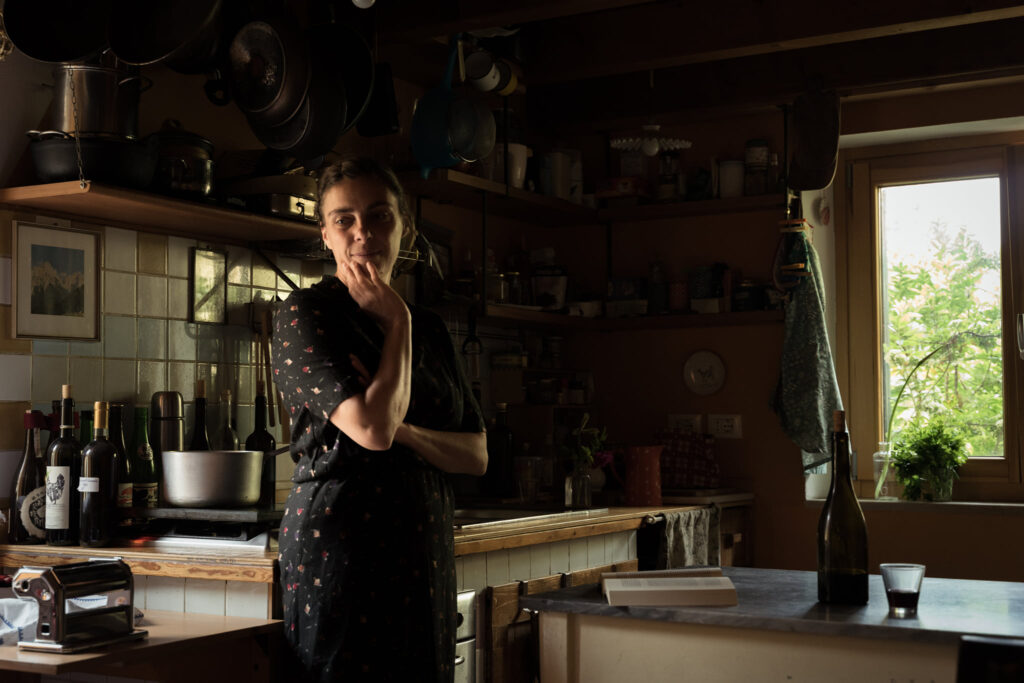 I discovered the Italian duo Comaneci at the Fanø Free Folk Festival in 2010 (here's my video from that) where their soft intensity struck an instant chord with me. Got to meet them back then and once more in Aarhus later to experience these wonderful people a bit outside their music. At the tenth Fanø Free Folk Festival in 2019 the band returned to the small Danish island of Fanø to play two great concerts at the festival – now as a trio with a drummer.
Then in 2020 corona happened and the band's singer Francesca Amati (also part of the band Amycanbe) posted on her Facebook page that she had recorded an album of cover songs at home. The only way to get it was by sending an e-mail to akamerecords@gmail.com and then pay 10 euro. A great way to support an amazing artist. But no streaming. Not even a download via Bandcamp. She wanted to "preserve the idea of a limited sharing". I only knew a few of the original songs before-hand (like "Come Wander" and "The Last Kind Words"). But Francesca manages to make the songs her own, so they feel more like original songs.
The titles are: Ain't No Lie, Come Wander, Dead Flowers, Halfway To A Threeway, I'm Satisfied, If I Could Only Be Sure, L'Appuntamento, Little Boxes, May This Be Love, Sunshine Girl, Surrounded By Diamonds, The Last Kind Words, Turn Me On, Worry, You Have To Be Joking. Do they ring a bell?
All recorded in an intimate setting which is clearly felt when listening. Kudos to recordist and fellow musician Mattia Coletti who managed to capture these songs perfectly. If you like quiet, acoustic songs with a soft voice that somehow at the same time contains a certain intensity, you should not hesitate to check out this album. And the only way is to send that e-mail. No window shopping.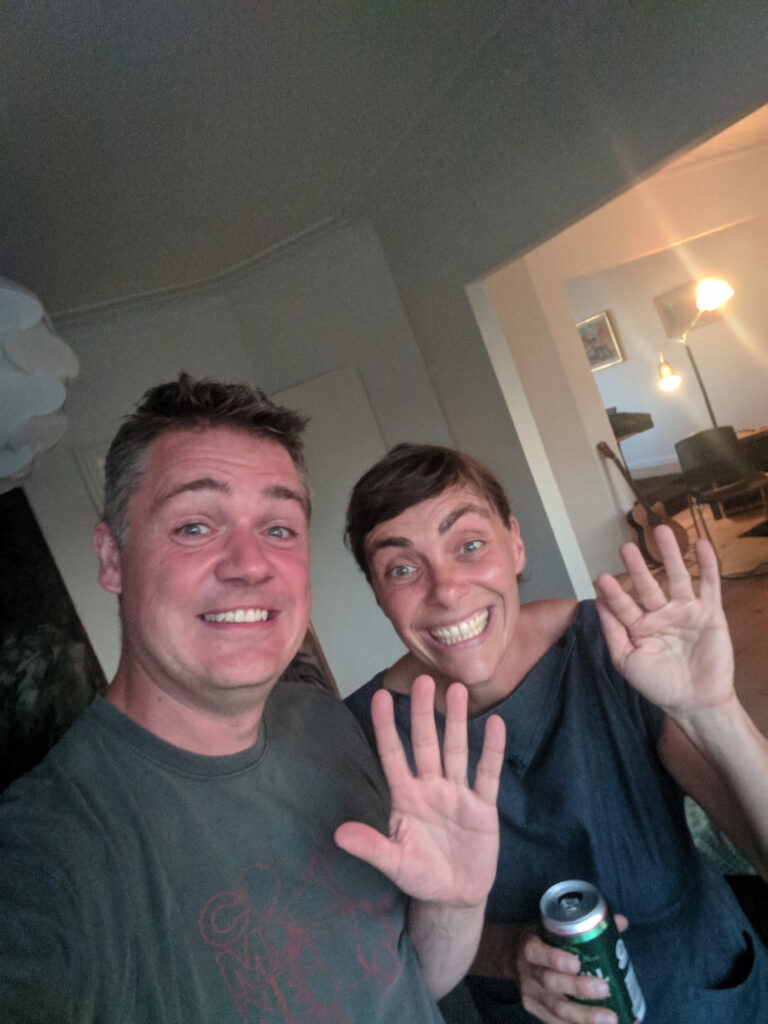 ---
Stick In The Wheel – Hold Fast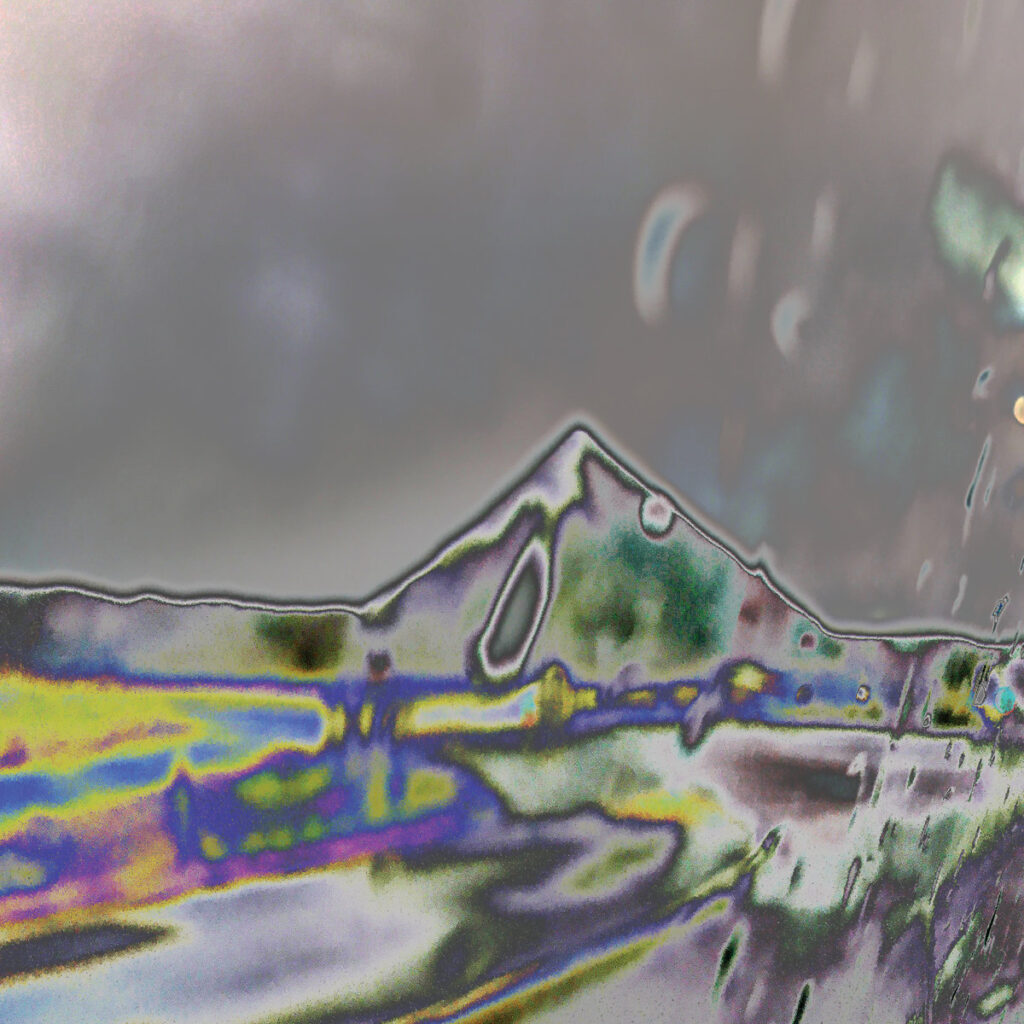 Yet another discovery from the Fanø Free Folk Festival. This time in 2019. Stick In The Wheel is a British folk group that manages to find a perfect balance between the traditional and the contemporary. They feel like they come from a different place than most in that genre. At Fanø they played a great gig with both melodic and repetitive songs with perfect looping folk-bluesy riffs.
The day after they took part in a talk where Nicola Kearey and Ian Carter of the band presented their "English Folk Field Recordings" project. Here it was sort of confirmed that they were not like most "folk musicians". Ian – who I had a nice chat with afterwards – revealed that his musical origins actually were in the British electronic rave scene. A fact making plenty of sense hearing "Hold Fast", released in 2020, which besides acoustic guitar etc. also includes four-on-the-floor beats, synths and even autotune/vocoder vocals (and hallelujah, the vocals don't suck because of it! A rare event). Yet… it does not sound like "techno". They have hit the mark with their own flavour and I see they also deservedly have the raving (ha!) album reviews to prove it. I don't understand the album cover, I must admit, but it doesn't take away from the music. Stream and/or buy it at Bandcamp or any good music vendor.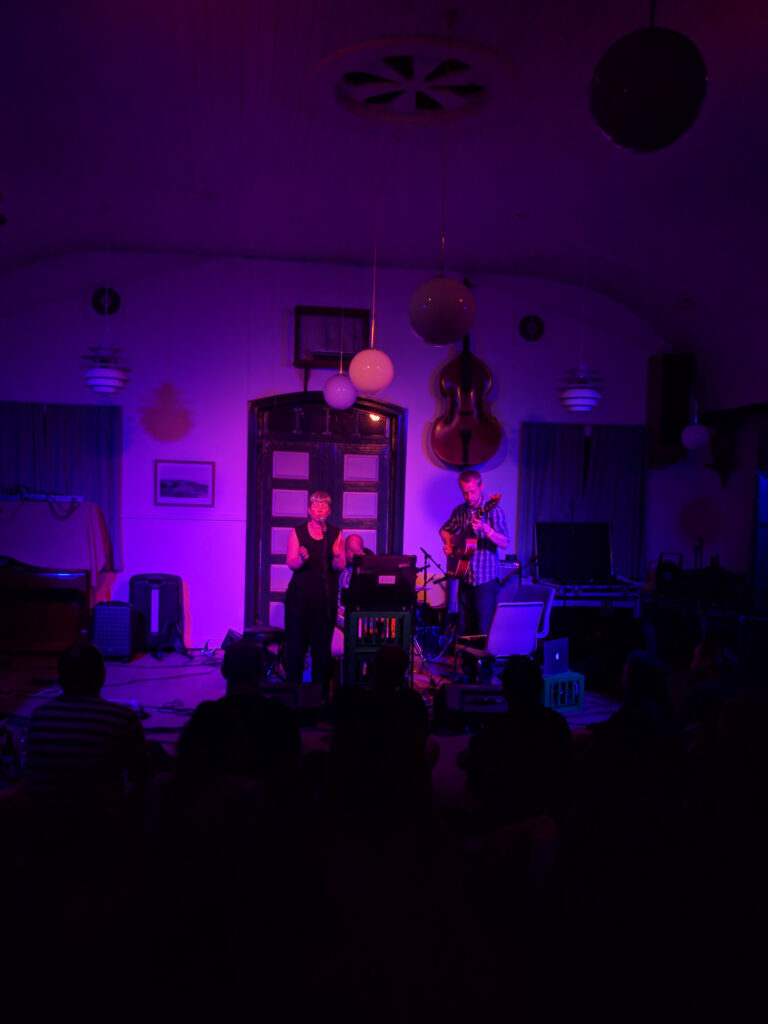 ---
Aphty Khéa – Alerta (Digital Single)
In 2020 I for a short moment revived my bluetooth radio Libratone Zipp Mini (possibly the single most incessantly frustrating piece of technology I have ever owned). Exploring the seemingly infinite number of radio stations around the world. Tuning into some small station in deep Africa or far Asia for a laugh, but then remembering the UK urban dance station Rinse FM.
In one of their programmes one track made me stop in my tracks. Completely. Berlin-based female Greek electronic artist Aphty Khéa's "Alerta". A beat that went in all the other directions than the usual tired electronica traits and with a ghostly melody. Felt very unique. Couldn't make out the words. Soon discovered it was a political track – as is very evident in the music video for it (but I suggest experiencing the sound first without the imagery, because it colors it). For some reason it got me thinking of German-Venezualan musician Niobe because of the worldly flavours weaved in.
The proceeds made from the track sold on Bandcamp goes to the Legal Aid Team, "a solidarity collective of pro-bono activist lawyers based in Athens, who take on the court cases of detained protesters and victims of police repression."
---
This Is The Kit – Off Off On
My own discovery of UK folk band This Is The Kit is a bit of a peculiar journey. I blame the band name. I remember reading an interesting description of them on the Aarhus venue Atlas' website in the spring of 2018 and went to check them out. Great gig. Sounded a little familiar in places. Then it dawned on me that I had already seen them at the Haven Festival in Copenhagen in the summer of 2017. Was the name too odd to stick in my head? Or maybe I just experienced too many festival bands at once. At Atlas I also felt that the backing vocalist and bass player seemed familiar. The reason was that I had seen her solo at the wonderful Down By The River Festival in Berlin in the summer of 2014. Rozi Plain. It's all connected, ha-ha!
This Is The Kit's new album "Off Off On" continues to finetune the bands recognizable sound. Electric guitar, banjo, occasional repetitive rhythms that border on krautrock while still keeping it somewhat folky based around Kate Stables great voice (and Rozi to back her up). Their previous album "Moonshine Freeze" from 2017 is still my favourite of theirs, but there are plenty of reasons to check out their new one. Stream and/or get it at Bandcamp.
---
PJ Harvey – Various demo releases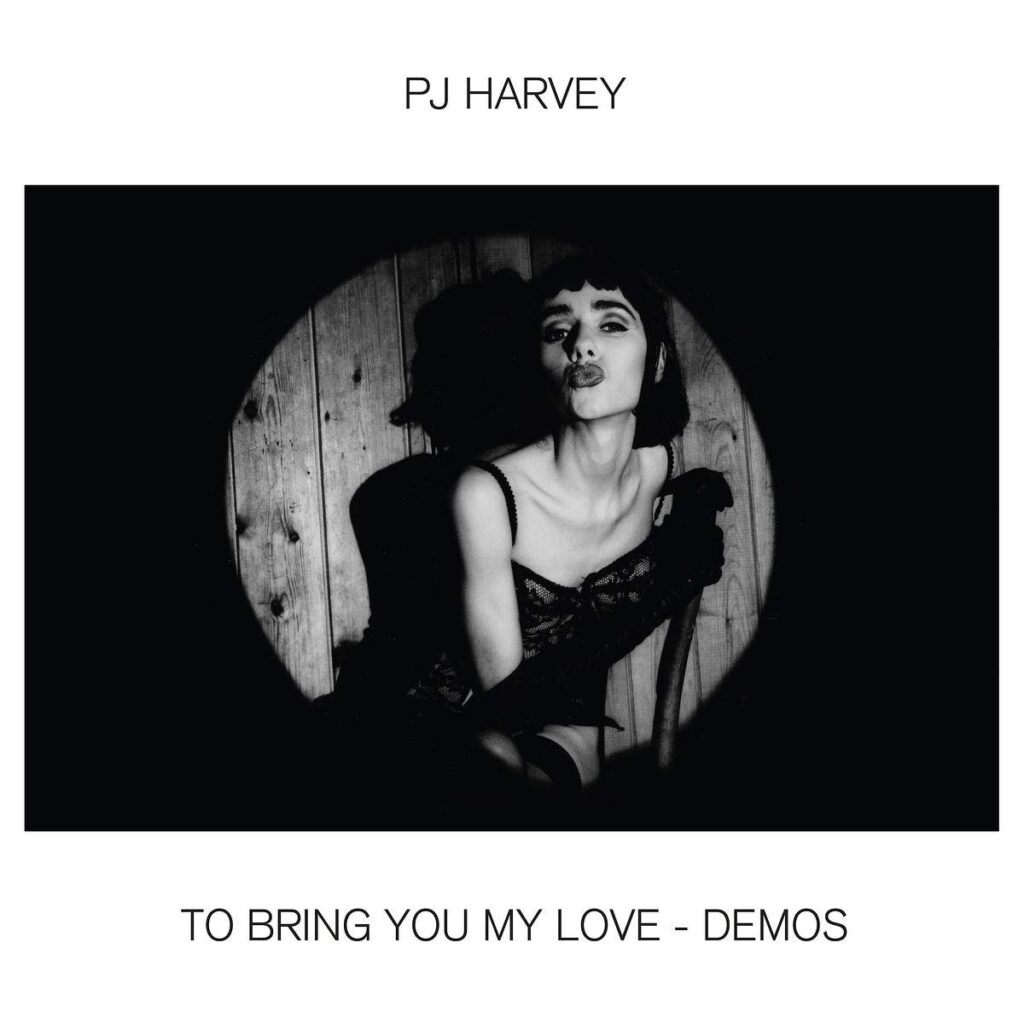 2020 was a retrospective year for Polly Jean Harvey and her fans. We finally, finally saw the much needed vinyl reissue of "Rid Of Me". We are currently somewhere in the middle of this ongoing reissue project that seems to follow the model of releasing the regular album (apparently not remastered?) and then an extra album of demos. Offering such extra insight into an artist of this caliber is always interesting. Intimate treasures well worth checking out. Also, I'm a sucker for things less polished and more immediate.
What we could wish for now is a collection of all her b-sides (I already have three collections of those on bootleg vinyl, because I cannot get the originals without going broke).
---
David Bowie – ChangesNowBowie
This came out officially in 2020 as part of Record Store Day, but actually I have been listening to this one since 1997. I remember taping it off the radio on my ghettoblaster when I lived in London for six months in 1996-1997 hence catching his 50th birthday which was celebrated in various ways. One such event was this wonderful acoustic session. Bootlegs of this have circulated for years. Some of which I already have. None with the great interviews between the songs, though. But those can be found online fairly easy. This official release does not have those either, but the sound is a bit better than the bootlegs, so worth getting your hands on.
2020 was also the year I finally got my big "Lazarus" bus stop-size theater poster framed and hung on the wall. So now Uncle David is watching over us.
---
Jan Sneum – Sneums Kalejdoskop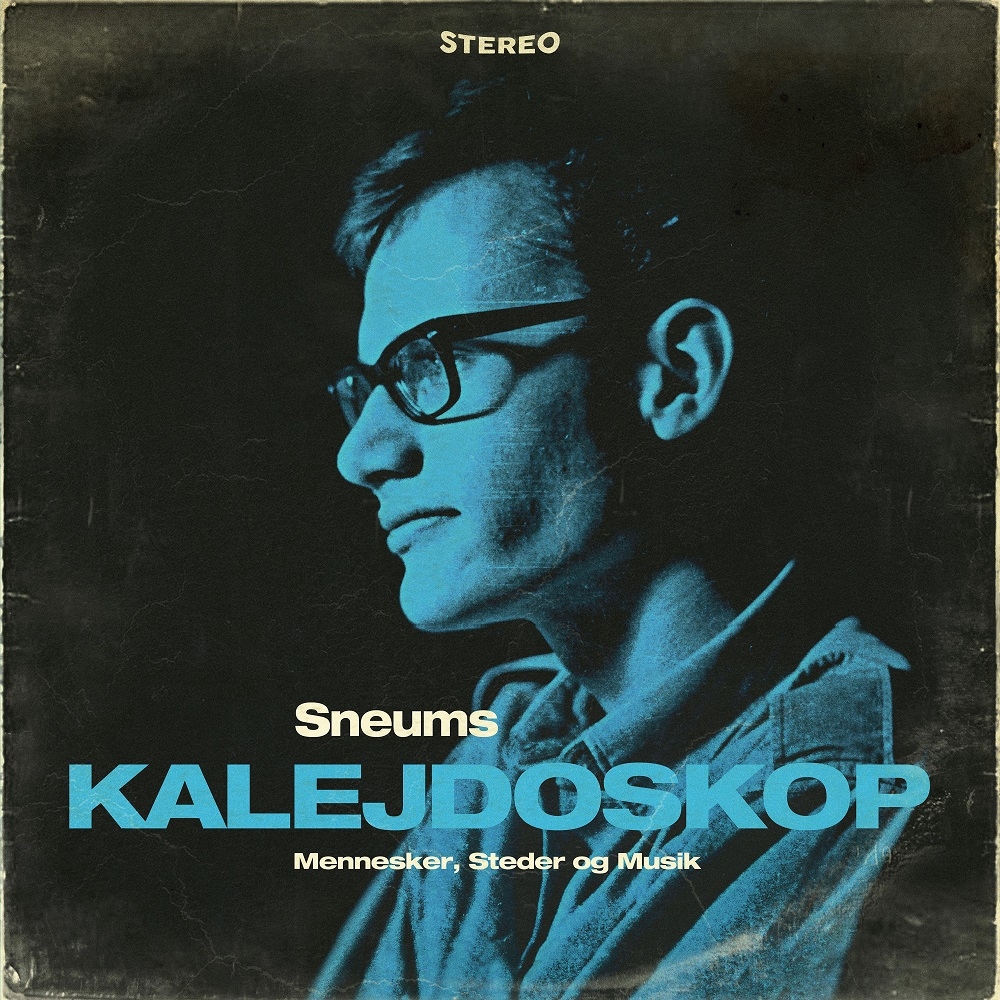 2020 was the year that we lost one of the most important champions of new talent – radio broadcaster Jan Sneum. For anyone outside Denmark the easy explanation is quoting whoever said that he was "the Danish John Peel". Even though it was no surprise when it happened, as he had been battling terminal cancer for a while, I was saddened by his passing. Many were. In a superficial music and media business he was the real deal. The kindest person you can imagine and always genuinely curious about new music – including things from my small record label SOPA.
We crossed paths several times over the years and I fondly remember one such encounter at the Spot Festival one year where he had missed an off-festival gig with Sister Chain & Brother John the previous year, but he then told me that he had saved one of the nice posters we had put up and hung it on his wall at home. How sweet. More than once I saw him walking around the Spot Festival – crate diggin' at the Route 66 / Black Light record store – with his fellow music journalist pal David Fricke of Rolling Stone Magazine.
Before he left he managed to produce a mammoth memoir – "Sneums Kalejdoskop" – chronicling his life with music since the early days interviewing rock stars and discovering new talent. Shooting lots of photos along the way as well. Documenting the early punk days in Denmark and much more.
I missed out on the first printing of the book which included a double LP with interviews chosen by himself mixed with newer Danish experimental music. Interesting chats with Lydia Lynch, Iggy Pop and many more. Luckily a second printing of the book was made after the first sold out. It only includes a download instead of LPs, but still a great piece of work. The warmth of both the analogue tape interviews (recorded in grassy corners of the Roskilde Festival) and Jan's personality oozes from this release. A legend.
Thank you, Jan!
Buy the book and listen to the interviews at Bandcamp.
Here is a nice review in Danish of the project.
---
The music I most remember listening to in 2020 was not made in that year…
There was a lot of material in Underworld's "Drift Series" 8-disc box set released in November of 2019 so it took a while for me to get through. And their batting average was pretty good on this one, so I kept listening to many of these tracks. From there on I zipped back and forth through their discography all the way back to "Dubnobasswithmyheadman". But finally deciding that "Second Toughest In The Infants" is probably my favourite album with the band. That's when I started listening to them and I was blown away by them at the Roskilde Festival in 1996.
I always listen to the Beastie Boys, but 2020 was the year where I dug even deeper in their full discography and rediscovered nice nuggets in the forgotten corners and found lots of inspiration.
In 2020 I also revisited some of Goldie, checked out that old grungy "Purple" by Stone Temple Pilots again, discovered Arab Strap-frontman Aidan Moffat's Bandcamp page full of weird little releases as well as seeking out more 80s synth sounds from Mark Isham (like "Vapor Drawings").
In 2020 David Byrne also went to Broadway with his "American Utopia" show – which I saw live at the Roskilde Festival in 2018 – and then brought a movie version to HBO and blu-ray. I have yet to sit down and watch the whole thing, but I am really looking forward.
---
Stuff that I probably will start digging more in 2021, because I came late to it in 2020…
Jeffrey Lewis & The Voltage – Bad Wiring (2019)
Discovered his hilarious and spot-on song "LPs" (I can relate!) on a Rough Trade compilation I bought to get a track by Sinéad O'Brien which I couldn't get anywhere else by now. Jeffrey has a nice direct and humorous style which goes a bit against a lot of what I listen to. Nice with some good vibes and energy for once.
Sinéad O'Brien – Drowning In Blessings EP (2020/2021)
Only a few limited vinyl EPs and singles released so far. I have discovered her one year too late to get my hands on them. I hope some of those tracks will show up on an eventual album release (but I bet they won't). Was intrigued by the title track of the current EP. I do fear that I might tire of her quickly, as the style seems a bit one-trick sonically (yes, I know, she's presented as a poet, so I should listen more to the words) and I have a problem with too much self-importance… and "poets" often land in that box quicker than most. But let's see. Yet another discovery through the Norman Records newsletter. Music video.
Alabaster dePlume – To Cy & Lee: Instrumentals Vol. 1 (2020)
Has the same saxophone sound as the Ethiopian jazz of the 60s and a smidge of those melody as well, but overall it's more like instrumental folk music – yet, not really. I believe I came to the label behind this release via an EP project involving Rozi Plain. The album can be streamed and bought through Bandcamp – still the best place to get interesting new music and support artists properly.
Takashi Inagaki – Music for the Films of Takashi Ito (2020)
Discovered this through the Norman Records newsletter and I had to buy it fast as it was limited to 250 copies (and no digital release, it seems). First I checked out Ito's short analogue art films and they blew my mind (check out "Thunder" and "Wall"). Quickly ordered a dvd of them and then the double LP of the soundtracks from Bandcamp. A double discovery!
David Bowie: Ouvrez Le Chien (Live Dallas 95) (2020)
David Bowie: No Trendy Réchauffé (Live Birmingham 95) (2020)
At least some good is coming out of the somewhat shameless pillaging of Bowie's remains and flogging them at inflated prices. I thought he had prepared it all, so Iman could take care of his legacy to preserve it with dignity – but the minute his ashes (to ashes) were scattered in Bali the madness started. Did not expect that. Luckily a few (very few!) of the releases have been interesting enough to buy. As "Outside" is a criminally overlooked masterpiece in my humble opinion, I welcome more material from that time. But will we ever get the full improvised sessions? Tracklists: "Dallas" and "Birmingham" at Discogs.
The Birthday Party – various releases
I came to Nick Cave late. Knew him and some songs, but didn't see a full concert with him until his "Push The Sky Away" tour. Then I got him. Bought most of it, but never made it all the way back to The Birthday Party days, because what little I had heard just sounded like a badly recorded punk band. Cut to: Seeing the "Stranger Than Kindness" exhibition in Copenhagen. And me going… Oooh, it's actually not that noisy. And picking up some needed context from the exhibition on the way. So now I've got some early Cave to catch up on in 2021.
Brian Eno – Film Music 1976-2020 (2020)
Got a lot of his stuff which I have been into since discovering "Nerve Net" back in 1992. But it's a bit hit and miss with his discography from them on. But nice with a collection from his actual soundtracks (and not just imaginary ones). I've always liked his "Prophecy Theme" from Dune (and yes, I like the movie too. Shoot me).
Field Music – Making a New World (2020)
The name rang a bell. Maybe I had checked them out years ago without doing it properly. Stumbled on their latest album and thought it was interesting. Pop plus kraut? Don't know if it's a grower. Only time will tell. Have a listen at Bandcamp.
---
Albums released in 2020 that I thought I'd listen more to, but didn't for some reason…
Too much music, too little time, I guess. And the time and mood has to be right for the music too.
Idles – Ultra Mono
Run The Jewels – RTJ4
Nihiloxica – Kaloli
Sufjan Stevens & Lowell Brams – Aporia
---
Albums I thought were released in 2020, but weren't…
Time sure flies.
Nick Cave & The Bad Seeds – Ghosteen (October 2019)
Iggy Pop – Free (September 2019)
Idles – A Beautiful Thing: Live at Le Bataclan (December 2019)
---
A challenging year for concerts…
Denmark was officially shut down by corona restrictions on March 11th. In the late summer restrictions were eased and smaller events with safe distance etc. were allowed. And then we had our second total shutdown in early December.
In that brief summer/fall moment some crafty folks tried drive-in concerts and "sit-down-nicely" concerts, but those concepts didn't really interest me. Luckily my focus is usually concerts that are already small enough to work within the restrictions. And for some reason most of the ones attended within that window had relation to Aarhus-based songwriter and rock musician Andreas Hansn. The first concert I attended was the ironically named Rådne Lunger (Rotten Lungs) outside on the harbour. Other shows in that period were – besides more Rådne Lunger in gig space that felt a bit too tight for "corona comfort" – also a one-off A.K. Hansn / Per Hoier gig and a couple with his main band Singvogel. All great shows.
One other concert I attended was Katrine Stochholm. I released her first album on my label a few years ago and this year she signed with Hun Solo Records – the perfect place for her and her music. And then me and my girlfriend went to the island of Fanø where the cancelled Fanø Free Folk Festival was supposed to have happened. A small garden party was held there instead featuring amongst others Per Hoier (synth wizard on acoustic guitar) and Cecilie Illemann.
The postponed concerts with Underworld and Nick Cave (which I had tickets for) were ultimately cancelled. I did get a taste of Nick Cave this year with the amazing "Stranger Than Kindness" exhibition in Copenhagen – after first having that cancelled as well during the first lockdown, but luckily later rebooking it.
---
Not quite concerts, but nevertheless…
While not concerts as such I – via my job – attended several dance performances this year. Movement on stage is live, but the music is usually playback. I mention these as they have also been the source of musical discovery for me this year.
From Fabio Liberti's "We Are Present" which used tracks from Thom Yorke's "Anima" album (among them "Traffic") as well as tracks submitted by the audience before. The performance made me finally check out Stars Of The Lid more – specifically their "And Their Refinement Of The Decline" album.
Igor & Moreno's performance "BEAT" was a set-up with a dancer, a light designer and a DJ all more or less improvising to the movement. Once track stood out in a DJ set (by DJ Martha) that was great all the way through: "Rubble" by Pearson Sound.
HIMHERANDIT Productions' "Mass Effect" made really good use of The Knife's "Full of Fire" in a high energy and utterly captivating performance (I made a video teaser for the performance – but from the parts without music).
In Fabio Liberti and Emanuele Rosa's "As If, I Have Missed Myself" the sound was original and made for the piece by Per-Henrik Mäenpää. Great stuff, which per my suggestion was made available for download at Bandcamp. Very nice!
---
What a year, eh? But music of course is still here. Always will be. It's as natural to humans as breathing. So let's hope we can keep on doing that.
Here's to a 2021 full of more music!
Lars