Blog Archive





The writings below are from my blog about music films, "It Looks Like Sound To Me", on Blogspot.com from June 2012 to August 2016.



Saturday, August 6, 2016
#15 Scratch (2001)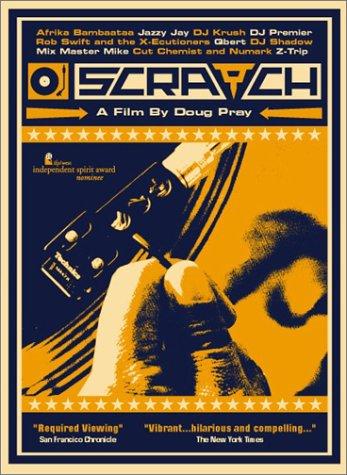 It took a while, but I finally managed to pop the dvds from the "Scratch" / "Freestyle" double-box in the player. First up was "Scratch". A 15 year old film by now, but the enthusiasm and talent in it will never get old. What a joy seeing folks like Mixmaster Mike cutting it with a playfulness and inventiveness that in a way defies expectations of what is possible on a somewhat limited "instrument".

Not being part of the scene - living on the other side of the planet - I would have a hard time being informed on every single player in it. Also, I'm not even part of the "local scene" in Denmark. I do know several of them, the obvious being the likes of Afrika Bambaata, Mixmaster Mike, Qbert and DJ Shadow. The good thing is that the film serves as a great introduction to a whole line of other talents (and obviously, much has happened since 2001). Known or presumably pretty unknown.

The film knows it also has an educational purpose, so both history and techniques in scratching is explored. Sets a few facts straight and help the rest of us get a bit wiser on the artform. Still, of course mystery triggers creativity. Like the film exemplifies in an interview where Mixmaster Mike tells the story of the first time he heard the sound of scratching - without seeing it. He ended up recreating it on his tape recorder. There you go, he-he.

The music you take in in your teens stays with you forever. For me that was back in 1989-1991 with acts like Public Enemy, Beastie Boys and De La Soul etc. when these reached Danish shores. When it all went gangsta and bling with stupid aggression and superficiality I lost interest. The fire was rekindled around 2003 or so when I heard the album "Sloppy Doctor" by Bleubird. Although I was in on DJ Shadow's "Endtroducing" from the start in 1996, but I guess it spoke just as much to my taste for instrumental music then. Around 2003 I also got into the more progressive stuff from the Anticon label. I finally discovered that the genre still had plenty to offer.

Upon relistening the oldies I used to have on home-copied tapes I found that I still remembered every note, break and word (or the sound of the word). This time I even understood the lyrics! Sure, I sensed the lunacy in the Beasties and rage and urgency in Public Enemy, but the details were mostly lost on me first time around. Now I could appreciate it all over again. I was just a young countryside suburban middle class kid when rap and hip-hop first hit the world in all its creative glory. But it's stayed with me ever since. Which is partly why I of course enjoy a film such as "Scratch".

The films comes as a special edition 2-disc set in the box alongside "Freestyle" (so that's three discs in total). Disc 2 has various instructional extras and previous of other things. It also says it's a digitally restored widescreen transfer. Still, the film is a bit lo-fi... and probably all the more better for it. Keep it real, right?


Indsendt af Lars Kjær Dideriksen kl. 18:35
Monday, May 5, 2014
#14 A Band Called Death (2012)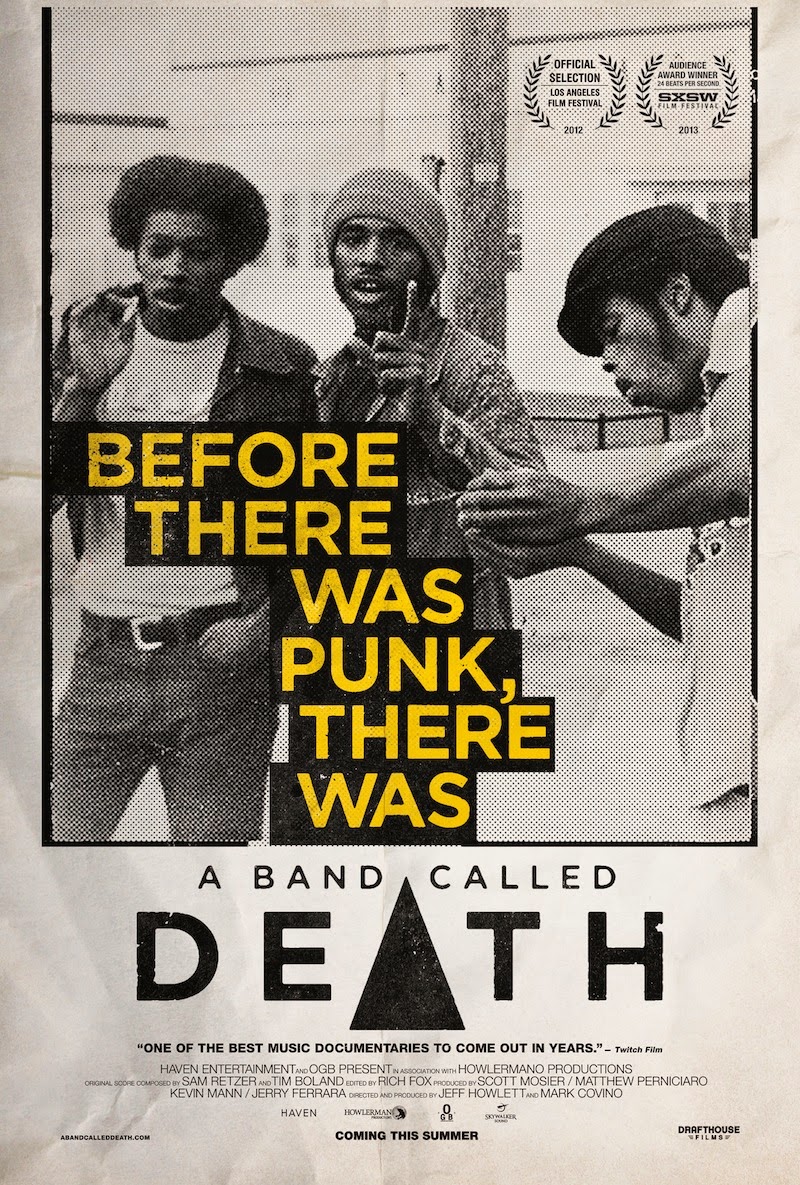 It seems there was always someone doing something before that someone you thought did it first... did it (is that even a sentence?). And the art of tracking the punk rock genre back further and further has become a bit of a sport. Now someone claims it to be a band called Death. And depending on how you label your music they were the earliest ones - that is, if you call Iggy & The Stooges "proto punk" instead of "punk", for instance. Anyways... one of the things that made Death special was that it was an all black band... playing "white boy music". And their name.

I saw "A Band Called Death" at the recent Spot Film Festival in Aarhus, Denmark. The film tells the story of three young black brothers inspired by The Who recording an album's worth of material - but only cutting a single - in the early 70s and not going anywhere with it (I'm wondering: They rehearsed, they recorded, but we never really hear of live shows. Maybe that was the problem?). Presumably they got turned down mostly because of their name. After years of rejection the band drifts apart and... yes, you guessed it: Many years later someone finds a 7-inch and before you know it you got a proper underground record geek hype on your hands.

In the film the two surviving brothers are sad about the loss of their brother, but seem very happy to finally tell their story. It does get a bit tiresome having them show you around saying: This is where we did this and this is where we did that, as if it all had significant meaning. And in true American fashion they of course "get the band back together" and go out and play again. But only after the film spends a lot of time telling their story. Maybe a bit too much, as it gets a bit longwinded after a while. But the protagonists in the story are genuine characters and very likable. Sweet old reggae musicians, actually. But the attention on the people themselves does overshadow the actual music. They cut a few good tracks. And maybe was punk before punk. But the film tries to cut the punk-before-punk angle so sharp that one wishes the director would ease off it a bit.

The story is the classic one of "overlooked genius" (not quite sure, but I'll go with "talented"). And the film tells it in the most formulaic way. And this is where the movie doesn't deliver completely. Both the subject matter and the way the film decides to present it is just too predictable. Overall the production is nice and professional, though. And yes, it's enjoyable. Producers of course couldn't resist the sensationalism. And therefore after the viewing the feeling is a bit flat. But if you love a "classic" rock'n'roll story, by all means, check it out.



Indsendt af Lars Kjær Dideriksen kl. 19:39
Etiketter: a band called death, black music, Detroit, music, music documentary, punk, rock music
Tuesday, January 14, 2014
#13 Talking Heads: Chronology (2011)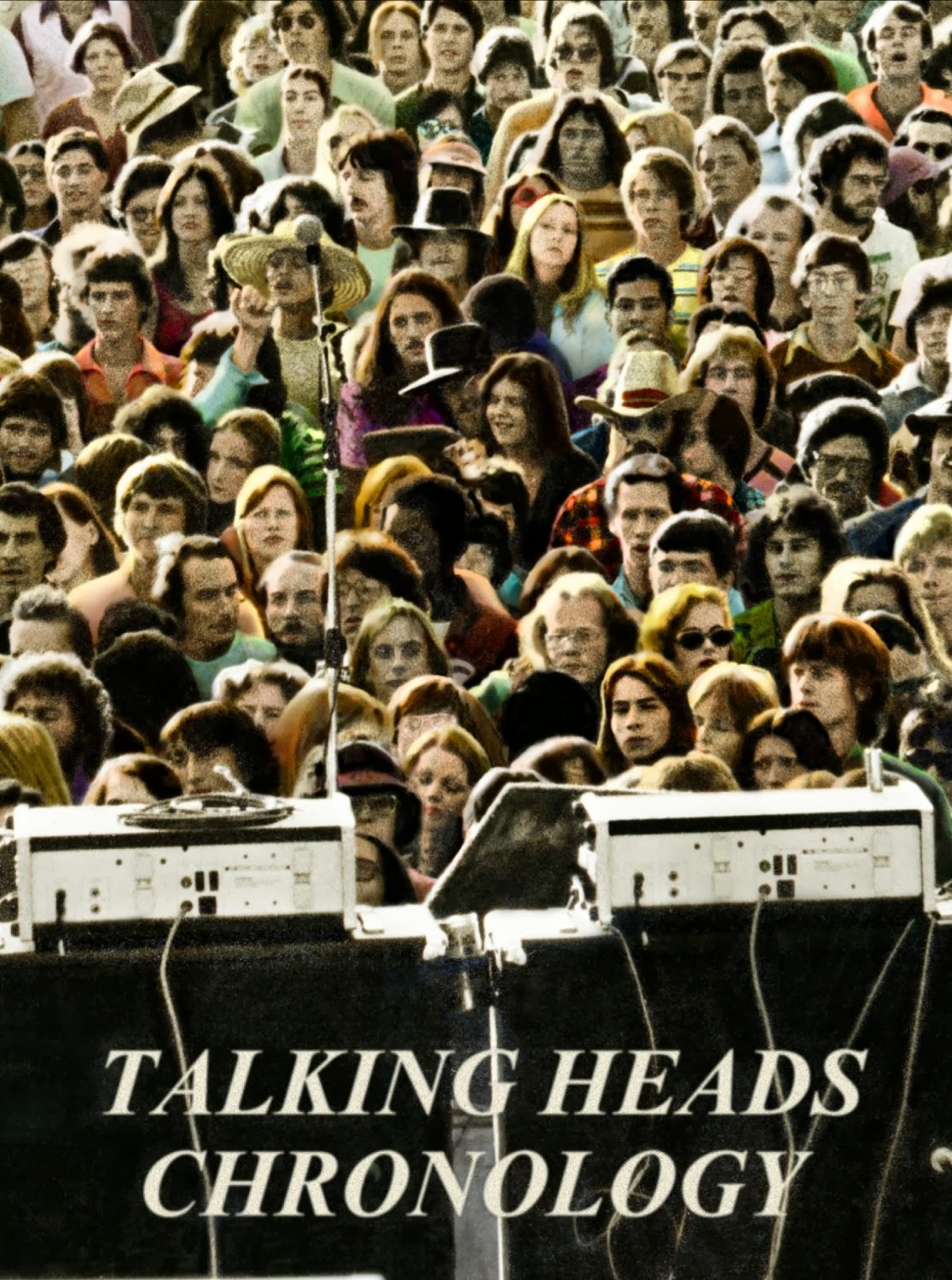 I really like Talking Heads. But I came late to the band, as I was actually born in the year of some of the earliest footage on this dvd. Still, considering that I like this music now and didn't listen to it back then, I think it clearly shows its staying power. You didn't have to
be
there at the time to enjoy it. It's got more going for it than nostalgia. Lead singer David Byrne is still at it today at 61 with both music, books and art installations. All the while still giving off a vibe of being probably the most decent and likable man in the "rock biz". And yes, I think "Stop Making Sense" is one of the best concert films ever.
While "Stop Making Sense" was an amazing looking
film
, the material on this dvd is much different, but no less interesting. In short: The dvd is a collection of live performances and it takes its title quite literal. It starts at the band's humble beginnings in 1975. Back when phones didn't have video cameras and were not even mobile. When it took extra effort to capture bands on film. But luckily it did happen from time to time. There are songs filmed more or less bootleg style, but also tv footage. The dvd covers their entire career and you see how the film quality improves as the years go by, the venues get bigger and the band grows with additional musicians. And of course their musical development as well.
It feels like a historical document and it's nicely "objective" in its presentation. Besides the illuminating commentary done by the band (obviously not sitting in the same room while doing it) the dvd is free of any know-it-all retrospection. It's presented as-is.
The live collection is 66 minutes long. The bonus material is a 35 minute tv programme (The South Bank Show) and a 9 minute interview with David Byrne - delightfully quirky as he was back then. Not that at ease with the whole situation.
Getting down to brass tax: This collection is a treasure trove for any Talking Heads fan. The varied footage quality just adds to the mood of the whole thing. It has a nice "analogue" feel to it despite it being a dvd (just as "Stop Making Sense" has even on blu-ray).
There is both a standard and deluxe edition of this dvd. The standard also has the bonus material, but the deluxe is constructed as a book containing photos and a long written piece by legendary Rolling Stone music writer Lester Bangs done it 1979. All in all, a real treat. Check it out!
For additional viewing I would - besides "Stop Making Sense" - recommend David Byrne's other film projects, but also the more recent feature film "
This Must Be the Place
" by director Paolo Sorrentino - starring Sean Penn and with a major cameo by Byrne himself. An odd film, but one that's beautiful and moving and which feels like a painting in motion.

Sunday, January 12, 2014
#12 Low In Europe (2004)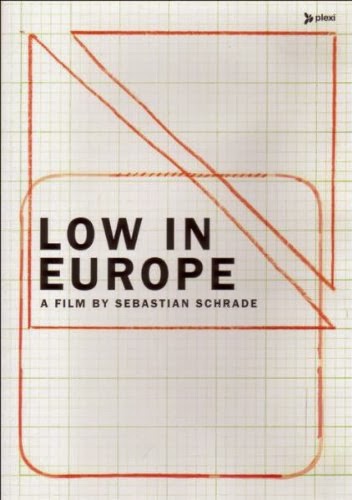 I must admit I don't listen to Low as much as I used to. Taste changes and so do bands. But I still count the band's 1999 album "
Secret Name
" among my all time favourites. For an independent American rock band they have been fairly successful with their trademark slower-than-slow music rich with chiming guitars, hushed drumming and beautiful vocal harmonies.
A handful of years after "Secret Name" director Sebastian Schrade followed the band on tour for their shows in Germany and the UK. The result was a nice little 50 minute film.
It's a film from around when filmmaking was beginning to enjoy the same democratization of the medium as music had. Decent technology becoming available to the masses. In the last 5 to 10 years more and more independent documentaries have come out. Many with focus on music. Of course the sheer mass of material explodes and the quality varies.
"Low In Europe" is released through
Plexifilm
which has an impressive catalogue of fantastic documentaries. This film, though, doesn't feel quite up to scratch with the rest at Plexi. Maybe it has an easier time because it was the first film about Low (not counting the video material on their box set dvd from 2004). It feels like a "fan made" film. It mixes interview bits from hotel rooms, radio PR and backstage rooms with footage from the tour bus and from the shows. Not much else.
Visually the film is not so imaginative and soundwise it doesn't impress either. This in the concert footage where the sounds levels are a bit off. Sometimes the bass is inaudible, but vocals loud. Considering the few instruments played it should have been doable. But capturing things on the fly on tour can be hard. Needs lots of planning.
On the plus side - besides the good music - the band seems willing to give the film makers access, which is crucial. The interviews are pretty basic (about songwriting, sound, touring, politics etc.), but since this was the first film on the band that's excusable. The film makers could probably have benefitted from gathering more material, but there probably wasn't time on tour. It feels a bit rushed.
Still, for a 50 minute introduction to the band it's a good film. It might not be super exciting for people not familiar with the band, but for fans it will definitely be enjoyable. I liked it. There is some nice footage from the beautiful Union Chapel venue in London at the end of the film.
In retrospect the film has been devalued a bit by the fact another Low film called "You May Need A Murderer" was made later. It has a more professional feel to it and the film makers probably had more time and access for the job. I'll write about that one another time.
The dvd also includes bonus material in the form of radio show live recordings with an interview set to tour footage.



/ Lars

Official film website - IMDB - Amazon - Play



Indsendt af Lars Kjær Dideriksen kl. 18:09

Etiketter: Films, Low, Low In Europe, music documentary, Plexi, Plexifilms, tour
Sunday, December 1, 2013
Watch "First You Close Your Eyes" online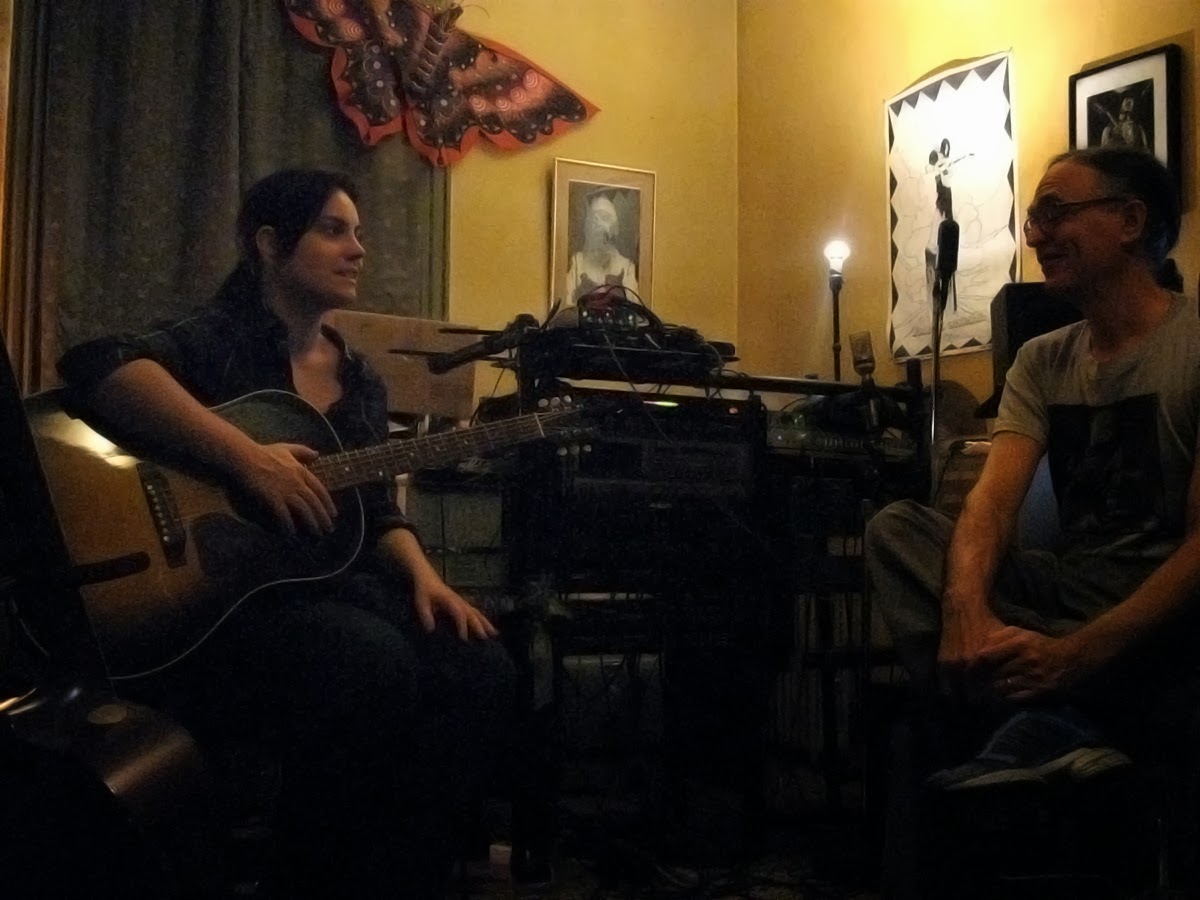 This blog is not a personal blog like so many others. It's about music films. Today the lines blur a little. Today December 1st my music documentary is being "set free" online. It was shown at the Spot Film Festival earlier this year - which also happened to be in my favourite cinema Øst For Paradis (East Of Eden) in Aarhus.

The film "First You Close Your Eyes - Five Days In The Abyss" is about the making of the album called "The Abyss" by Danish singer Esther Maria in New York. Working hard for five days with her musical partner Torsten Stistrup Cubel and the legendary independent musician and producer Kramer (Low, Galaxie 500, Urge Overkill, Daniel Johnston, 22 Pistepirkko) they managed to record most of the album. It was a big project for me to do the film, but I was - and still am - very happy with the end result. The film turned out quite close to my original idea, which I am proud of.

I think the film - besides showing the origin of the album - also sheds some light on Kramer's philosophy on music recording and creation. It somewhat demystifies parts of the process and lets you see how little it takes tech-wise to do this. But at the same time it also clearly reveals how important it is to have years of experience and an uncompromising attitude to music that surely comes from a love of pure art.

Seeing as we now enter the christmas month the band and I figured we would give everyone a little present: The whole 30 minute movie streamed online. You can do that from either the film's website - where you will also find outtakes, videoblogs, an online book and other things - or straight from YouTube.

Please note: Part of the recordings took place in a dark environment and the clarity of the image greatly improves if you set YouTube's streaming quality to one of the HD settings. Also: There are subtitles in both English and Danish. Just click to turn on the captions.

Enjoy!

/ Lars
Indsendt af Lars Kjær Dideriksen kl. 11:24
Etiketter: album recording, Esther Maria, First You Close Your Eyes, Kramer, Mark Kramer, New York, Shimmy Disc, TriBeCa
Saturday, November 23, 2013
From 2013 to 2014 - a quick look in the bag
Maybe it is time to diversify a bit on this blog and not only write reviews. But of course... it will still all be about music films. December is coming up and every website known to man will do their top-whatever to sum up the year. This is not such a list.

While
IMDB's list of "Most Popular Music Documentaries"
reveals the flavor of the moment - you know them, Justin Bieber, Katy Perry, One Direction and the rest of their ilk - it's still a nice list to trail through. Some oldies are still on it and also more recent ones that did well. Provided me with some reminders and some inspiration.
2013
Before we move in let's just namedrop a few of the films that popped up in 2013 that we might have forgotten. I had to enlist the help of the world's biggest search engine whose named shall not googled, eh, mentioned. Quite a few films I haven't even seen, but remember hearing about.
There's
"Good Ol' Freda"
about The Beatles secretary. Squeezing the lemon? Maybe. But it seems this president of the band's fanclub must have had some stories to tell.
Another one is
"Muscle Shoals"
about Rick Hall, the founder of FAME Studios and the so-called signature sounds he developed in songs such as "Brown Sugar", and "When a Man Loves a Woman". It came out this October, so still very new. Sounds interesting, but of course another of the more "historic" kind of music films.
Dave Grohl & Co's tribute to and resurrection of Sound City Studios was fairly well-received, as far as I remember, and also got plenty of attention (but in this day and age a buzz doesn't last for long, of course - hence a reminder such as this blog).
"Sound City"
attempted to tie the past to the present and it's still a movie I have not had the pleasure of seeing.
One that should get way more attention than it does is
"Pussy Riot - A Punk Prayer"
. Yes, a documentary about the shameless treatment of protest punk band Pussy Riot in Putin's increasingly worrying Russia.
One film that might not get a wide audience could be
"Art Gods"
. But I love the narrow and odd angle of it: It's about the promotional displays that set the scene in each Tower Records store and how viewing them became a part of the record buying experience. A niche film, surely, but I got curious when I read about it. I wonder if it's one that will make the rounds so we can see it. There's
a trailer here
.
I know there were plenty more in 2013, but let's keep it short... ish.
2014
In the Coen Brothers coming feature film
"Inside Llewyn Davis"
it looks like they yet again too a turn down the road to darkness. It's hard to tell from the trailer whether it's going to be good. But it certainly looks amazing. And they usually attract good actors while also trying out new talent, so my hopes are high. Even though it looks like a "struggling artist" story we have seen before.
Anyways, just a quick look around the room. I'll post more non-review blog entries along the way when I come across something interesting. And of course write more reviews.

/ Lars
Indsendt af Lars Kjær Dideriksen kl. 20:28
Etiketter: Coen Brothers, documentary, Inside Llewyn Davis, Lee Scratch Perry, music, music documentary, Pussy Riot, Rick Hall, The Beatles, Tower Records
Thursday, May 23, 2013
#11 The Doors: Mr. Mojo Risin' - The Story of L.A. Woman (2011)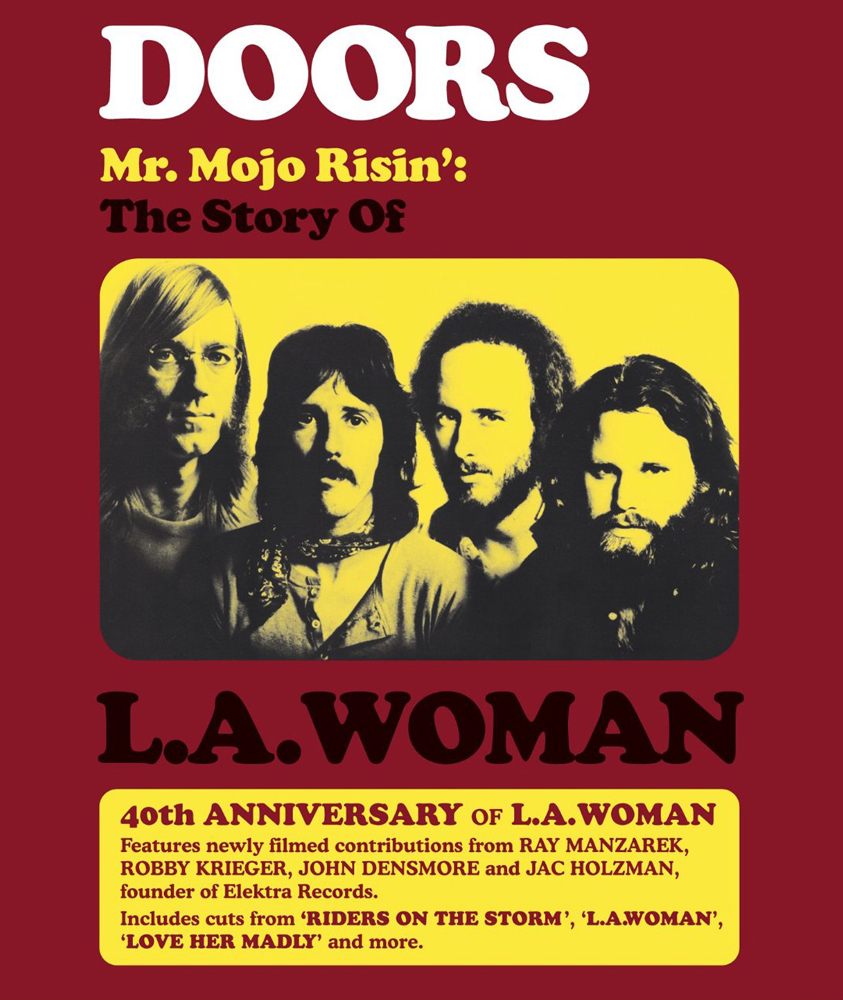 It seems there's a whole industry behind doing one-hour documentaries about old classics. Like the aptly named "Classic Albums" series. One was already made about The Doors' debut album. Although not named as being part of the series this film about "L.A. Woman" seems to follow the exact same recipe.

In order to enjoy these films you first off have to accept that what they do is reinforce rock'n'roll mythology. Not much in the way of critical reviewing. But therefore they can be enjoyable nevertheless - although never really getting neither too exciting or revelatory.

This film first gives a bit of band background and then it goes through the major songs on the album. The band members are seen playing parts and talking about how and why they chose to go "back to the blues roots". But in an hour we only scratch the surface with brief statements not given enough time (although some are expanded in the bonus material). Ray Manzarek seems especially caught up in The Doors myth and sounds like he's been telling this story word-by-word a hundred times before. It is enjoyable to see him playing the old stuff again, though. Exact replica of the albums - not much freeform. But he's like the old favourite uncle with the cool stories and you forgive him.

At some point during the film one does get tired of hearing people say how genius a songwriter Jim Morrison was. To some a brilliant poet, to others a pretentious art student. I fall somewhere in-between depending on the song. But doesn't the best art always divide the crowd down the middle?

Ray, Robby and John very often end up talking about Jim. And also all the trouble surrounding the band back then. All the stuff that has less to do with the music. That was also my problem with both Oliver Stone's 1991 bio-pic "The Doors" and the more recent "When You're Strange" documentary. This one does have more music in it.

In the end the film feels does like a - second - missed opportunity. Everyone is interviewed separately. And it's formulaic. The film would have been infinitely more interesting had they put the three surviving members in the same room. One wonders: Do they still do stuff together? Let alone talk with each other? Or are each of them just feeding the rock myth - and the royalties it brings with it? If one googles current projects there seem to be some legal battles between band members. But that would not have been right to put in this film.

One thought is unavoidable: These folks are supposedly old hippies (maaan), but the stream of re-issues paint them in a rather capitalistic light. So, well, definitely real hippies 2013 A.D.? Wink wink nudge nudge.

This film doesn't present much new stuff, but it also doesn't at all ruin the enjoyment of an amazing album. One for the fans (who won't find many surprises) and one for the curious newcomer (hungry for a - celebratory - history lesson).

A final note: Right in the middle of writing this review over a few days Ray Manzarek died. It felt kind of strange while listening to all this. From an age when music was recorded live... by a band... in a room. You can still feel that when listening to the records. And it's without a doubt what is missing from most music today - which sounds assembled instead of played. It doesn't breathe the same way. And it does not require the same musicianship that Ray and the others had. These four very different musicians create something unique. Together. Thanks for every single note, Ray!

Indsendt af Lars Kjær Dideriksen kl. 11:43
Etiketter: documentary, L.A. Woman, music, music documentary, The Doors
Wednesday, May 22, 2013
#10 Grandma Lo-fi - The Basement Tapes of Sigridur Nielsdottir (2011)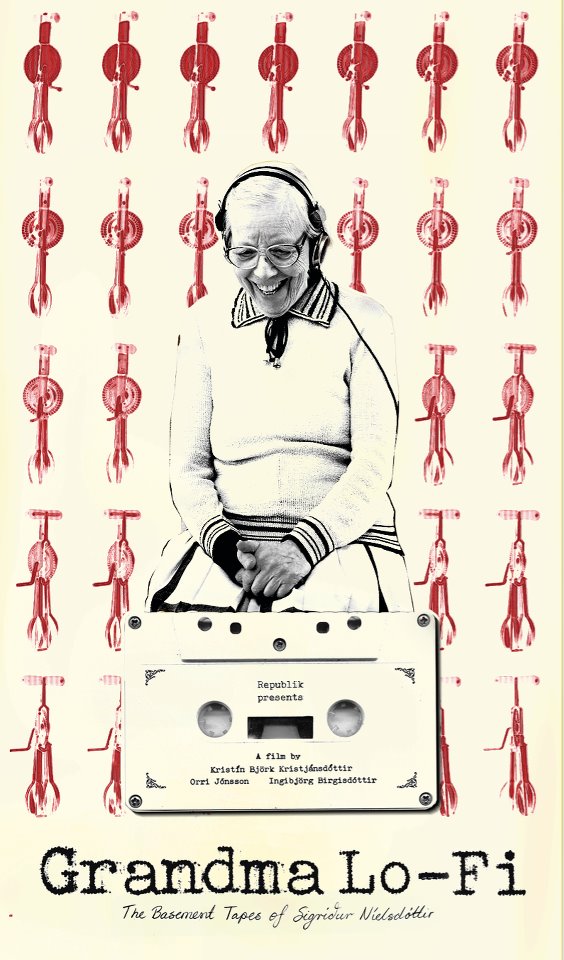 I think I first heard about this film in 2011 when it was shown at CPH:DOX in Copenhagen. Didn't see it then, though. This May (2013) it was featured - as part of the new film program at the Spot Festival in Aarhus - along with my own music documentary "First You Close Your Eyes". So I finally had to chance to check it out.

The film is about Sigridur Nielsdottir who at 70 started making music with a simple Casio keyboard and stuff from her kitchen, as well as toys and her pets. In seven years she manage to record more than 600 songs on 59 homemade albums. The young musicians on Iceland caught wind of this and the film tells us she somehow became a bit of a local cult sensation.

We hear about her life, her lost love, her travels and experience how she makes her music. Whether you like the music or not her enthusiasm is definitely contagious and it's impossible for the filmmakers not to end up with a sweet and very heartwarming film.

The homemade aesthetic of her music is mirrored in the film's visual style using picture collages and grainy super-8 and 16 mm footage. So indeed the whole lo-fi grandma theme saturates the film. Her fans among the younger Icelandic bands also perform her songs and tell her story through them in little sections of the film.

It might be difficult to put one's finger on the Icelandic "thing". Their whole approach to music and art. But you can sense it. It's tongue-in-cheek, but serious. And yes, everything Icelandic is hip. Still. Even grannies!

It might seem like a fun "fad" that these musicians liking this music. But I don't really doubt their love and/or fascination with Sigridur Nielsdottir. Her music is honest, it comes straight from the heart and doesn't cater one tiniest bit to what is called the music business. She doesn't have to. She doesn't care. She is totally free! But the music itself must be what some call "an acquired taste". And the context - knowing her - surely must help with the enjoyment of the music. This film will certainly do that job to a certain extent. Still, it feels like its balancing on a tightrope. That is also one way to enjoy the film. Challenging your perception of what music is and can be. Remind you that everything is subjective. Bottom line is, though: She did what she loved to do, even though she came to it very late in life. But anyone having that spark within themselves well after 70 is an inspiration.

Because of the film festival I watched this film two days in a row. At the first viewing it felt somewhat longwinded about two-thirds in. But at the second viewing it didn't feel as long. I of course knew what to expect, but it also allowed me to catch more details in it, which was nice. In short: Recommended viewing.

Friday, May 17, 2013
#9 The White Stripes: Under Great White Northern Lights (2009)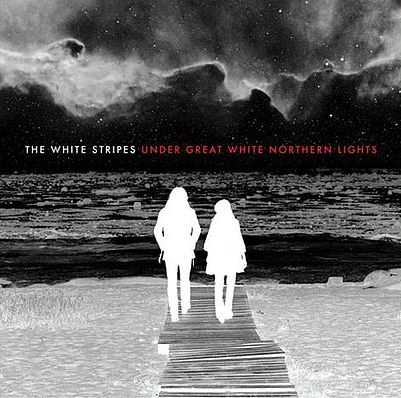 More than once I've wondered why I've never really gotten into The White Stripes. I share Jack White's love for the old blues guys from way back. When at the end of their career the band chose to release a live album that included a nice-looking documentary I figured maybe this might do the trick. Well...

This film follows the band on tour in Canada - in various small towns. We see the band behind the scenes and rocking away on stage - shot in both black and white and in a contrasted colour style that enhances their red, white and black image nicely.

The band seems to want to look "down-to-earth" (small gigs, simple live set-up etc.), but they still don't mind going the limo and private jet route. The film contains many funny moments, but for the most part it feels as if we're just scratching the surface. Also, some moments seem rather awkward as if they were staged a bit too much. Or maybe the film does not give those moments the time they need. But how could it? Then it would get overly long. Maybe it wants to do too much - and ends up doing very little?

On the positive side the sections containing concert footage seem to capture the band's stripped down style and energy rather well. But I'm still not that much wiser regarding what Jack White really wants to say with his music. So contrary to my expectations the film sadly didn't win me over.

I would say that this is a film for the fans. Nothing in the world wrong with that. That's just how it is. For the rest of us I personally feel there's less meat on the bones to hold onto for a genuine and unforgettable musical movie experience. Although, cinematically we can enjoy the nice cinematography and musical energy.




/ Lars

Official film website - IMDB - Wiki - Amazon - Play
Indsendt af Lars Kjær Dideriksen kl. 22:55
Etiketter: The White Stripes, Under Great White Northern Lights
Wednesday, February 27, 2013
Lying about Sugar Man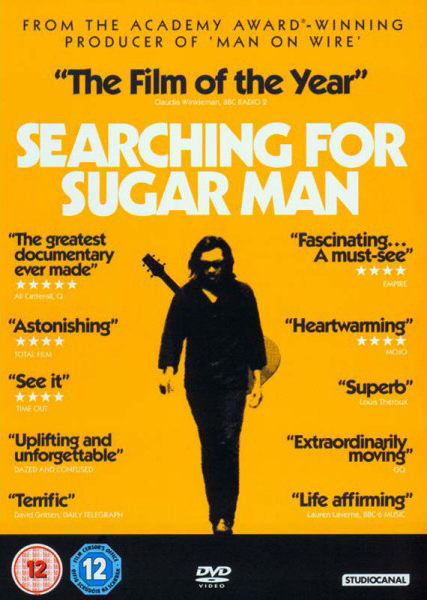 "If something is too good to be true... then it usually is."


That's what I usually say. Not to set myself up for disappointment, but to make sure I am not fooled (too often).

The feeling crept up on me when I watched "Searching For Sugar Man", but I played along. It was a good story. A true fairytale. But now it turns out, apparently it was too good. Once again proving that, yes, fairytales are not true.

In today's newspaper I read that the film's protagonist played several big stadium concerts in Australia and New Zealand in 1979-1981 and that his album sales there reached platinum five times over. A fact not mentioned once in the movie. In fact it played up the "fact" that his albums flopped and that he lived in totally obscurity. I was wondering why Sixto didn't say much in the film. He probably told more of the real story.





Of course documentaries take liberties when telling their stories to make them more to the point. But this undermines the whole premise of the film. The sad thing it, that the story about Sixto's impact on the anti-apartheid music scene in South Africa, was good enough in itself, had it just focused on that. The fact that he had success elsewhere would not have weakened the film's angle that much.


But director Malik Bendjelloul couldn't resist the temptation of creating a fairytale. Sadly he has now put himself in a position where his word and work will leave us wondering: Is he telling the truth this time?

Yes, some people argue that the lines between fact and fiction are blurred in documentaries these days. But if fiction takes over or if the editing is too selective by omitting parts that are essential to maintain truthfulness... then it's not a documentary anymore. Unlike way back when Sixto made his music, you can't keep facts like these a secret in the hyper-connected world of 2013. So why even try?

So, in my humble opinion the film does not deserve the four stars I gave it - or even the Academy Award it received. And the sad thing is, there was no need to keep these things from the audience in order to make a good movie. A "little white lie".... is still a lie.


/ Lars

Indsendt af Lars Kjær Dideriksen kl. 10:33

Etiketter: music documentary, Searching For Sugar Man, South Africa
Monday, January 7, 2013
#8 Searching For Sugar Man (2012)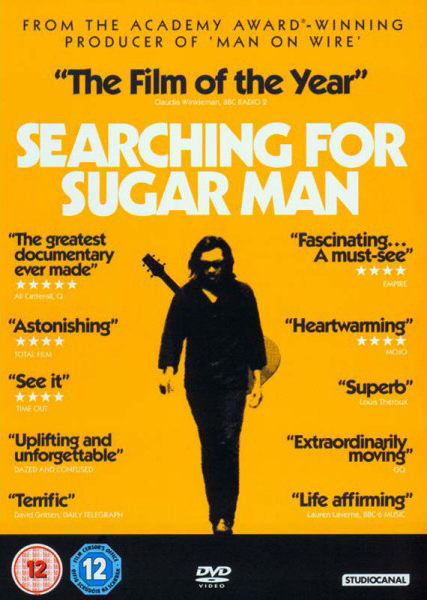 "Searching For Sugar Man" is one of the better examples of truth being stranger than fiction. Of course, all documentaries have been edited through the filter of a director and thus a film will always be the director's truth no matter how you look at it. This version of the facts, though, is mighty entertaining and makes for a great movie.

The film tells the story of Mexican-American musician Sixto Rodriguez who recorded two albums in the 70s which flopped big time - despite his producers' claim that his songwriting was up there alongside Bob Dylan. A matter of taste, one could say, but according to the film his music played an integral part in inspiring the South African music scene to be more anti-establishment minded and to openly criticize the apartheid regime back in the day. So say the musicians there, who director Malik Bendjelloul talked to.

Rodriguez was by South Africans believed to be dead years ago. A South African journalist decides to investigate (WARNING: Spoilers ahead!) He finds out that the man himself is alive and that he apparently didn't know about the impact of his music on the other side of the planet. The driving force is the story of the search for the man and then afterwards how he went to South Africa and got the recognition he deserved.

Rodriguez himself seems content with just being a "regular guy" with solid blue collar values. Although his way of being in itself suggests he moves on a different level than most people. Very "zen", if you will. Giving away his earnings from this adventure to family and friends. This gives rise to some questions which are never really adressed in the film. It could be reluctance from Rodriguez, but I fear it could also be superficial interviewing from the director. He ask about fame and fortune, but it's clear that it does not matter to this "star". I am therefore missing the questions about Rodriquez' social conscience. He clearly had something to say. How does it feel about the impact he really did have after all? And where did his zen-like look on life and core values come from?

The film shows the value music can have. Or could have back then. A reminder from a time before the internet where things like this could still be a mystery. Still, considering the story of discovery actually took place in 1998 it's a wonder it took another 14 years to reach the rest of the world. Maybe that says more about the media's one-eyed focus on only local matters and America.

A heartwarming tale that works surprisingly well, but - when you think about it - somehow sadly fails to properly reach the core matter of the story at hand. With a playing time of just 86 minutes an extra 10 minutes of depth would have benefitted the film greatly and would have driven home the point of the film better. One is left with the thought that the world would be a better place if more people were a bit more like Rodriguez. Maybe true, but it's also a fact that the picture painted of the man is not very nuanced. Maybe there are clues in the dvd's commentary track. I have reviewed this film from a cinema viewing.


/ Lars
Official film website
-
Official Rodriguez website
-
IMDB
-
Wiki
-
Amazon
-
Play
Indsendt af Lars Kjær Dideriksen kl. 12:08
Etiketter: music documentary, Searching For Sugar Man, South Africa
Tuesday, August 28, 2012
#7 Rip! A Remix Manifesto (2008)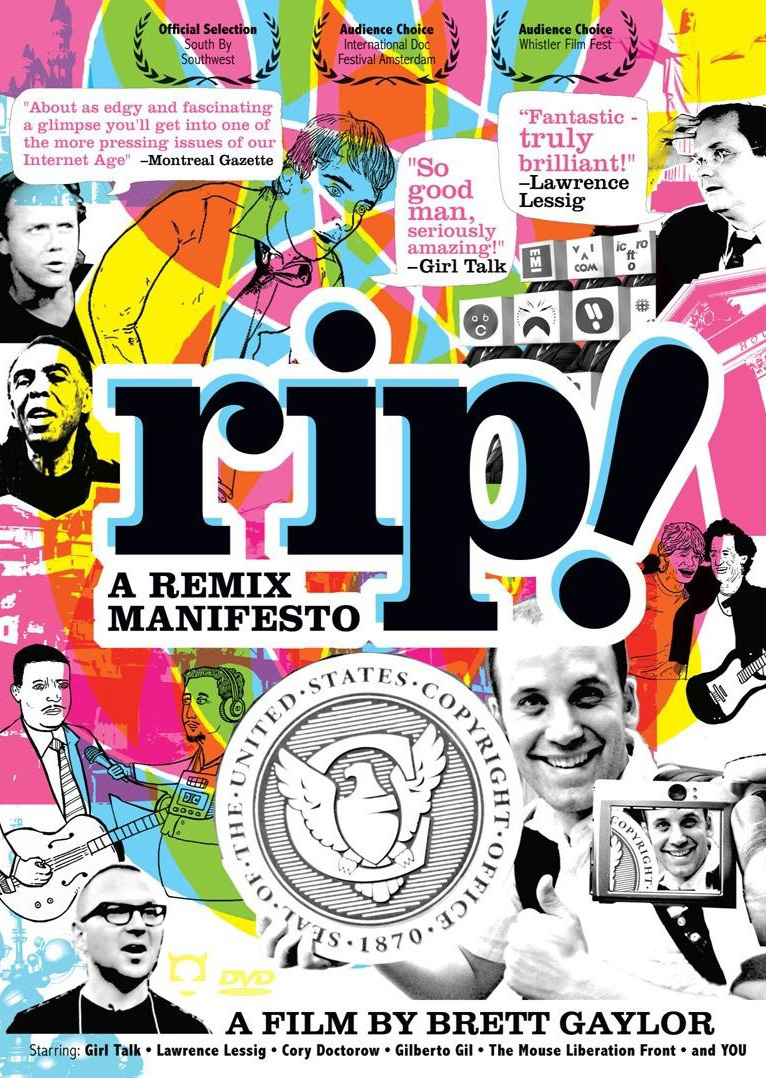 When I saw "Rip! A Remix Manifesto" for the first time it was at the Aarhus Film Festival. My first thought when I came out of the cinema was: I feel so happy and energetic! Exalted! I can't remember the last time I've been feeling like this coming out from a film.

The director apparently calls it an "open source documentary film about the changing concept of copyright". True. It's also one big feel good vibe that will rub your either the right or wrong way depending on which side you're on in the copyright debate. But most importantly it challenges the idea of very far reaching copyright with some very good arguments.
It's also a "meta movie", so to speak. Because it goes even further proving it's point by allowing creative people to remix the movie itself. And thus showing what good can come of letting go of too strict copyrights.

The movie exposes a lot of hypocrisy and has valid points. The Rolling Stones sued The Verve for ripping them off for "Bitter Sweet Symphony". But their whole career they have done nothing but ripping off the songs and sounds that originally came from the blues legends - who then again found their songs in the cotton fields. Disney is another example. First they "let themselves be inspired" and then they copyright. The just nailed it at the right time in history. Copyright was an alright concept at first - the film argues - but was then taken too far. It totally limits creativity.

The electronic act Girltalk is used as the example in the movie. He steals and samples everything and parties hard. I can't say I think his music sounds any good, but that's a different discussion. The film itself I find infinitely inspirational. For many reasons. One beautiful example being the moment where we see young Brazilian kids learning to sample and scratch in music class in school.

This film sparks an interesting and worthwhile debate in the age of the internet citizen and the digital artist. As did another film done by Danish journalist and filmmaker Ralf Christensen. His film "Good Copy Bad Copy" explores the exact same themes and uses many of the same sources, but takes a more sober approach, so to speak. Also recommended viewing!



/ Lars

Film website - See the whole film - IMDB - Wiki - Amazon - Play
Indsendt af Lars Kjær Dideriksen kl. 21:08


Wednesday, August 15, 2012
#6 Blur: No Distance Left To Run (2010)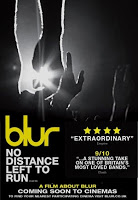 August 2012. Blur is back in fashion. Touring again - while at the same time being vague about them continuing to work together. Last chance to see? They just played Denmark and then headed back home to finish up at the London Olympics.
Incidentally (!) they're releasing a insanely massive retrospective box set called "Blur 21". Because they're 21, they say. Well, subtract the years they been apart doing other things you might get a different number. Never mind.
In 2009 when the all four of them got back together again a camera crew followed them on their British tour. In the 2010 documentary "No Distance Left To Run" we get not only their rise to fame story, but also the story of the tour as well as getting to dip our toes in the personal stuff.
It's an enjoyable film. Simply because most of the lads are very likable and their music is good. But to me it felt like it was stretching it a bit with wanting to do all this at once - and hence lacking something. The frame of the film is their reunion, but it doesn't work entirely well for the flow of the film.
Everyone except Damon seems like they feel like talking. And every time they get into a bit of a nasty spot about their history together they just scratch the surface. I'm not saying I want all the dirt dug up, but the film annoyingly let's them get away with mostly hinting at things. The filmmakers seemed content with just dancing around interesting subjects and let them get away with saying "all is good now". With the band's current vagueness regarding their future in mind the film seems to after all present a bit of a glossy picture.
It lacks in these departments, but that does not mean that it is not an enjoyable film. It will be for Blur fans, obviously, but also most people who enjoy music as more than just wallpaper. A good film that still feels a bit like a missed opportunity. Or maybe there just isn't more to say?
The film climaxes at the Glastonbury Festival with a beautiful moment that allows you to think about the power of music as a magical thing to bring people together - and not the calculating reality of the music industry. Yes, a much needed reminder that music is a universal language. So, thanks for that.
On the 2-disc dvd set a two hour concert from Hyde park is also included. Great show, lads!

/ Lars
Blur website - IMDB - Wiki - Amazon - Play
Indsendt af Lars Kjær Dideriksen kl. 19:30
Thursday, June 21, 2012
#5 Telstar: The Joe Meek Story (2008)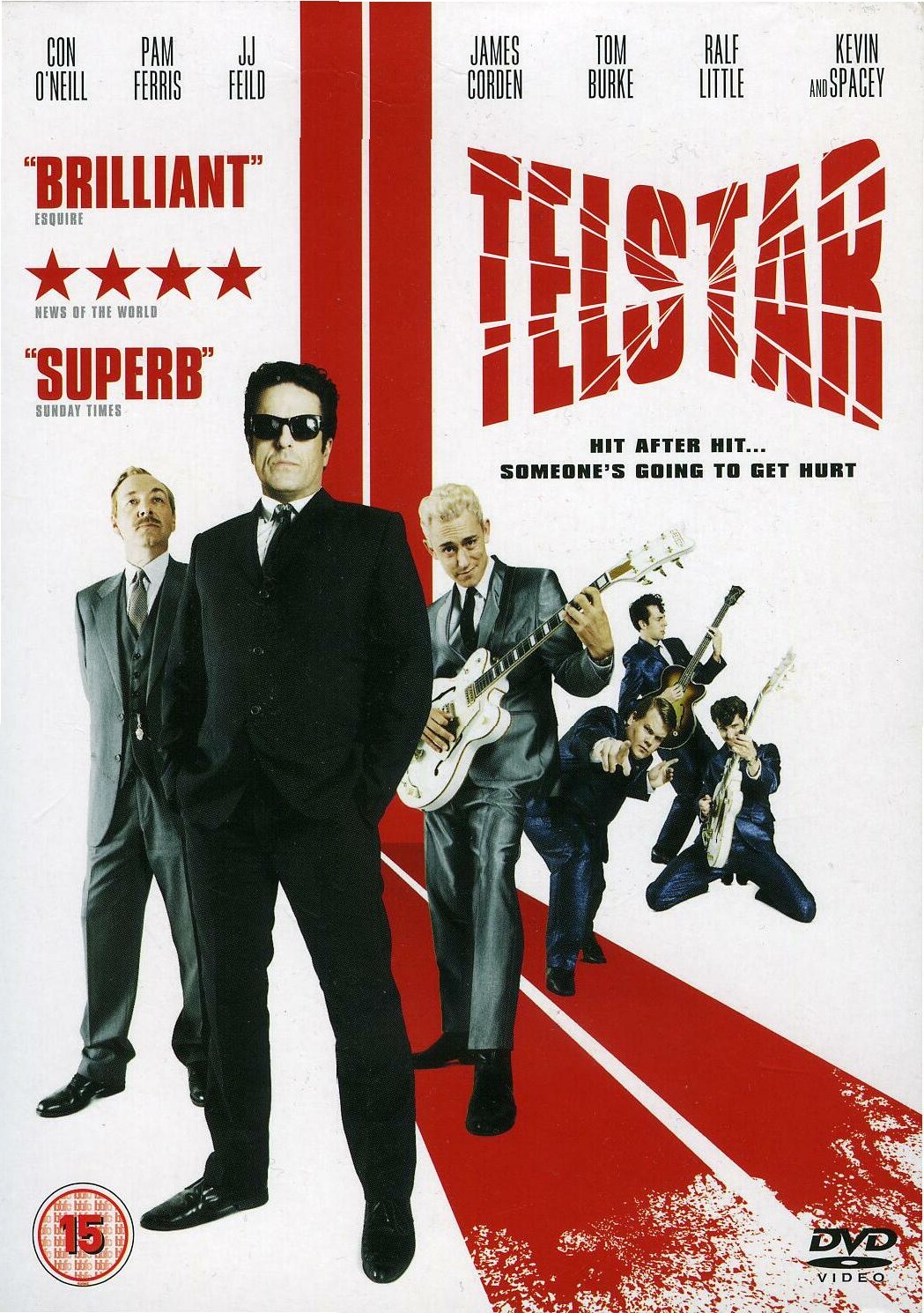 Imagine this: Denmark. Small country. Small market. Subcultures are tiny when you only have five and a half million people to take a slice from. Would it make sense for any businessman to sell anything that's not going to cater to the majority? Result: Pretty much all we get around here is of the mainstream variety. Hence a lot of fine films never make it to Denmark. It's either Hollywood for all or 'arty farty' social realism for the few. British biopics seem to fall somewhere between those two chairs. It must have been the case with "Telstar: The Joe Meek Story". Sadly. Maybe it was overlooked everywhere outside the UK?
Joe Meek is not a household name, but if you're over 30 years old his biggest hit "Telstar" should ring a bell. In fact in 1962 it was the first number one hit in the USA by a British band. Joe Meek himself is an interesting subject to say the least. He was a true original and innovator as an independent record producer - besides him being tone deaf. Add to that: Obsessed with the occult, gay (in 1962, mind you) and allegedly suffering from depression, schizophrenia and a galloping paranoia. All the ingredients for an interesting story. One that follows his triumphs and ultimate tragedy. And then there's the string of amazing 60's hits that he produced with various bands.
I can imagine that some critics would have given it a hard time at its release, but I've found my own way to enjoy it. Does it work as a film? Yes and no. "Telstar" is based on a stage musical and it shows. And this is how you should see this film. The plot feels like something that just strings all the musical scenes together - not much more. And that's okay. Meek's legacy is his music. Con O'Neill who played Joe Meek in the stage musical also portrays him in the film and does a truly amazing job. We also see Kevin Spacey in a small, but hilarious and underplayed role as the moustached - and very British - major Wilfred Banks, the investor in Meek's hits.
Despite the fact that the story itself is a tragedy the music overpowers it and we have a fun, entertaining and beautiful piece of music history on film to help new generations discover Joe Meek. It does not pretend to be more than that and that's fine with me.

/ Lars
The Joe Meek Society website - IMDB - Wiki - Amazon - Play
Indsendt af Lars Kjær Dideriksen kl. 20:55


Tuesday, June 19, 2012
#4 Radiohead: Meeting People Is Easy (1998)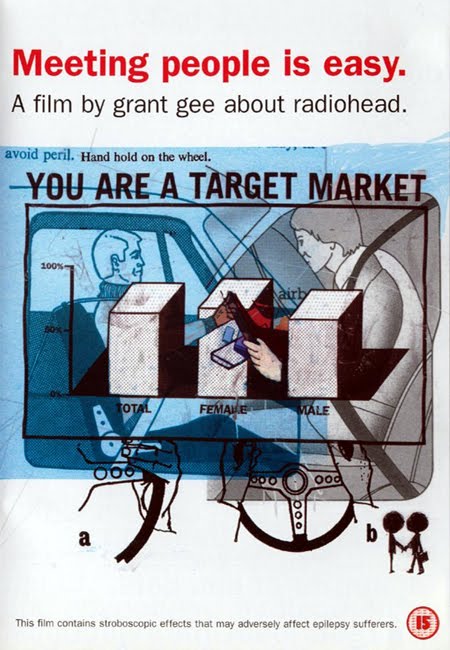 Radiohead. Love 'em or hate 'em. The inevitable backlash is already on and ardent fans act the defenders. Always happens. I've been a fan for many years, but have in recent years had the experience that their newest albums made the previous ones sound better than I originally thought they were. In short, a downward trajectory, as the band crawls into their own shell. But I still love this film. "Meeting People Is Easy" catches the band at the height of their powers. Back when I also was blown away by the magnificent "OK Computer". It's a somewhat fragmented film, but intentionally so.
It shows the less glorious side of the rock'n'roll fame game. Endless traveling, endless waiting around, endless lines of interviewers with stupid questions. Endless backslapping, awards and jetlagged existence. And you never get to see all the amazing cities you visit, because you have to do press and soundcheck. Luckily the film captures Tokyo, Barcelona, Berlin etc. beautifully and sets it to, yes, the music - which is actually also in the film.
In the hands of director Grant Gee it makes for a unique film experience very much of its time. Just as "OK Computer" was and which sparked all the madness. Kudos must go in spades to Grant Gee for deflating the easy rock'n'roll lifestyle myth - or at least inflating an entirely new mythology. It's almost like you can physically feel the madness when you watch the film. This is a film that should make a lot of dreamers reconsider becoming rockstars.
Even if you might find Radiohead annoying and whiny (Come on, you're famous. Be happy!) the film can be experienced and enjoyed on different levels. Be it, the music, the visuals, the music biz, the media madness or the snapshot of modern society on Planet Earth at the end of the millenium - the overpowering weight of 'fin de siècle'.
This is one of the four music documentaries that I have now blogged about in which I found inspiration for doing my own film - besides also digging into the works of Jim Jarmusch and Wim Wenders.
There does not seem to be a trailer for this film, but it's online in it's full length in various places. I doubt it's entirely legal.

/ Lars
Band website - IMDB - Wiki - Amazon - Play
Indsendt af Lars Kjær Dideriksen kl. 20:07
Monday, June 18, 2012
#3 Patti Smith: Dream of Life (2008)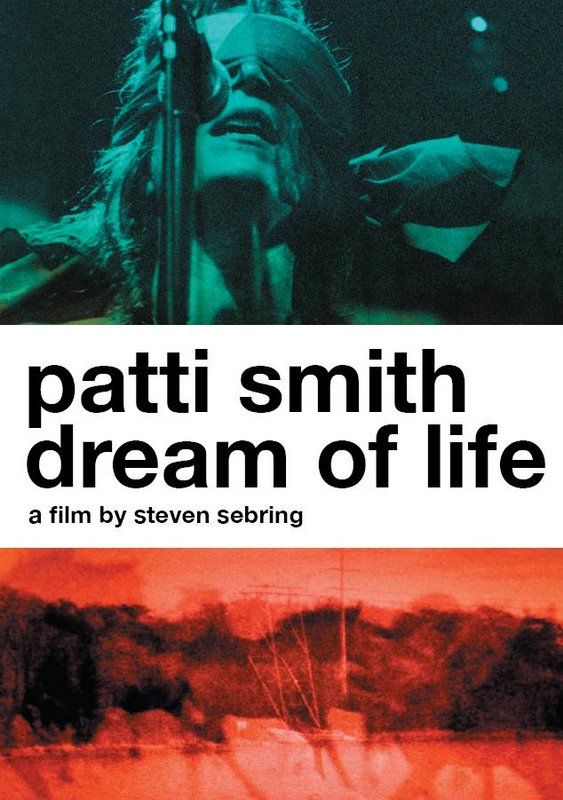 "How does it feel to be a rock icon? When they say that, I always think of Mount Rushmore." She might be 65 and have the reputation of being a dead serious rock poet, but as this film shows she also has humour.
How would one make a film about a musician that - besides being the right place at the right time with the right people - has rightly chiseled herself a spot in the mythology of the golden age of rock? We all know that even rock icons are human beings. But with all fuzz that surrounds them it's easy to forget. Even for themselves. It seems that - even though the life of rock stars will always feel somewhat staged - Patti Smith has kept both her feet on the ground.
Steven Sebring's 2008 documentary probably doesn't dispel many myths about Patti Smith. Maybe because she already actually is down to earth. We both get to see the rock'n'roll circus, but also meet her parents and kids. We see Patti as a fan of other artists as well as a strong believer in not forgetting those who passed away. We get a taste of a bit of humdrum daily life. But it's not like ours. At the end of the day rockstars like Patti Smith still represent a sense of freedom most people long for. Which is why we are so fascinated by them.
The film makes me think about... what makes a rock star? Talent, charisma, luck, determination, being a free spirit? It's probably all that and more with Patti Smith.
"Dream of Life" could be a mess of different styles and moments filmed over 11 years, but it's somehow neatly tied together by Patti herself doing the voice-over on the film. We get great looking black'n'white footage from Japan and around the world - as well as 'home video' with the family.
This was another one of the films I saw when preparing for my own music documentary. Maybe subconsciously Patti's voice-over gave me the idea that I didn't want any on-screen interviews in my film and therefore I only recorded the audio of them. Maybe. It worked fine.

/ Lars
Film website - IMDB - Wiki - Amazon - Play
Indsendt af Lars Kjær Dideriksen kl. 19:35
Sunday, June 17, 2012
#2 Touch The Sound: A Sound Journey with Evelyn Glennie (2004)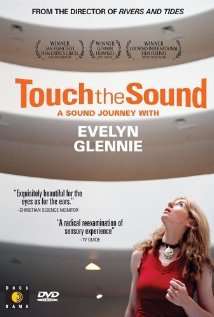 Evelyn Glennie is a percussionist. And Evelyn Glennie is deaf. Almost. Nevertheless a highly talented and respected musician. Her inability to hear as well as the rest of us does not matter the slightest. Except it makes for a very interesting documentary.

The film tells the story of her life since she was a kid - when she lost all but most of her hearing at age 11. We hear her reflections on how she experiences sound and various other things. All along the way we see her perform on different pieces of percussion in various unique places (not just concert halls). One such place is a big old factory building where she collaborates with experimental guitar player Fred Frith. One can snicker a bit at the gong sounds and incense sticks, but the film really invites you in to experience the music in every little detail.

Director Thomas Riedelsheimer takes his time to also let the viewer experience sound the way Evelyn does and tries to make us aware of the sounds that are all around us. And he does so to great effect. Also because a lot of the sequences are simply beautifully shot. Not only in the factory building, but also when Evelyn is walking through an airport.

This film was one of a handful that I felt inspired me a lot in different ways when I started doing my own first music documentary. From this film in particular the airport scene. I guess it would be a good way to start this new blog by writing about those films.



Indsendt af Lars Kjær Dideriksen kl. 11:48
Saturday, June 16, 2012
#1 Searching For The Wrong-Eyed Jesus (2003)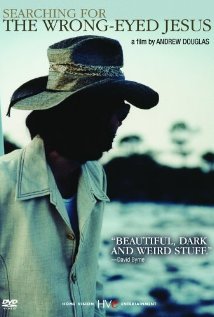 When I have to come up with a music film that has excited me I most often think of "Searching For The Wrong-Eyed Jesus" as one of the first. I think it's because it's the odd one out. It's not the usual chronological rockband coming of age story. Neither following a band during recordings. Or a concert performance. It's one part documentary, one part almost-musical and feels a bit like one part fiction, because each part is very staged in a unique way. It's about a place in the world and the frame of mind there, but music saturates every frame of this film.

The film's origin is an album by American musician Jim White. He's also our guide in the movie where he takes us through the deep, deep south of the US. Here you meet old banjo playing miners, no-questions-asked and entranced God-fearing Christians, roadside junkyards, high-boozin' jukejoints, serene swamps and southern musicians - some of which you might know.

Several of them appear in the movie. Besides Jim White you'll meet The Handsome Family, David Eugene Edwards (16 Horsepower and Woven Hand), David Johansen, Johnny Dowd, Rev. Gary Howlington, The Singing Hall Sisters, Melissa Swingle and Lee Sexton. It also features the author Harry Crews in a great interview where he walks beside a car while talking about the stories of the south.

When I took my first steps to doing my own first music documentary in 2010 this film was an immense inspiration (together with a few others). It set the bar. In a sense it dared to let the music inspire the film to be 'poetic' in its form.

The film was directed and beautifully photographed by Andrew Douglas. A real treat that I can't recommend enough.





/ Lars

Film website - IMDB - Wiki - Amazon - Play

Indsendt af Lars Kjær Dideriksen kl. 22:18
Saturday, June 16, 2012
Welcome to It Looks Like Sound To Me
Welcome to It Looks Like Sound To Me - a new blog that focuses entirely on films about music. Be it documentaries, fiction or biographical films.
I've realized that I have a growing interest in this 'genre'. Or atleast how music gets life on the screen in whatever form. Also partly because I've recently completed a small music documentary on my own.
In my search for films with focus on music Iobviously come across a lot of the already famous films that are out there. But also the lesser known ones. So the goal of this blog is both to spread the word on the smaller films (of which there seem to be more and more coming out) and serve as inspiration. But also from time to time I will reacquaint myself with a classic and suggest a bit of rediscovery.
In this blog you'll find a few thoughts on each film (maybe even a review, if you will), some background info and hopefully also a trailer (or maybe even the whole film if it's online legally in it's entirety) - plus a few helpful links for more info, where to get dvd etc.
I already have a long list of films I long to write about. So some film you know will probably show up here soon. But of course I'm always open to suggestions, so you're welcome to comment the blog posts or send an e-mail to lsd _ dk (at) hotmail (dot) com (remove spaces and replace the words in paranthesis).
For more info on me feel free to check out my website www.larsdideriksen.com.
I hope you enjoy reading this blog!
Lars
Indsendt af Lars Kjær Dideriksen kl. 21:02