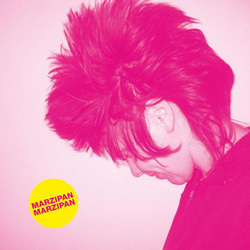 This is the first time that Marzipan Marzipan went into the studio and recorded songs for a full album. She did this with drummer Big Daddy Mugglestone and the result is a strong collection of old favourites and new songs. All played in a wonderfully immediate and spontaneous way that has a bit of a punk-like feel to it. But which still also has the wonder and sweet playfulness that we already know is part of the whole Marzipan Marzipan thing. A eclectic mix of original lyrics, her distinctive voice, guitar, Casio toykeyboard and drums.
The cd comes in a great looking cardboard cd-case.
DISTRO019

Marzipan Marzipan
Marzipan Marzipan

Total time: 32:40
Self-released in 2010

Price 90 dkk / 12 euro

01. Second Life
02. Shit & Roses
03. Song For You
04. I See You There
05. I'm Not Afraid Of Tigers
06. Pony
07. Weatherface
08. The Magic Stick
09. Happy Blues
10. You Walk On The Street
11. Between The Bars
12. Charlie Brown's Valentine's Day
13. Angel
14. In The Dark
15. Holy
16. Island

Songs written by Marzipan Marzipan. Performed by Marzipan Marzipan plus Big Daddy Mugglestone on drums.
Words to "In The Dark" by A. A. Milne. Music on "Holy" by Giant Sand.

SHOPPING ELSEWHERE THAN SOPA.DK:
Danish shoppers:
Rillbar
You can also ask for the LP in your local record store (tell them to get it through Rillbar Distribution if they don't have it).
German + World shoppers:
You can also get it directly from
marzipanmarzipan.com.