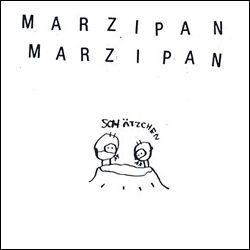 In 2006 Marzipan Marzipan went to New York where she played a couple of shows. While in town she was invited to do an interview and a live session at WFMU radio in New Jersey. This cd is the chance to experience her music caught then and there in the live situation where anything can happen.
The EP is usually only available at her live shows.
DISTRO007

Marzipan Marzipan
Schätzchen

Total time: 24:07
Self-released in 2006

Price 30 dkk / 4 euro

01. Pony
02. In The Dark
03. Song For You
04. Weatherface
05. Disert
06. I Would Like You
07. Gloria
08. The Happy Blues

Songs written by Marzipan Marzipan.
Words to "In The Dark" by A. A. Milne.
Recorded live at WFMU radio, New Jersey, USA, on May 22, 2006.
Engineered by Gil Shuster.
Hosted by Charlie Lewis.