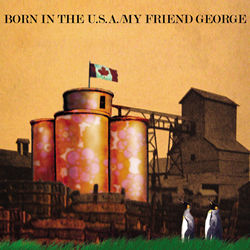 Before Girls Love Rallie ventured on to SOPA he was singer, songwriter and guitarist in the band My Friend George which released this mighty fine album of catchy lo-fi diddies in 2005. We got some copies from the kind Morningside Records so you can have a bit of Rallie before he releases his solo album on SOPA.
Morningside Records is the label that has released such other fine acts as Under Byen, Figurines, Jomi Massage, I Am Bones, Oh No Ono, Strumm, Larsen & Furious Jane and Thunderbear. So obviously we're very proud to stock one of their releases.

My Friend George Last.fm profile
DISTRO006

My Friend George
Born In The U.S.A.

Total time: 35:47
Released in 2005
(printed cd - not cd-r)

Price 50 dkk / 7 euro

01. Marmalade Likes Me
02. Boris Karloff
03. Crispin's Comeback
04. Happy Tuna
05. A Man Of Happy Solutions
06. Dump The Hero
07. A River Underneath
08. Tupelo
09. I Wanna Know About Your Boyfriends
10. Take It To The Mountain
11. Troubadours Invented Love
12. Don't Take Your Love Outta Town
13. Moses
14. This Party Sucks!

Songs written by My Friend George.
Released by Morningside Records.