MARZIPAN MARZIPAN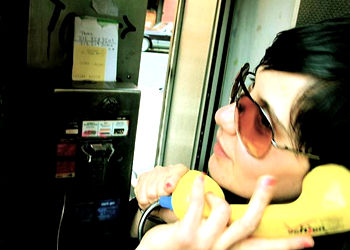 Berlin-based Italian musician, graphic artist and dj Zelda Panda writes utterly charming tunes about travelling, life in the city and love. Using an old Italian 60s guitar, a loop-pedal and a toy-keyboard she works her unique lo-fi magic. Zelda is a very productive listener who draws upon a vast body of music for inspiration - among other things country, jazz, 80s pop and old italian crooner-classics - as well as literature, film and her many personal observations.
In her own words:

"Currently one-woman band, playing songs with electric guitar, loop station, multi effect pedal, vocals, sometimes small casio and drum machine. Mostly I like the type of things that turn bones to glass, contrappunto, perpetual astonishment and sense of humour."

Facebook
Website
Myspace



RELEASES BY MARZIPAN MARZIPAN
SOPA DELICIOSA


Schätzen

(distribution item)
SOPA CURIOSA



SOPA EXCLUSIVO


PRESS QUOTES & REVIEWS
"Intense and seductive."
- Danish indie chart Det Elektriske Barometer, Danish National Radio.
3 weeks in the chart. Topped at #6.




"Comes on like a solo coffee house Stereo Total."
- American WFMU Radio.



"I see Panda as one of the most promising female artists working with electronics. In large part because she breaks down several forms of habitual thinking. (...) Even though you could call her narrative miniatures 'electroclash' she is just as much a rock musician (out of the punk school) and storyteller. (...) There's no excuse not to discover this totally unique and very promising artist right now."
- 'Recommended album', Cd review by Danish independent music magazine Geiger.




"One girl vocal antics with sparse guitars, fx and electronic instrumentation. Lurching from the semi-harsh to the playfully melodic."

Norman Records rating: 'Happy'

"In reality you don't really need more than an Italian 60s guitar, a loop-pedal and a toy keyboard. Definitely not if you have Zelda Panda's musicality. (...) She calls herself Marzipan Marzipan. And it is also the title of her new outstanding album. It's an album that seems inspired by Berlin's chilly sensuous and cool lyrical do-it-yourself songwriter style of artists such as Masha Qrella and Barbara Morgenstern. But as Marzipan Marzipan Zelda Panda has her very own personal and quite sensual twist."
- Cd review by Ralf Christensen, P2 Radium, Danish National Radio.



"Small, charming rock-miniatures. (...) The result was music whose minimalistic form wasn't far from an electroclash act like Peaches, but in tone and ring seemed closer related to early The Cure or Velvet Underground. (...) A pleasant, fresh and unpretentious acquaintance, which one would like to make again - or listen to again on her latest cd-r-release."
- Live review by Geiger.



"A graceful figure enters the stage in a small shack on the river bank, early in the evening, wearing a knitted habit and a type of furry wig: Marzipan Marzipan constantly plugs her various synthesizers and drum machines in and out and amuses the audience with her announcements which are often longer than the songs she plays. Marzipan Marzipan's music consists of looped drum rhythms, over which she tells stories from her life. Often these are only three sentences, which are repeated, but nevertheless she swears by the authenticity of what she sings."
- Down By The River Festival 2011 at Kater holzig, Berlin, review by Vera Hummel / Byte FM.

"Italian multiartist Zelda Panda (what a fantastic name!) throws herself headlong out in deep waters only equipped with a out-of-tune guitar, toykeyboard and the amateur musician's inresistable drive. (...) There is definitely potential in her sensual voice, naive rhythm box and guitarbased melodies, which in the records best moments leads the thoughts towards the clattering indietronica of Casiotone For Painfully Alone. This is especially caused by her fine lyrics about life's, and especially love's, ups and downs. Tracks like the duet Ecke, where she gets help from fellow Italian Marco Brosolo's Cohen-ish voice, deserves a wider audience."
- Cd review by Gaffa, Denmark's biggest music magazine.