GIRLS LOVE RALLIE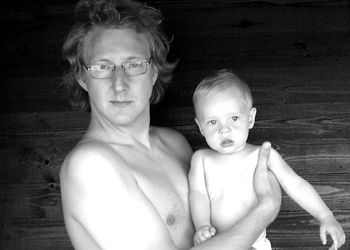 Girls Love Rallie. If they don't already, they will after listening to his songs. He has got the knack for writing the catchy song. Combined with his distinctive voice that has that dry, but clear and personal sit-down-and-let-me-tell-you-something quality it's a treat to lend your ear to. He makes you listen.
Earlier Rallie was singer and songwriter in the slightly US slackerrock-inspired band My Friend George. Now he struts his stuff solo and all the while his style and songwriting just grows stronger.
Myspace


RELEASES BY GIRLS LOVE RALLIE

| | | | |
| --- | --- | --- | --- |
| Wet Blankets & Warm Beer | Son of Beat/Folk | Son of Rock'Roll | Les Chansons Terribles |
| | | | |
PRESS QUOTES & REVIEWS

"There is room for both evocative and discreet background organ, strings, brass, bongos, banjo and beautiful and rough singing on the eclectic album that is primarily driven by strong songwriting, melodiousness and ingenuity. (...) The girls have all the reasons in the world
to love Rallie. Ten extremely lovable poprock songs of the alternative kind."
- "Son of Rock'n'Roll" review, Gaffa, Denmark's biggest music magazine.




"A little gem of a pop album with both sugar, edge and salt for the ears. (...) The sadness in the lyrics are lifted up by the catchy tunes. (...) The album contains bittersweet rock and mostly pop and enough good melodies and hooks to make experienced pop composers envious. For example, the excellent "Remember Uncle August" whose
falsetto chorus is some of the best pop music I've heard in a long time. Son of Rock'n'Roll is a fine album. It's as simple as that."
- "Son of Rock'n'Roll" review, Geiger, Danish music magazine.




"Catchy alternative poprock-songs, often built up around a basis of fierce acoustic guitar chords, bass and drums with little, slanted melodies done with electric guitar or synthesizer. Particularly the catchy album opener 'Pictures Of Odd', the happy and energetic 'Forever Coming Up' and the more dreamy 'Good Cop, Bad Poetry' are successful. And as the title of the latter reveals the album has things to offer lyrically.(...) An album that is both charming and full of promise."
- "Les Chansons Terribles" review by Gaffa, Denmark's biggest music magazine.





"The songs are great on this one. Really strong pop songs I reckon. Go on... 'ave a bit will you."

"Les Chansons Terribles" review by Norman Records, rating: 'Happy'

"A healthy partiality for classic American lo-fi. (...) Personally I'm delighted that "Les Chansons Terribles" is a great album. Even though you can hear inspiration from amongst others R.E.M., Sebadoh and Guided By Voices, there is no question about the talent, because the album is a string of pearls of great songs. It's that simple! (...) Favourite songs? "Pictures of Odd", "Good Cop, Bad Poetry", "Open Roads" - tomorrow probably other songs. Take your pick. Every time the chords are put together it's done with weight and the lyrics are great a mash-up of American-influenced and personale moods and references. (...) It's done with style and soul."
- "Les Chansons Terribles" review by Danish independent music magazine Geiger.




"Girls Love Rallie probably doesn't have the ambition to revolutionize the history of music, but is satisfied with interpreting good traditional songs in the verse-refrain-bridge way in a relaxed atmosphere, while avoiding not going too quickly. And it works! Precisely because the songs are good. And that is not the kind of gift which one refuses."
- "Les Chansons Terribles" review, French audioblog and radioshow Rockomondo
"It's admirable that someone takes on the Swedes in the pop game. (...) An album that fits the summer heat perfectly. (...) The tracks are surrounded by a warm and spontaneous mood, as if they are pulled out of the sleeve then and there in the moment that the record starts to spin. It's here you can feel that Rallie is in his element and is comfortable. (...) Rallie deserves big credit for his versatility. (...) The album never gets boring."
- "Les Chansons Terribles" review by Undertoner, Danish music webzine

"A whole album of well-written songs.t helt album ud med velskrevne sange. (...) The songs might not have the biggest hit potential, but the album works incredibly well as a whole. Which far from always is a given. Girls Love Rallie manages to do it and delivers an outstanding, versatile album, which is a pleasure to listen to."
- "Les Chansons Terribles" review by Soundvenue, Danish music magazine, and recommended as "SOUNDVENUE SELECTED".