GOD BLESS YOU, MR. VONNEGUT
Kurt Vonnegut 1922 - 2007
by Capt. Daydream
It's April 29th 2007 and I've wanted to write these words since April 11th when Kurt Vonnegut passed away. I knew I had to write something. He inspired the name of this label. Among other things, that is. He also managed to tell stories which made me actually finish the books I start reading. Yes, a rare thing, I must admit. He seemed to always believe in human decency - even if it only shone through in a few people at a time in his books. A wonderful world full of horrible things. Or a horrible world full of wonderful things? Always a sense of wonder for the splendor of this world - and others - and a knee-pulling away from kicking the ass of absurdity. A self-taught storyteller - with all the freedom that comes with it.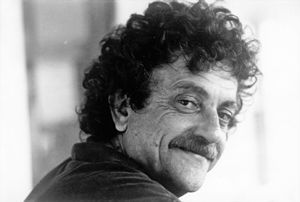 Like many people, I suppose, "Slaughterhouse Five" was my first trip into the Vonnegut vista. And that was actually only a few years ago. I found out back then that I shared the fondness for his writings with my friend Zelda Panda (later released as Marzipan Marzipan on SOPA). She had just finished his wacky sci-fi story "The Sirens Of Titan" so I embarked on that one too - with the horrendous Danish translation. We did some music together and figured that the messenger from that book, Malachi Constant, would be a great name for whatever music we produced together. Unfortunately - obviously - an American band had already used the name.

Vonnegut had always been a good guy to quote. I mean, golden one-liners everywhere. Non more-so in his last book "A Man Without A Country" from last year. He knew he mastered that craft, he-he. So obvious in this, his last work. One such went...

"I don't know about you, but I practice a disorganized religion. I belong to an unholy disorder. We call ourselves 'Our Lady of Perpetual Astonishment'."

Yes, "perpetual astonishment" is a regular term in the English language it seems, but he surely inspired to use it for the name of this label. The delightfully atheist quote fit my outlook on life. Just believe in love, share your enthusiasm and welcome astonishment into your life. No need to believe in a God or religion this way, just in your fellow man. Well, that's my enterpretation of it and my general belief.

Vonnegut didn't have an easy life at all, but anyone with a mind as sharp as his at the age of 84 should consider himself lucky. Obviously marked physically by his age it was nevertheless great to see him roast the Bush administration and it's socalled democratic efforts in Iraq on the Daily Show with Jon Stewart.

You can see that interview here.

I was sad to hear of his passing only a couple of days after I finished reading his latest book. But nevertheless I remembered his jokes about his own mortality and his age. So I was maybe even moreso feeling a sense of respect and gratitude for his life's work. Always a fantastic experience to follow his stories - sidetracking for miles as he did along the way. Felt natural.

Go for a ride with Vonnegut yourself, if you haven't already. You won't regret it. Go out and read a bit about his works to find one that fits you. "Slaugherhouse Five", "God bless you, Mr. Rosewater", "Breakfast Of Champions", "Cat's Cradle", "Jailbird" or... plenty to dig into.
Enjoy!