9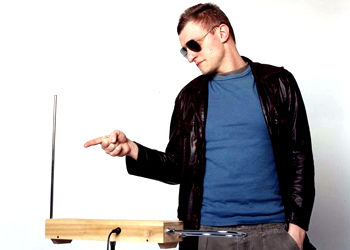 "...these are digital campfire songs." Behind 9 hides the exile italian and now "almost-berliner" Marco Brosolo. With the nose of Ringo Starr, the hair of Laurie Anderson, the voice of Vito Corleone and the hands of Aphex Twin, 9's mastermind enchants with unusual and harmonic songs. He surprises his audience with an original mix of classic Beatles-like song-writing and an extraordinarily delicate electronic programming. The circle that 9 draws within music opens with an harmonious voice orchestration and closes with the touching and tickling warm side of synths.
Live 9 performs with a changing ensemble of drums, bass, guitars, toy-piano, theremin and a variety of other unusual instruments. Amazing visuals complete the live experience.

Website
Facebook
Myspace


RELEASES BY 9
PRESS QUOTES & REVIEWS
"Right from the first notes of the opening track 'Delay' a warm atmosphere in the music pops up and hovers in the room. (...) A lot of electronics that gives the compositions life, that makes them hover as fly ash instead of being heavy in the tradition. (...) A pleasant acquaintance."
- Cd review by Diskant, Danish music webzine.


"This is a nice blend of oddball pop and electronics. Some songs are more traditional instrumental based and others are more electronic, some are acoustic so it's all over the shop. I like the fact you don't know what's gonna come next."

Norman Records rating: 'Happy'

"Brosolo sails smooth indie seas where lopsided instrumentation (like Theremin) is brought in and he nods towards both electro and hip-hop. Actually it's more the sensibility than the actual sound that is "indie". It rests on a foundation of treated vocals and slightly clicking beats which technically could be called electronica. But sometimes lyrics are spat out nihilistic-volunerable (...) and you're still out there where the heart is on the sleeve and it is wrapped in ethereal sounds and 'big' guitars. (...) Whether you have had enough of that is a matter of taste, but 9 does it better than most."
- Cd review by Danish independent music magazine Geiger.