A quick trip not planned that far ahead. Main reason for going this time: Hometurf release party for Sister Chain & Brother John's "The Androgyne Show". At which we fixed that I and Zelda Panda could dj to support the lovely live music at Kugelbahn.
A few nice surprises along the way: Some nice new record shops and a great sneak peek at the "open rehearsel" of The Squid Libets at Ausland. As well as meeting up with friends.
Video with highlights from the release party at Kugelbahn.
(ON THE WAY)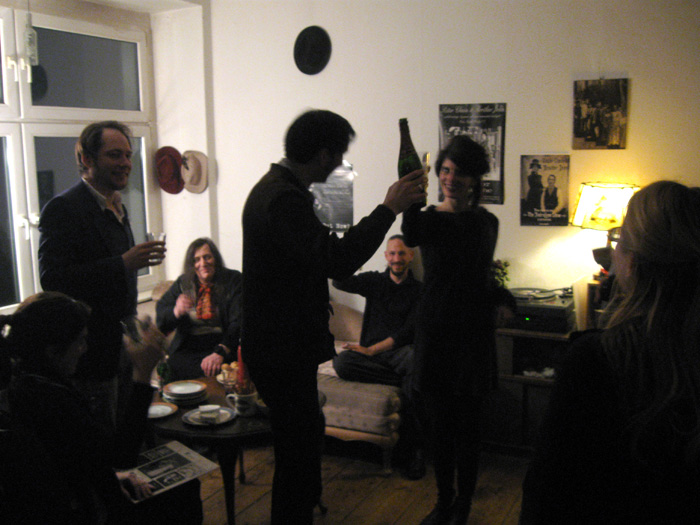 Small party for the Inkubato.com-supporters for and participants on "The Androgyne Show".

With the brand new LP on repeat on the grammophone.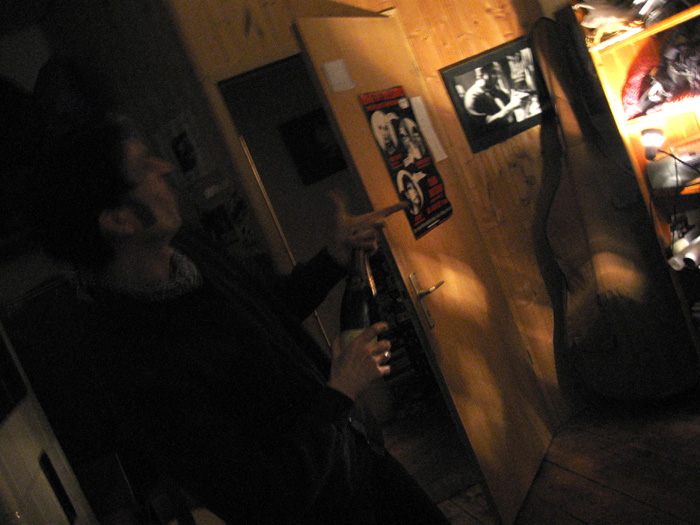 Brother John poppin' the bubbly.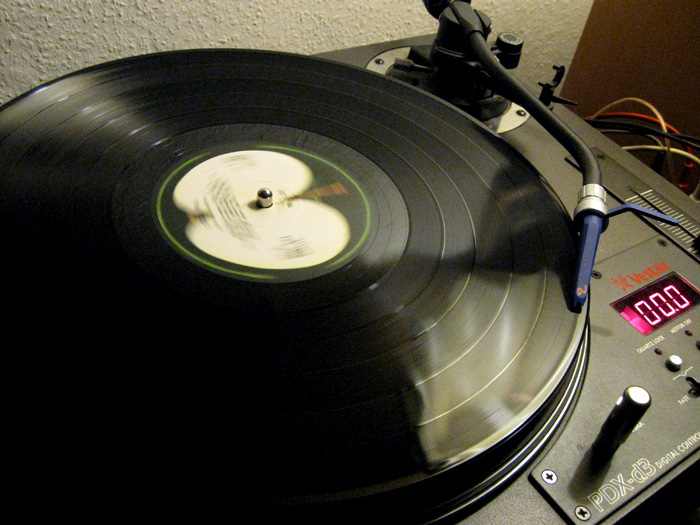 After spinning "The Androgyne Show" most of the evening at some point it was time for some tasty fruit.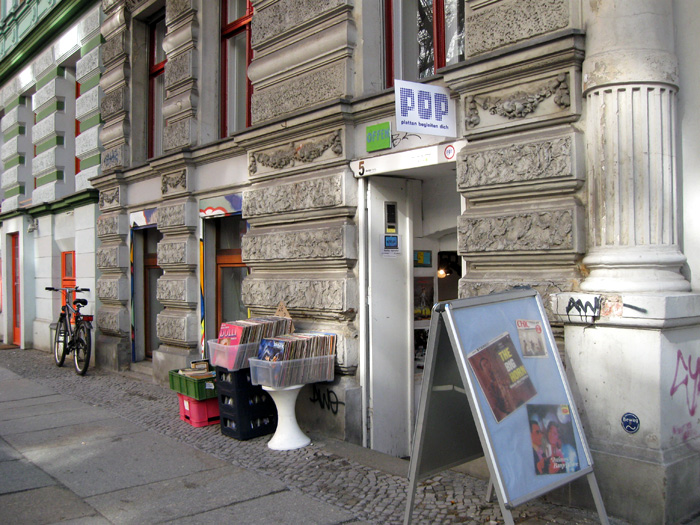 The 'Pop' record shop in Riemannstrasse (close to Zossener og Bergmann) has really improved
since I was last there the year before. Lots of good stuff.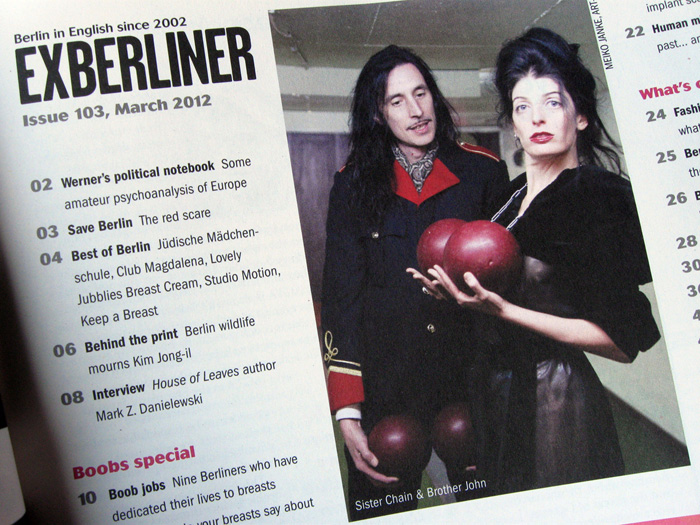 The duo made it to page 3 of the Exberliner magazine whose theme was "Boobs" this time around.
A ballsy band, obviously. Great spot in the magazine, but oddly no mention of the gig.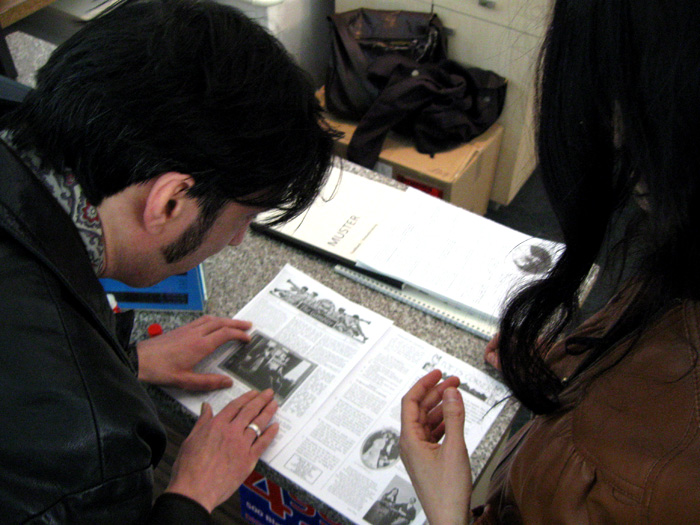 Putting together the very first edition of The Gambler at the local copy shop.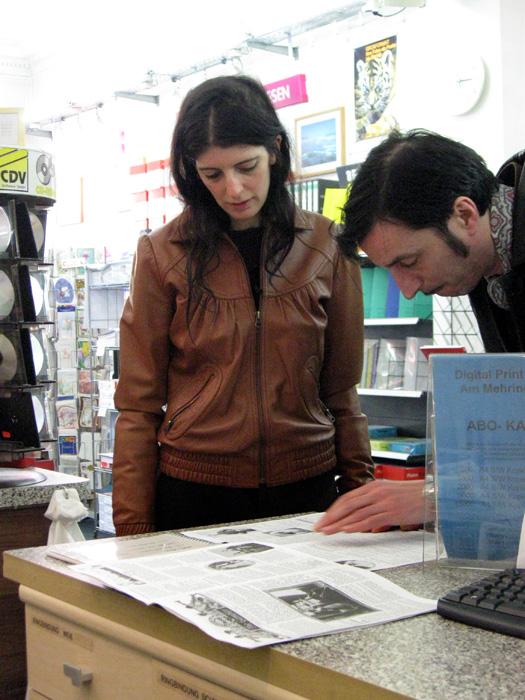 Had to be done in time for the release party. Contains an exclusive interview
with Brother John as well as a "Are you lazy?" test. A mighty entertaining read!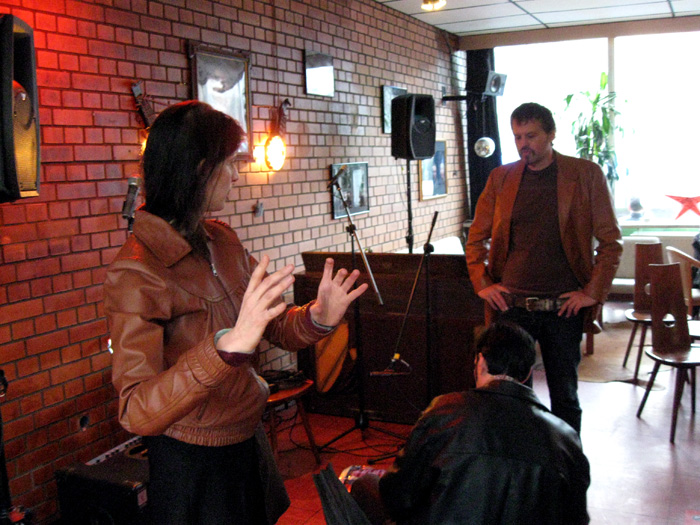 Getting set up at Kugelbahn with soundman Uwe.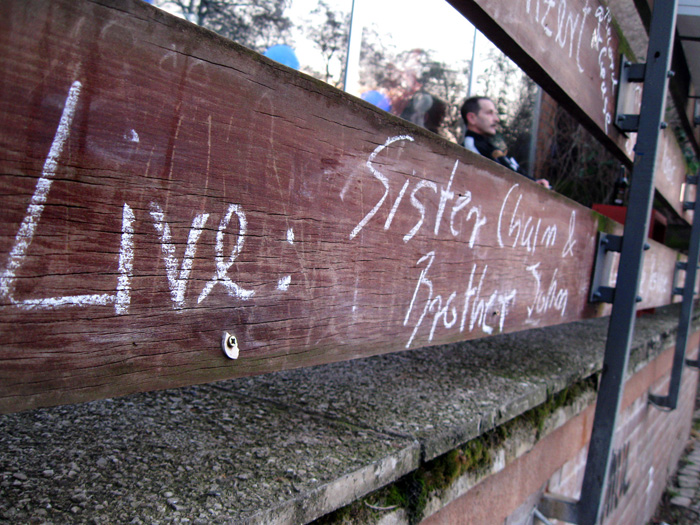 Live! Tonight!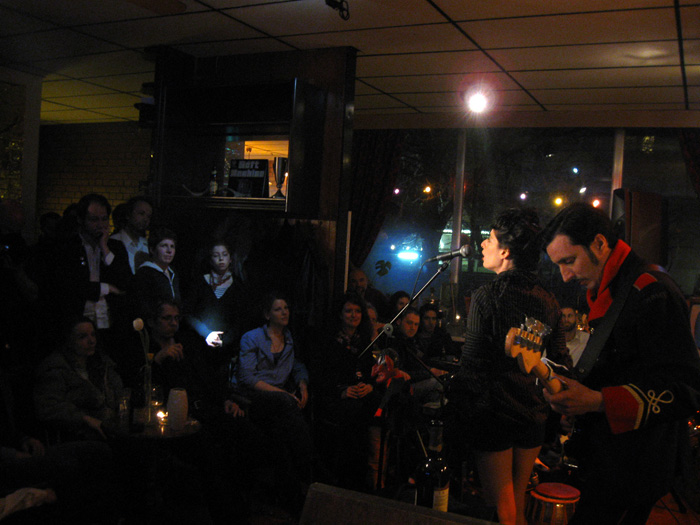 "They call it... The Androgyne Show!!!"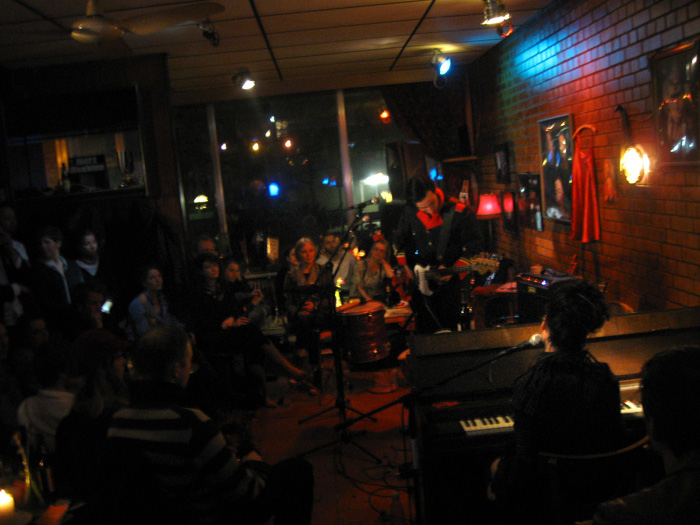 "Too loooong... to bitter!"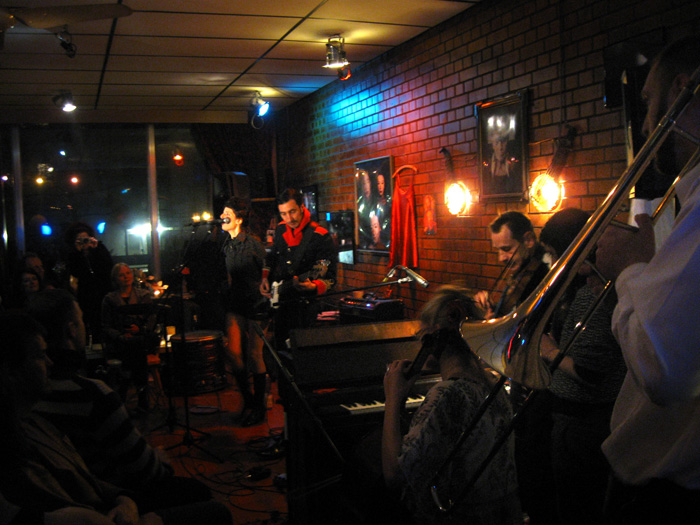 "In a red satin nighty... ah-ah-ah-ah!"


"I know I'm spoiled"... panoramic view of Kugelbahn at the end of "On The Roof".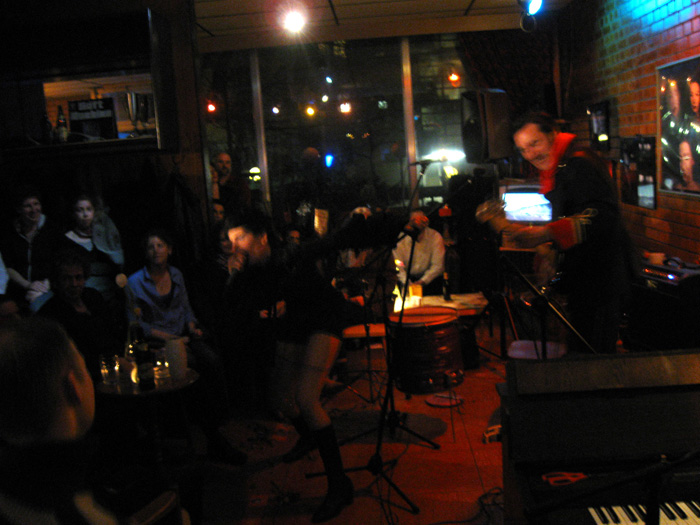 "We're cha-ha-ha-hained!!!"... ending the evening with a kick in the teeth courtesy of Pixies.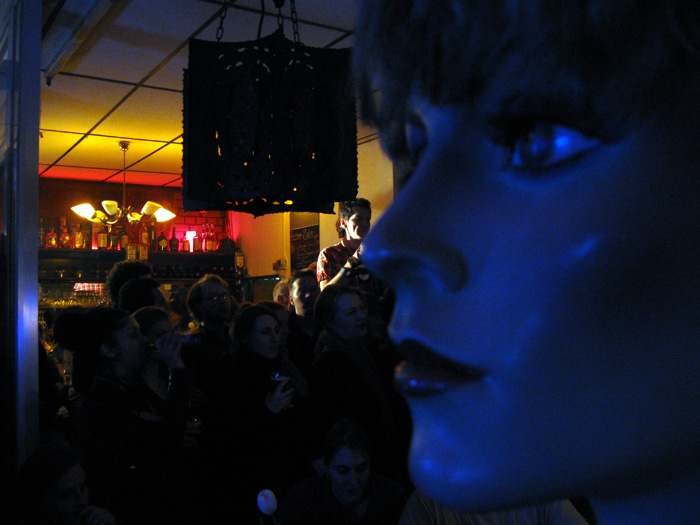 Kugelbahn was packed and the audience amazing.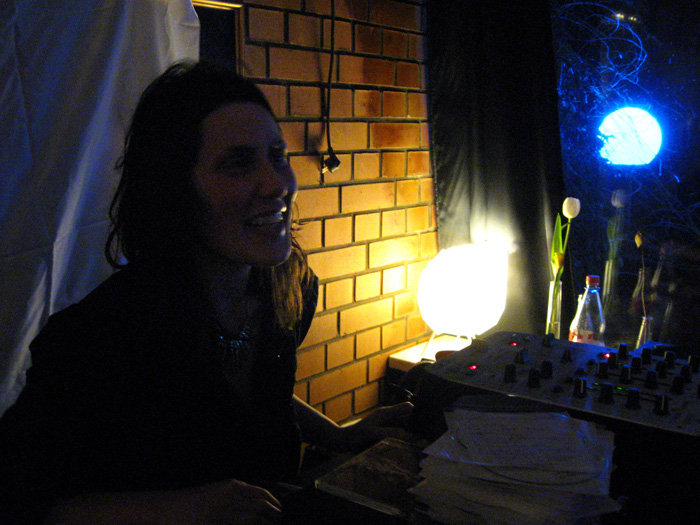 The lovely and amazing DJ Zelda Panda who I had the pleasure of sharing the turntable and cd player with.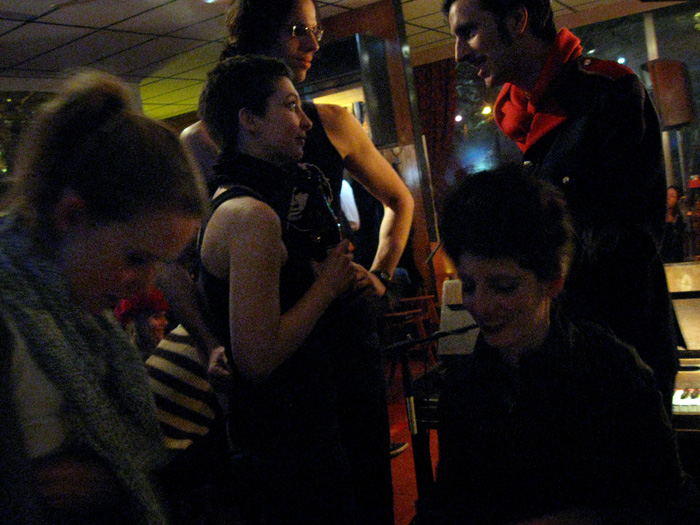 Chatting and shopping.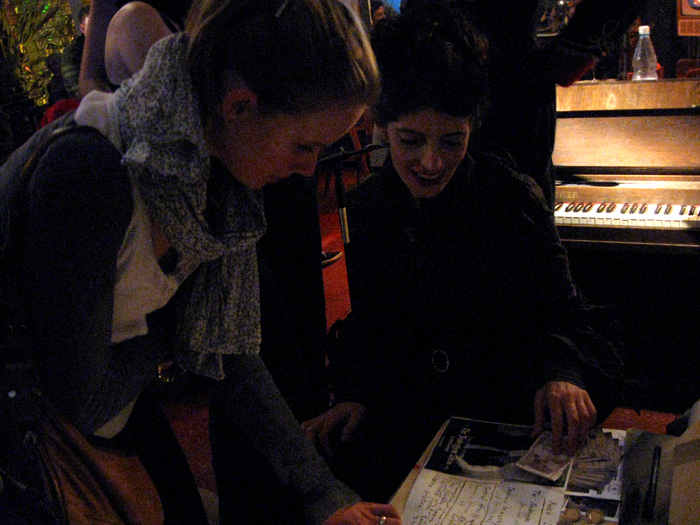 The Victorian glamrockers shifted quite a few LPs that night.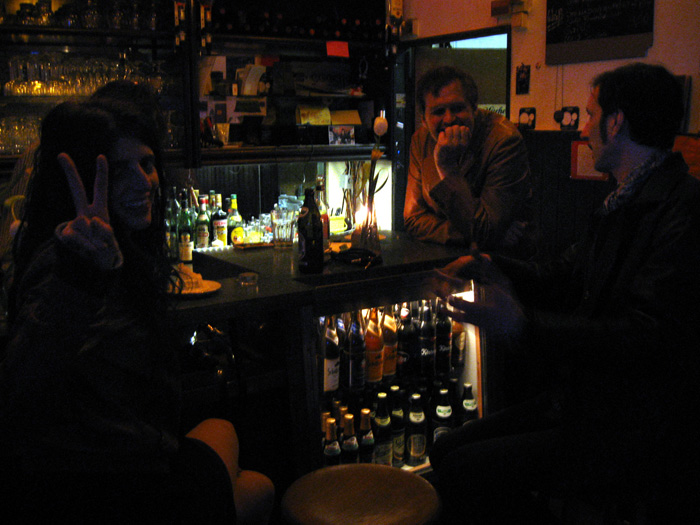 Peace out!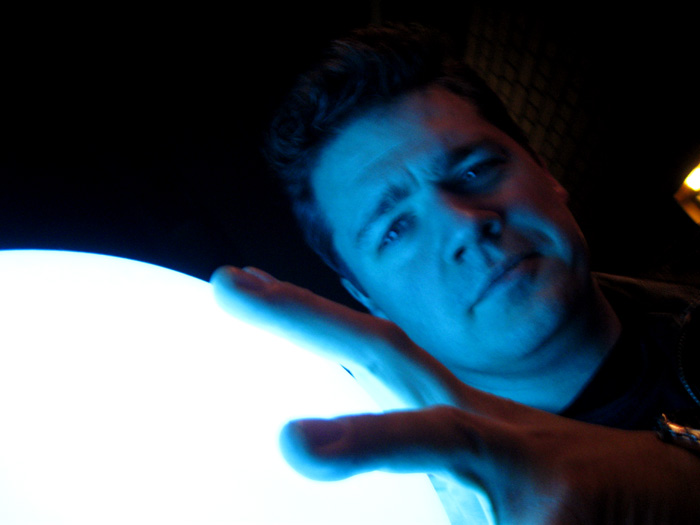 "Do you see the light?!?!"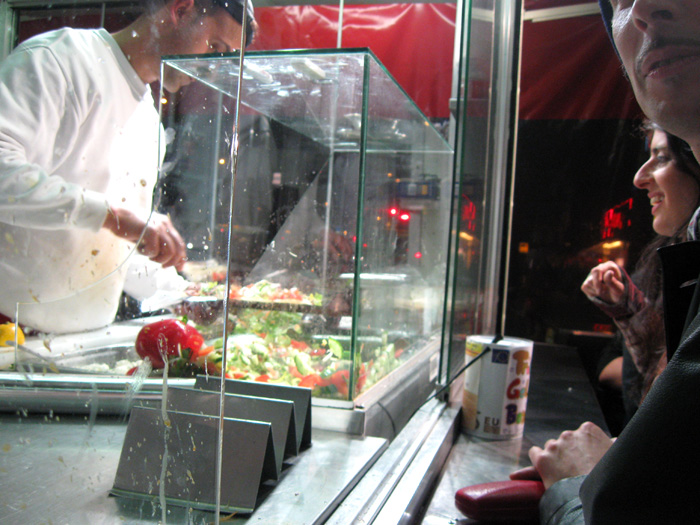 Post-gig at Mehringdamm strolling past the tourist-infected Curry 36 on to the almost equally
tourist-infected Muhammed kebab place who did a mighty fine set of exactly that.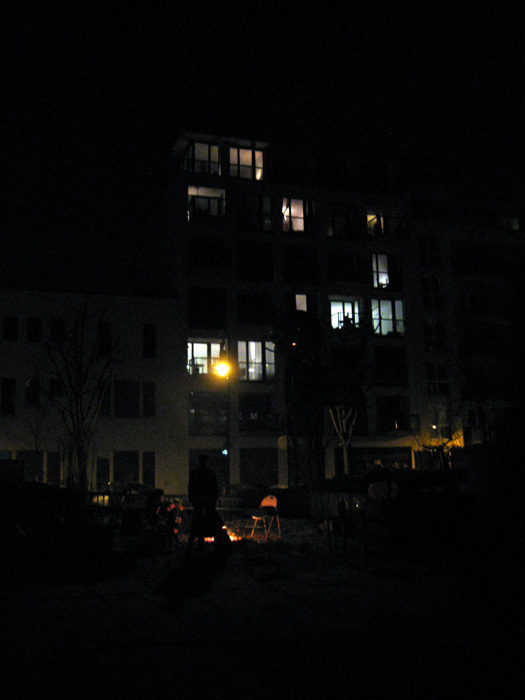 A cozy fireplace in the residential area outside the Ausland venue in Prenzlauerberg.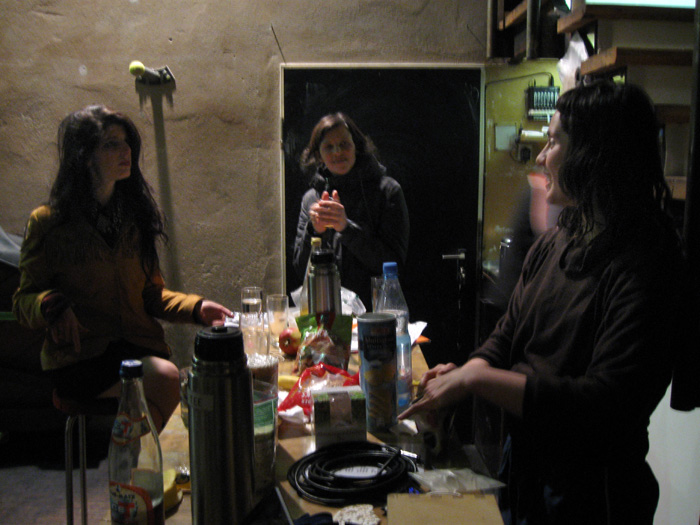 Coziness inside Ausland.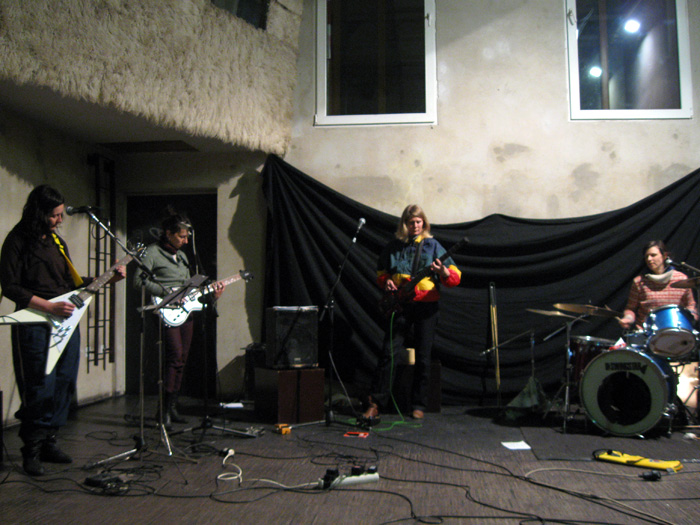 We had been invited to an "open rehearsal" with The Squid Libets who presented a lovely mix of
stoner rock, surf and... I don't know what it was... which is a fact I love. Can't wait to see them again.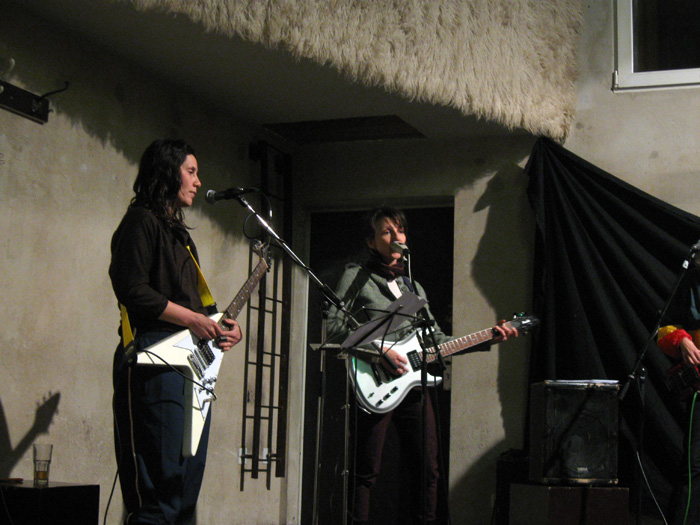 Zelda Panda / Marzipan Marzipan onboard with the Flying V and Raliza on lead vocals and guitar.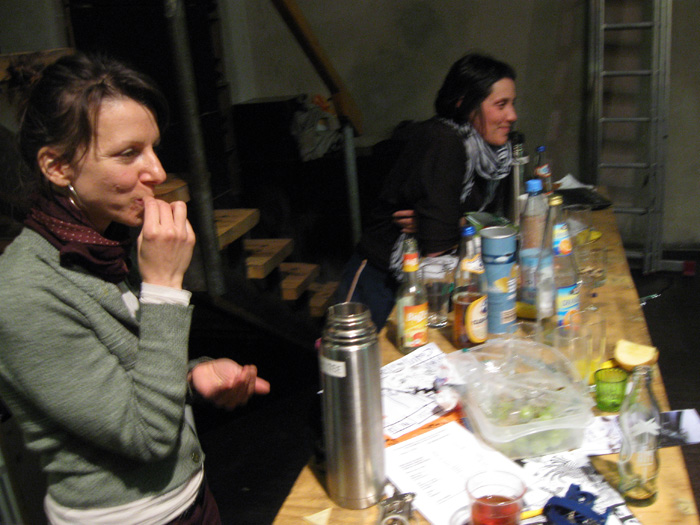 Club-Mate, ricecakes, brewskies and other nice things.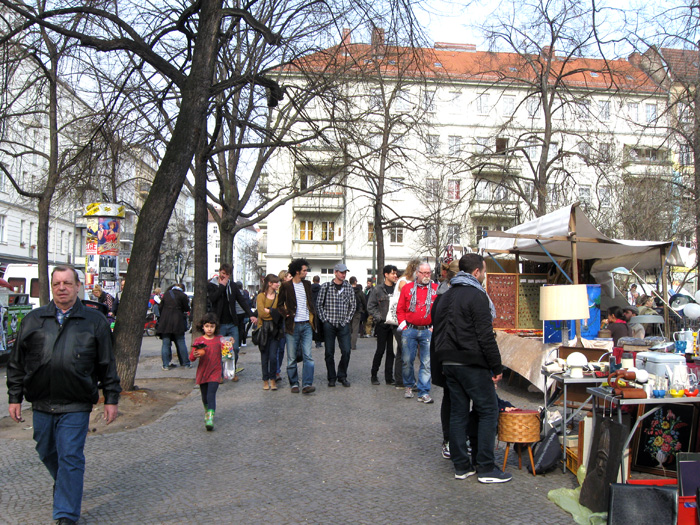 It had been a while since I'd been to the market on Boxhagener Platz. But could recognize some of the
same "shops". Not much changed. Packed with people - locals and tourists.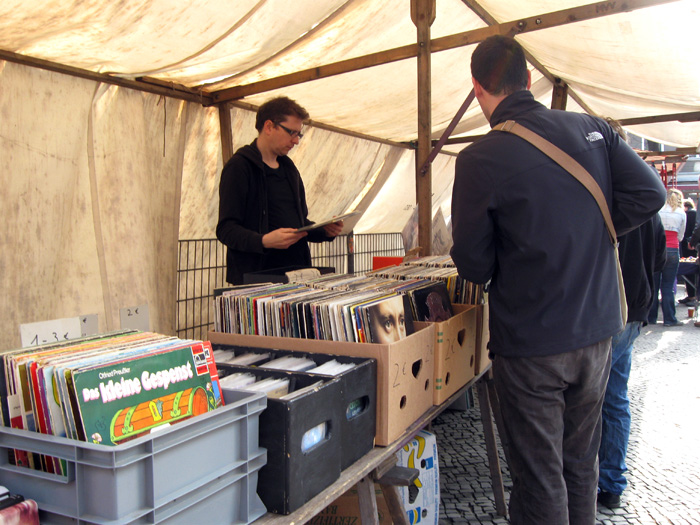 And a surprising amount of the "shops" were selling vinyl. Not necessarily cheap. But I did find the last
Beatles-album that I needed for a complete set. Made my day.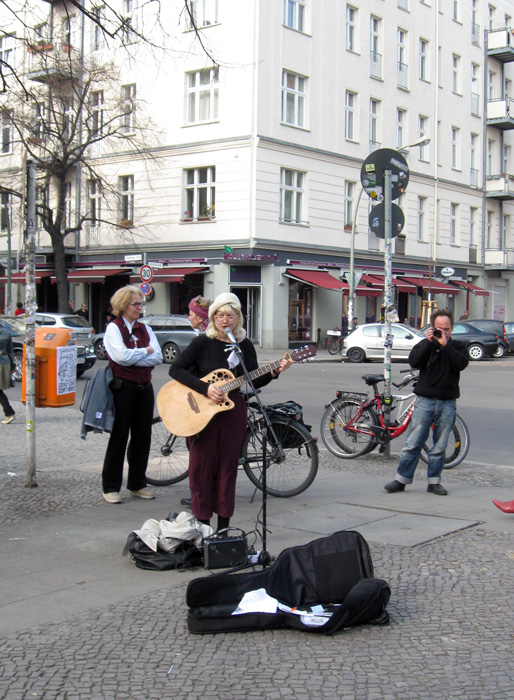 Mary Ocher busking at the market on Boxhagener Platz.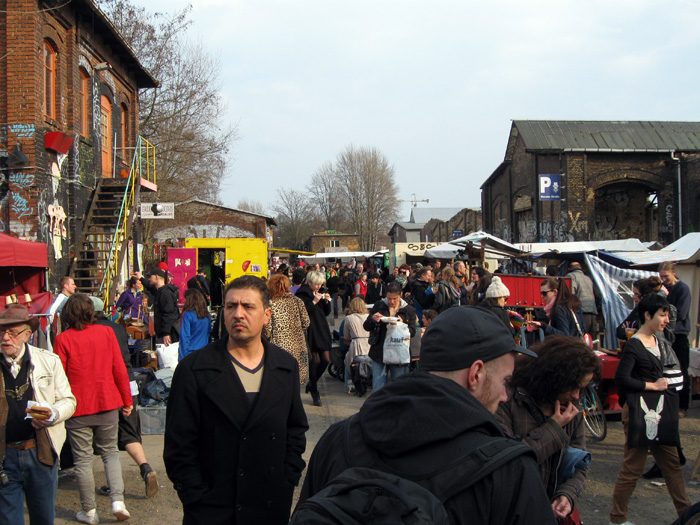 Had a walk with a friend around Friedrichshain which I haven't been checking out so much.
So I didn't know about this little market at a place called Cassiopeia. Had a live band there as well.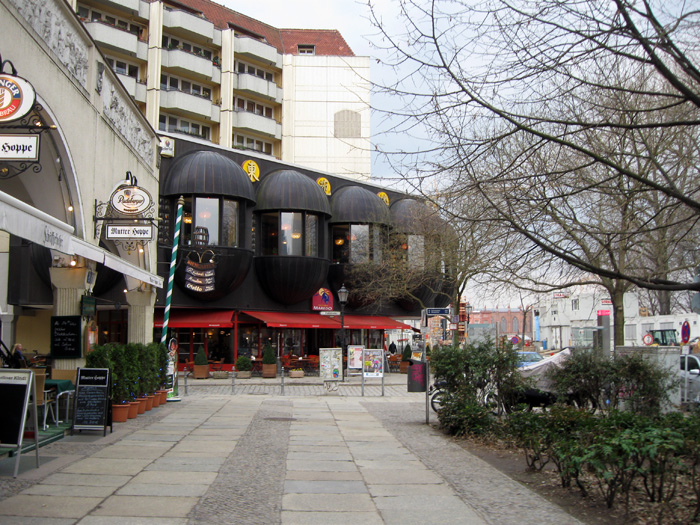 The walk was quite long and at some point we ended up here where I went "What the hey?! There it is!".
Had seen a documentary about David Bowie's Berlin albums a while ago where there was a quick clip of
this building by night which caught my eye instantly. A sort of space age 70s retro thing. With a pinch
of Blade Runner (see below). And now I found it out of the blue.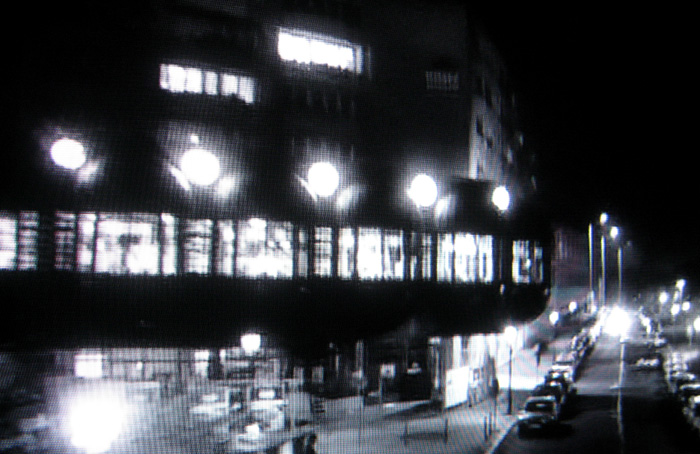 From the Bowie documentary. Cool, eh? Also had the round neon signs then, but I wonder if it
was a Chinese restaurant back in the late 70s as well.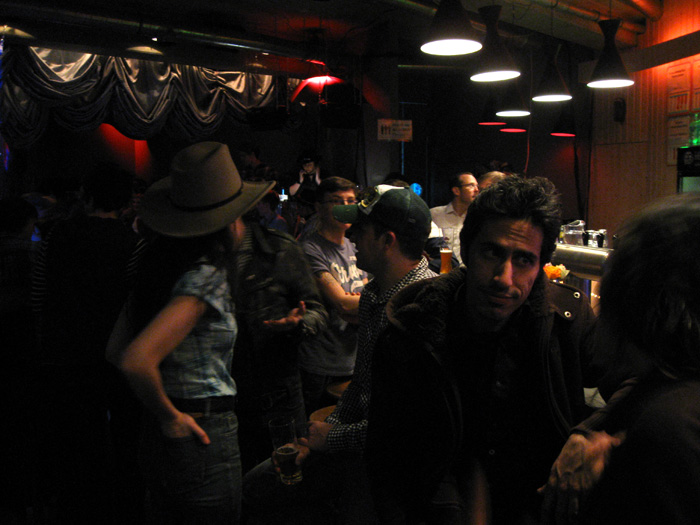 Ladies night at Südblock (close to Kottbusser)...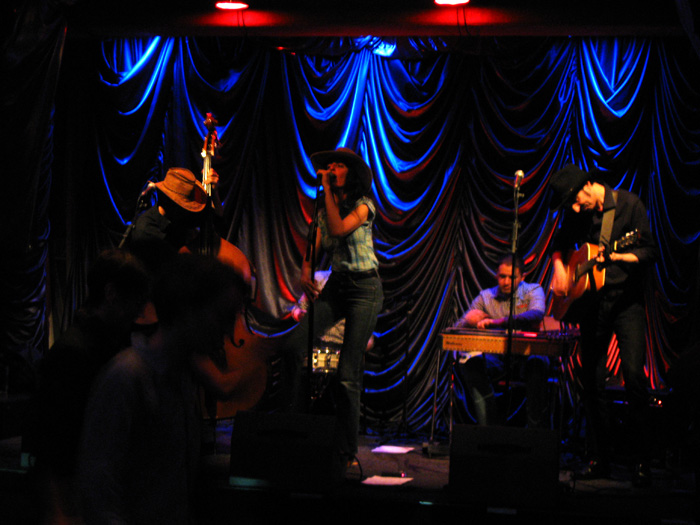 ...in other words: Lesbian linedancing.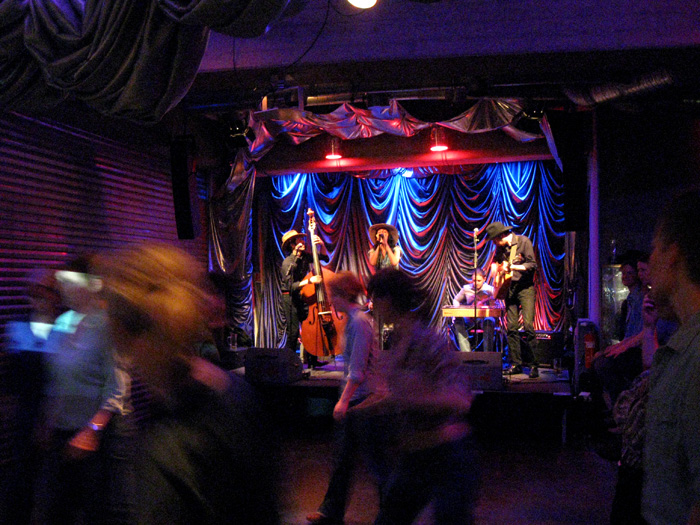 With your favourite country band The Hunters at the helm. This night as a five piece.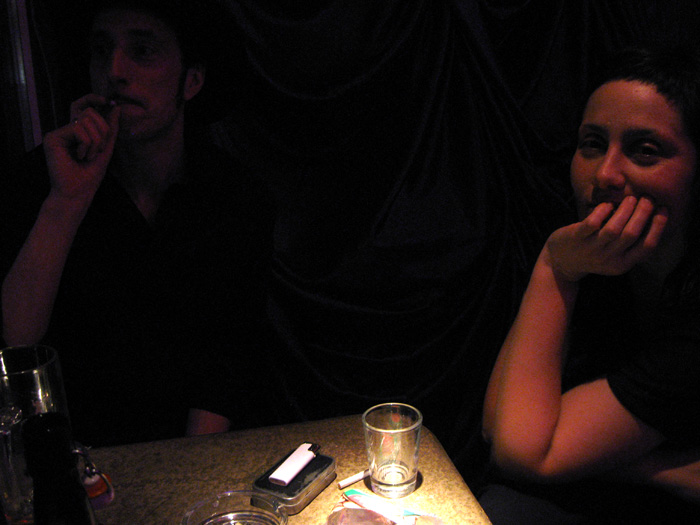 In the smoking lounge at Südblock.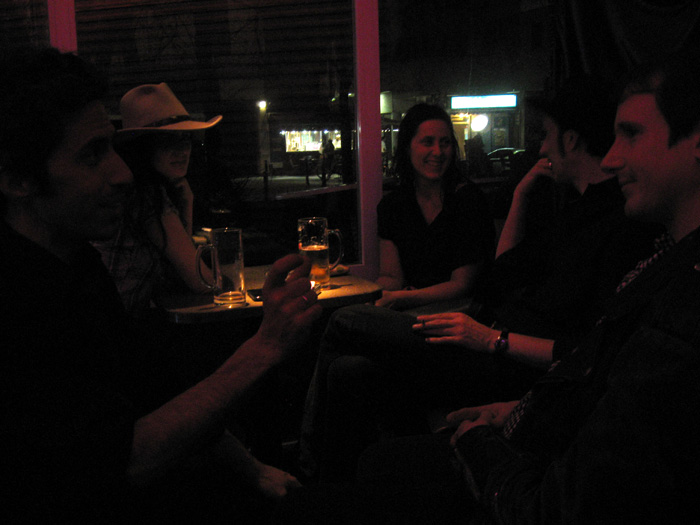 A relaxing time afterwards - Giddi and Big Daddy Mugglestone in front.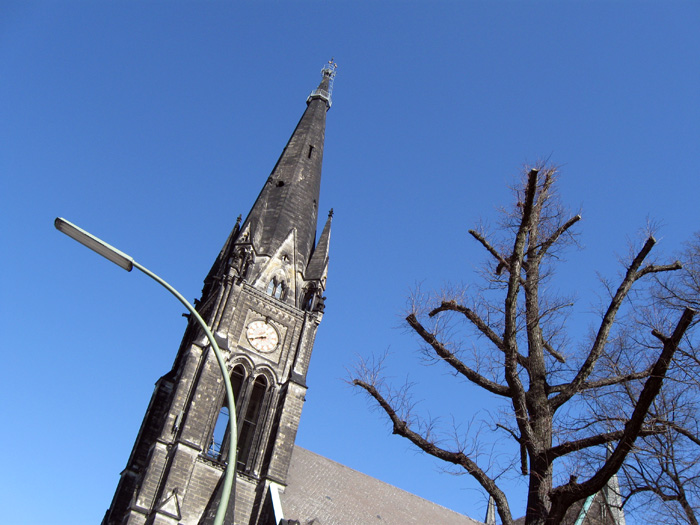 Looking upwards at Südstern.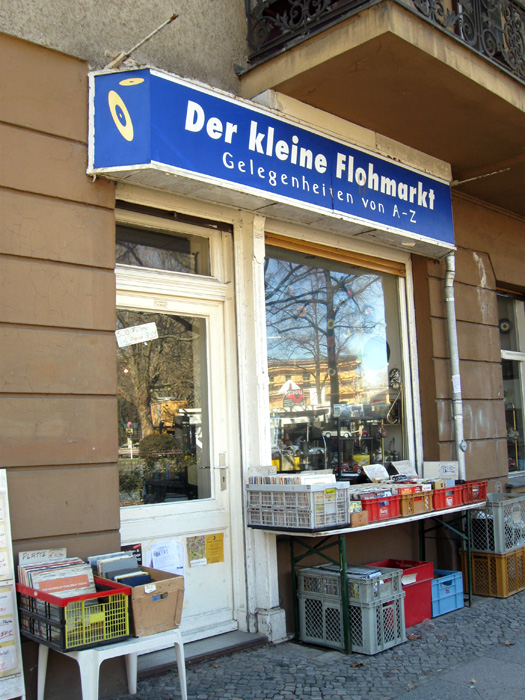 The "small fleamarket" on the corner of Körtestrasse and Urbanstrasse. Both really cheap (and not very cool) vinyl as well
as a good selection of LPs and 7-inches of the better kind (a bit pricier, but not crazy prices as other places in town).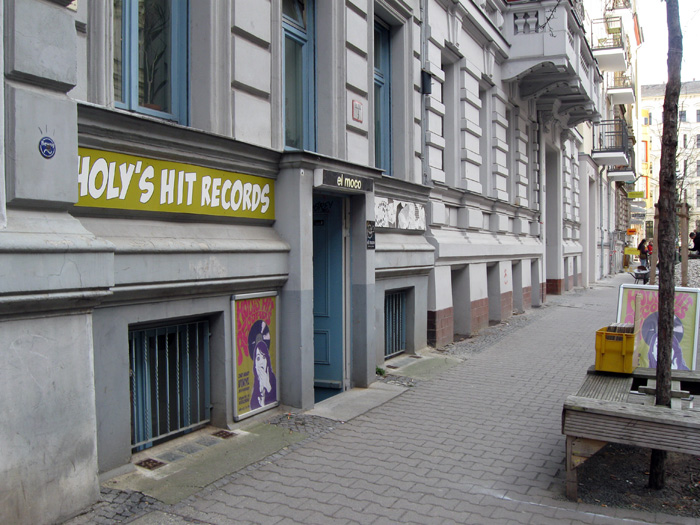 Holy's Hit Records on Solmsstrasse (between Bergmannstrasse and Gneisenau). Mid-range to expensive,
but with a really good selection of good stuff (LPs and 7-inches). Not a huge store, which is kind of nice.
Then there's less crap records to look through.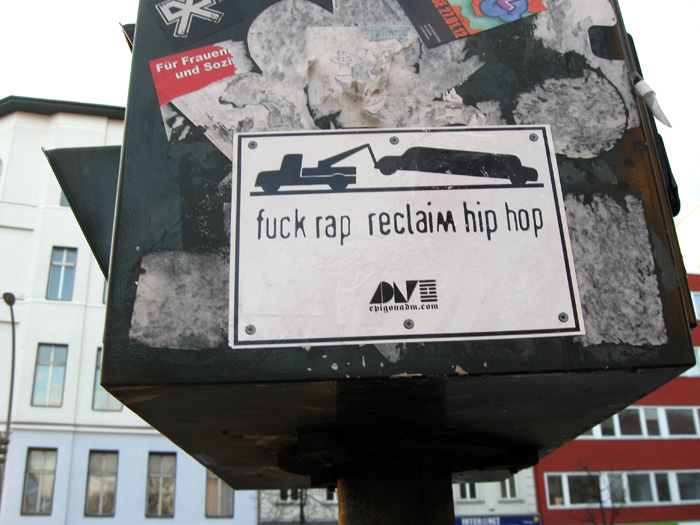 In other words: To hell with bling. ;-)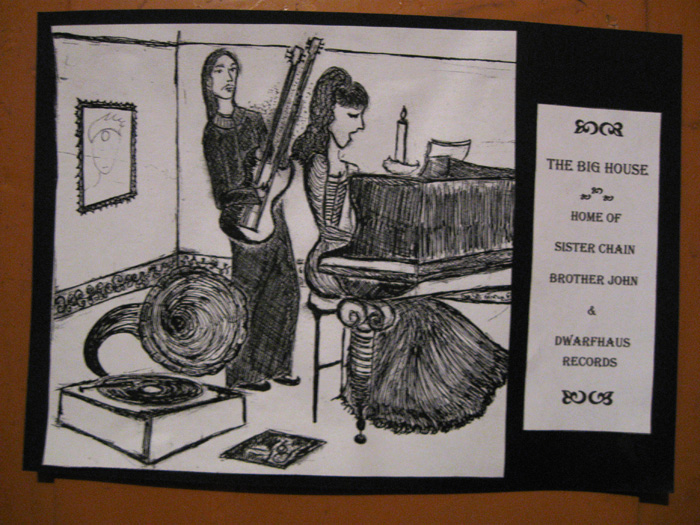 About to enter the parlour.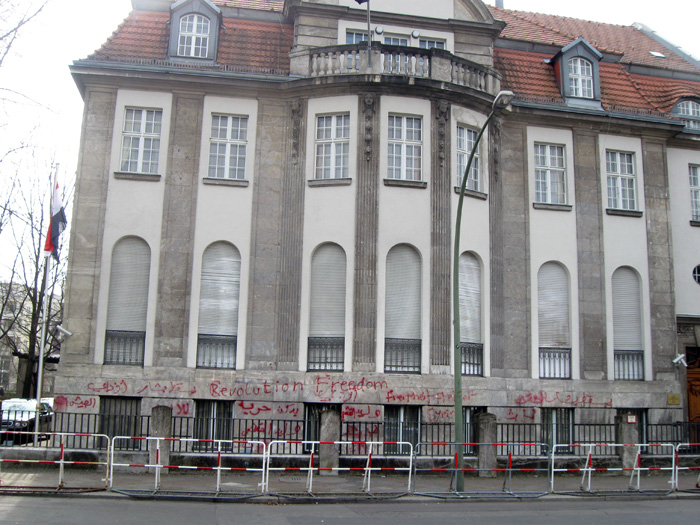 Across from the Danish embassy: The Syrian embassy at this time surrounded by police and security.
I guess they came too late to prevent the graffitti on the front.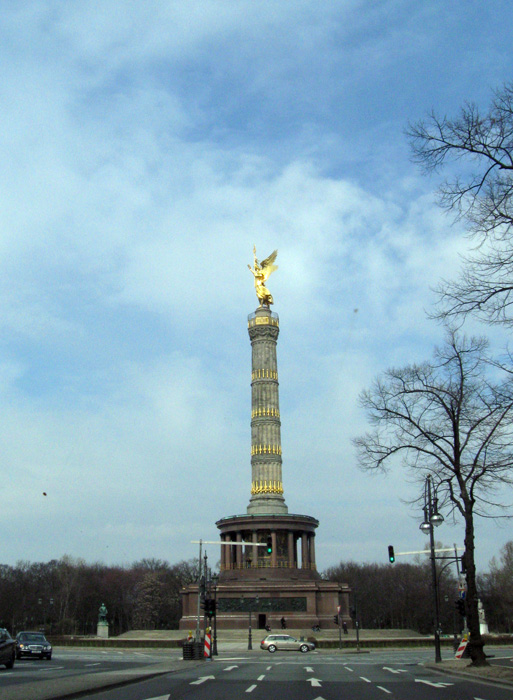 Driving through Tiergarten on the way home. The Siegessaüle for obvious reasons
always reminds me of Wim Wenders' Berlin-films and U2's song "Stay".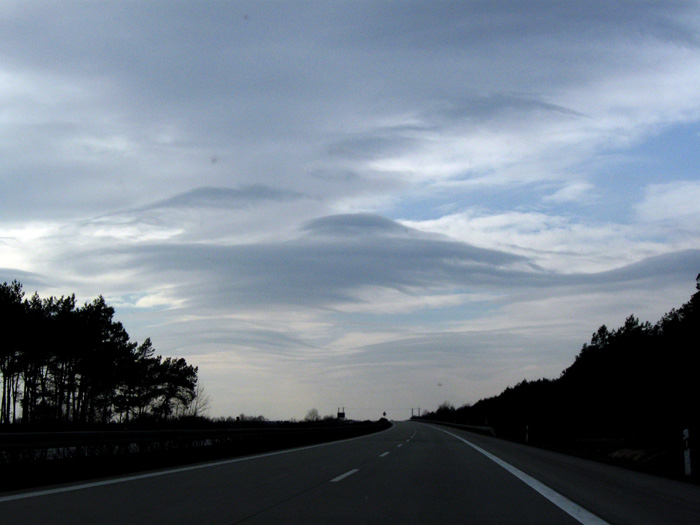 The open road - and clouds - on the six-plus hour trip back to Aarhus.