Another spring trip to Berlin. Roughly 10 days this time. Lots of music, lots of record stores I hadn't seen before and lots of sun. Good times. Homebase this time was mostly the Kreuzberg area around Bergmannstrasse. Enjoying the fantastic company of Sister Chain & Brother John, as well as Marzipan Marzipan and family.
This is also the continuing saga of my somewhat fragmented guide to record shops around the world. But also venues, other interesting shops and funny locations.
Way too many photos this time, but what the hey...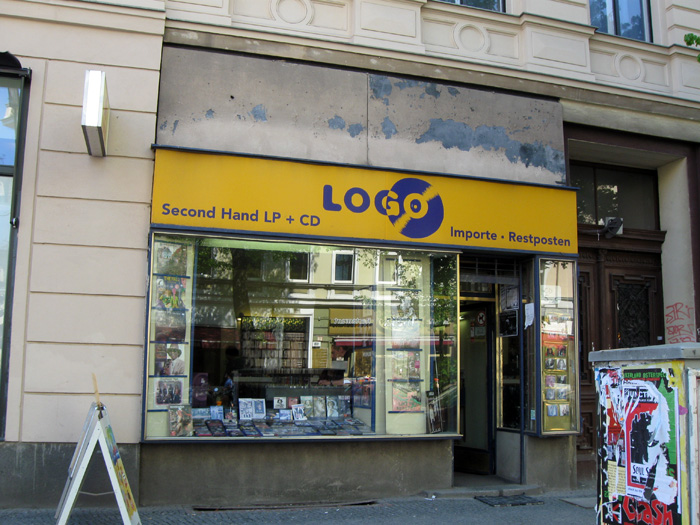 Just arrived and onwards into the first record shop: Logo on Bergmannstrasse, Kreuzberg.
Not terribly big selection of vinyl and cds (and a few books), but fairly good stuff of various genres.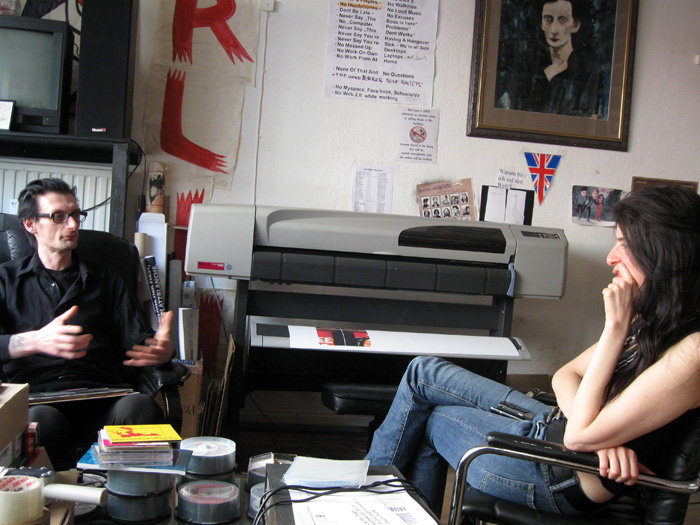 Dropping by Steve Morell at Pale Music to talk some distribution of various goodies. Generous man.
Walked away with a small pile of stuff from his label.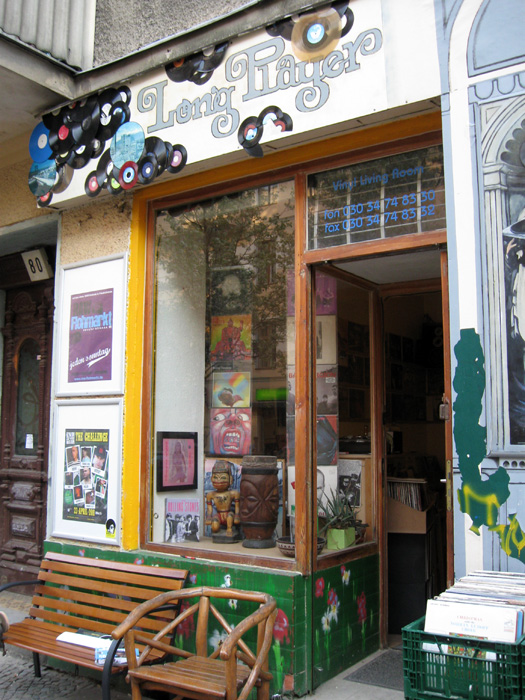 Record store Long Player. Also somewhere in Kreuzberg. From the outside it doesn't look
like it actually deals mostly in rap, plus a nice share of world music and your odd rock record.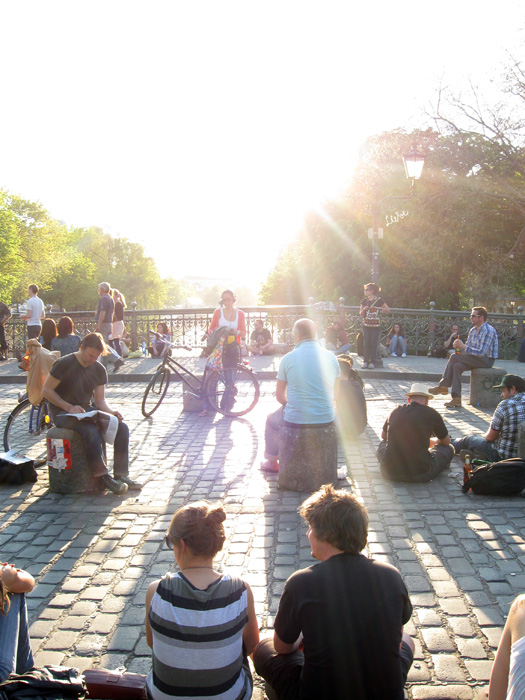 Admiralsbrücke. Has become a bit of a tourist attraction, I was told.
Still... a nice place for a brewskie.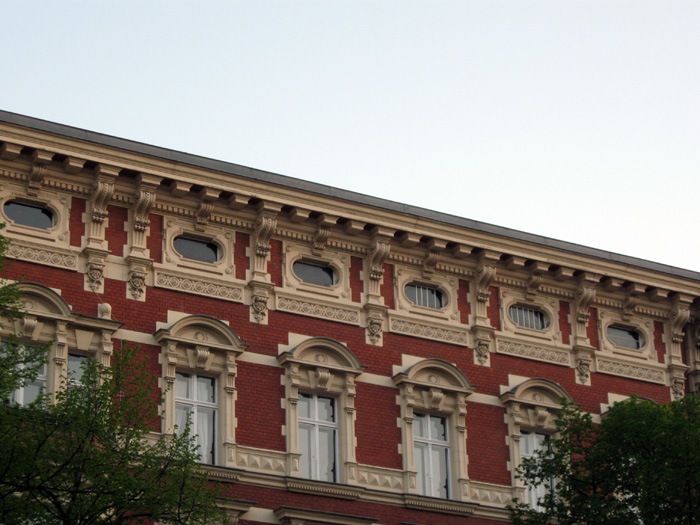 I still enjoy checking out architecture and it's little details. This is a house on Kreuzbergstrasse.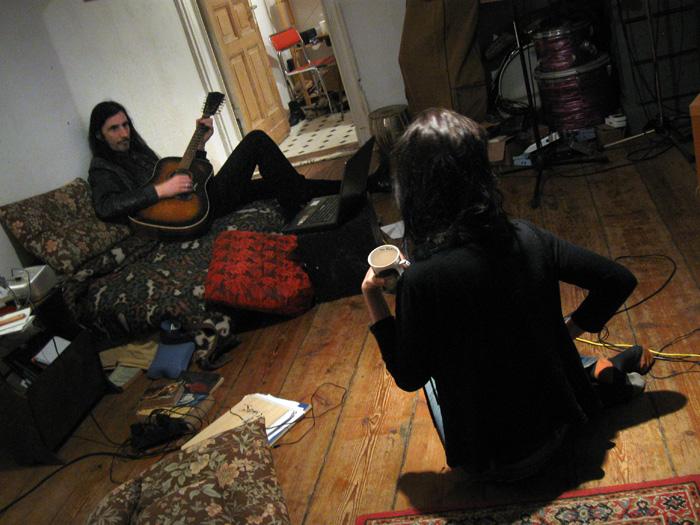 A relaxing moment at the musical household of Sister Chain & Brother John.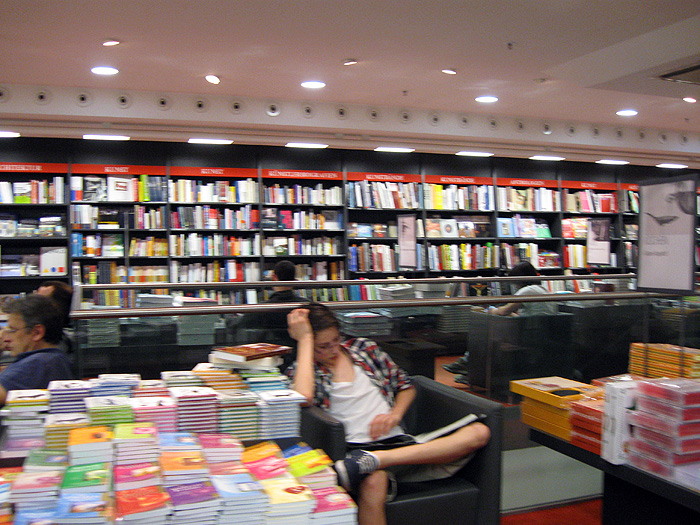 Book shopping/browsing at Dussmann's in concrete/glass-neighbourhood in Mitte. People reading there
right until midnight. A bit strange with shopping and bright lights late in evening. Good things in there.
From regular to slightly expensive prices on books, films and music.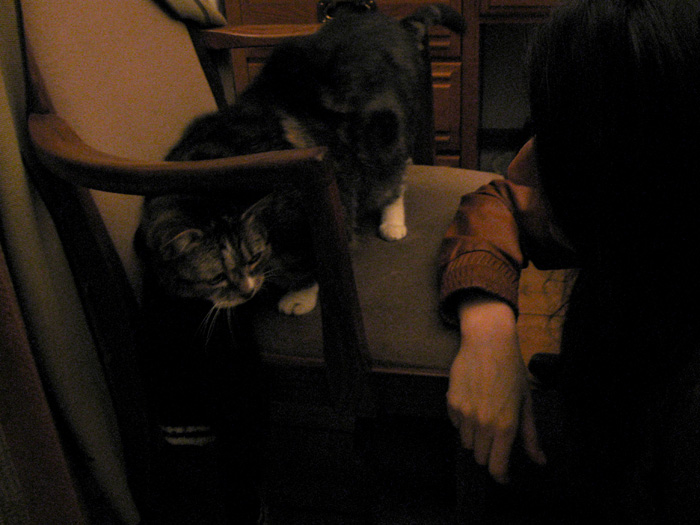 A visitor for a few days - a cat that was not very sociable.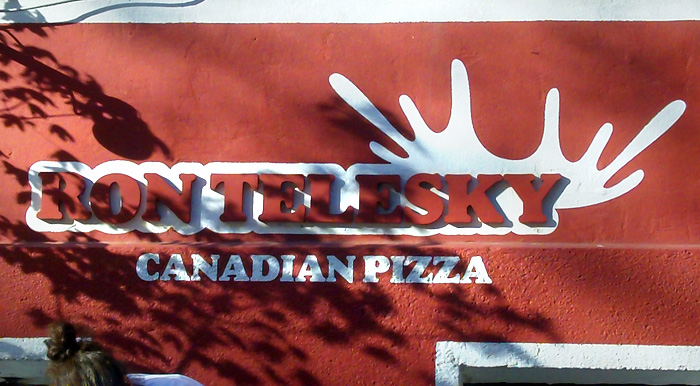 Canadian pizza?! What's that, I asked.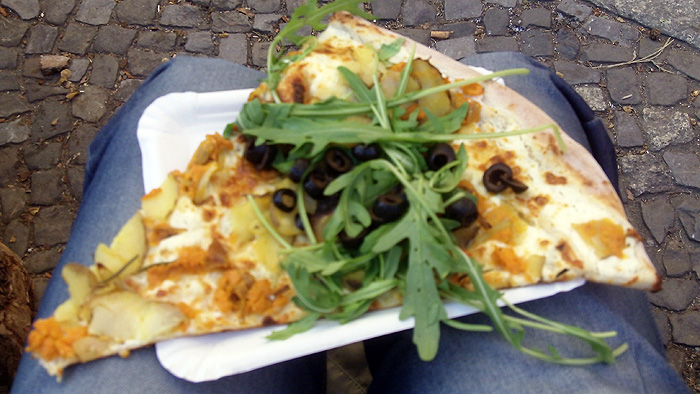 Turned out to be damn delicious. Seriously.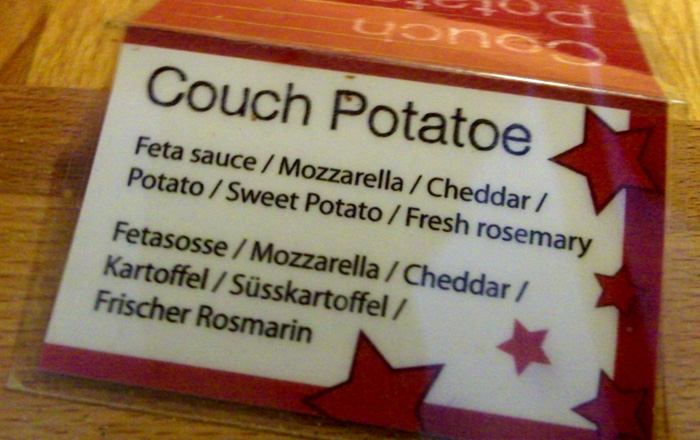 And then add the rucket and sliced black olives on top - as well as a maple sirup and chili sauce
to top it off. The Couch Potato. Seriously yummy! Ingredients noted for later. ;-)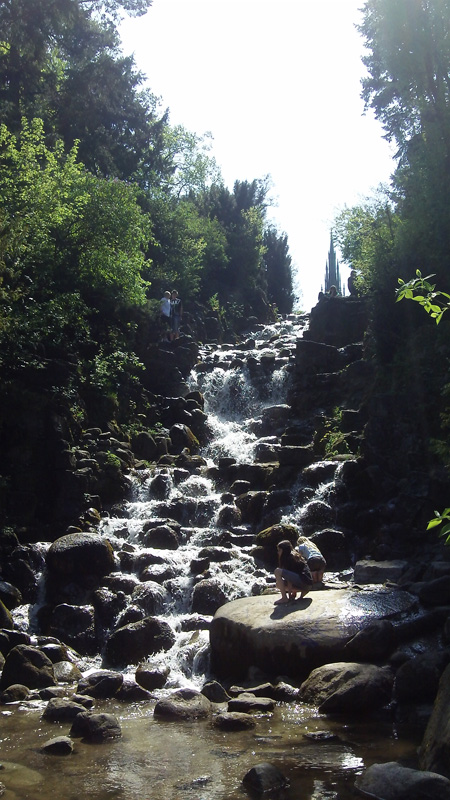 The aptly named Victoria Park with its waterfall (which turns on and off).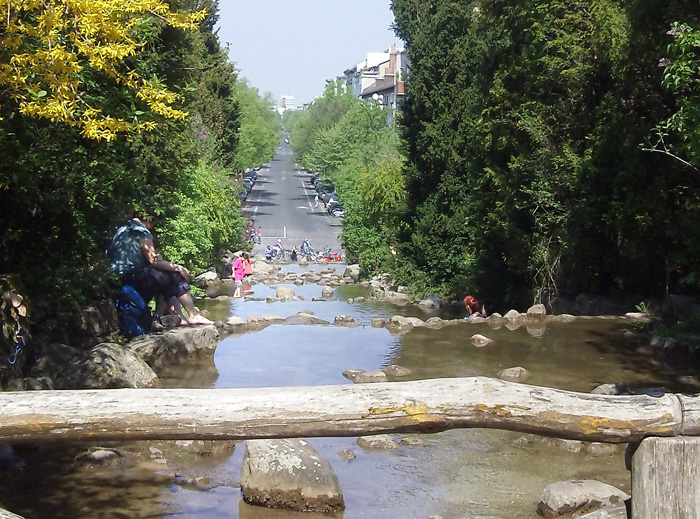 View from above over parts of Kreuzberg.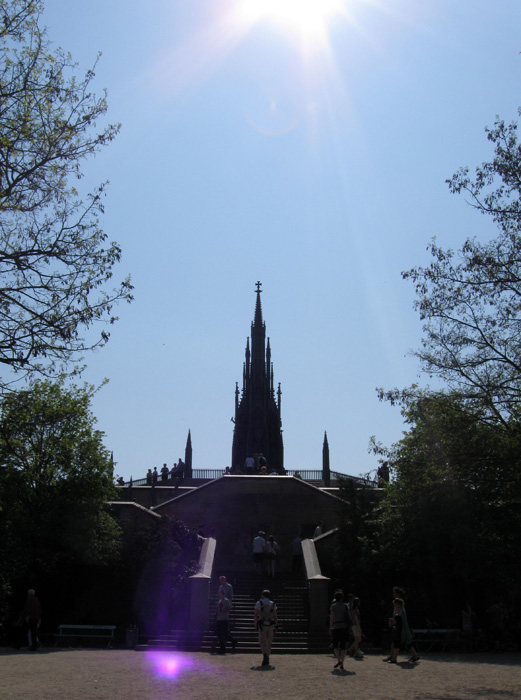 And they stuck a momument on top.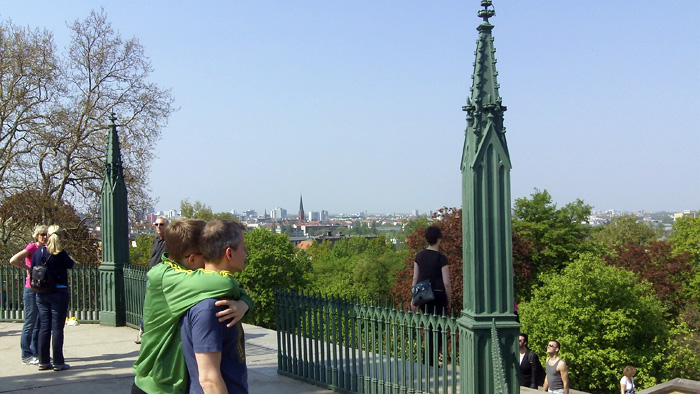 Pretty good view over most of the city from up there.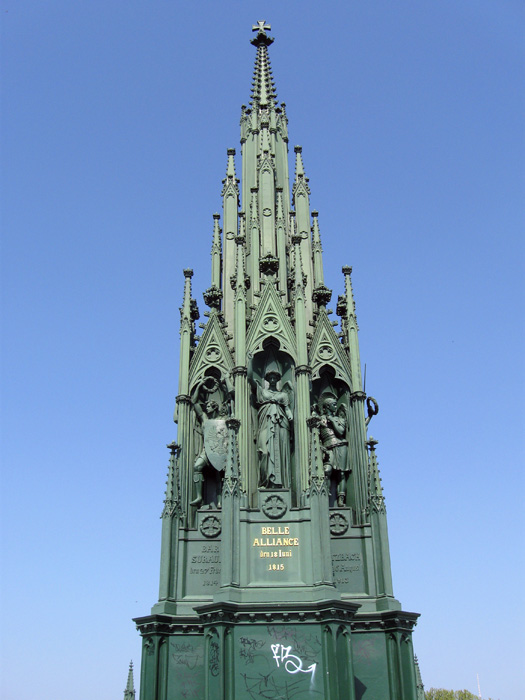 A closer inspection of the monument. Something old, something French, something tagged.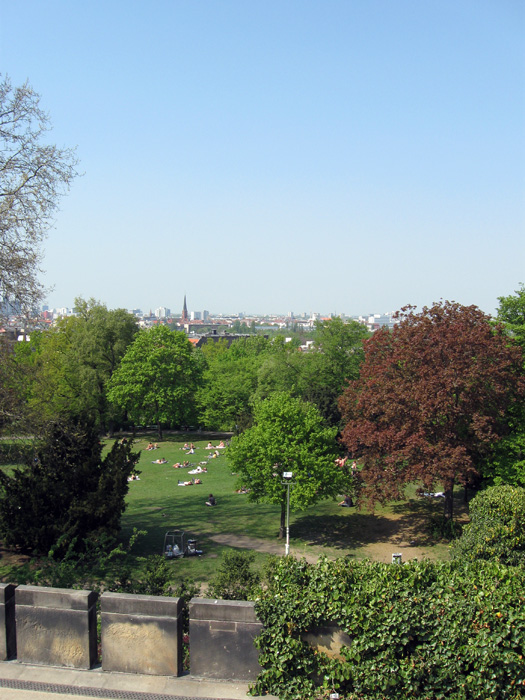 The park part of the... park.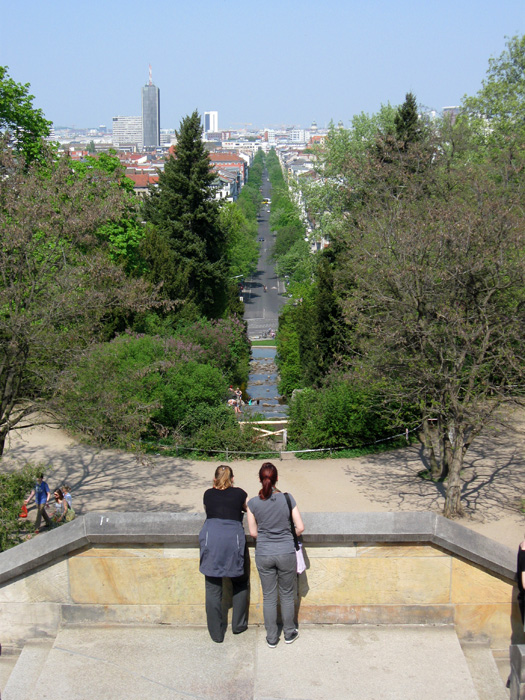 More from-the-top viewing.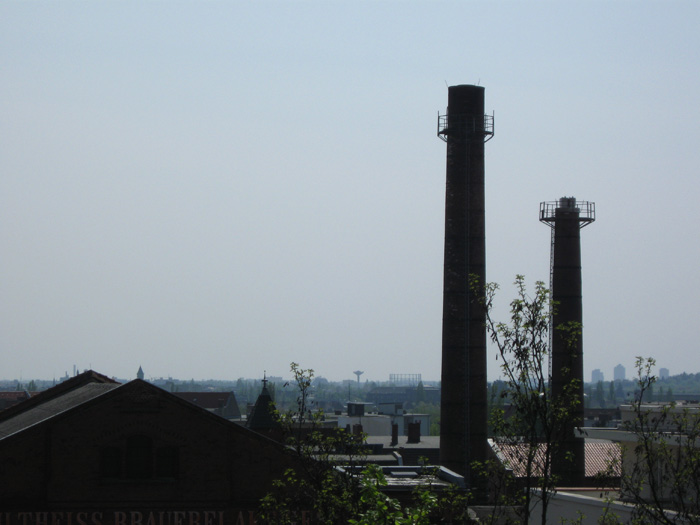 Still a view from the top. Liked the hazy and old school industrial cityscape seen from there.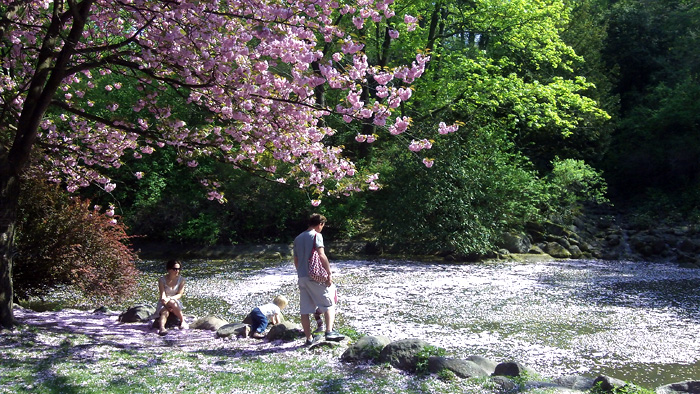 Rosy-coloured pond in Victoria Park.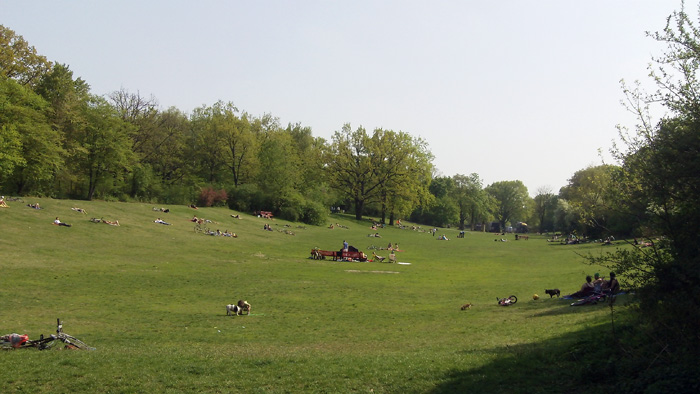 Made it to the Hasenheide Park. Reached the middle after passing by several drug dealers
who had plenty to offer. No thanks. :-)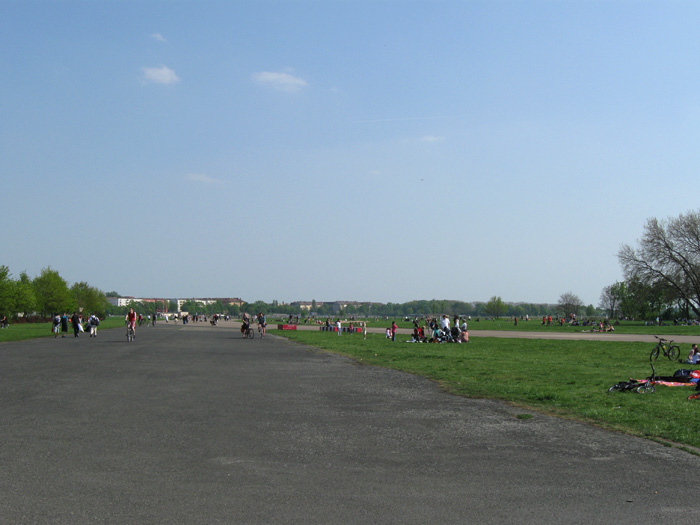 The recently closed Tempelhof Airport. Now used as a park.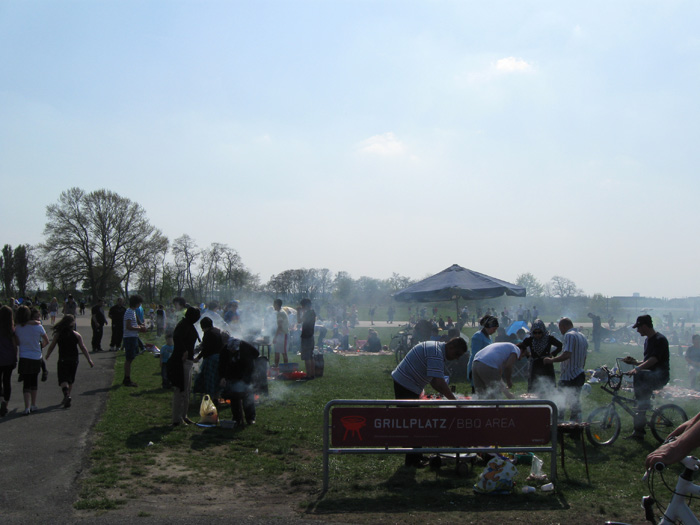 Good place for barbecues.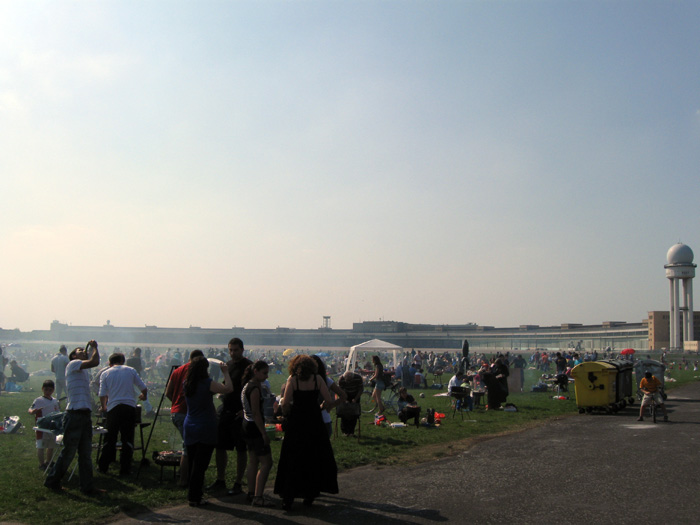 Can you see the old nazi airport building behind all the smoke? :-)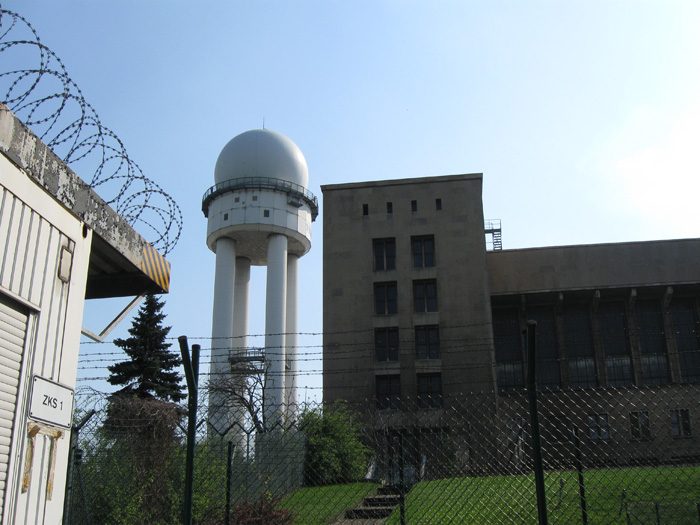 Apparently Tempelhof was the biggest one-structure building in the world at the time.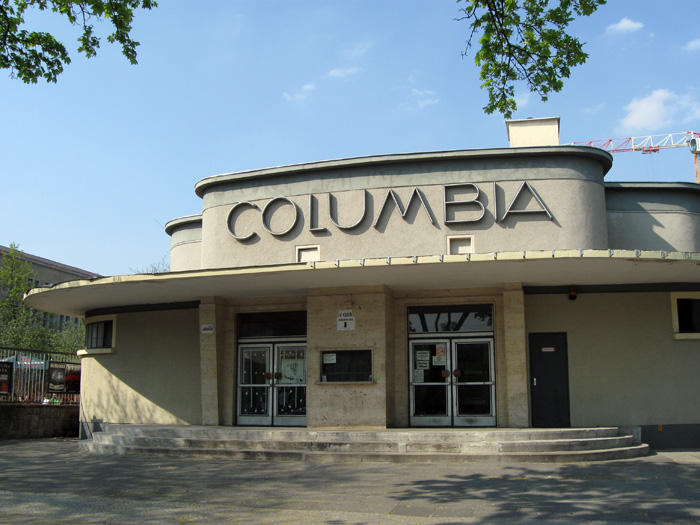 Some more architecture. Nice curves.

At the Another Country Bookshop i Kreuzberg.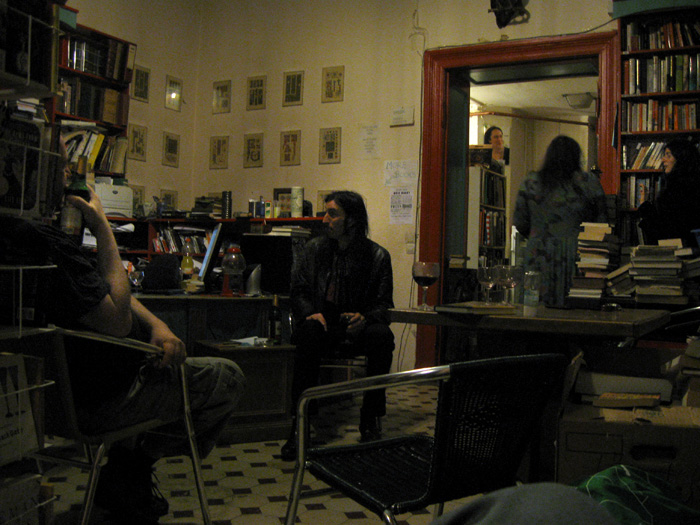 Late night bookshop cozyness with wine and good company.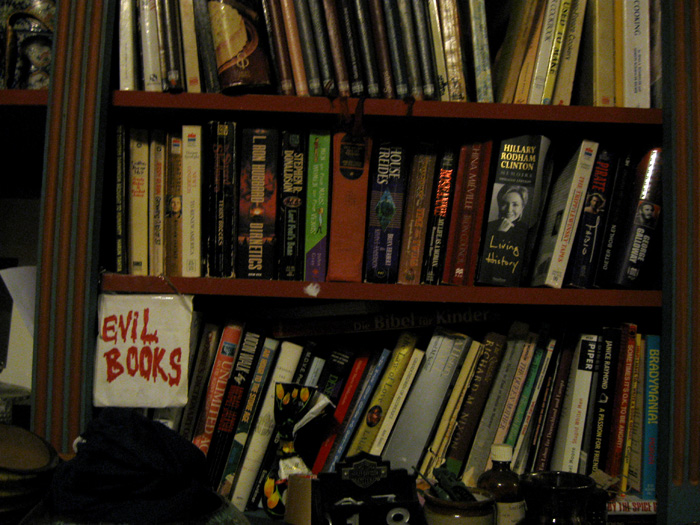 L. Ron, Hilary and friends in their right place.

Carefully sneak up in the wine...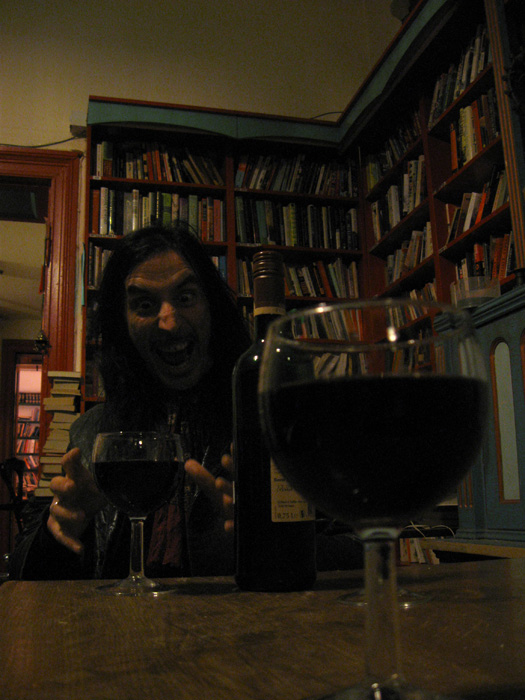 ...and BAM, go for it!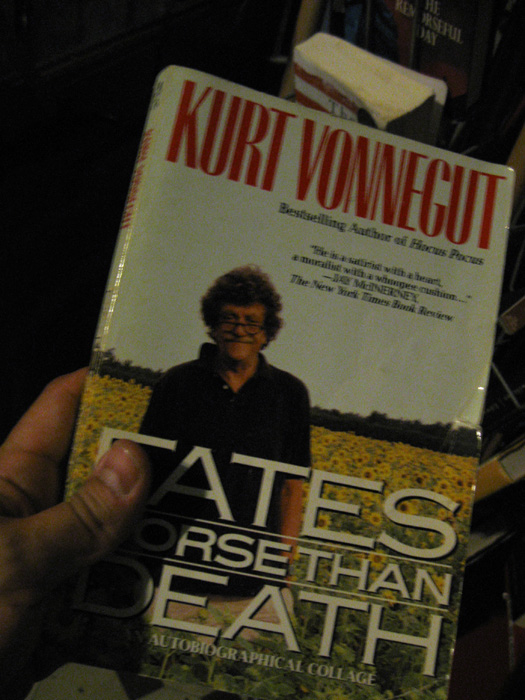 The bookshop works more like a library with most books. Only some are for sale. The good ones aren't.
Concept: Pay the price of the book, but bring it back and get your money back minus 1,50 euro.
I actually wanted to buy this one and keep it, but no. Gotta find it somewhere else then.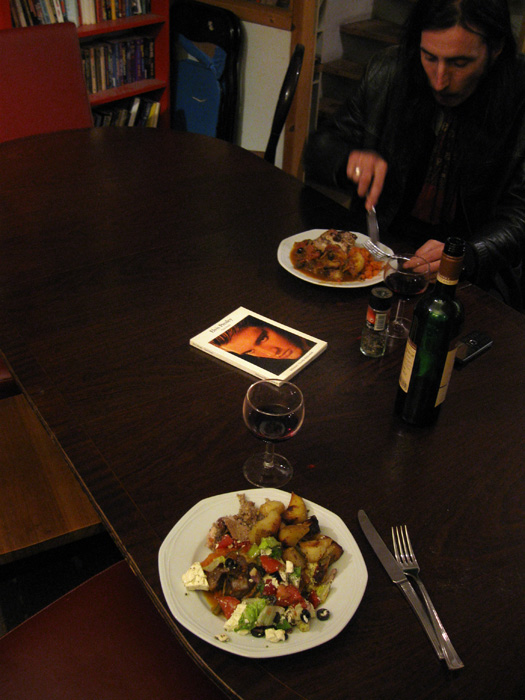 Did find an old Germany Elvis book and some really nice food there, though.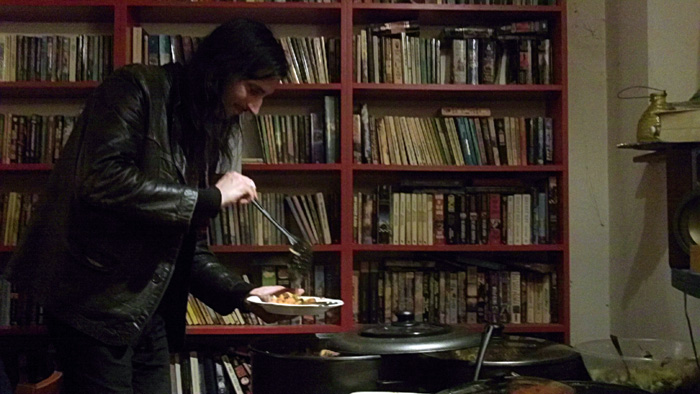 And we went back for more. Delicious.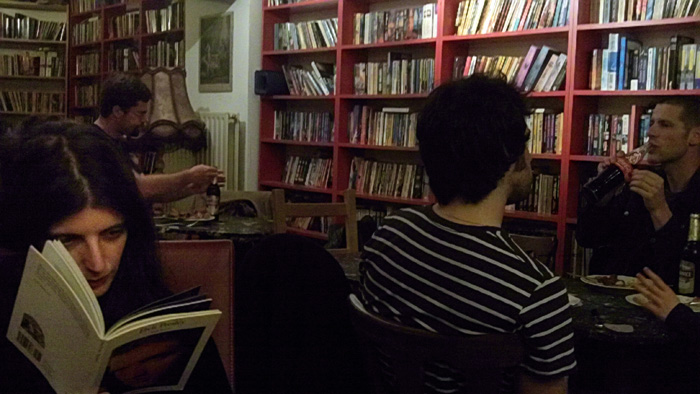 Dipping into Elvis.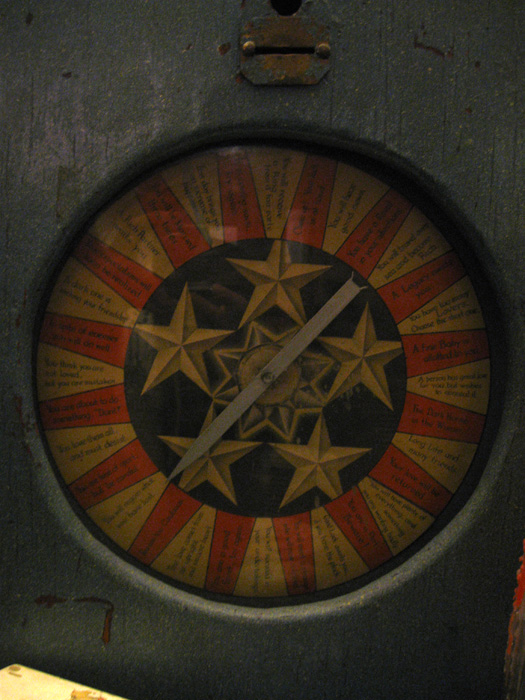 This machine in the bookshop could tell the future, I think.
But unfortunately it didn't seem to be in working order.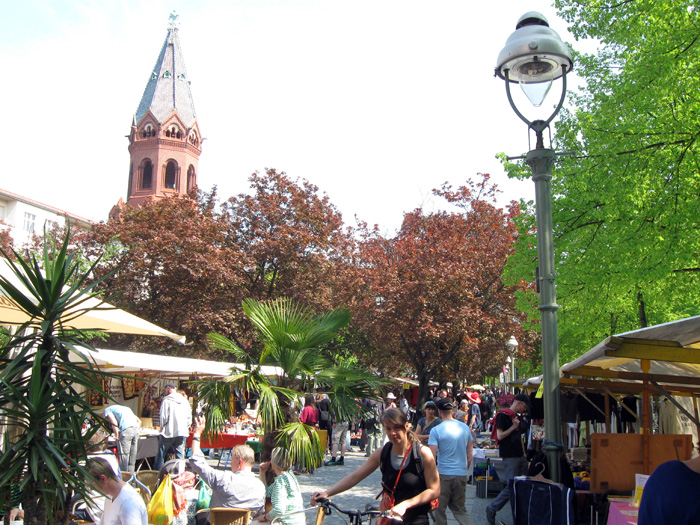 Marheinekeplatz in Kreuzberg. Market every Saturday.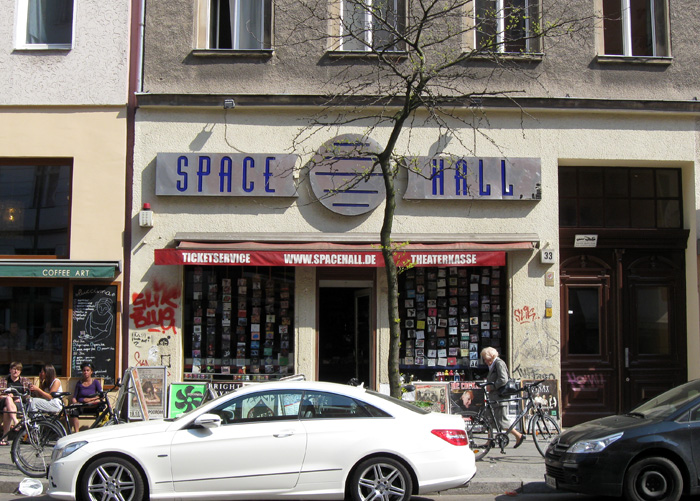 Spacehall music shop, Zossener Strasse, Kreuzberg. The department for cds...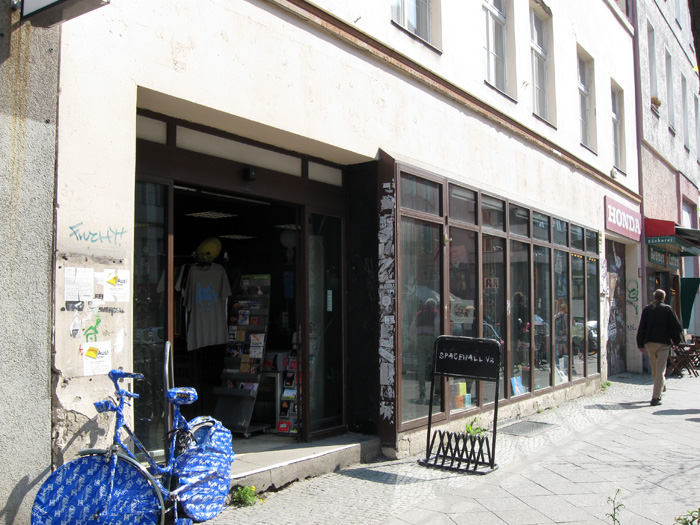 ...and the department for vinyl and other things. Huge selection of electronic music, but also lots of
other things. Divided into lots of genres. Unfortunately, one of the pricier music shops I encountered.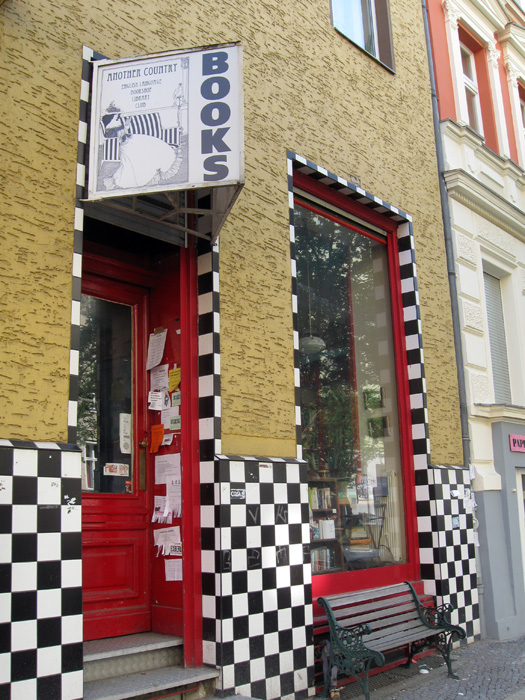 Another Country Bookshop (link) from the outside. You'll find it in Riemannstrasse,
between Bergmannstrasse and Gneisenaustrasse.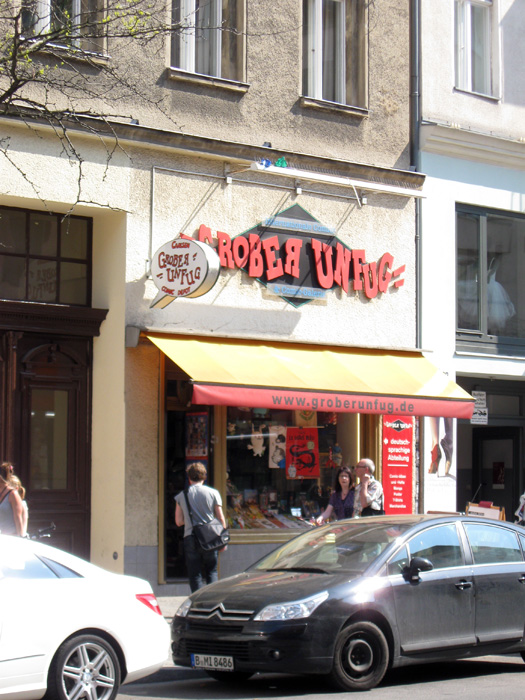 Grober Unfug comic book shop, Zossener Strasse, Kreuzberg. There's another one
on Torstrasse in Mitte. Most things are in German, but there are also English titles.
Found myself the full "Freak Brothers" collection. Nice. :-)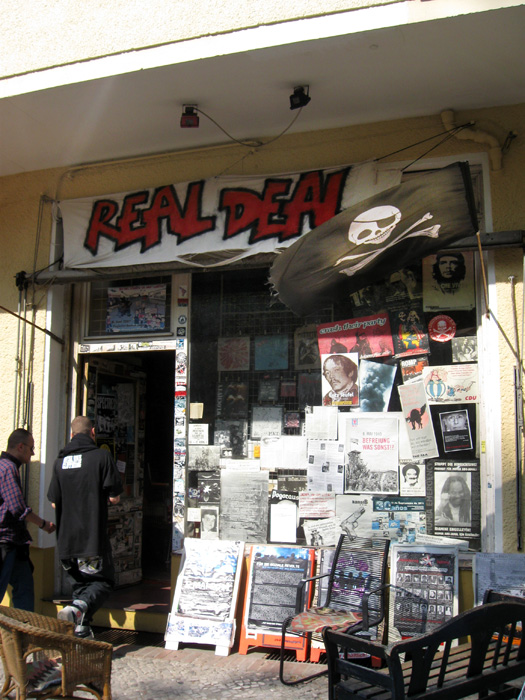 Real Deal record store. Lots of punk rock and... that seems to be it! :-)
Even found some Danish punk in there.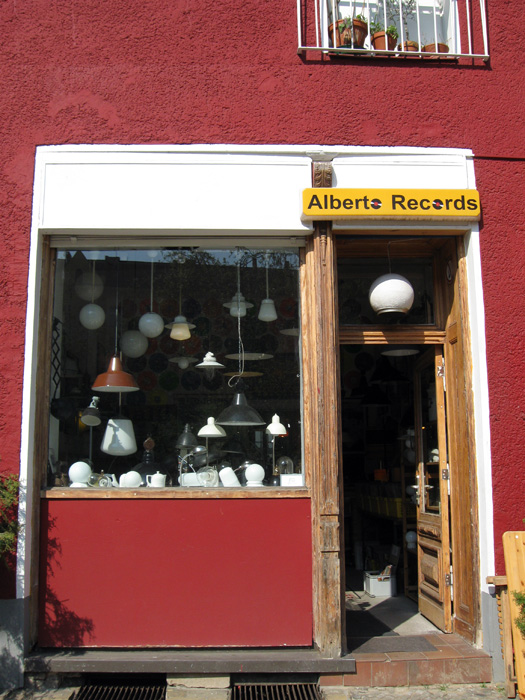 Looks a bit like a lamp store, but upon closer inspection there are plenty of
records in there. Old stuff, a bit of thing things also, but unexpectedly a bit pricey.
Also located on Gneisenaustrasse.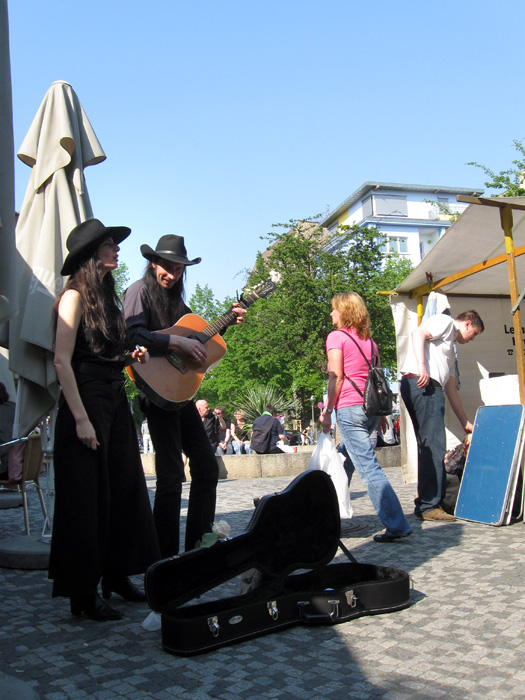 Sister Chain & Brother John don their cowboy hats and their country'n'western
alter egos of The Hunters and do a bit of busking at the Marheinekeplatz market.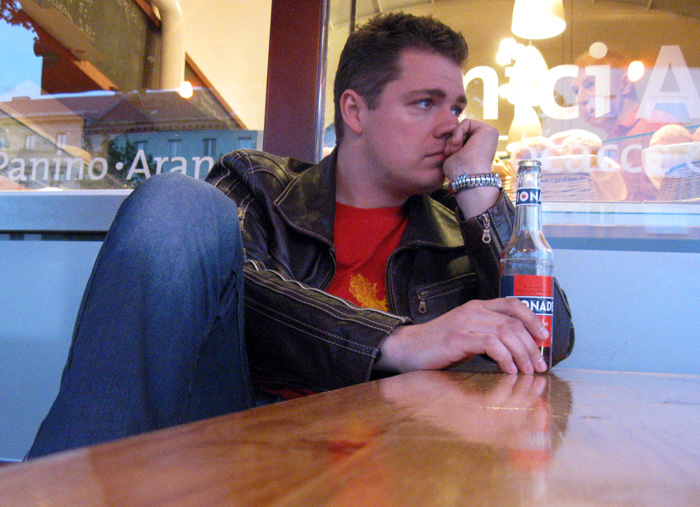 Relaxing with a Bionade on Mehringdamm. And also some
way of proving that it was actually me on this trip.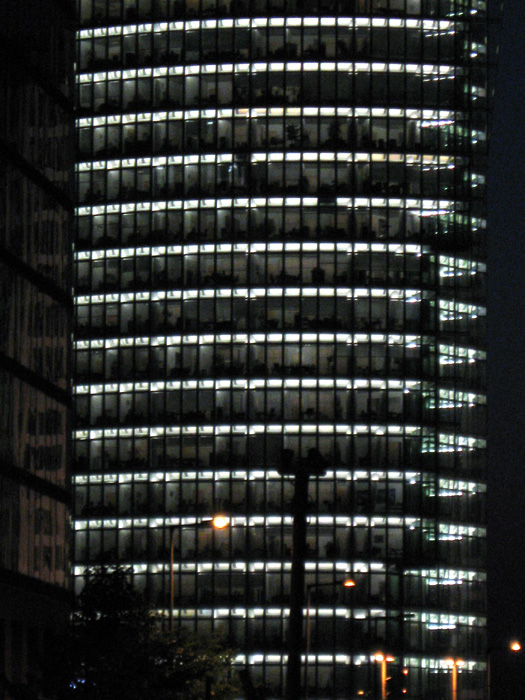 Deutche Bahn house at Potsdamer. Working late?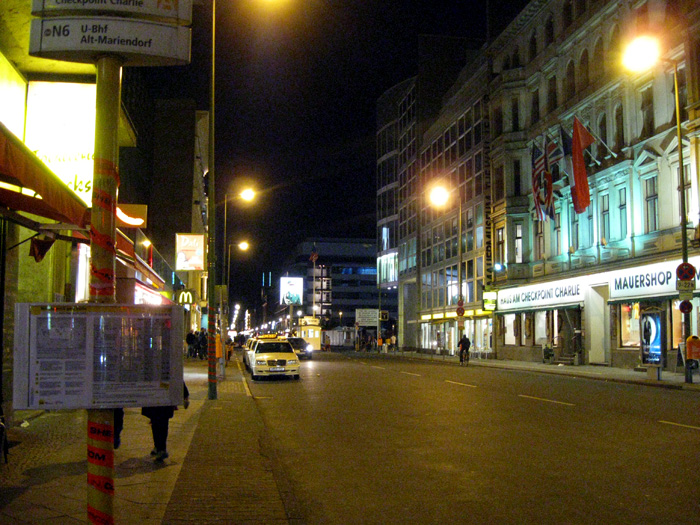 Late night tourist. At Checkpoint Charlie. Strange place in the evening. Well... and in the day.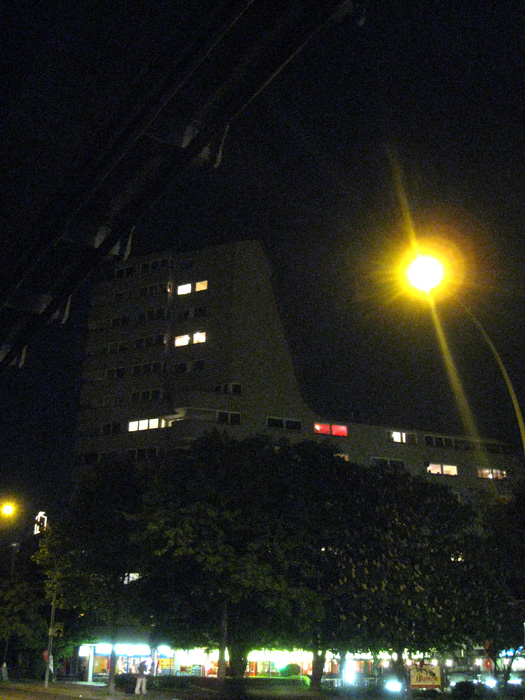 One more piece of different architecture. Once again curvey.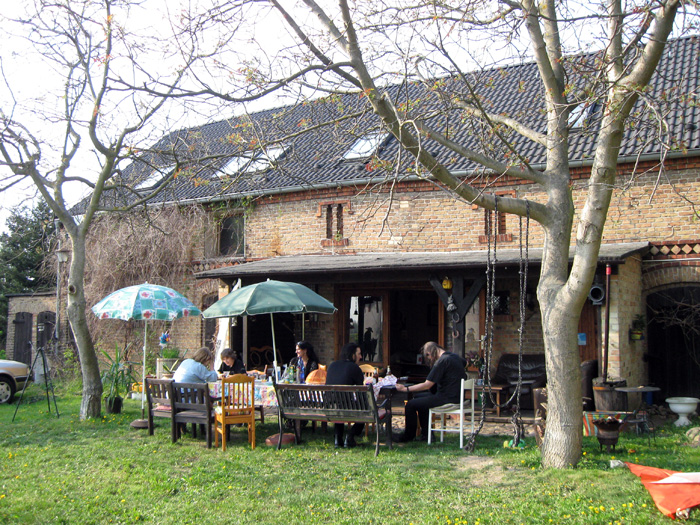 A day in the countryside. So far out it was almost Poland.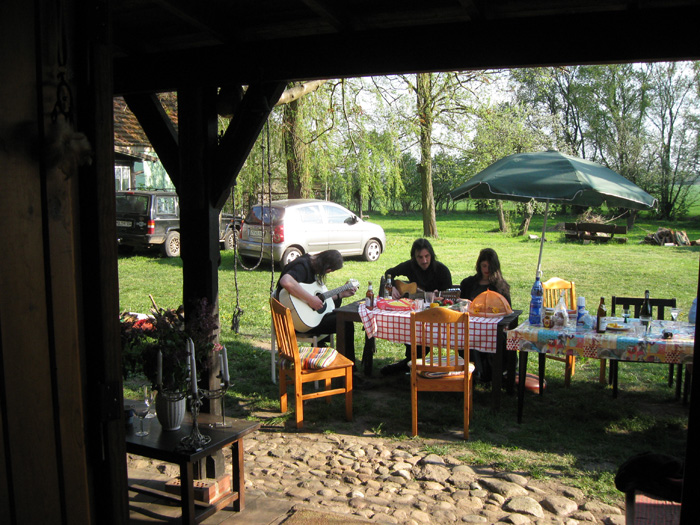 Doesn't get more cozy than this.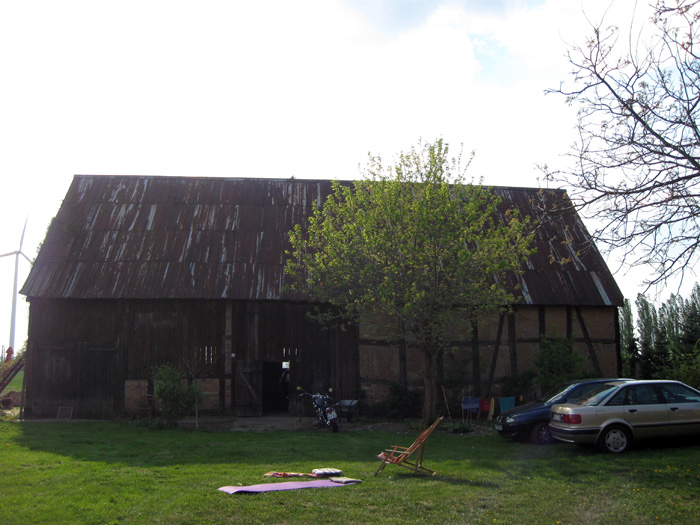 With a barn...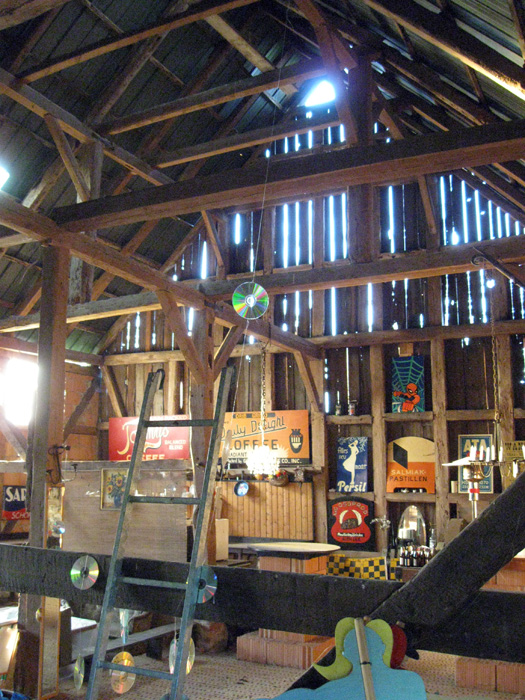 ...with interior like a saloon. Not open for business, though. :-)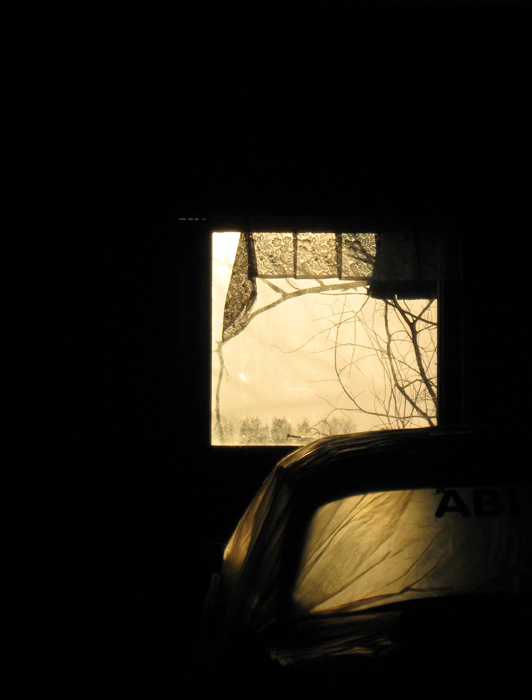 Old car in the barn. Shadows, trees, wind...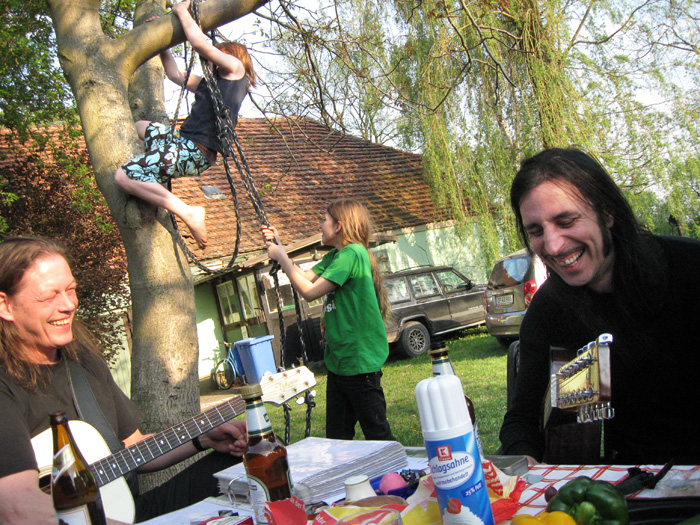 Several kinds of playfulness.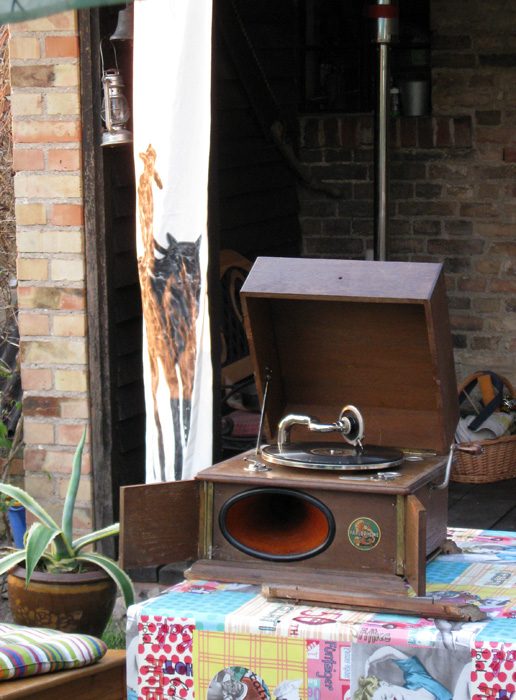 You gotta love this kinda stuff. Speaker ("horn") at the bottom. Clever.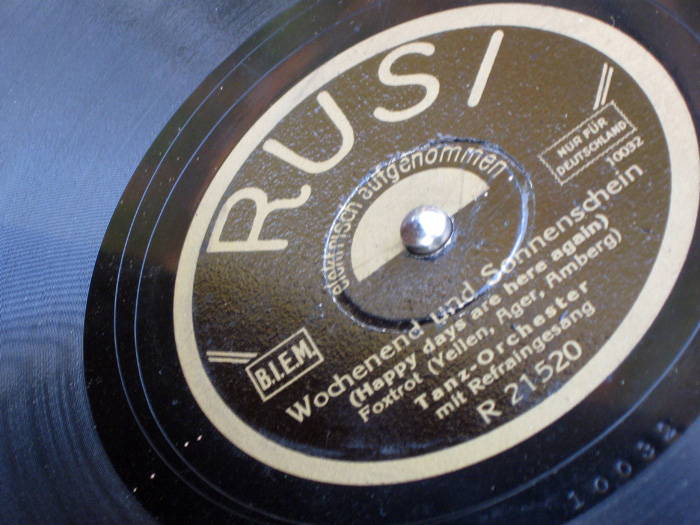 "Weekend and sunshine". Indeed "happy days are here again". :-)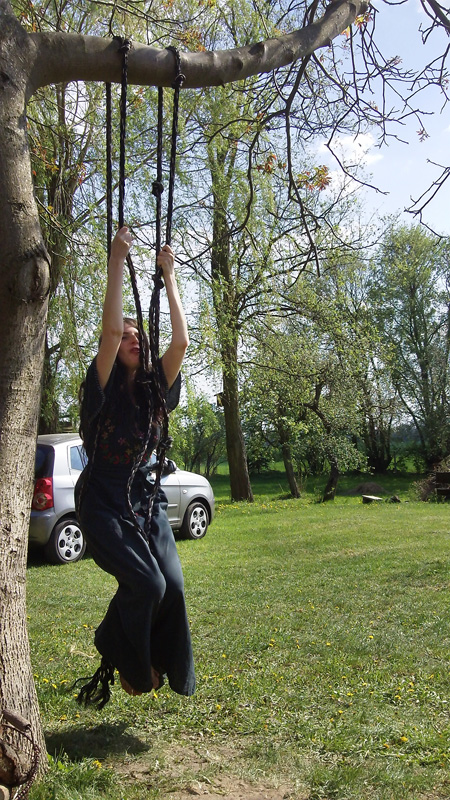 Acrobatics. Pull!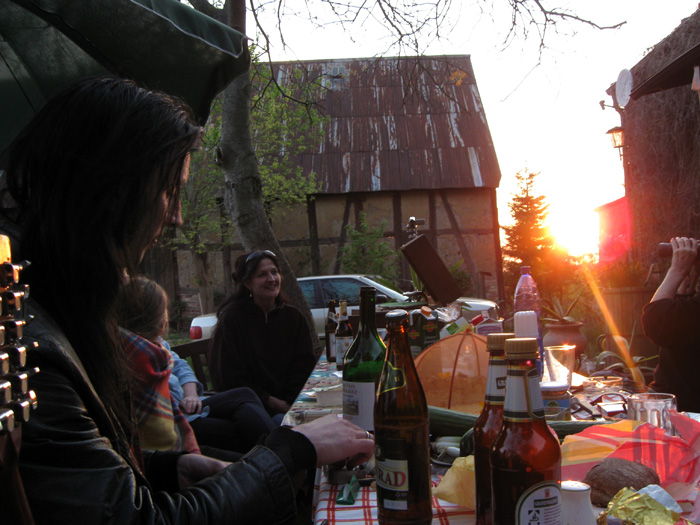 Sunset. Getting even cozier.

Sister Chain doing the Don Quixote thing.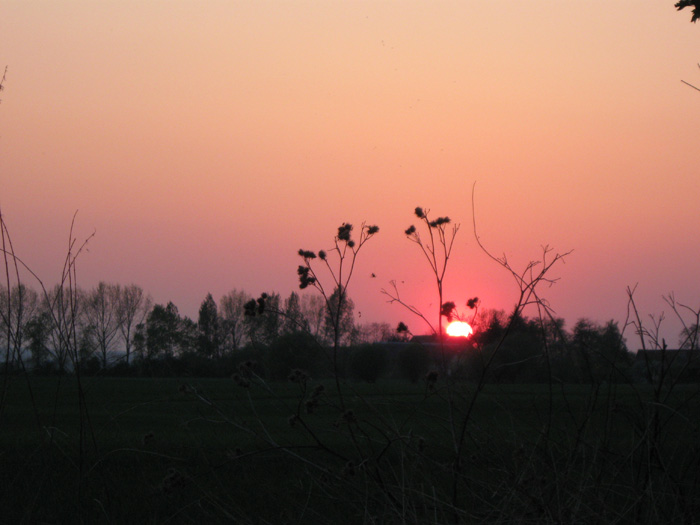 And there was only the sound of the birds.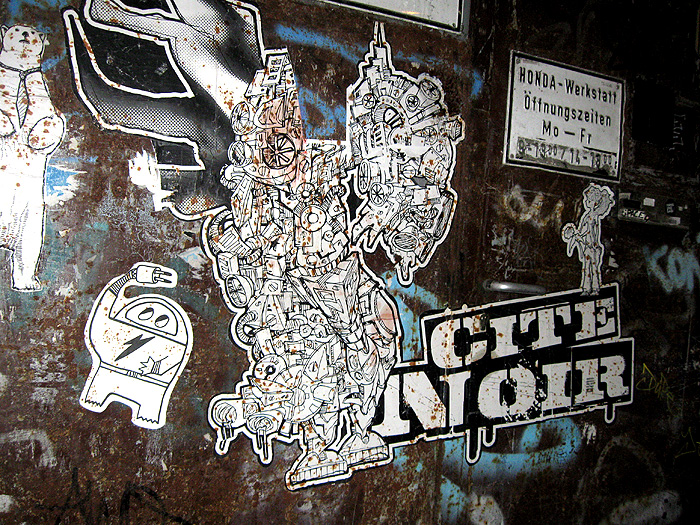 Back in Kreuzberg. Very detailed street art.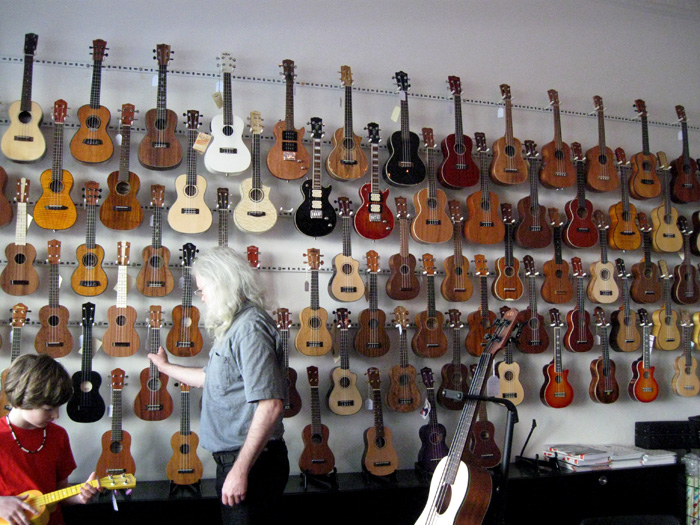 It's called Le Le Land. All the Uke's you could ever want!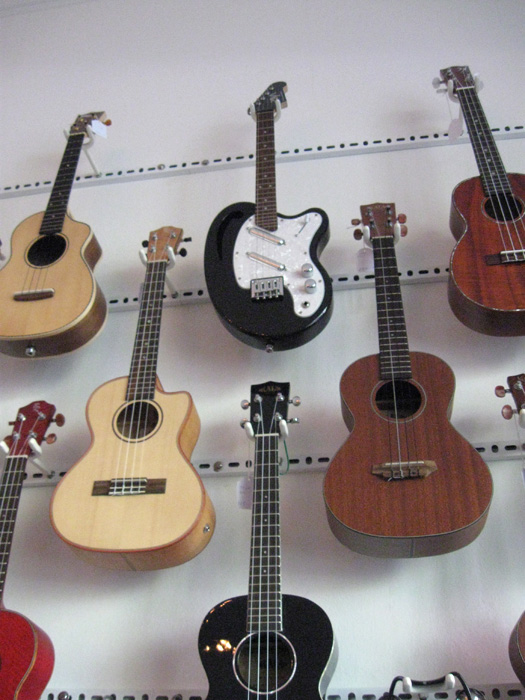 Even this kind. I mean... come on!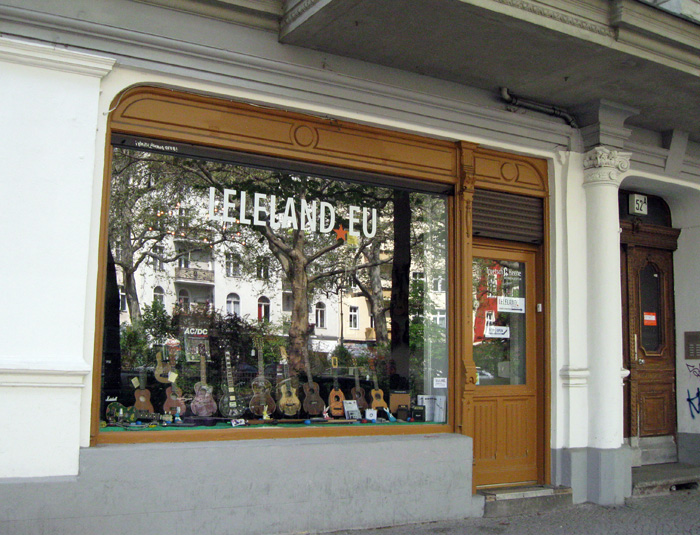 It's on Gneisenaustrasse, right by Südstern, where the street changes name to Hasenheide.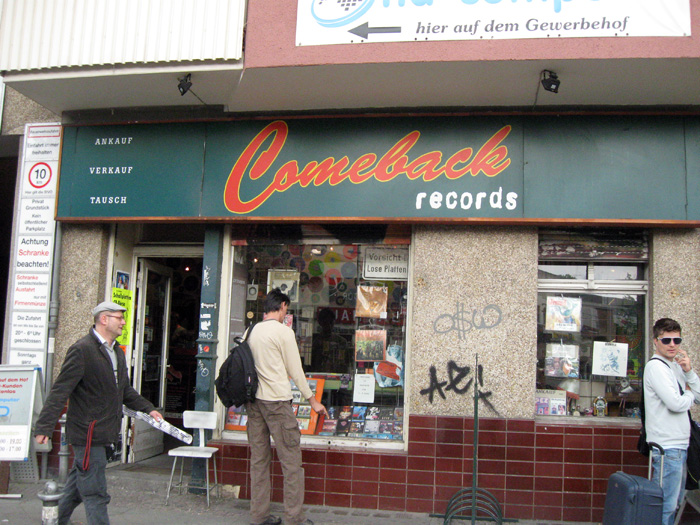 Comeback Records on Gneisenaustrasse, close to Hermannplatz. This time I got lucky in there with a
few nice finds. LPs, cds and dvds. Prices are not too bad and the service is friendly.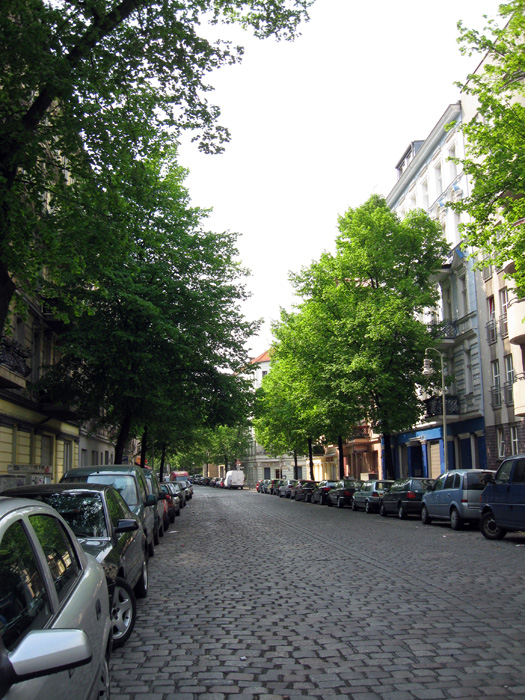 So why do I like Berlin so much? Well, the trees everywhere helps a lot.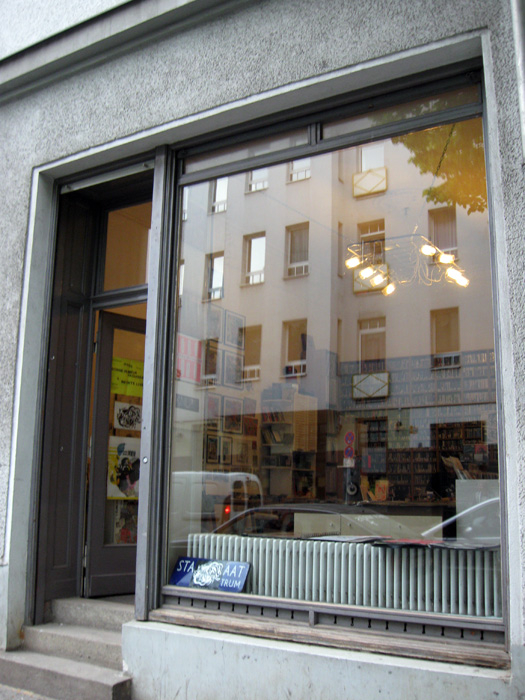 Strolling down Flughafenstrasse in Neukölln. What the hell?! The Staalplaat store
moved here?! Didn't know that.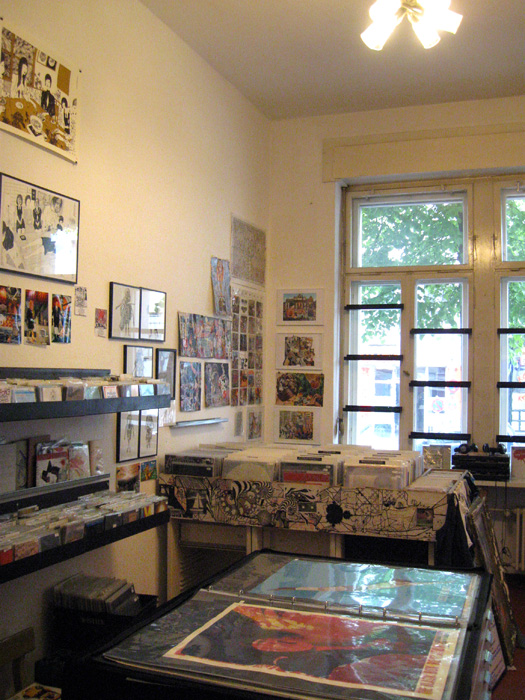 Strange music and arty stuff at Staalplaat.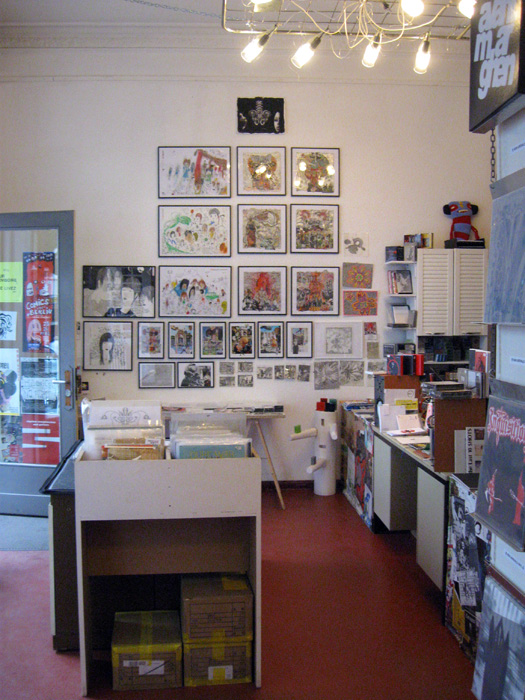 More.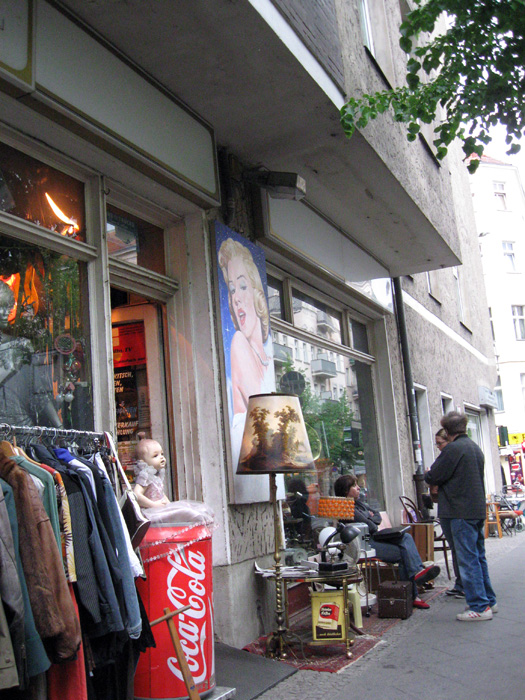 Flughafenstrasse has a lot of thrift stores.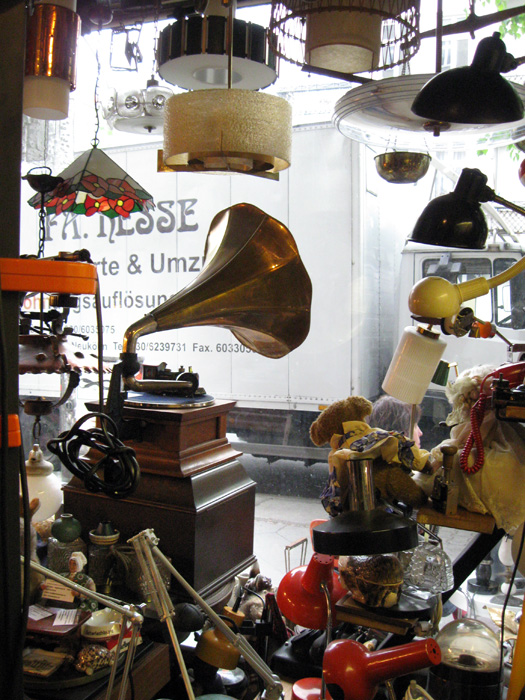 Didn't ask for prices in there. Probably not cheap.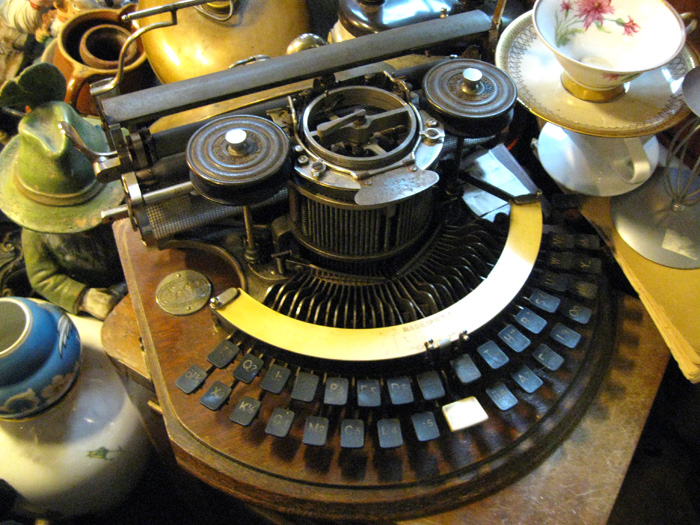 Not even the smiling typewriters, I reckon.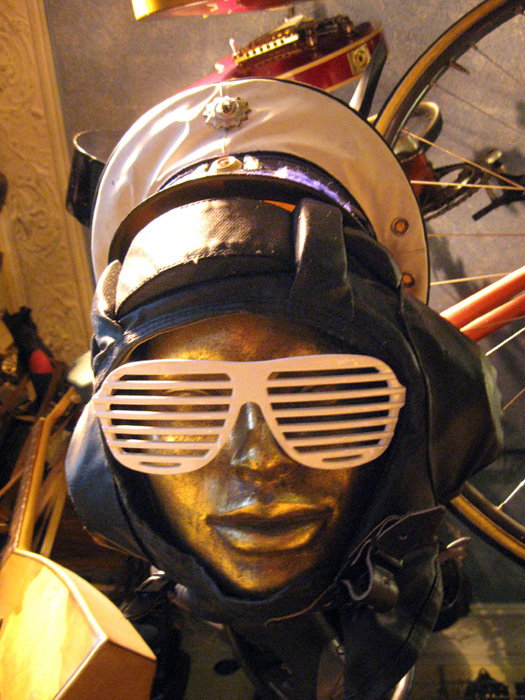 Well, of course I shot a photo of that.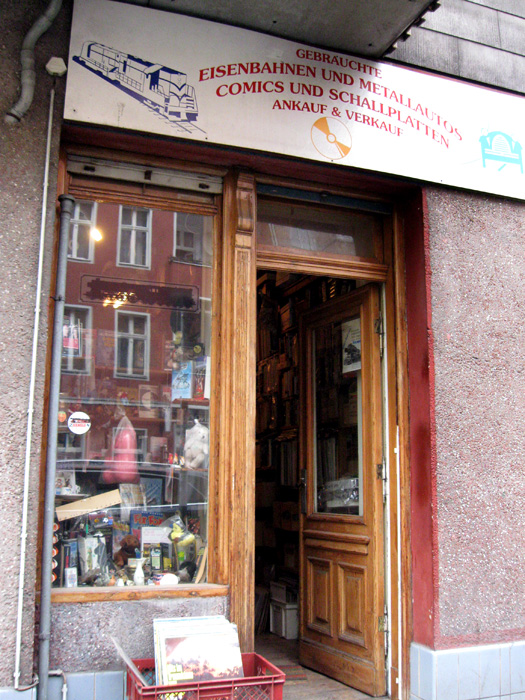 Modeltrains, comic books and records. Still Flughafenstrasse.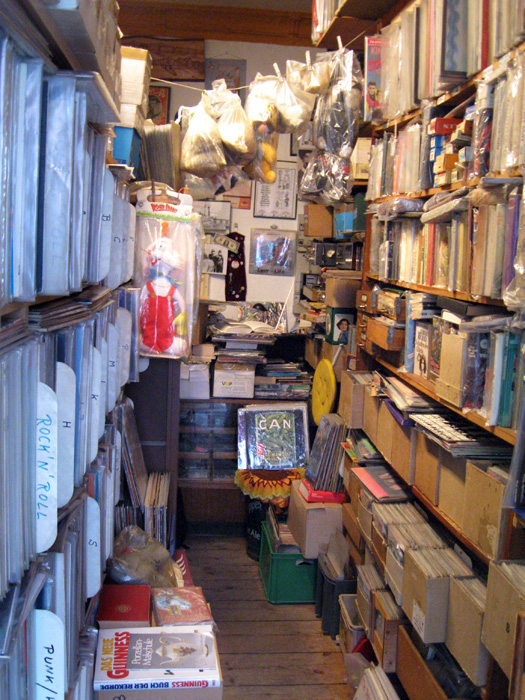 Not much room in there. Hard to look through the records when packed like that.
Had some okay things, but difficult to get a proper overview.
Also a few rarities there that were way too expensive.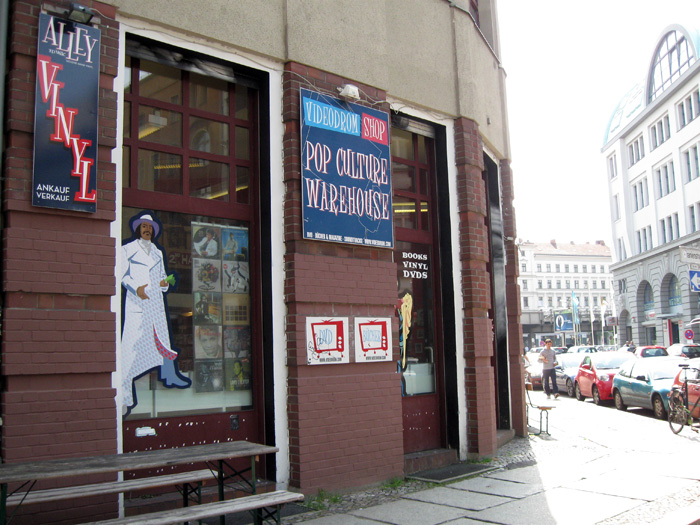 Interesting new shop on the small square on Oranienstrasse, close to Kottbusser Tor station.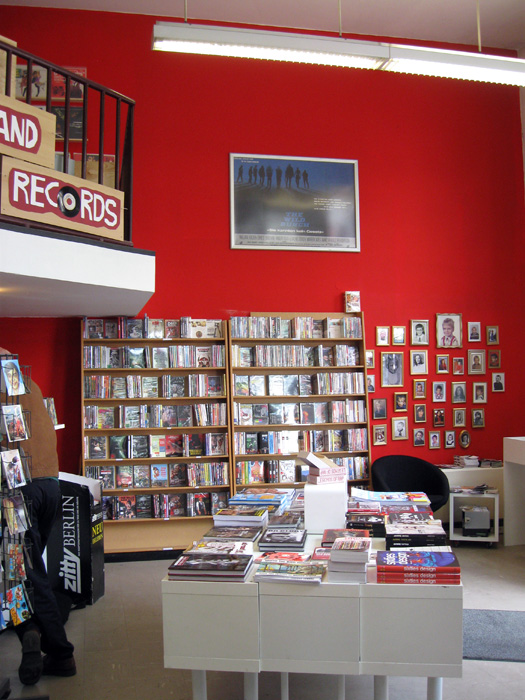 Records (new), dvds and artbooks etc. Especially the films were really special stuff.
But unfortunately mostly expensive imports. Tempting, but a bit too pricey.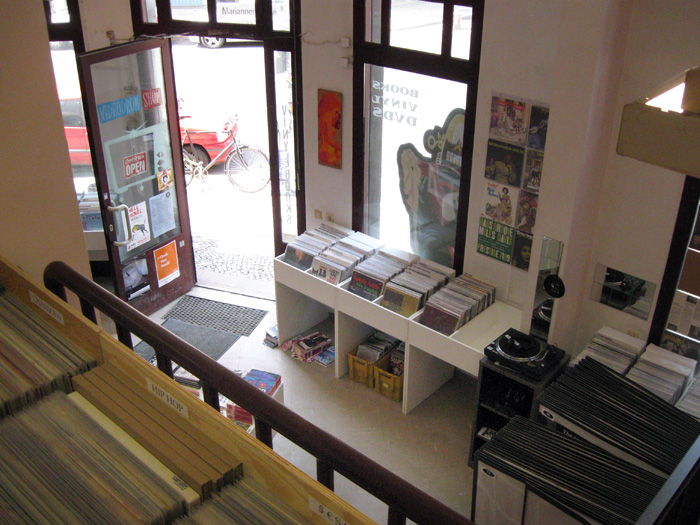 On the first floor inside was a another shop-within-the-shop that dealt in second hand records.
Not too bad selection. Didn't have time to check it out that well. Found a bit to buy, though.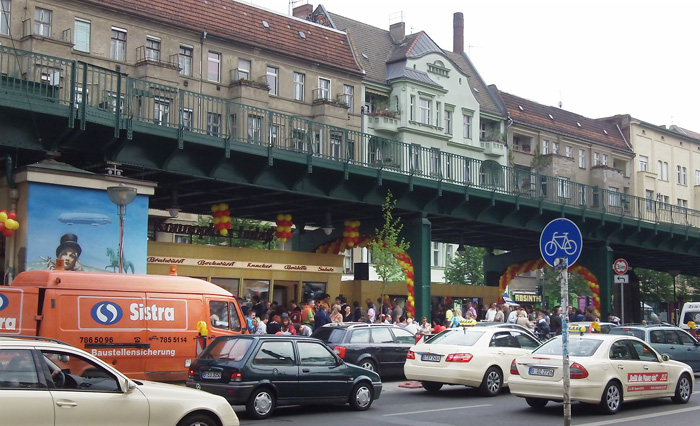 Tourist trap in Prenzlauerberg. The currywurst place seem to have expanded greatly since last
time I saw it. People queue there like crazy. I mean come on, it's just a sausage! The lemming defect?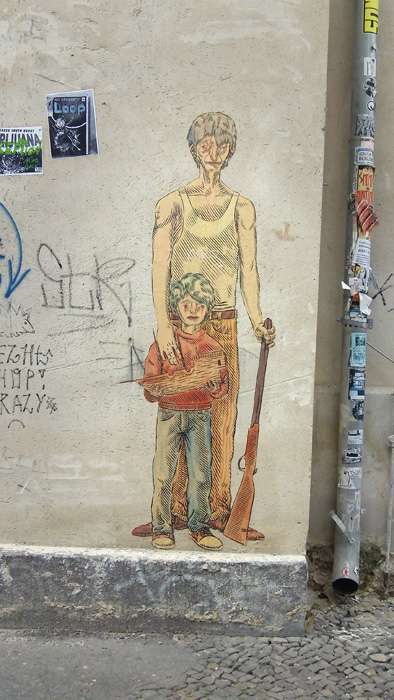 A bit of quite detailed street art.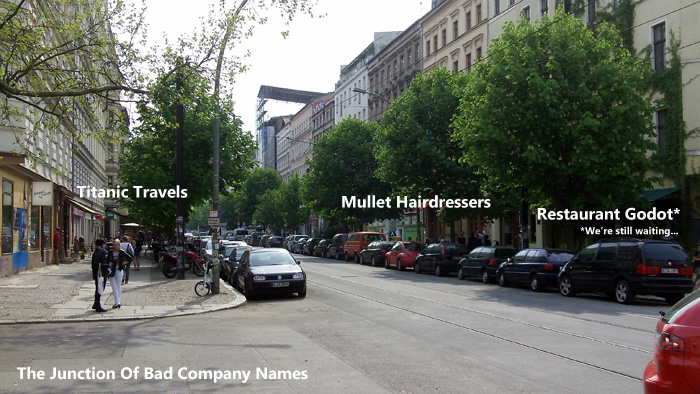 Yes, where Kastanienallee and Oderberger Strasse meet each other in Prenzlauerberg.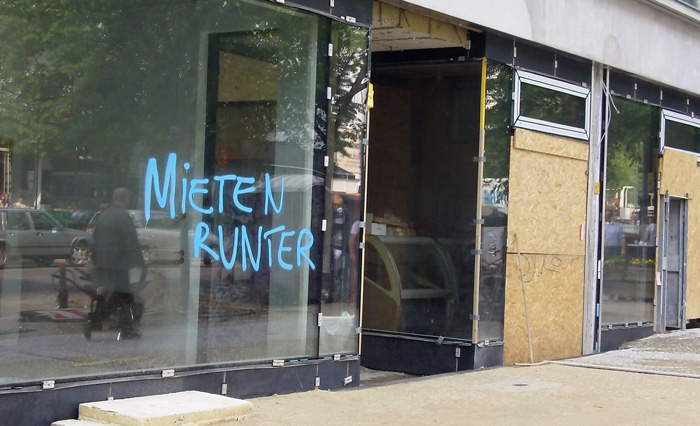 Down with the rent! There's a war going on.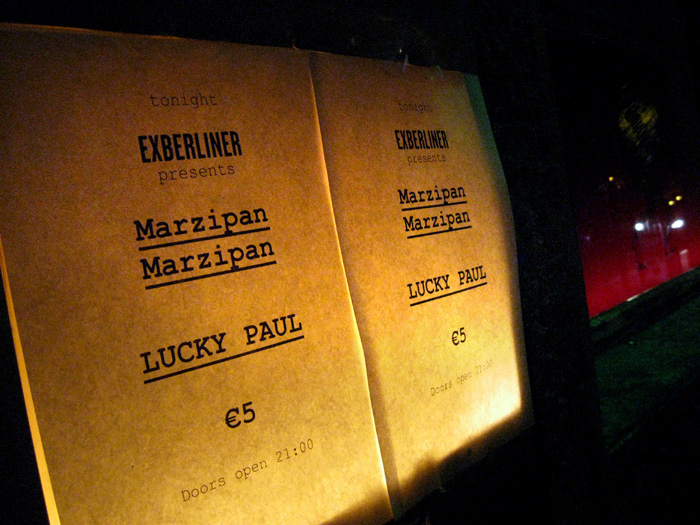 A night out at Kaffee Burger. Apparently a hipster tourist place? Didn't know.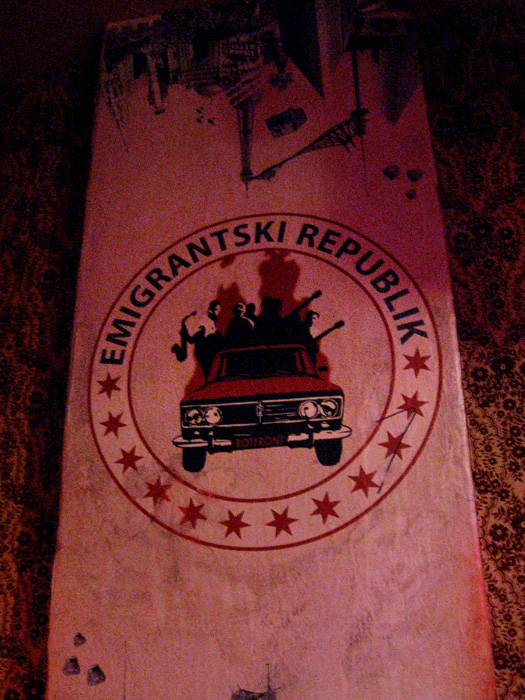 The hip signs were there.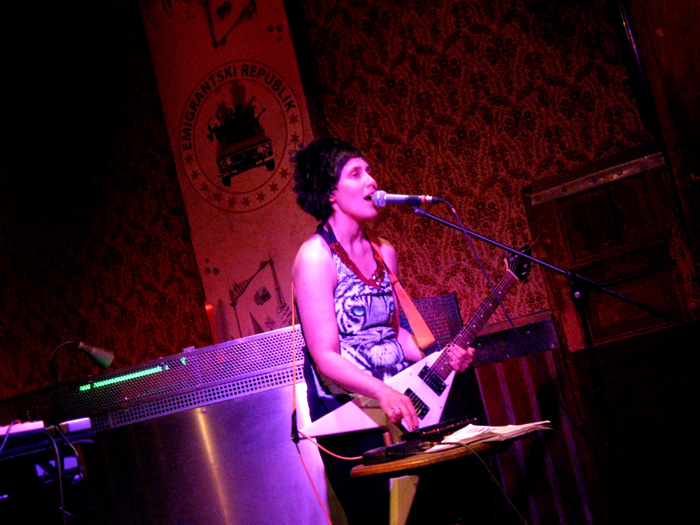 But I'd go anywhere to see Marzipan Marzipan. :-)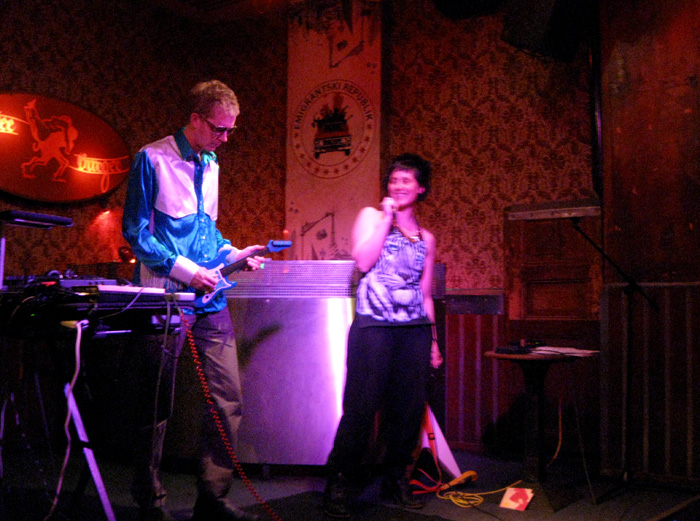 With Johnny Johnny on the mighty axe!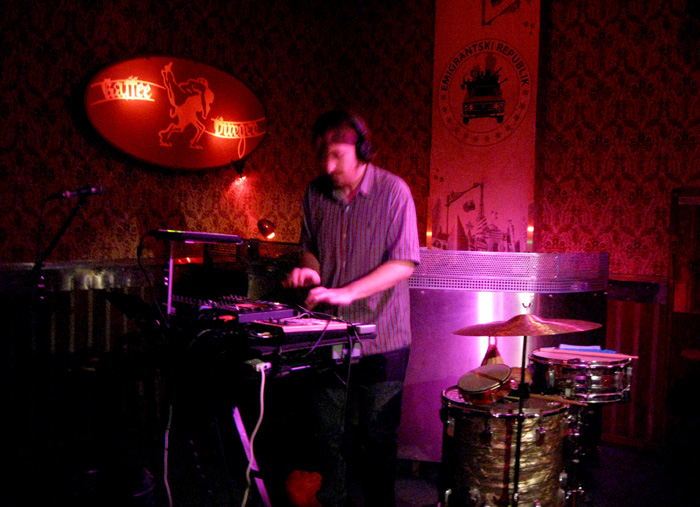 Lucky Paul working with plenty of loops and some samples. Some good grooves and ideas,
but all this looping can also get a little longwinded, I must admit.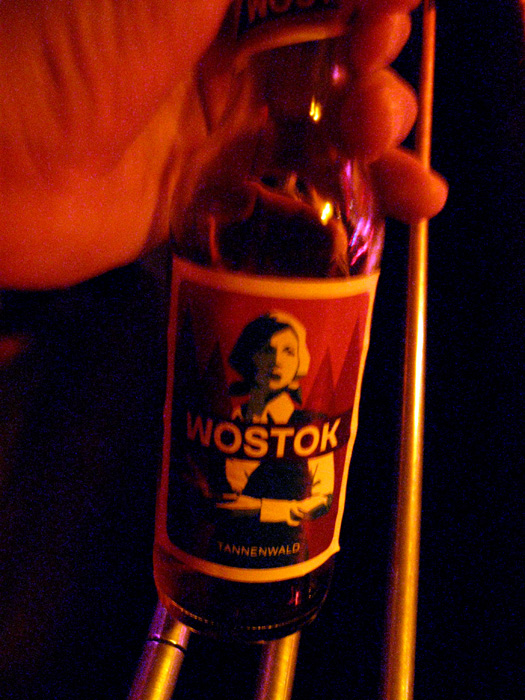 - So what's that Wostok thing?
- A h(inaudible) softdrink!
- A horrible softdrink?!
- No, herbal!
- Ah, right! That did seem like a bad way to sell it.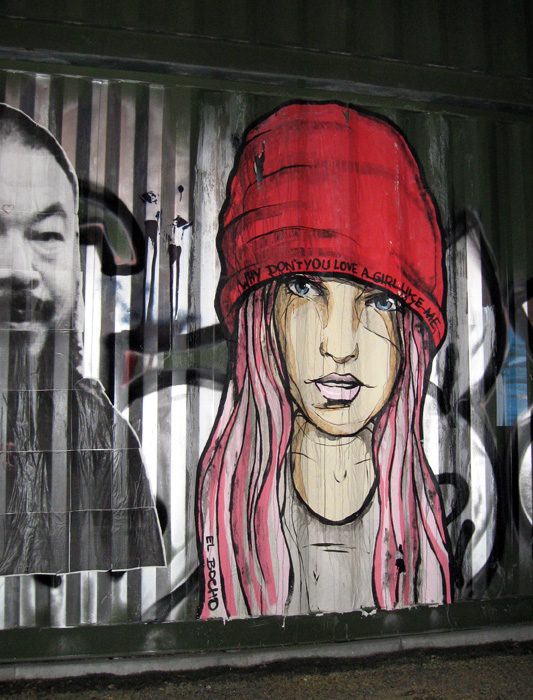 Street art on container close to Rosa-Luxemburg Platz.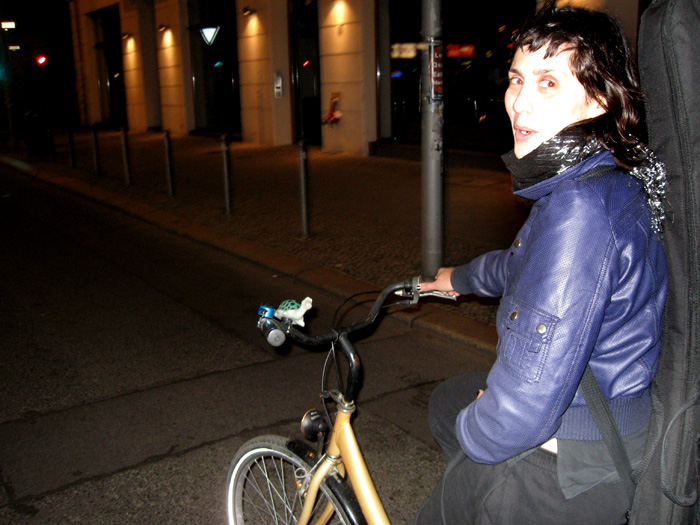 Berlin biking is the best. Also at night - with a marzi-riffic guide!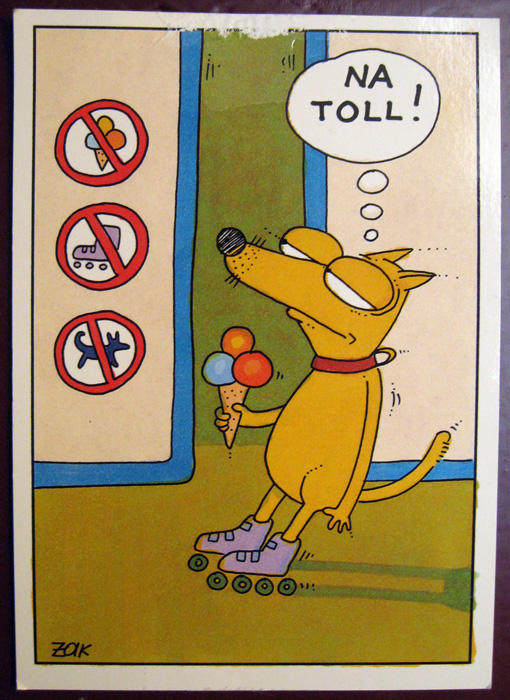 "Oh great!"
Saw this one in two different places in Berlin this time. :-)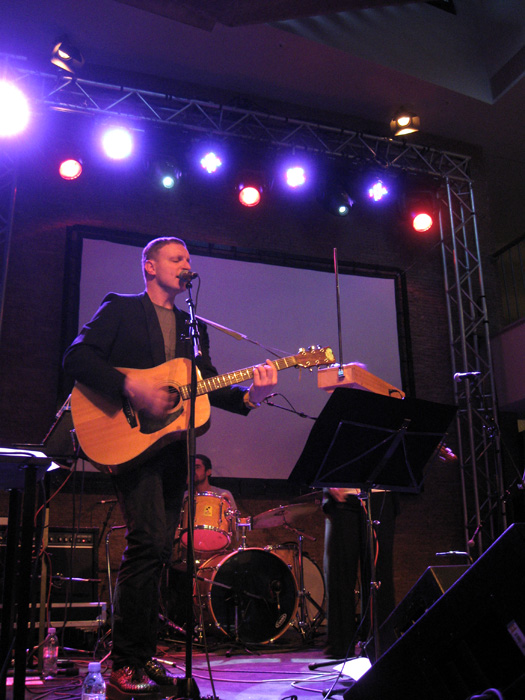 9 (a.k.a. Marco Brosolo) performing with band at House Der Kulturen Der Welt.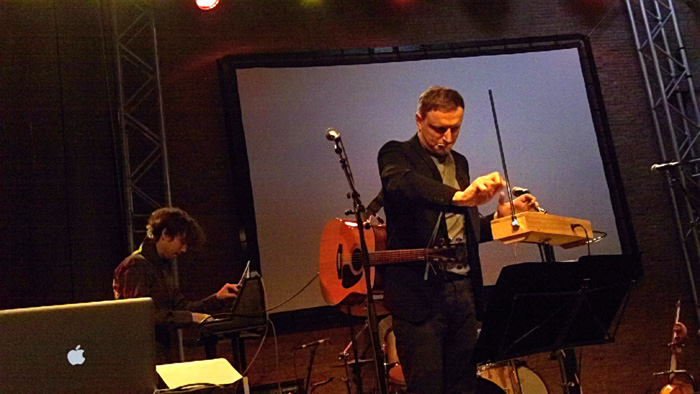 With his trusty theremin.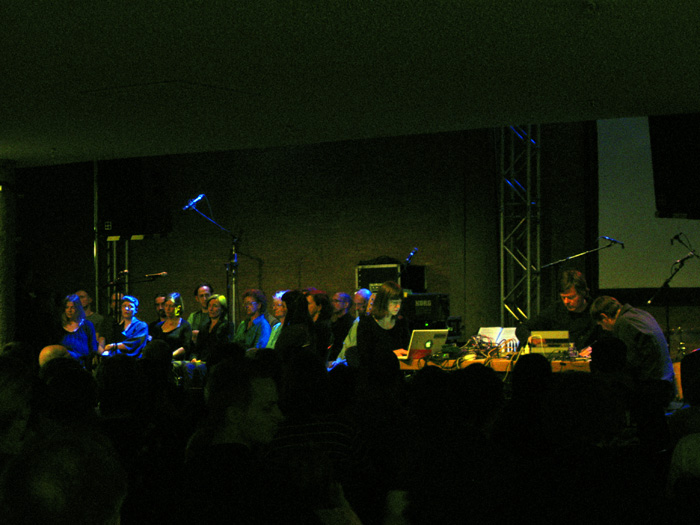 After 9... September Collective (Barbara Morgenstern, Stefan Schneider of To Rococo Rot and Mapstation,
and Paul Wirkus) sampling an entire choir live and twisting the sounds into new shapes. Arty...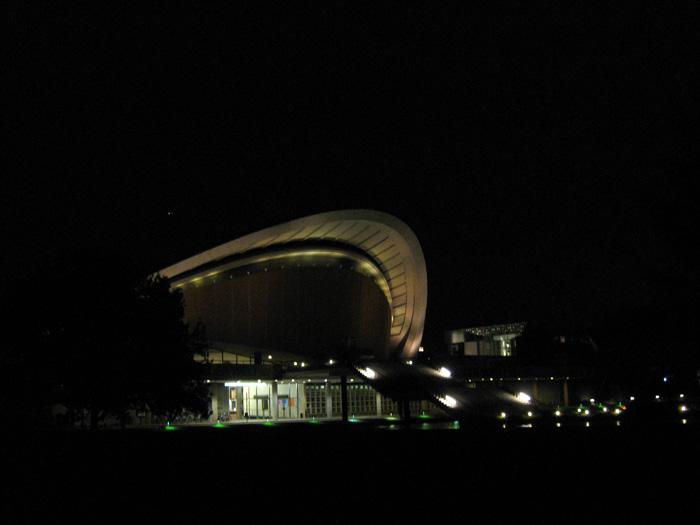 House Der Kulturen Der Welt, evening view.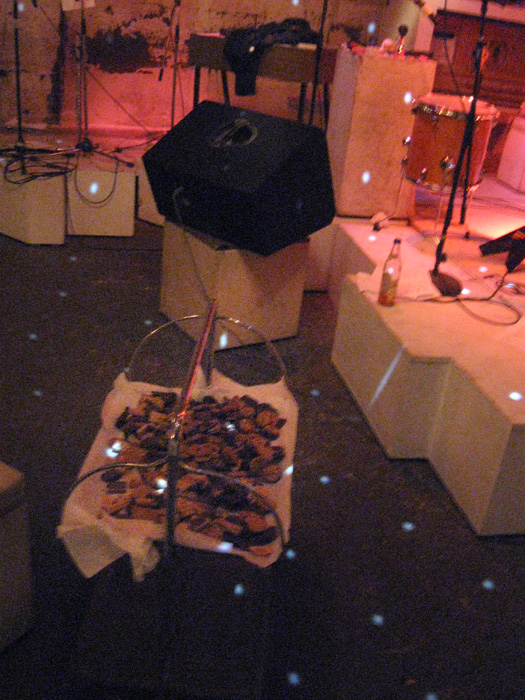 Cookies! Well, obviously! You need nice baked things when the band onstage is...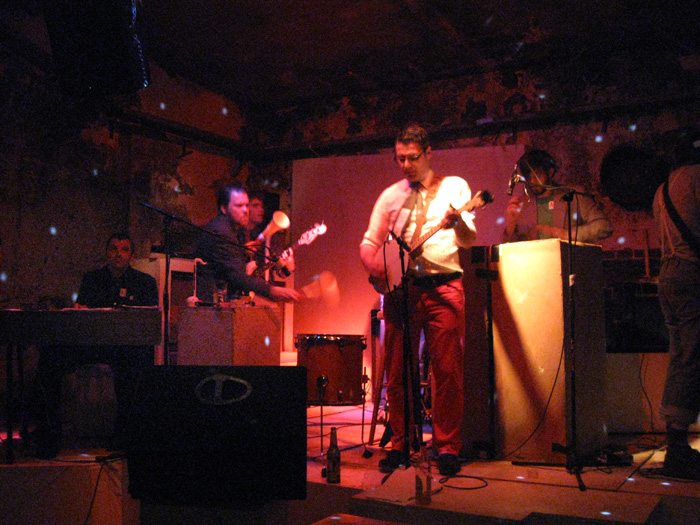 Das Adriano Celentano Gebäckorchester! (link)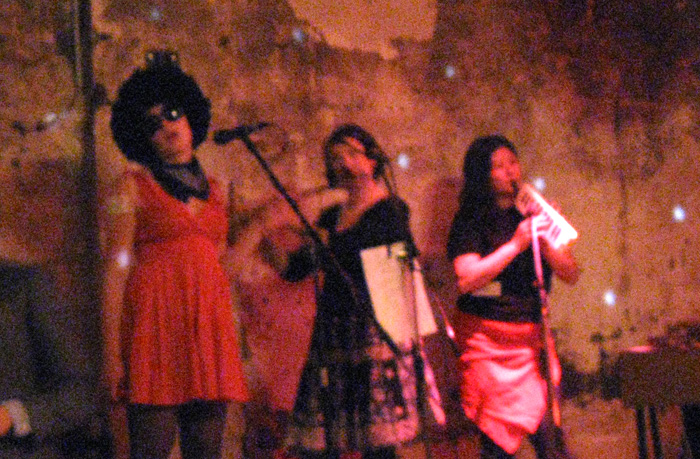 Italo-decadento...?

I didn't know that I actually knew that many Italian schlagers from way back.
You do too. You have just forgotten.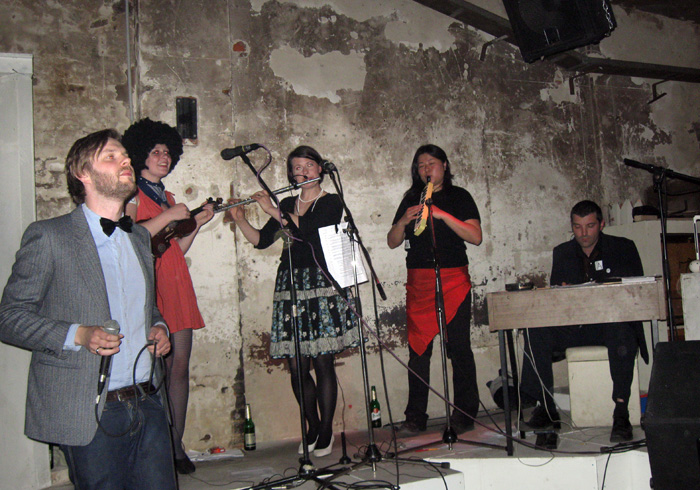 Over 10 people on stage with organ, banjo, percussion...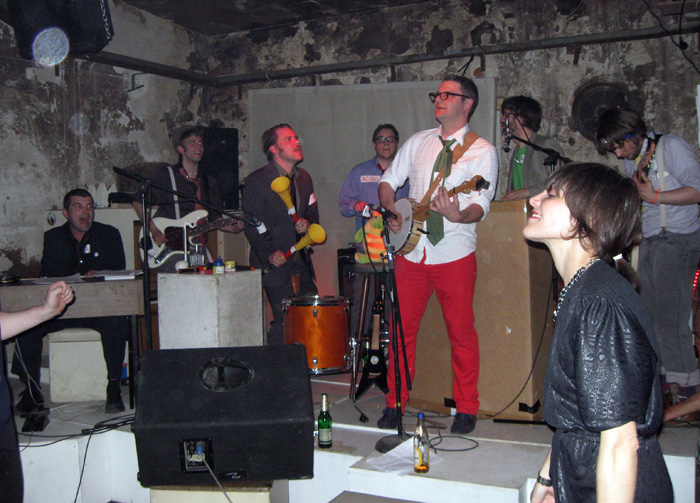 ...banjo, guitars, singers and a drum kit that was actually a huge cardboard box. Sounded great.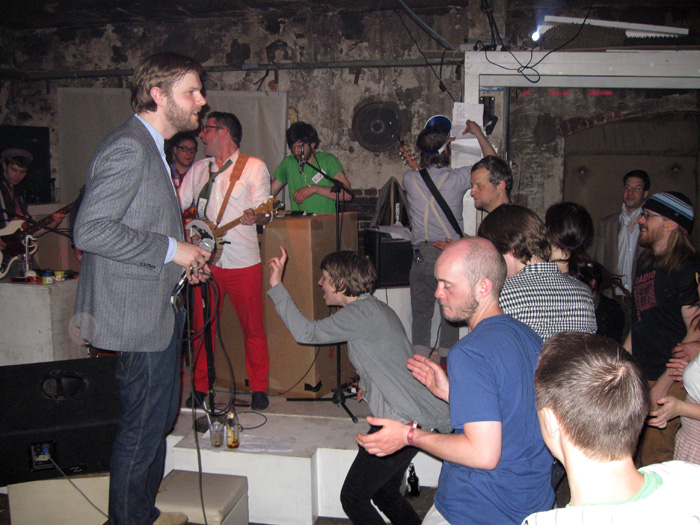 A mess, you might say? No, they were surprisingly tight. And the energy ensured a crazy party.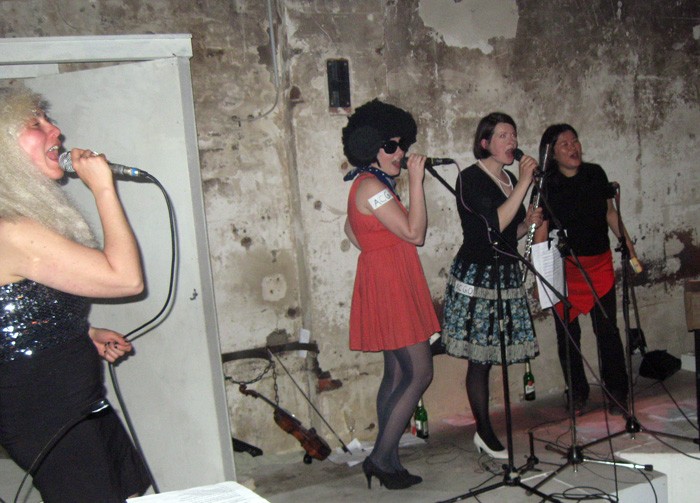 Far left is blonde-wigged Zelda Panda (Marzipan Marzipan) singing away.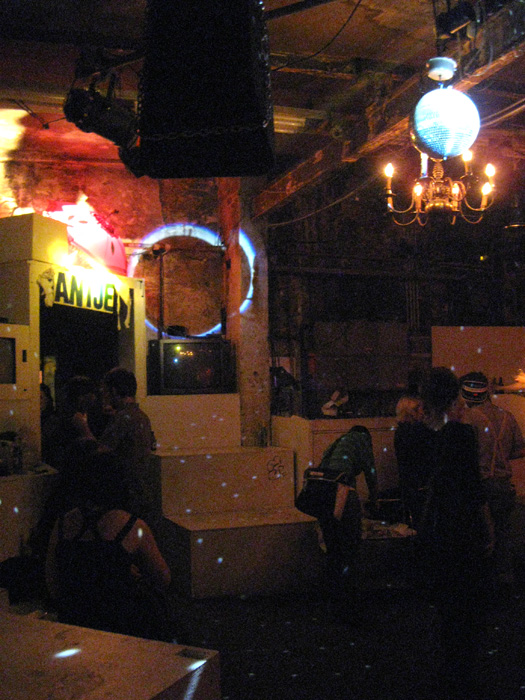 And yes, the show was at Antje Öklesund. Still a great place.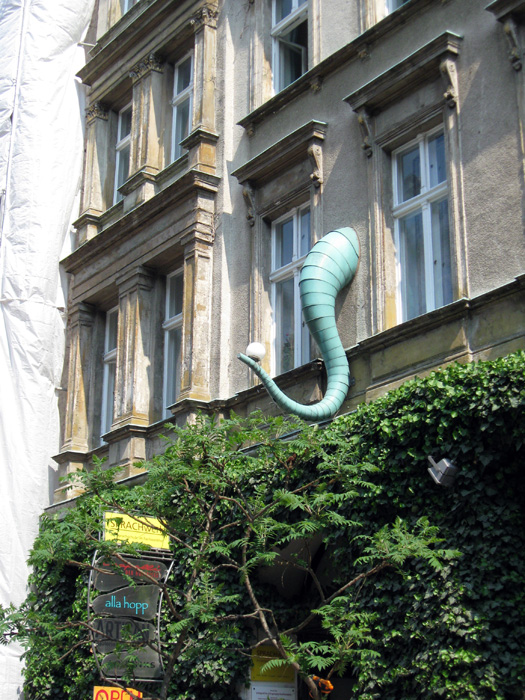 House... with... trunk?!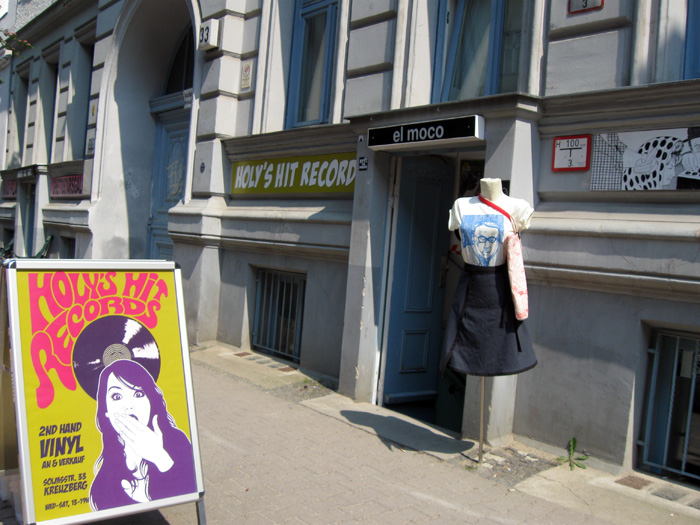 Holy's Hit Records in Solmsstrasse in Kreuzberg between Gneisenaustrass and Bergmannstrasse.
Had bought way too much music on the trip when I found the store, so not much shopping there.
Regular semi-high prices, but also some cheap stuff. Didn't check it out much,
but saw some decent records there.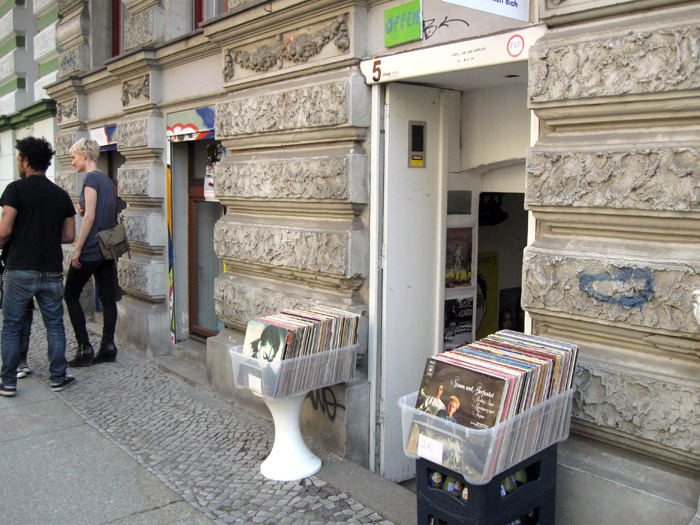 Another record store. Don't remember the name of this. It's in Riemannstrasse righ next to
Another Country Bookshop. Lots of the 80s records you see everywhere else. But if you look
closer you might get lucky. Not too expensive.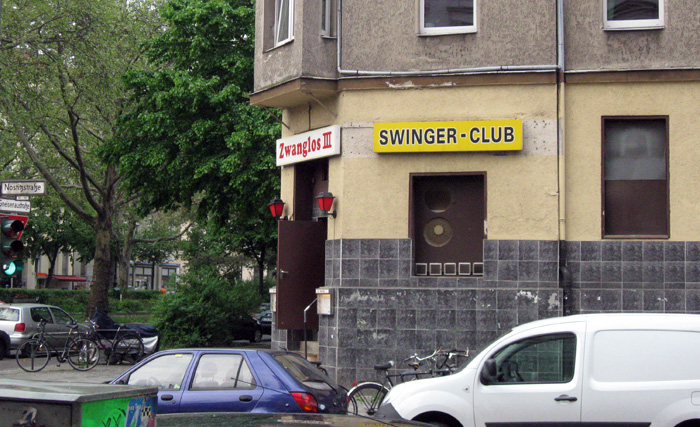 They don't go that quiet about it, do they? :-) It's in Kreuzberg
around Gneisenaustrasse if anyone's interested, ha-ha.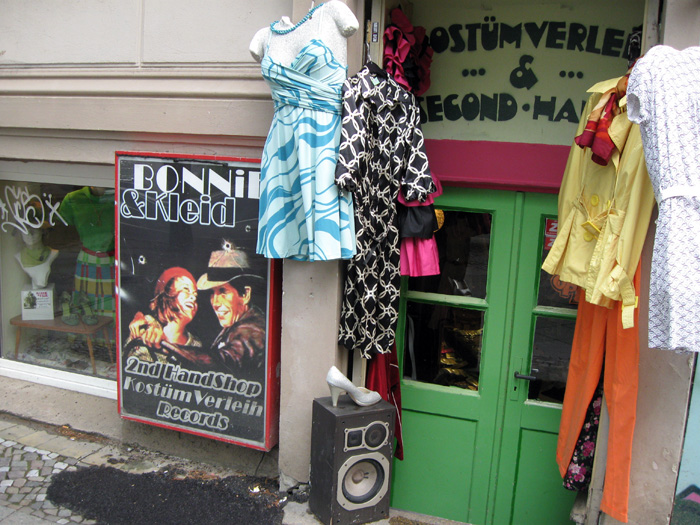 Bonnie & Kleid. Clever name. Second hand clothes. Or "vintage", if you will. Both to buy and to rent.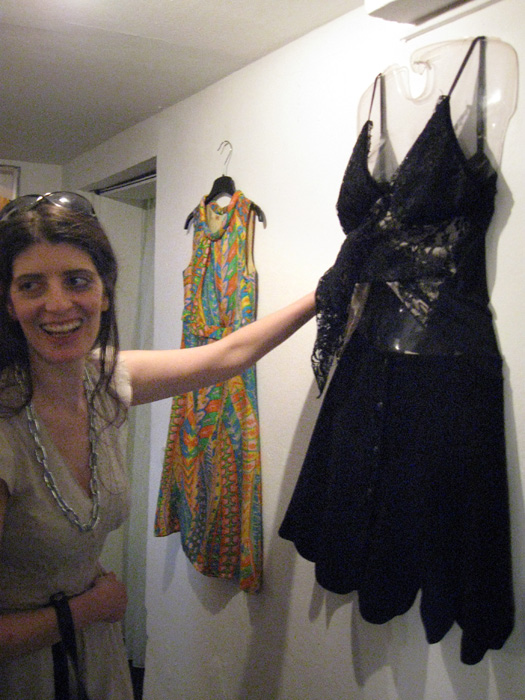 Sister Chain's lyrics go "Orange suede mini bell-cut with a heart shaped zipper",
but no orange or zipper here.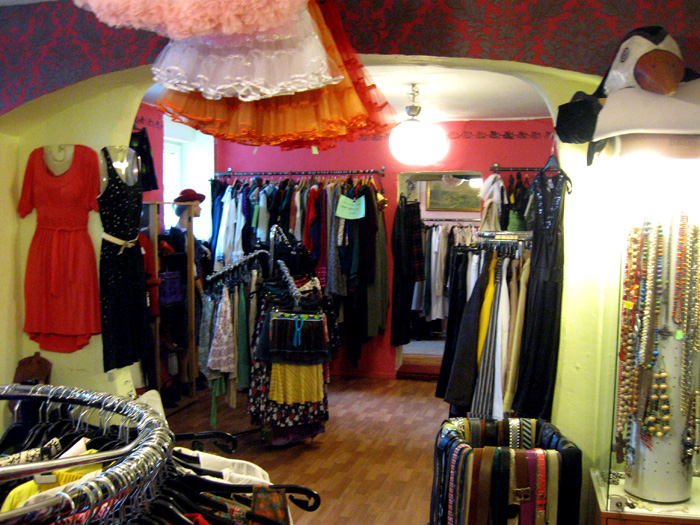 Quite a big basement store. You keep on walking down small halls finding new rooms.
Even found LPs in there. :-)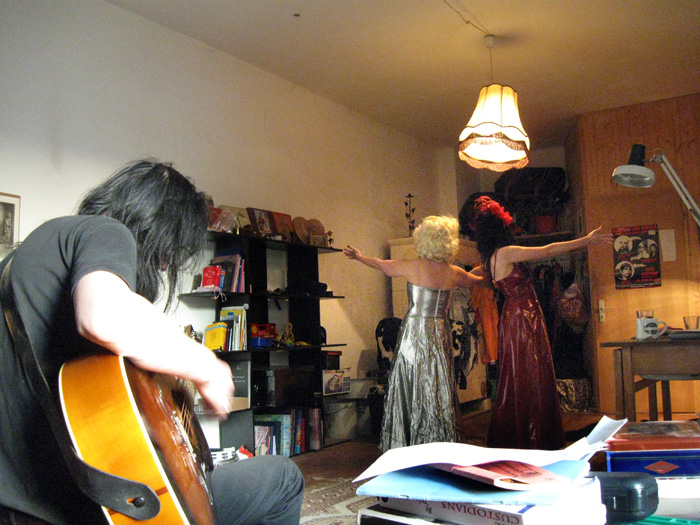 Rehearsing for The Hunters' Wild West Revue. Nailing down the Chain Russell
and Marzipan Monroe dancing routines.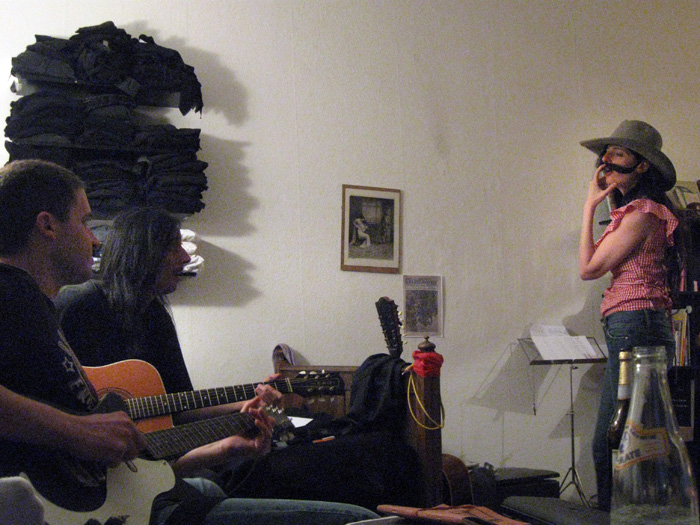 More rehearsing: How to grow a female mustage in 2 seconds.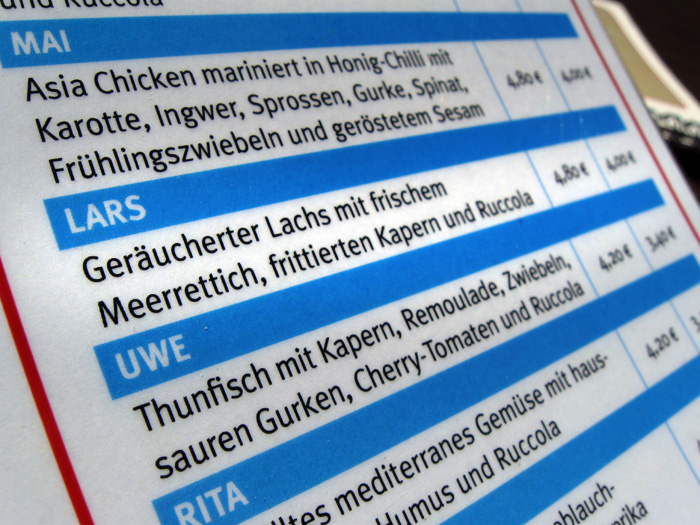 Apparently I am... salmon?! I didn't feel like giving it a try, though.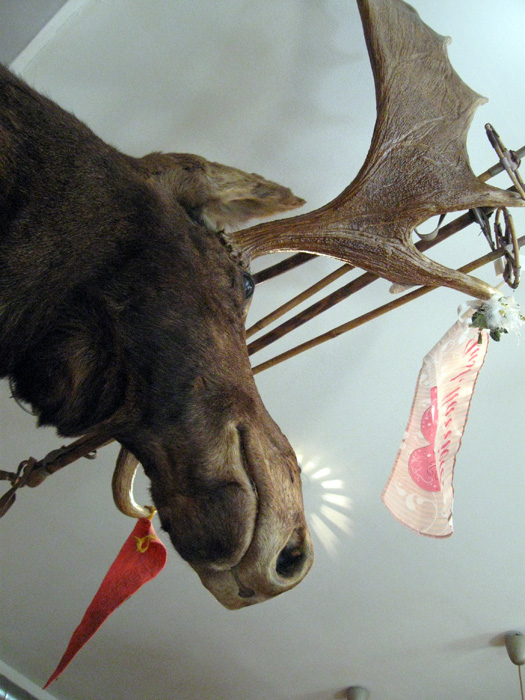 Instead I went back to Ron Telesky and his Canadian pizzas. Under the möööööse!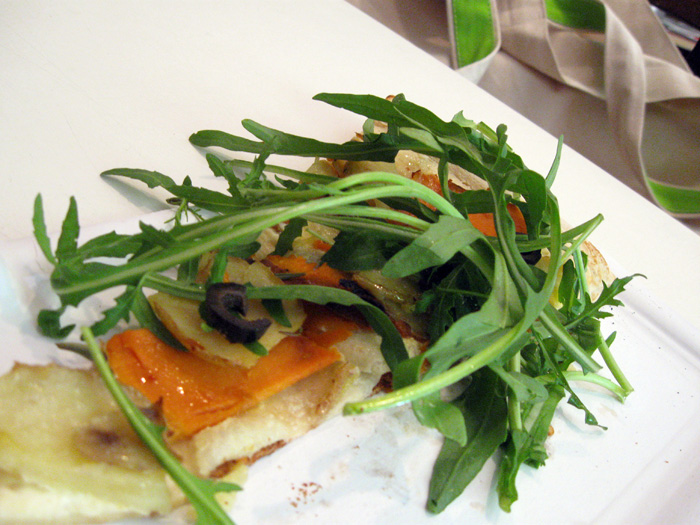 Yes, that's the Couch Potato again. Had to. HAD TO! Still delicious!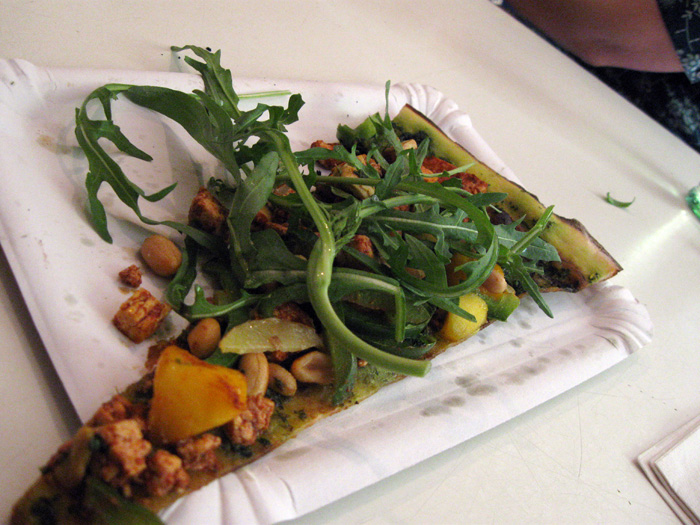 The veggie one. Pesto, tofu, peanuts, mango and other stuff (potato?). Not as good as the Couch Potato,
but still surprisingly taste given the odd combination of ingredients. I wouldn't have expected that.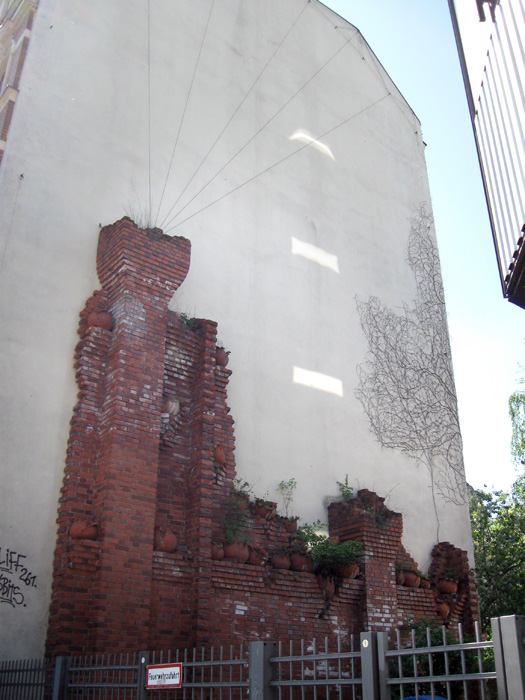 A wall (no not that one).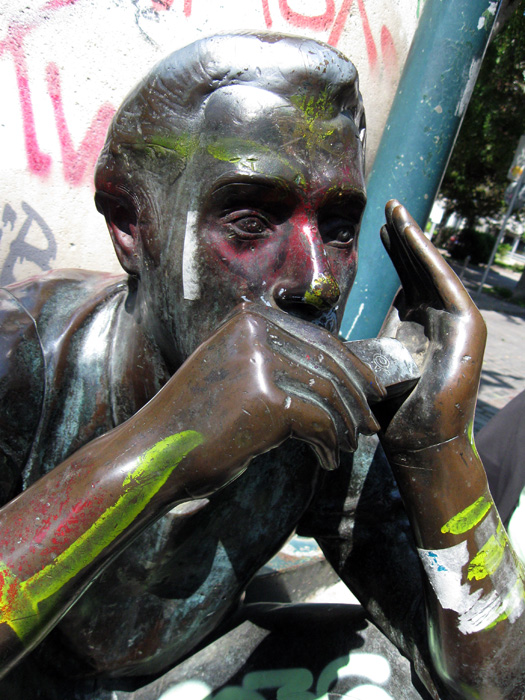 Playing the "don't tag me" blues.

Biking through Kreuzberg. Here at the little square lake at Legiendamm and Michaelkirchplatz.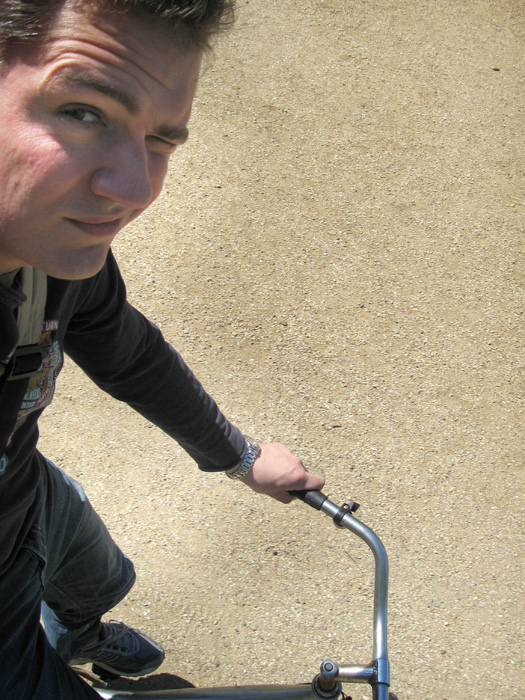 Yes, Berlin biking. The best way to get around in every way.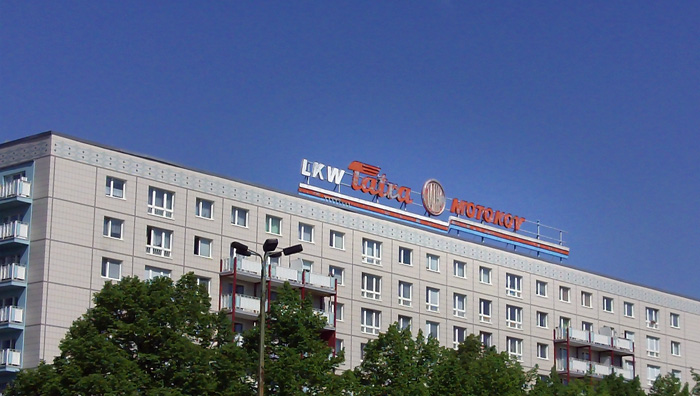 Motokov! To be pronounced loud and with force and semi-Russian accent.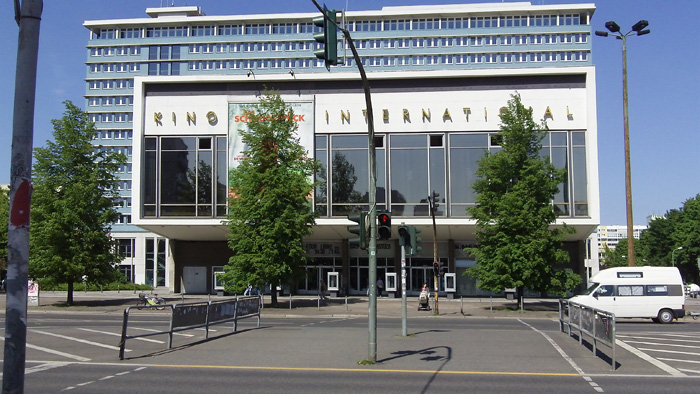 Let's hope they keep some of the unique Berliner architecture. They already ruined most of
Alexander Platz with truckloads of lacking imagination. This place is a cinema.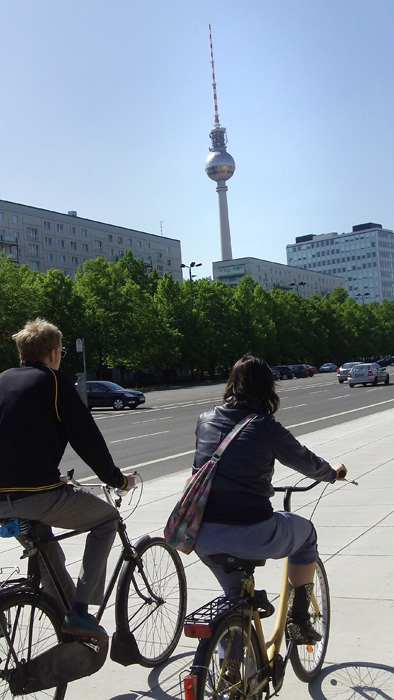 Plenty of space for the bikes. And what a lovely day.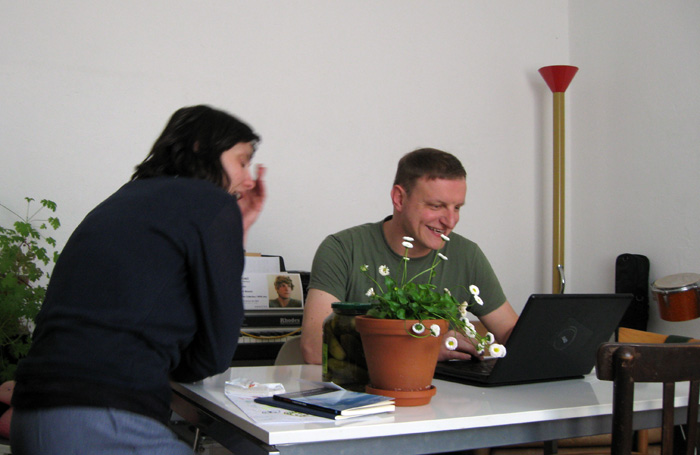 A visit at Mr. 9 Brosolo to fix some backing audio for the Marzipan Marzipan live show.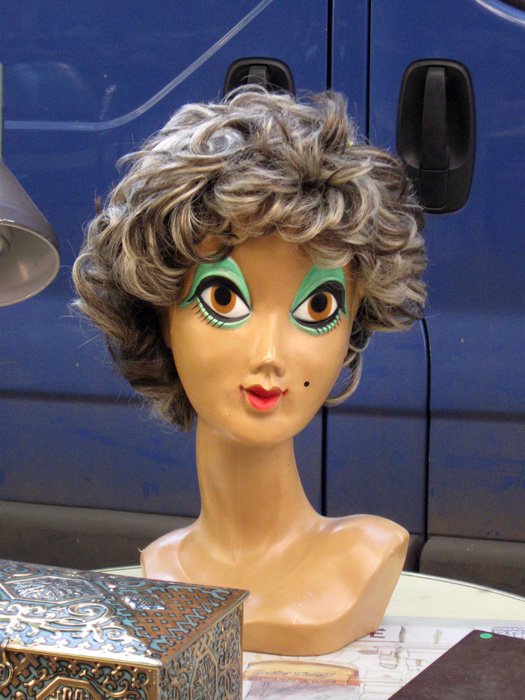 Must be the spookiest mannequin head I have ever seen. What's up with that!?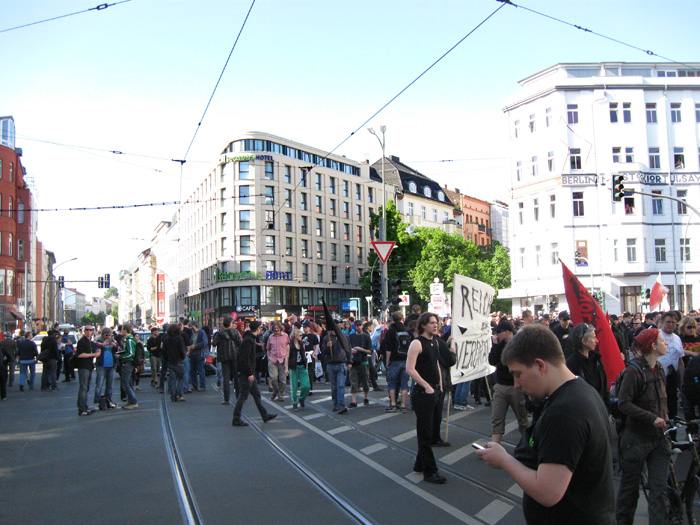 Protests around Torstrasse.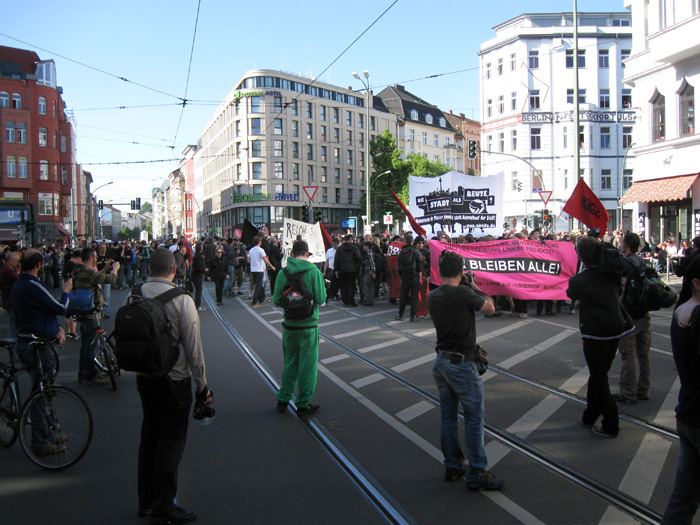 It's a tough battle against the overwhelming tide of the unimaginative
and egotistical money focus that is Capitalism.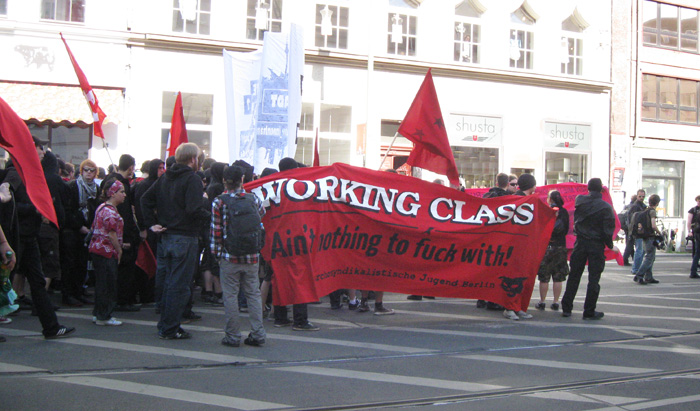 Let's start with not doing all the unneccesary shopping and consuming. Then see how "They" like it.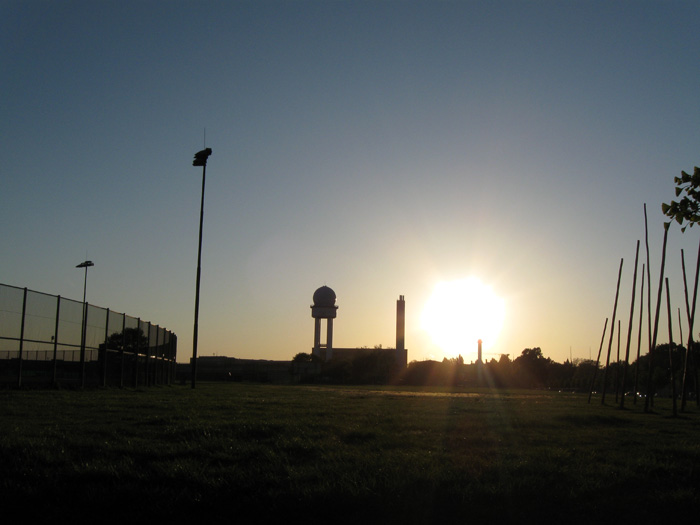 Biking through town. Once more moving onto the Tempelhof airfield.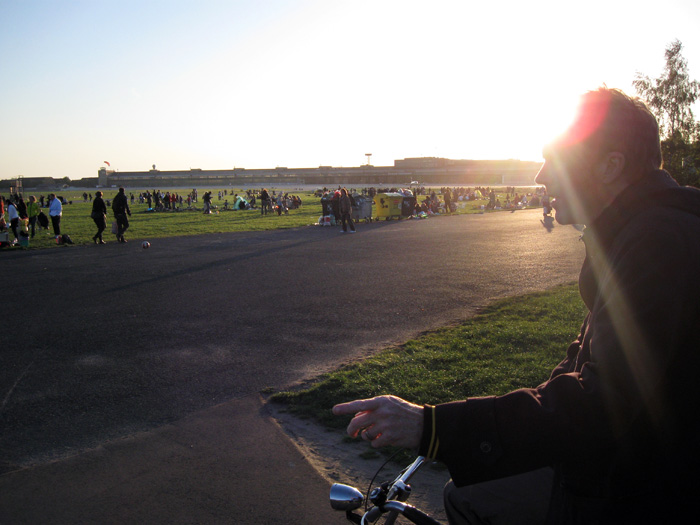 Go left. Down the runway...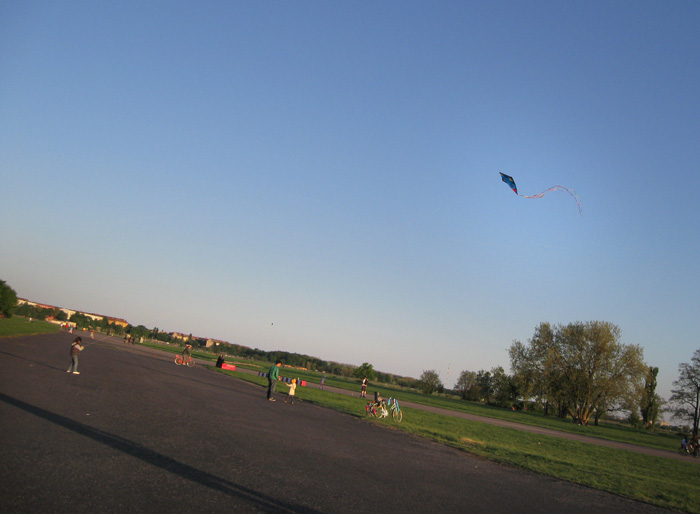 Good place to walk your kites.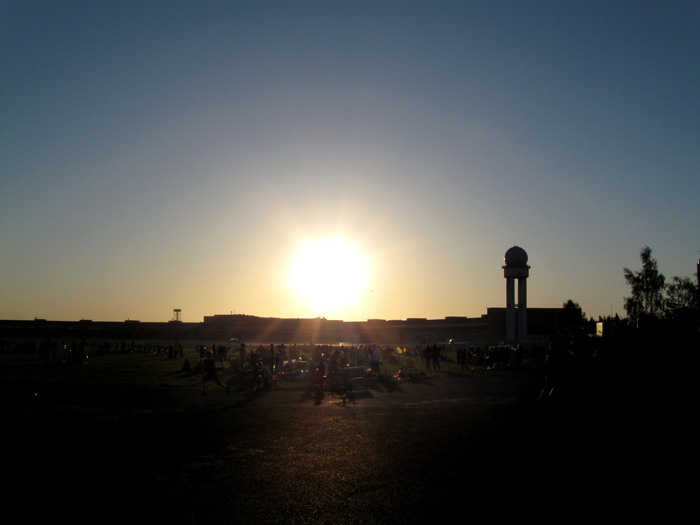 Sunset over the enormous Tempelhof terminal.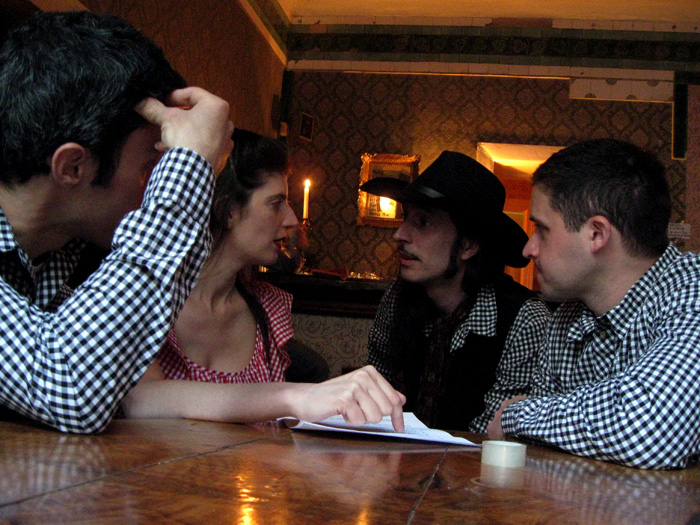 The plaid quartet - a.k.a. The Hunters - laying down their battle plan for the night at Sowieso.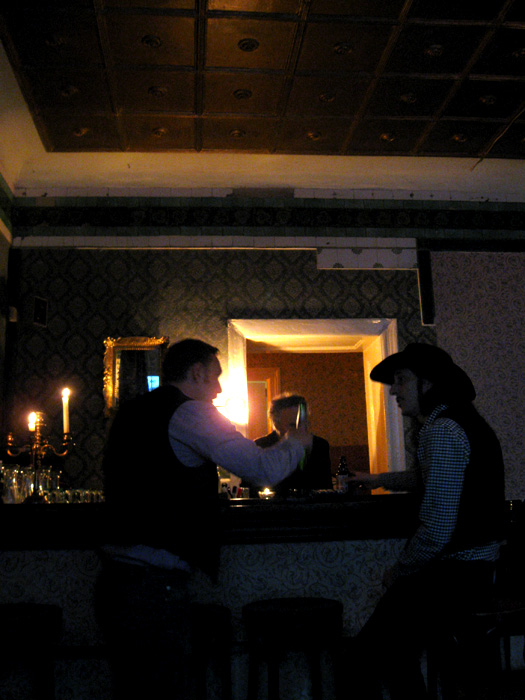 The cowboys at home - in the bar.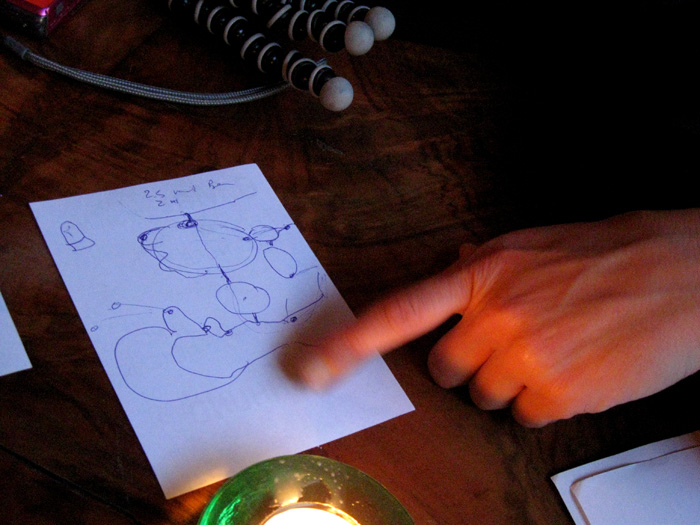 Gotta love the pandamazing marzi imagination...
- That looks like a poodle dancing with an eggman while sharing an olive or holding hands.
- Uhm, well, that's amazing. I was actually trying to draw a map of Denmark.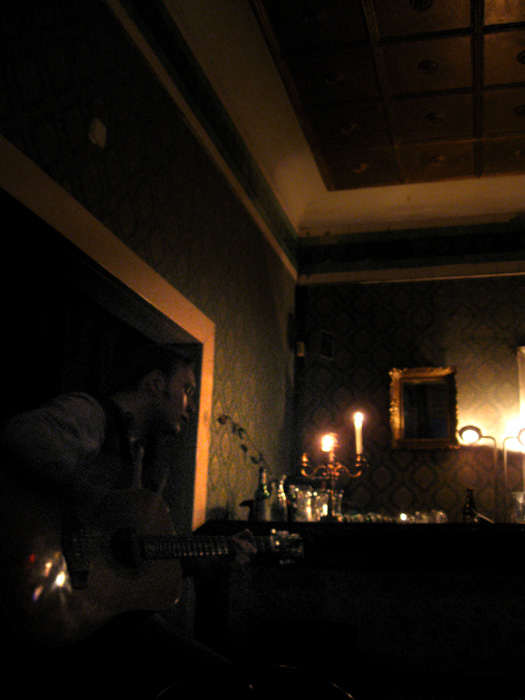 The Hunters' support act, bluesman Matt Reinhardt from the UK.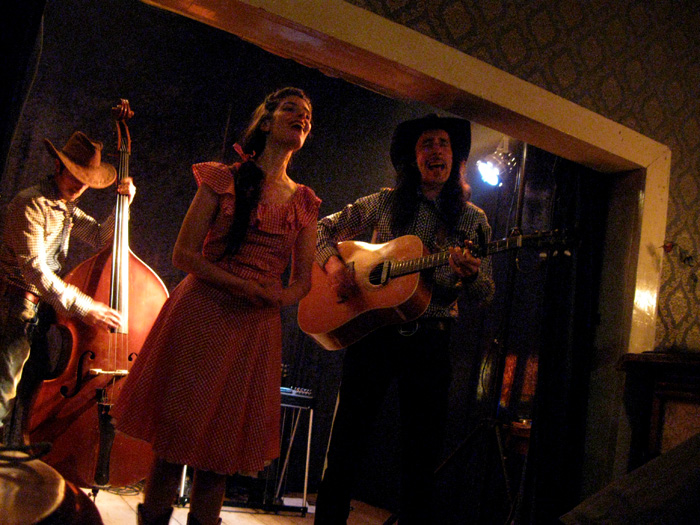 The country'n'western review in full swing at the wooden-floor-and-old-wallpaper-and-quite-smoky
bar Sowieso. Located on Weisestrasse in Neukölln, near Hermannstrasse and Hasenheide.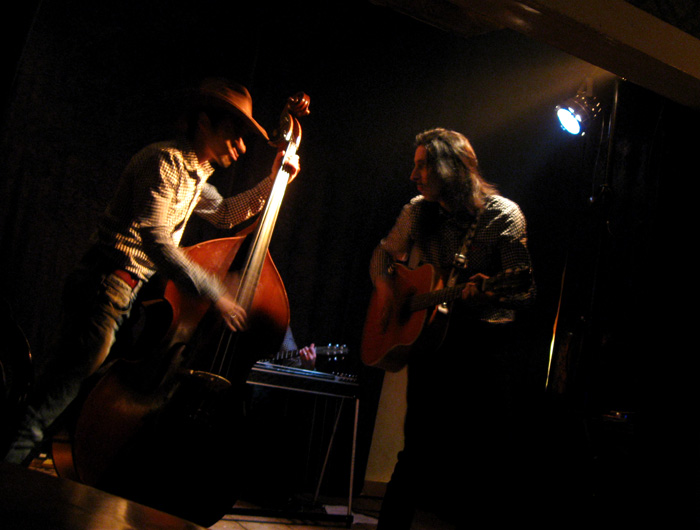 Brother John in Johnny Cash mode. Gidi on bass caught by a blurry camera causing a 'Spitting Image'-like
rubber mask of some sort. Slightly spooky.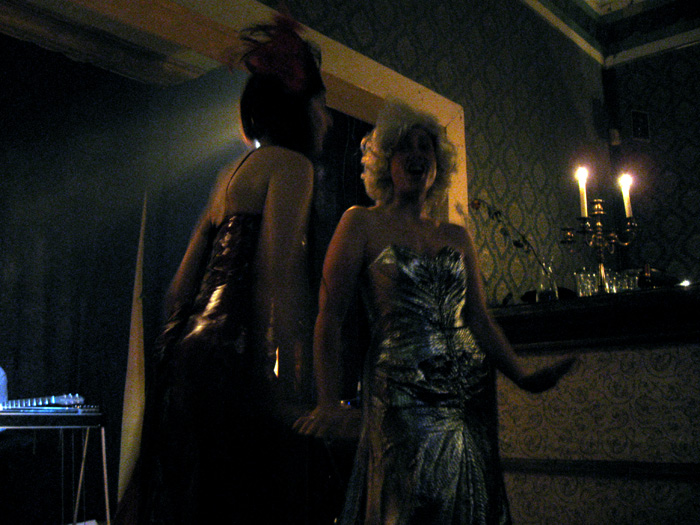 Chain Russell and Marzipan Monroe doing "Two Little Girls From Little Rock".
Well-rehearsed and with all the right moves.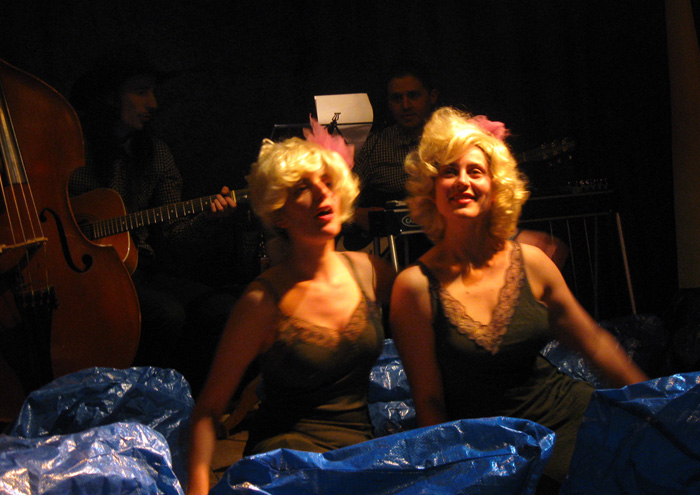 Chain Russell and Marzipan Monroe once again. This time floating down "The River Of No Return".
A mellow, jazzy ballad amongst the blue waves and seaweed. Sirens indeed.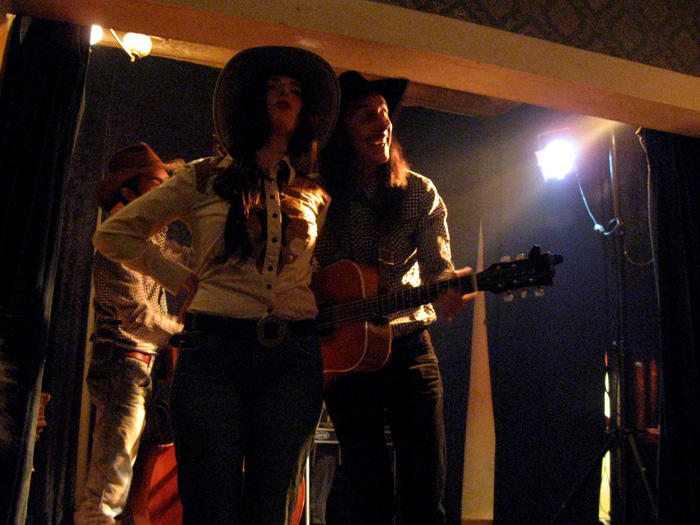 No mics and not much amplification at all. Old school in every way.
And what a 'grande finale' to yet another amazing trip to Berlin.