Back in the German capital once again. Lots and lots of stuff going on this time. And as always most of it somehow has to do with music.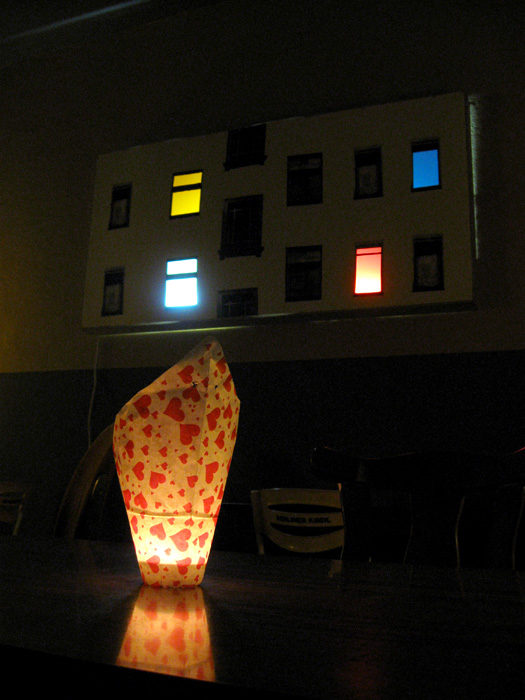 A building within a building in a Kreuzberg bar...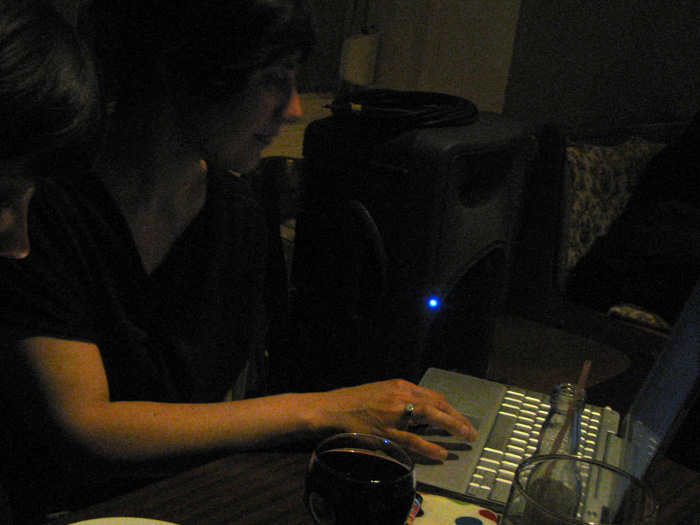 ...where Zelda Panda was dj'ing.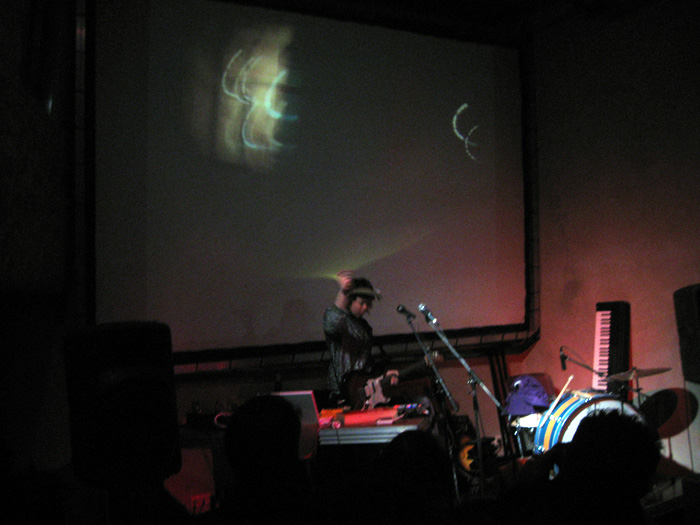 Release party at Ausland for "City Splits #1" with...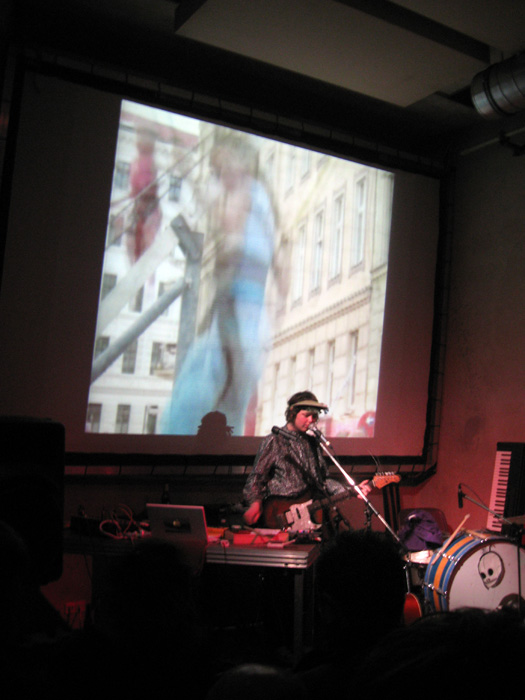 ...Golden Diskó Ship...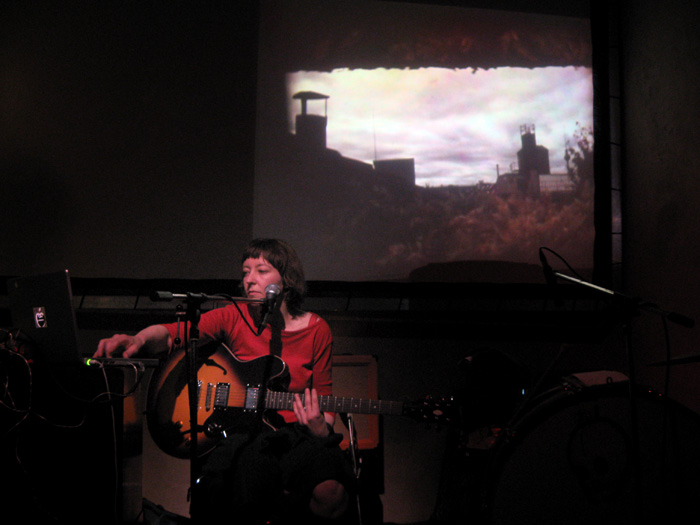 ...and Jasmina Maschina. The mood of the visuals fit the music really well.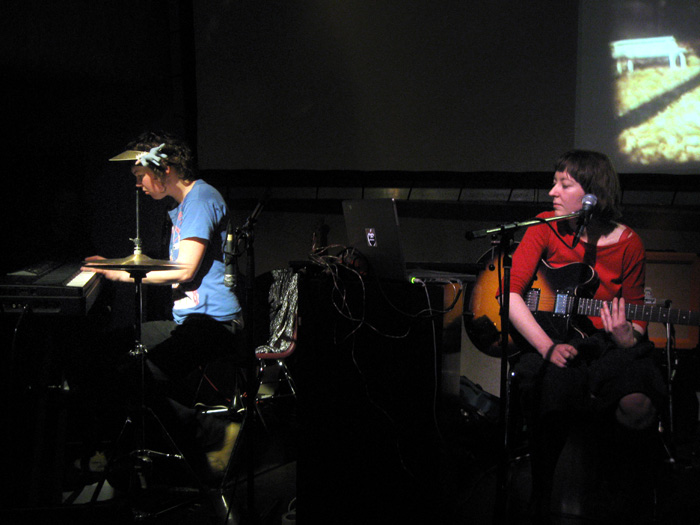 Also playing together.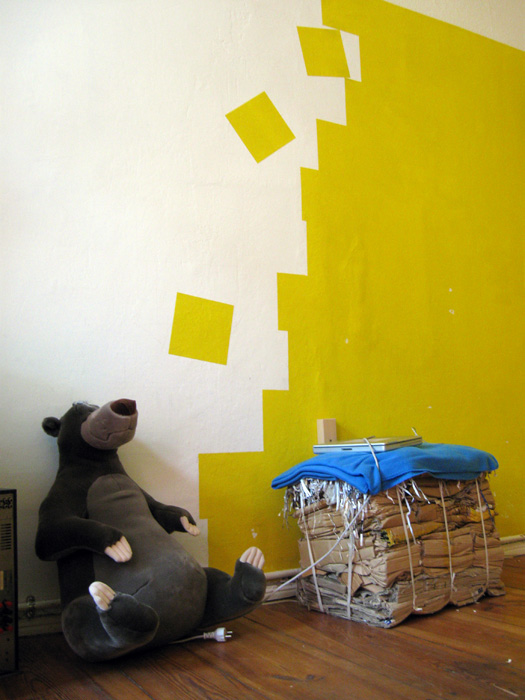 Watch out Baloo! The Yellow Brick Road is coming down on ya'.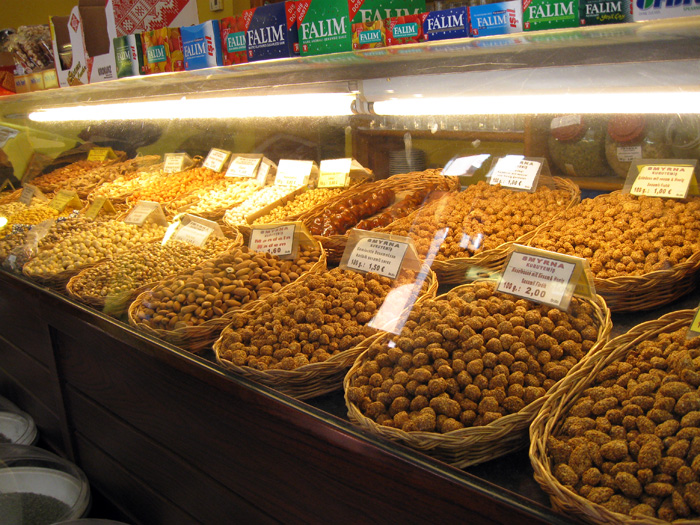 Are you nuts?! The Smyrna snack shop in Kreuzberg. Incredibly delicious!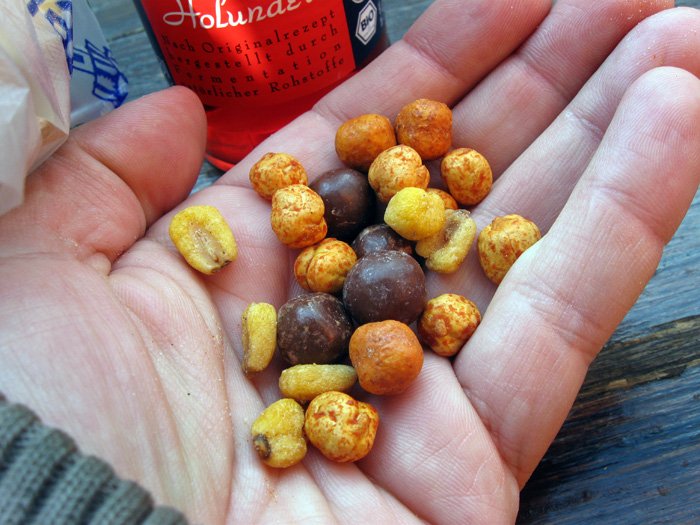 Chick peas covered in chocolate, chili/paprika-flavoured chick peas
and those dried maize/sweet corn things.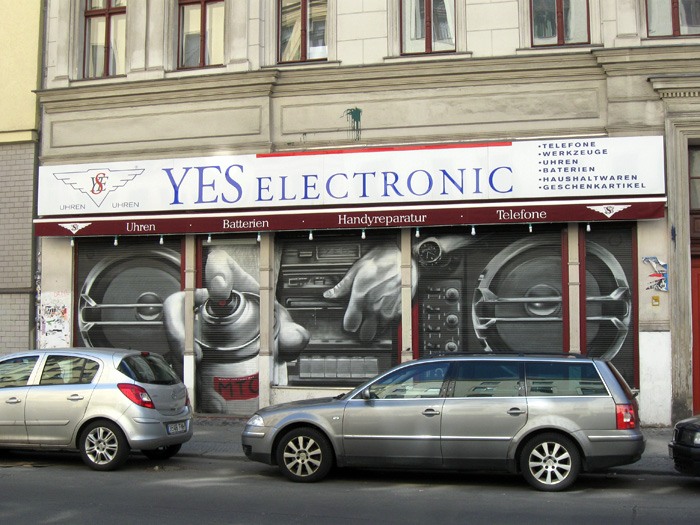 Makes we wanna buy an old ghettoblaster and go "Big Apple 1981" style. :-)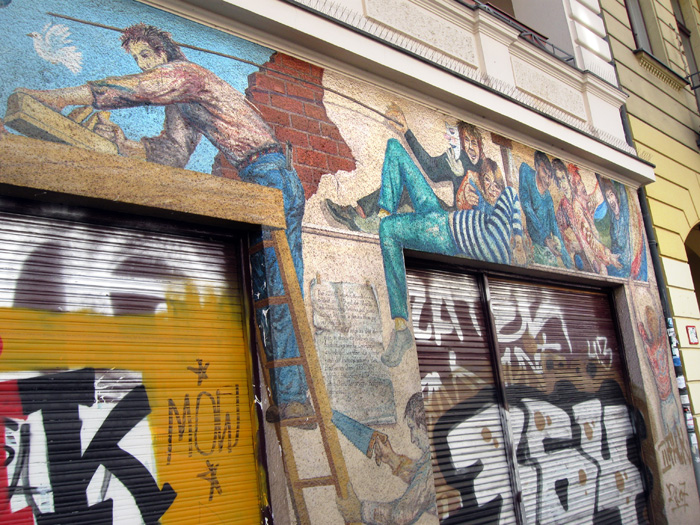 Always a pleasure looking at the buildings in Berlin.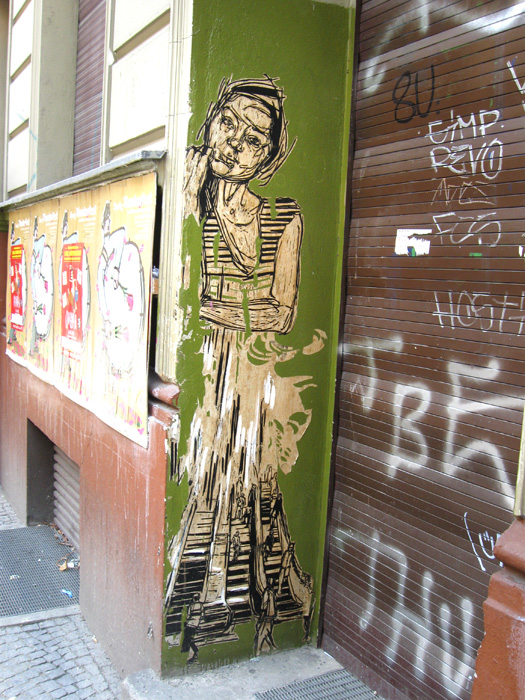 A bit more street art.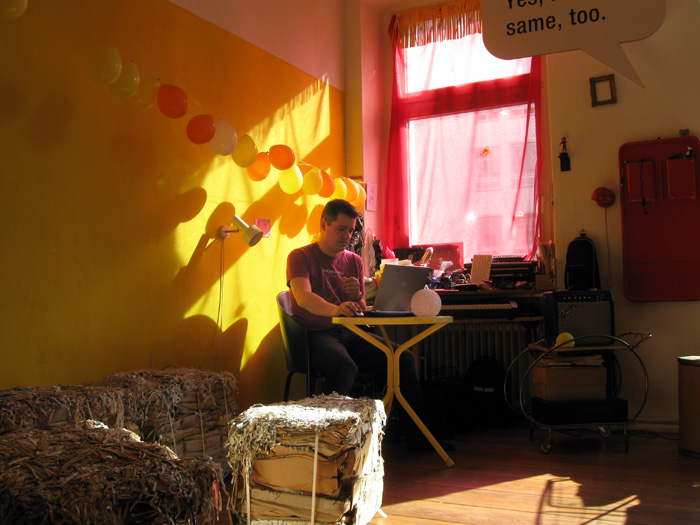 Preparing to dj at the Hauskonzert at Pandahaus. Always feels a bit strange doing it with mp3.
But they do have a plus side considering their weight when travelling.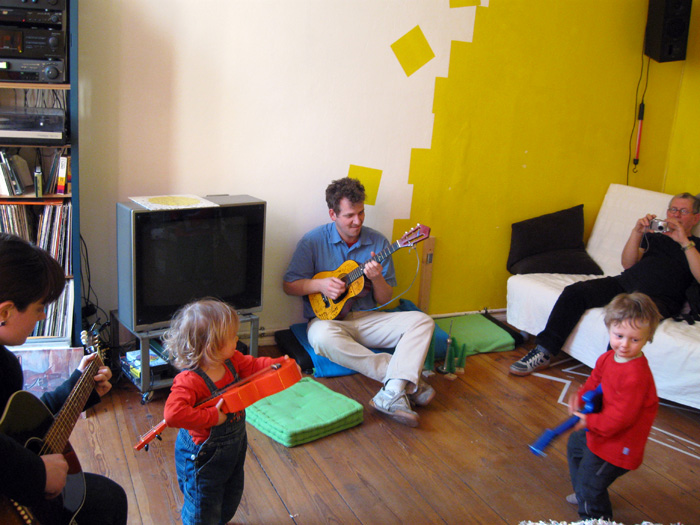 The rocking "support act" playing around before things started.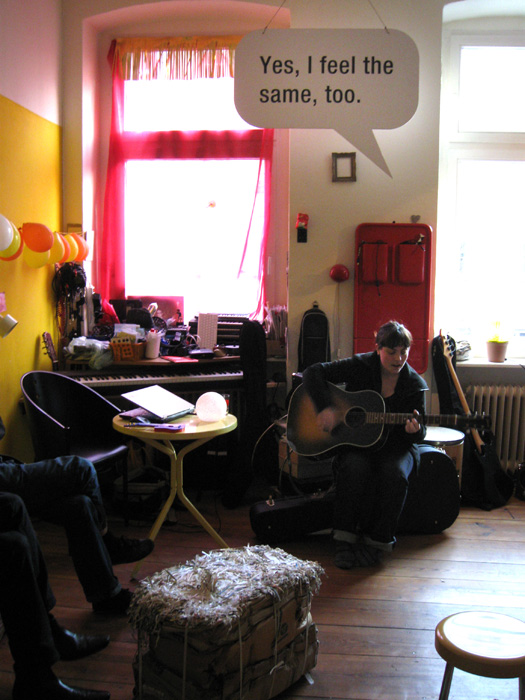 Esther Maria playing.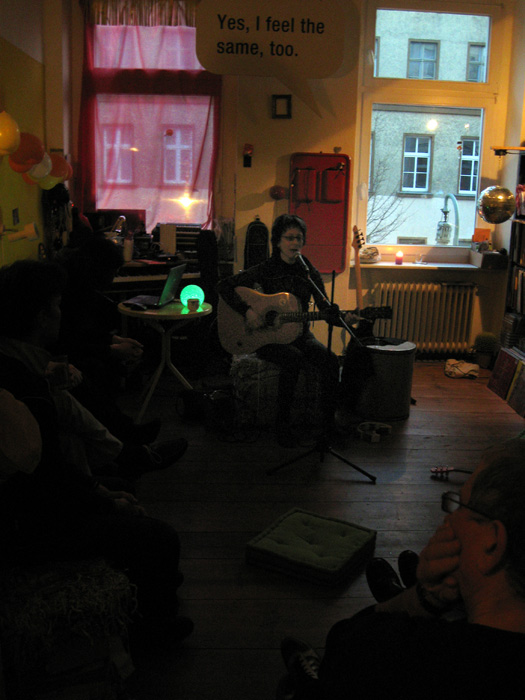 British singer Kathy Freeman (of Kathy X, Silver Tongued Devils and Death Valley Surfers).
A bit "garage-y" rocking, but still acoustic.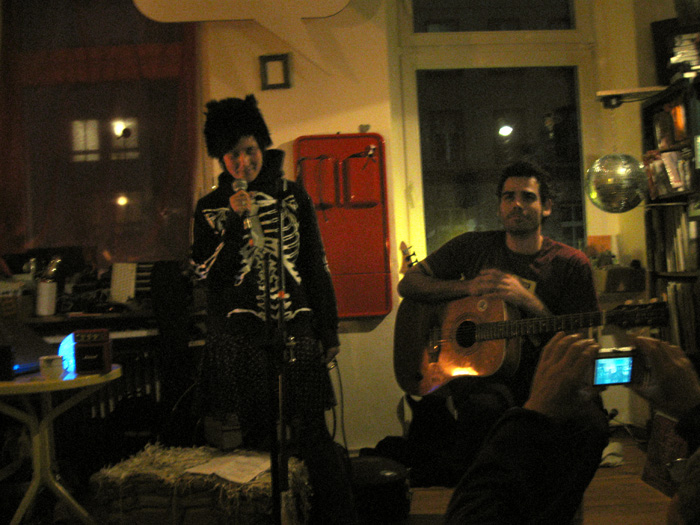 Kadillac Lobster as a duo - featuring Zelda Panda and Seby Ciurcina - playing among other things
Lydia Lunch's "Spooky" and Pixies' "Where Is My Mind" making them sound almost like lullabies.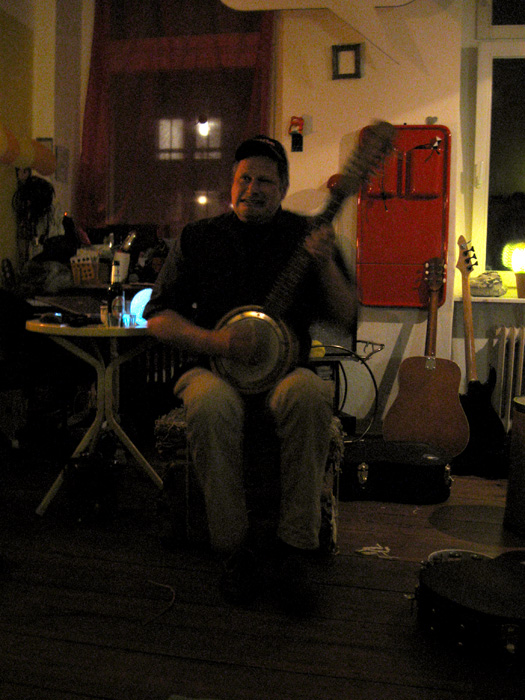 The almighty Todosch with his booming voice and 12-string banjo!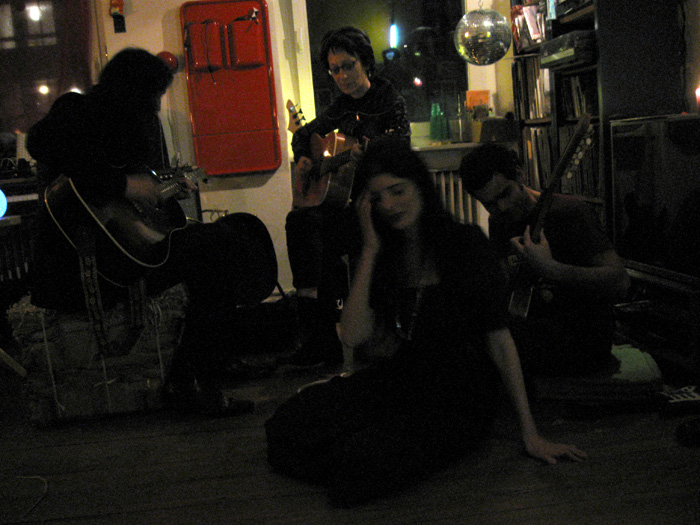 Sister Chain & Brother John (who also performed earlier that night)
rounding off the evening with Kathy and Seby.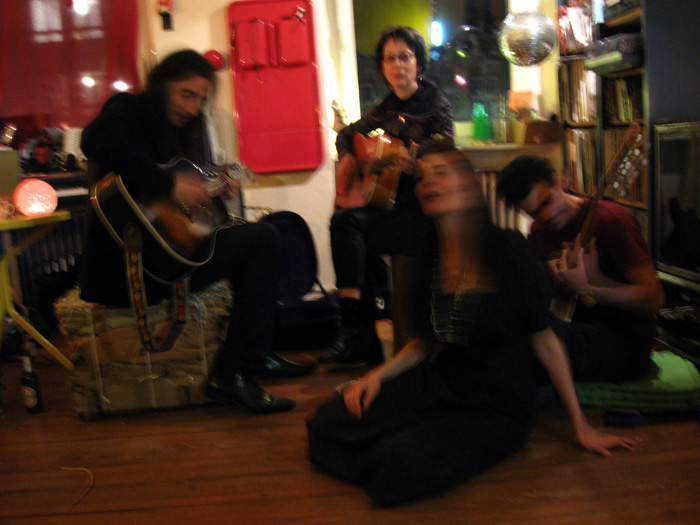 Playing the Hunters' original "Give Me Some Time To Say Goodbye".

Yet another record store. This one is in Kreuzberg. Fairly good selection of stuff.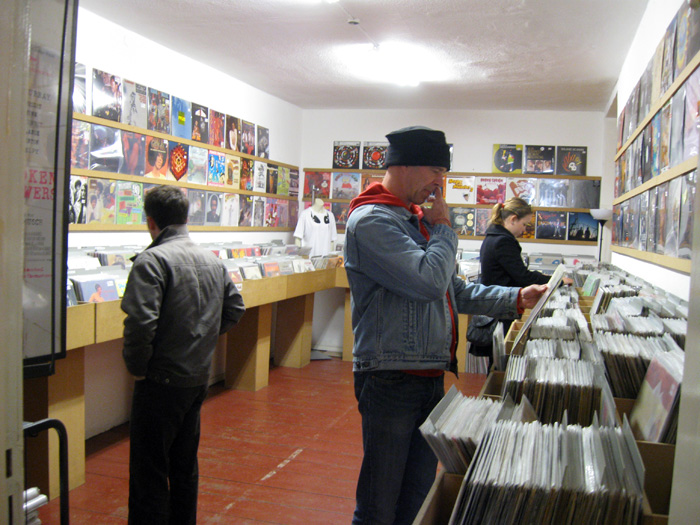 Same place, but inside. Another piece for my fragmented and sporadic record store guide.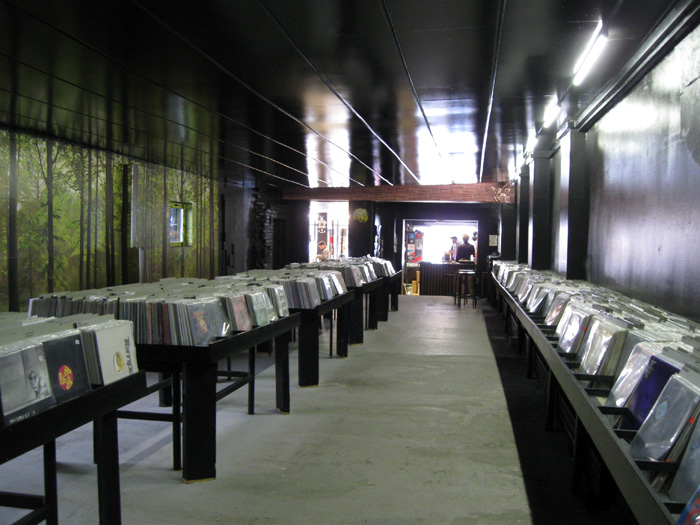 Aaaand another record store. Huge place. Lot's of nerdy electronic stuff in the back, but also
a more varied selection in this part of the shop. Can't remember the name of shop, I'm afraid.
'Dancehall' or something ? Nice record store guide, this one, eh?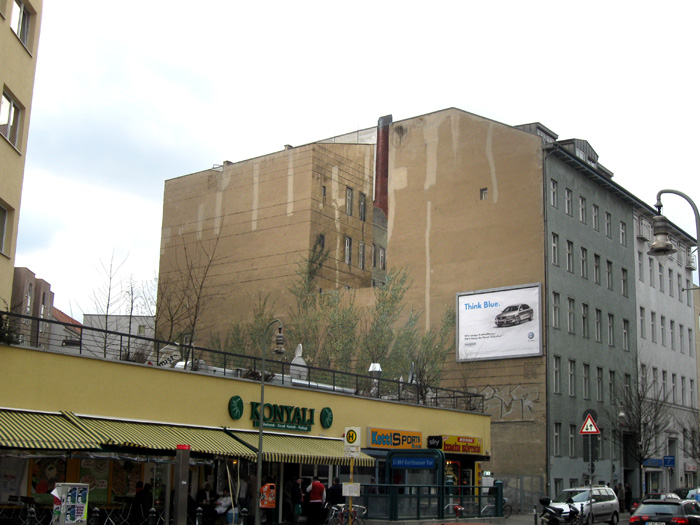 A couple of windows. Or wait... look closer.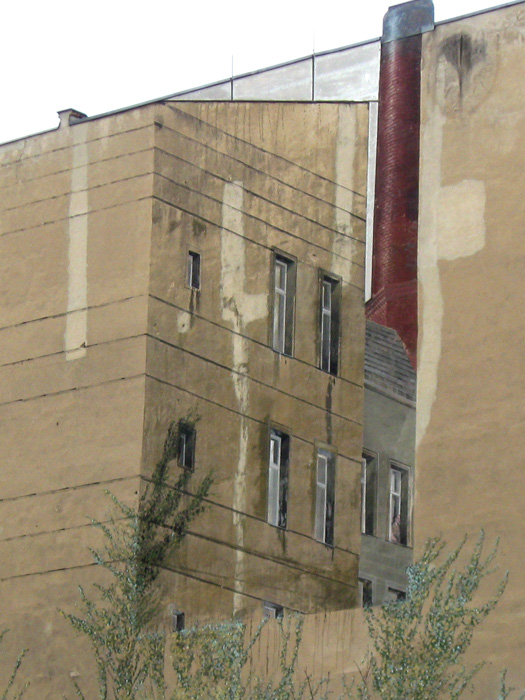 With the right amount of light and the right angle you could get fooled.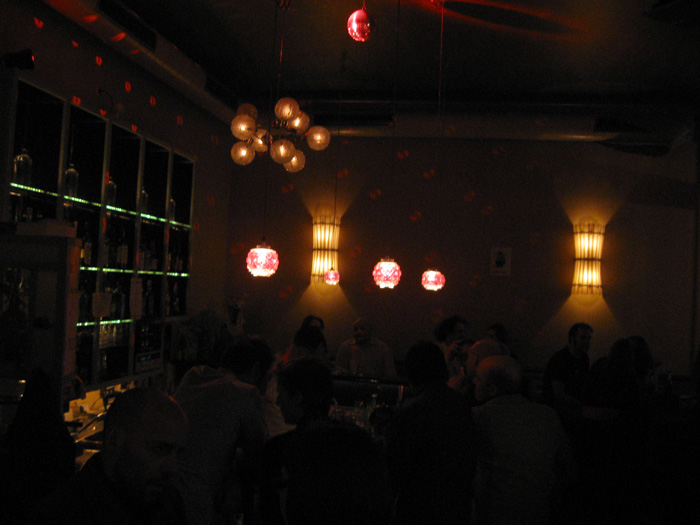 Bar Roberta. A really cosy place next to Zionskirche off Kastanienallee.
Zelda Panda (fittingly a.k.a. Roberta) dj'ed from her great selection of oldies.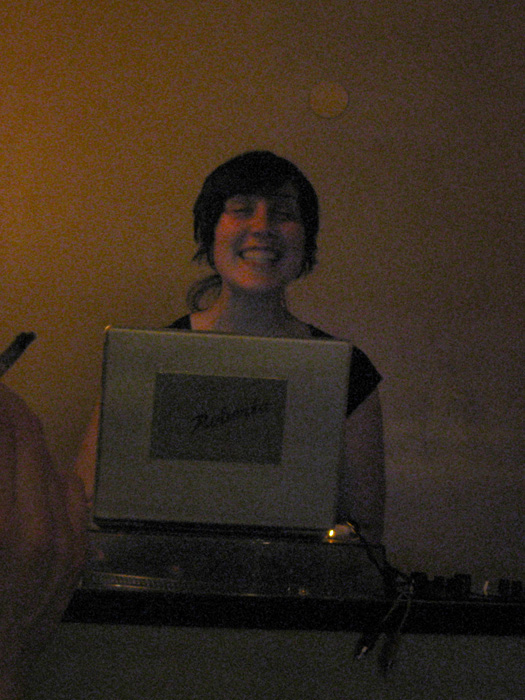 I could try and tell you how it is to listen to Zelda Panda dj,
but this picture just says it all.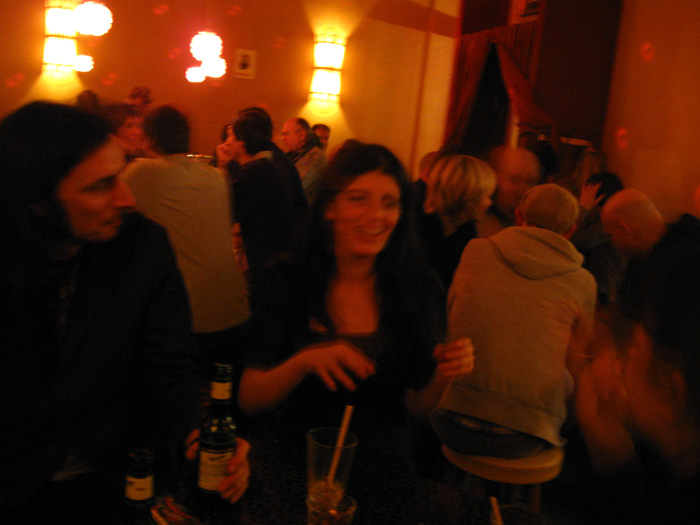 Quite crowded place at some point, but still enough room to feel comfortable.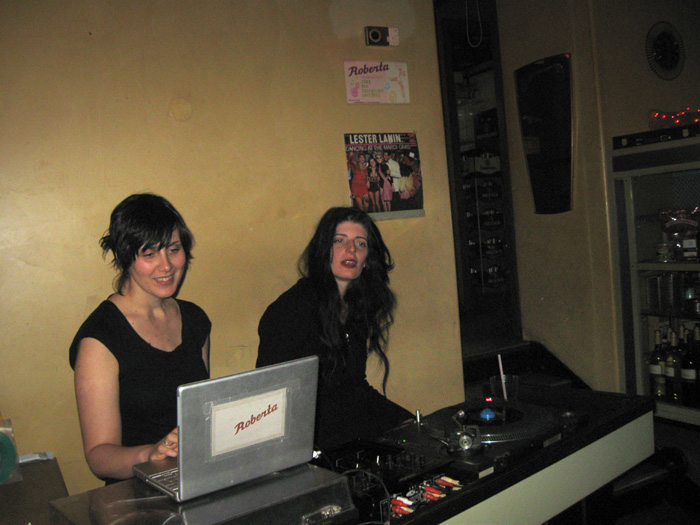 The two coolest chicks and loveliest ladies in Berlin - Zelda Panda and Sister Chain.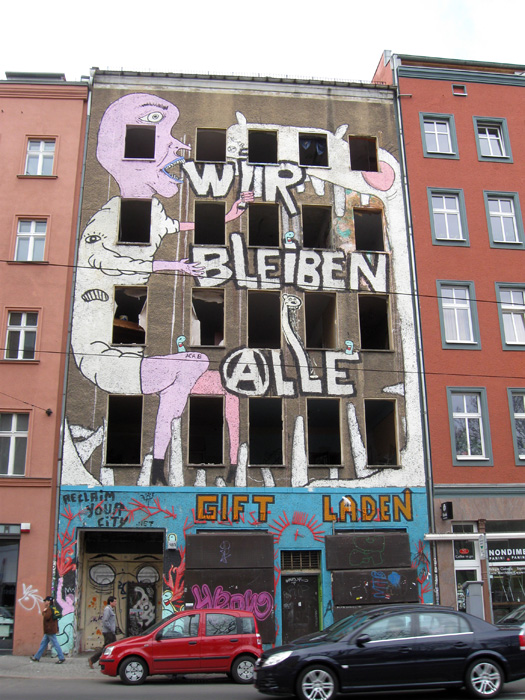 They all wanted to stay.

Hidden away a bit, but her face draws you in.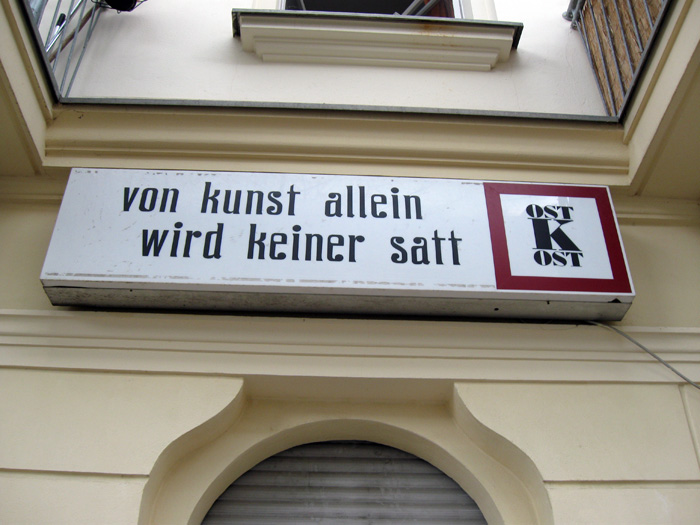 Sad, but true? Well, if "satt" (full) is just your goal it should be doable? With music anyway.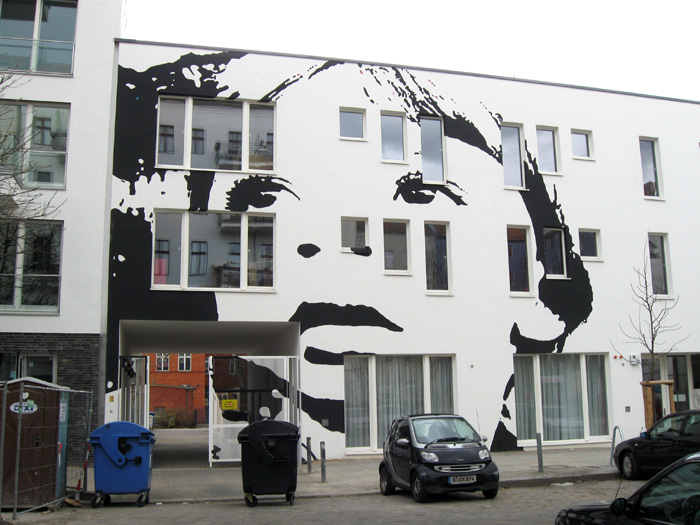 A building in Prenzlauerberg close to Ausland. The kids are alright!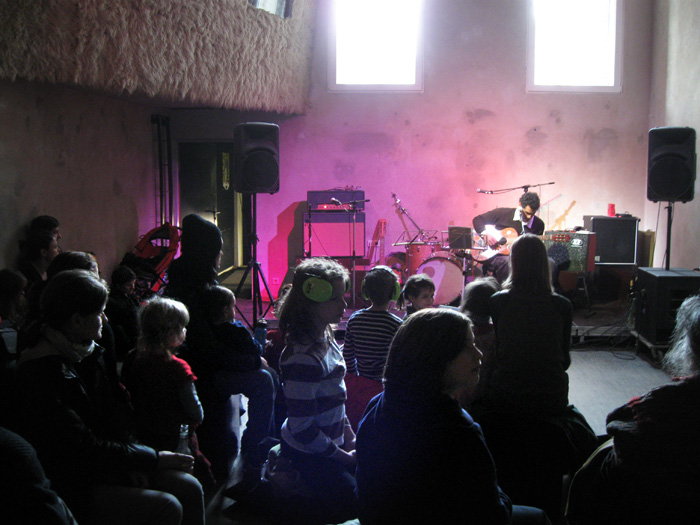 'Playdate' at Ausland. Come in on a weekend afternoon, bring the kids, give them ear muffs, have a beer
and some cake - and listen to music for grown ups. The kids don't mind. They dance around nevertheless.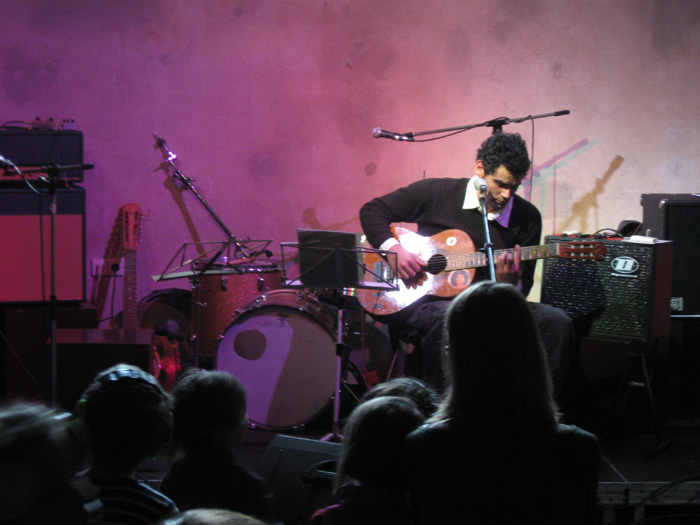 Seby Ciurcina (of Kadillac Lobster) playing some great acoustic guitar.
Among them a nice and unrecognizable version of "Happiness Is A Warm Gun".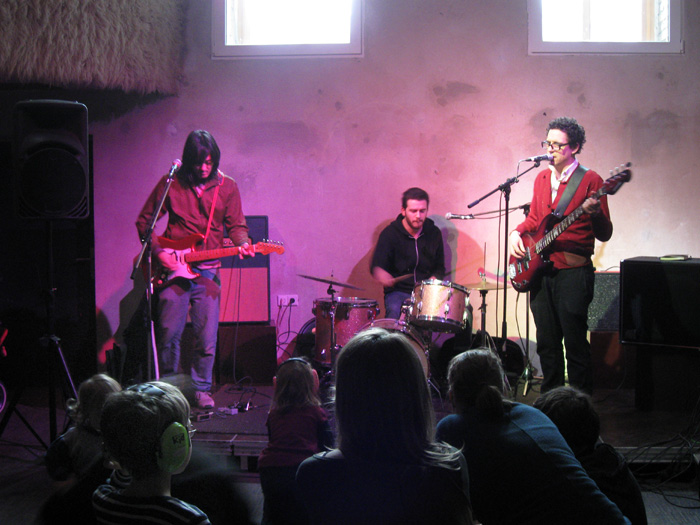 Berlin-resident Canada musician Joe Williamson & The Inconvenience. A rocking set from them.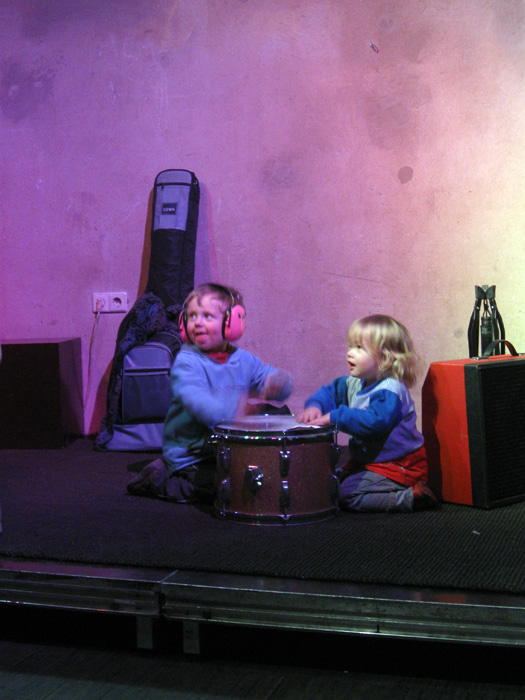 The bands might have stopped playing, but playtime is far from over.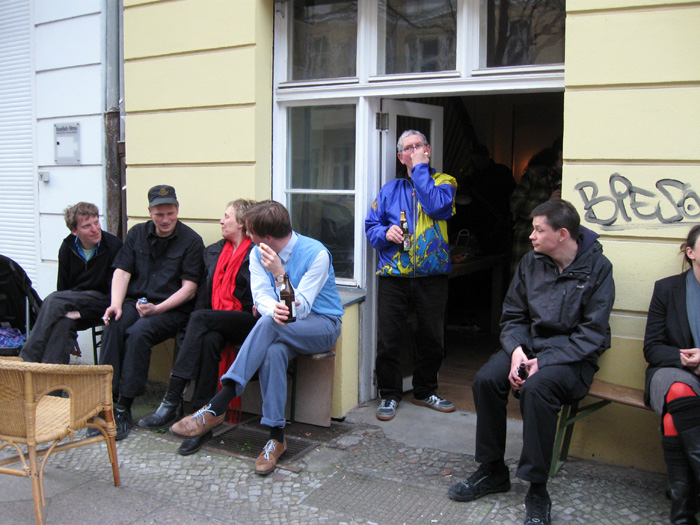 Todosch's birthday party at his art studio.

Todosch's place. The organ actually had some fairly cool beats in it.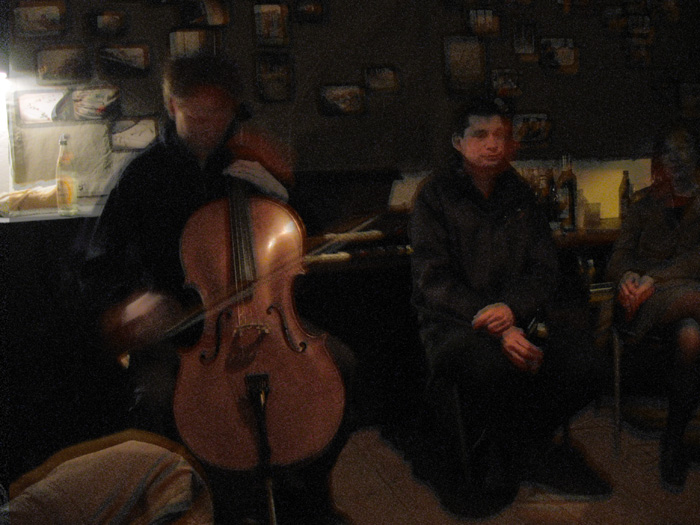 Nicholas Bussmann (of Kapital Band 1) played a bit of cello at the party.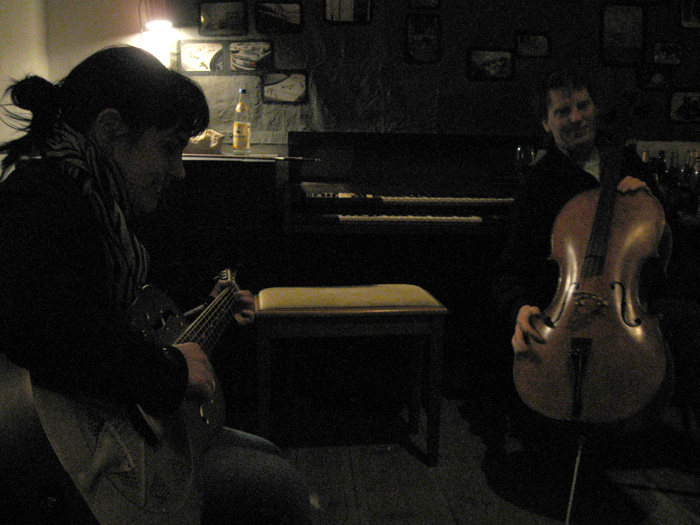 Esther Maria also plucked a bit.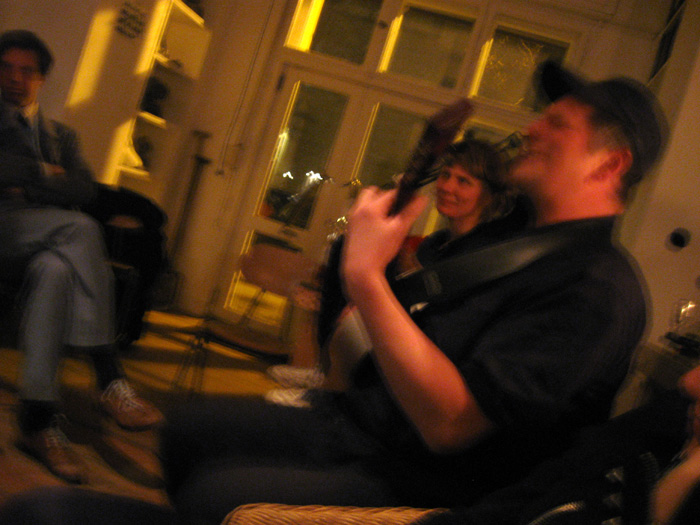 The host himself got our his special banjo and played some songs.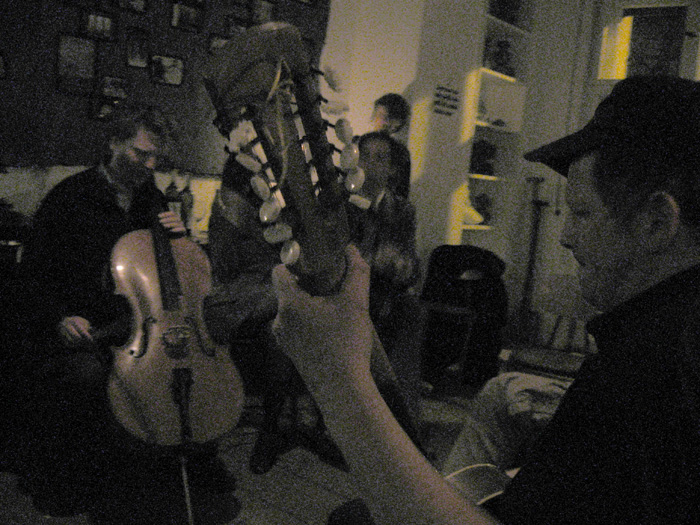 And yes, 12 strings no less.