Back again already

There was very little time between this trip and the previous one. Less than two months. But this time I ended up in even more new places than before.

Big town.
Ditched the Roskilde Festival in Denmark after being there 13 years in a row. Figured Radiohead might get me there, as they were playing, but instead I bought a ticket for their Berlin show the following week. And I'm glad I did. Great show - which I witnessed from the front row at the roughly 27.000 capacity amphiteater venue Wuhlheide.
I had one more gig more or less planned before heading off to Berlin this time. Filkoe of the Endemik label was playing. As an extra treat besides the other acts that night (Babel Fishh and Audio88) Bleubird went on stage to freestyle with his Endemik homie. Stellar night indeed.
When I reached the end of my week-long trip I noticed that I had only had one night without a concert. They just kept popping up as a string of pearls. Partly thanks to Theresa (Golden Diskó Ship) and Jasmine (Jasmina Maschina) who let me in on the going-ons which they also attended.
Compared to recent trips to Berlin I started being more focused on the street art which of course there is a lot of there. Bought a few books on it (yeah, I know, you're supposed to see it on the walls!). And also some of the art that's been done for fanzines and the like. So much of it is truly visually stunning. Hadn't been to the shop Neurotitan since my 2004 Berlin visit. Now I finally found it again. But had to be careful not to flip open my wallet too much. It's easy in a place like that.

Upside down and ouch!
I arrived on a Monday and went to - the apparently French run café/venue - Madame Claude. Had wanted to see it last time around, because of it's idea of placing furniture on the ceiling. Now there was a gig there. It was socalled 'Experimontag' so Australian artist Justice Yeldham played a noise show. I had heard this kind of "noise" before, but never seen it performed on a piece of glass... and with the performer actually cutting himself on it in the proces. Noise performance with selfmutilation... makes an impression. Obviously. And as a bonus it sounded great.
Jason Forrest (a.k.a. Donna Summer) and Niki Matita dj'ed and had some wicked selections.

The Big Gig
Tuesday was Radiohead day. Can't say the hyped support act Modeselector did much for me. Thom apparently loves them. Odd. Figured he would be into more eclectic electronica - as he has pushed before. This was more a party gig in my opinion. Maybe good for a support act at a big venue, though.
Radiohead played for about 2 hours and 10 minutes doing pretty much all the good stuff all the way back to "The Bends". At the Roskilde Festival they got a few songs that I missed in Berlin: Exit Music and Pyramid Song. But man, I really can't complain about the Berlin setlist. The first 30 minutes of the show was good, but not ecstatic. "No Surprises" almost slowed it to a grinding hault. Then they played a superb "My Iron Lung" and on it went from there. So many great moments. Songs played as they should: Idioteque, Jigsaws Falling Into Place, National Anthem, Bangers'n'Mash, Dollars and Cents, Paranoid Android, Wolf At The Door and All I Need - even turning the latter into a sing-a-long. When starting the first encore we got Thom solo on the piano playing the great "Cymbal Rush" from his solo album.
Last time the band played at Wuhlheide was on (the) September 11th 2001 - which Thom mentioned before diving headlong into the rippin' "My Iron Lung" (which they also played that day).

Surf's up! (and the rap's)
After one "day off" concertwise I ventured into new territory for me. Scharni38, which I suppose is a squat or something like that. I might have looked the odd one out not having neither piercings, dreadlocks or tattoos. The venue was small and provided a tense room for Filkoe and Babel Fishh to do their thing with Audio 88 and Oskar Ohlson (and Bleubird dropping in).
Later - picking up a newspaper - I noticed that Haus Der Kulturen Der Welt in the Tiergarten had a water-themed festival - simply called 'Wasser Festival'. Different kinds of surf music and the like. Odd Russian surfband Messer Chups was on the bill, so I figured I'd go there.
The indoor venue had a lot of tacky shops with tacky surfboards, flowerpattern clothes and what-have-ya. The band did their take on the surf genre. Pretty straight on and with a video backdrop of kitsch-heavy material from old sci-fi and Russ Meyer movies and such. And - which couldn't escape anyone's attention - they had a female bassplayer with long legs, push up bra and a Betty Page style hair-do. Well... why not go the whole way? Danish surfband The Tremolo Beer Gut once did a cover of Kraftwerk's "Das Model". So did Messer Chups - although a bit inferior to their version. More original was Messer Chup's take on the old Herbie Hancock breakdance classic "Rockit". Quite amusing. Still, the amount of surf music got a little longwinded by the end.

Another magic spot
To my surprise I hadn't quite grasped that I was in fact in town when my good friend Roberta a.k.a. Marzipan Marzipan (a.k.a. Zelda Panda) was both dj'ing and playing a little show. So of course I went. This was at Tentstation. A kind of campsite exclusively for tents right next to an old, empty swimming pool. In it small soccer goals and a basket hoop had been placed. But apparently it had also been used for concerts.
The one I attended was on a terrace overlooking the pool, though. It turned out to be a seriously memorable evening. One of those that will sit there as a warm spot in the back of your mind for many years to come.
The evening was slightly moist and warm, and as we sat there overlooking the surrounding treetops and the blinking tv-tower in the distance, the dusk, then the darkness, descended on the whole scene. The scene being the terrace with old living room furniture and carpets and candle lights.
The gig was a socalled "Urban Peas Session" organized by Manuela Krause (a.k.a. Manou) who gave us the perfect selection of tunes as a dj there. Had to ask a few times what she was playing. French musician Colleen was one of them. And also a German group called Leichtmetal, which I will have to check out.
The lovely "Panda" dj'ed a bit and then - as Marzipan Marzipan - played live with her little Casio toykeyboard and actually tried out using a laptop instead of minidisc this time. A quite intimate gig. Even when she did her original cover of the Dead Kennedys classic "Too Drunk To Fuck".
As a little extra surprise Betty Confetti started playing afterwards. Two girls from England (but living elsewhere. One in Argentina and one in Sweden, I think) just armed with a ukulele and a melodica. And they just played coversongs! I didn't know many of these songs, if any, so to me it felt like their own. Well, I guess they made them their own with their particular style. The little, slightly clumsy and severely charming set fit the whole situation perfectly.
Yeah, I guess to me lack of perfection is perfect, he-he. But damn, it was strong. Vocally and performancewise.

Little Turkey
Come Saturday I bolted off to Kreuzberg. And on a little walkaround with Marzi-Roberta actually managed to set foot in Neuköln nearby. But just barely. Setting foot.
After writing about my last Berlin trip (where I kind of complained about a few things) Golden Diskó Theresa told me that Neuköln was the place to be at the moment in regards to independent music, venues and such initiatives. That is, not where I usually hang out. That's mostly Prenzlauerberg - which is still relaxed and with some great stuff, but with an increasing tourist element. With all the gigs elsewhere this time I didn't get around to explore the area. Maybe next time!
Getting a kebab in Kreuzberg seemed like the right thing to do. Someone might kick me for calling it 'Little Turkey', but for now... I am. The meat had been better elsewhere in town, but boy the greens in it were the perfect combo (there's a picture of it further down).
In the evening I attended a gig with Danish "DIY-heroine" Heidi Mortenson at Festsaal Kreuzberg. Also playing were fellow Danes The Beatitude. I had only seen a few moments of Heidi at the Spot Festival in Denmark this year. And the loop machine which is a large part of her gigs these days seemed to tease her a bit. But not at the Festsaal. She had it nailed down and showed herself as a strong and charismatic performer.

Ending the trip in style
I had originally intended to go back home Sunday. But the Wasser Festival had me postpone it a day. Marc Ribot's Ceramic Dog was playing there that day. Marc Ribot is a guitarist who has played with Tom Waits on several occasions. Has a strong and cool style that really fits Mr. Waits. On his own he takes it even further. The trio on the outdoor stage that night kicked our asses with a mix of surf (just a bit), freejazz, punked up stuff and carribean vibes. Great fun and a total joy to witness. Their musicality made every other rockband (even the technically good ones) look somewhat lame.

I, the tourist
So did I only digest music while there? No-no. Also the great, cheap food (like at a great Anatolian place in Prenzlauerberg!) as well as... ehmm, buying music to be digested at home, ha-ha! This time I allowed myself a bit of basic tourism too, though. Took some hours in the west. Had been in the west before, but never at the big shopping mall KDW. Went there. Nothing special really. But I guess it was to the east-Germans after The Wall came down.
Also went by Checkpoint Charlie and finally saw... the place! The kind of place - now - that you can only find in the true capitalistic societies, I guess. A tasteless technicolour tourist wetdream that makes the event it's supposed to portray seem more otherworldly than it actually was (that's a lot in this case) and thus seem... fictional. That can't be good. I resisted the temptation to get my picture taken with the fake border guards in their tacky polyester uniforms. Easy. But I walked by the checkpoint... this odd spectacle.
So yes... there... I did it! Been there, done that... didn't buy any souvenirs! Never have to come back.

And should I? To Berlin in general? Well, I guess it will be impossible to avoid. Got friends there now and I still love being there. BUT... holy crap, this time I gave directions to enquiring tourists! And noticed some of the same people more than once on the train and on the street. A sign that it's time to move on? Or move down there?!

Well, let's see what happens...

Here's some video from the trip. Basically the same as the pictures below. More or less. Hm, probably less... after all.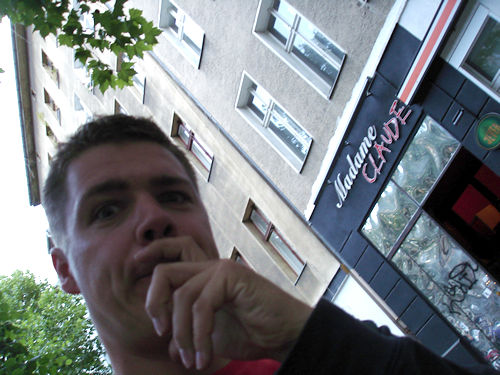 Doing the Claude Frenchie mustage thing in front of Madame Claude.
Had to. It's a Næstved thing. For a few, anyway.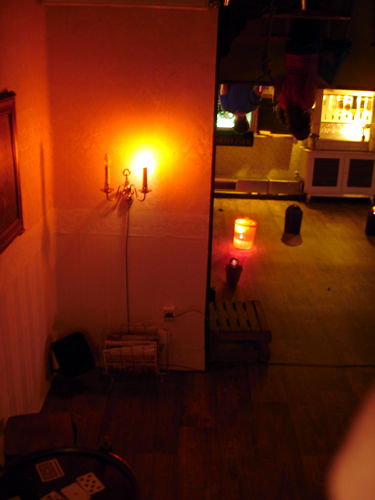 Things are upside down at Madame Claude. And obviously
I've turned it around just to f**k with you. :-)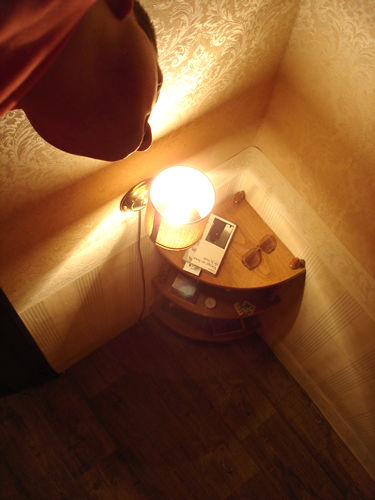 Looking down at the floor up there and some reading matter.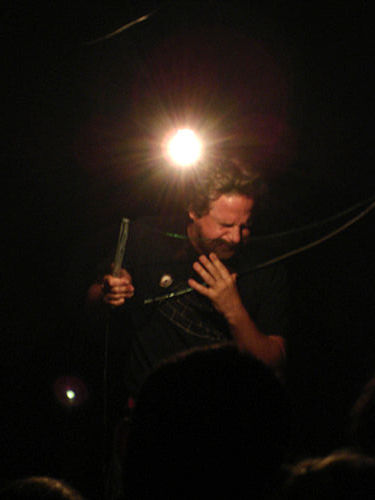 Justice Yeldham (of Australia) playing a piece of broken glass in the basement. Combining
noise music with performance and some slight selfmutilation. He did bleed by the end.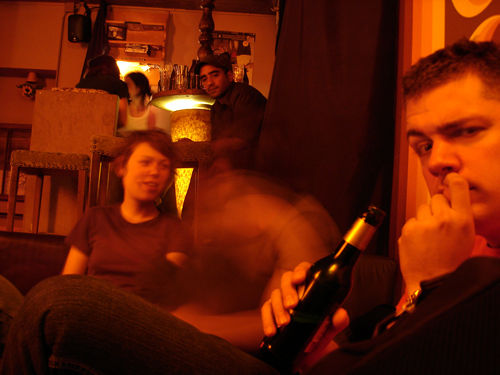 Miss Diskó Ship, Theresa, and a ghostly Sylvain, while I ponder... something or other.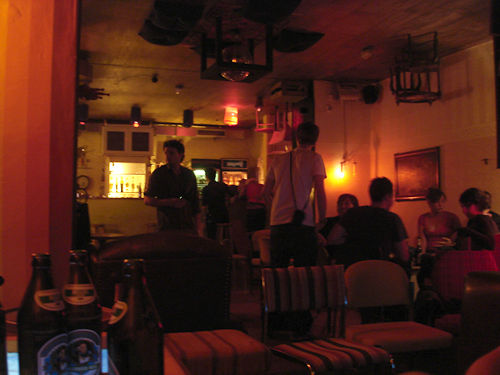 A more broad view of Madame Claude.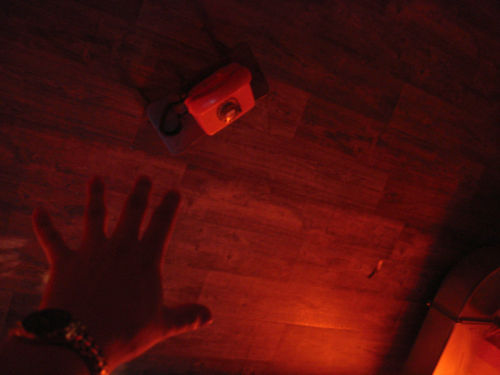 Will someone get the phone, please? It's right on the table over... eh, up there.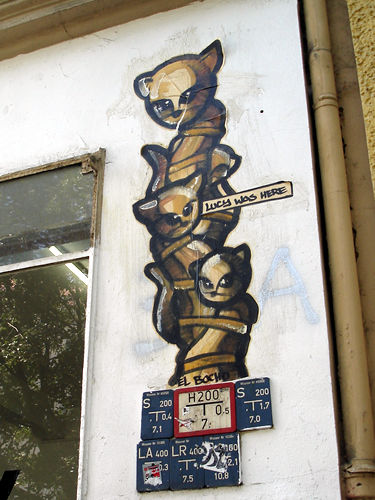 A bit of street art.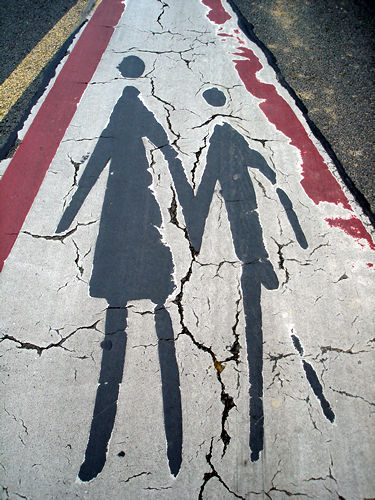 Some really old school street art, he-he. Well, no, but could as well be. Looks arty by now, anyway.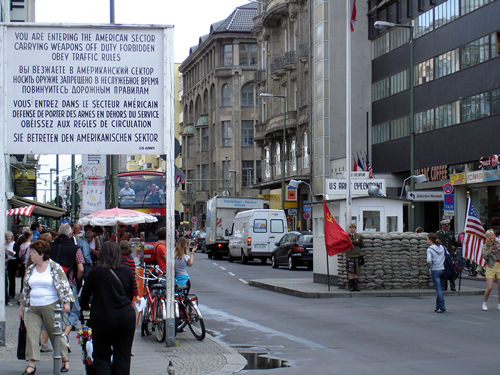 Checkpoint Charlie. Tourist trap numero uno in Berlin?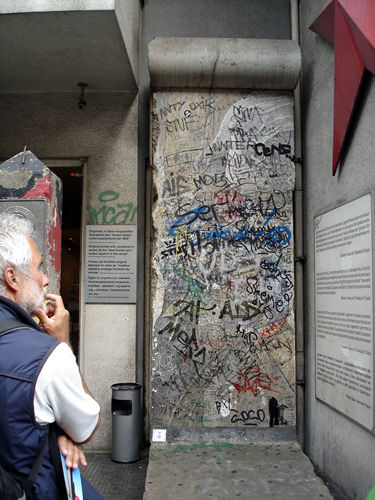 Or the piece of wall left at the Wall Museum?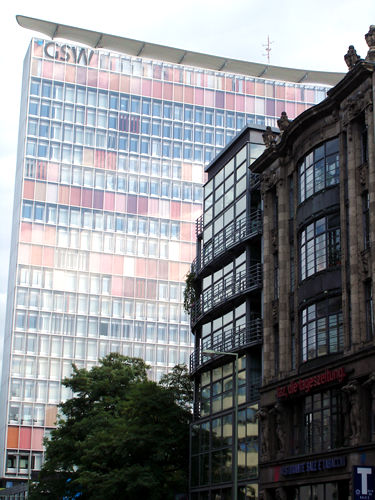 Rather look at some old vs. new with striking colours.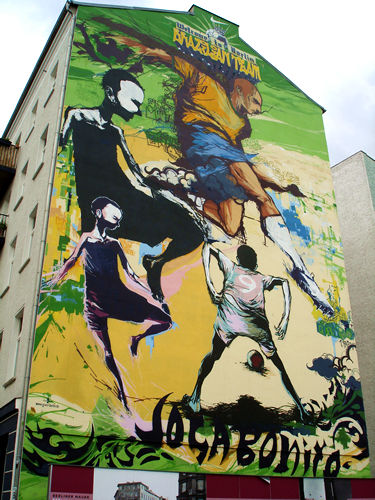 Even more striking colours. At the end of Schwedterstrasse.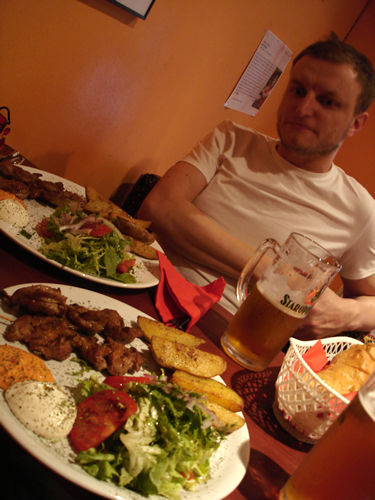 Eating out. Anatolian cuisine with my kind host Marco on Oderberger Strasse. And Danes,
get this... Two large plates of lovely lamb and more plus two big Staropram beers... each...
Roughly 210-220 Danish kroner in total! Bloody cheap. And damn delicious.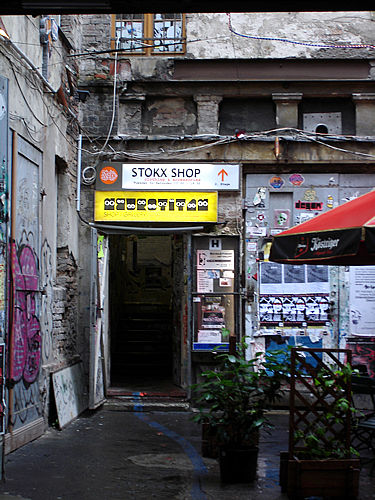 The yellow sign says Neurotitan. Found it again! It's in the same
backyard as the Anne Frank Museum.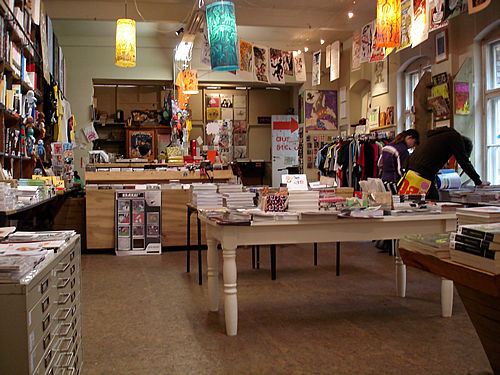 So many goodies. Lovely art in print.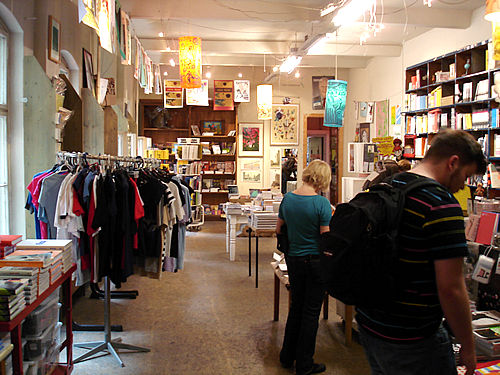 Advice: Nail your wallet down to the floor before you enter.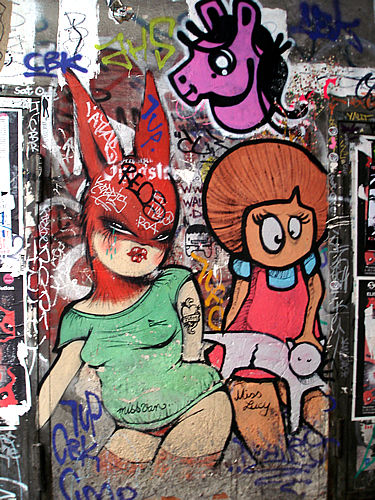 Obviously that particular backyard was littered with street art.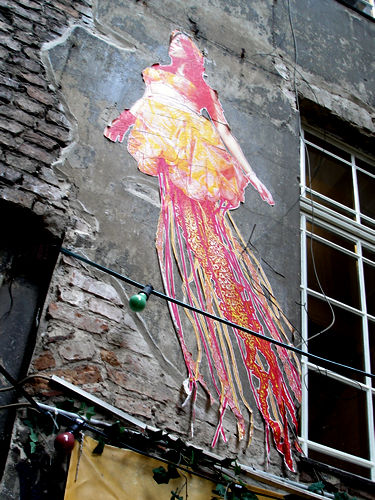 ...Of all different kinds. I'll just show you a few here.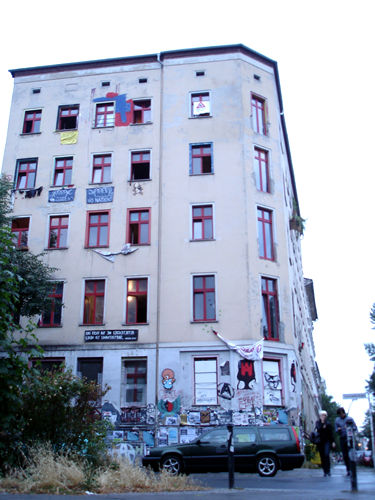 Scharni38. A squat, I suppose?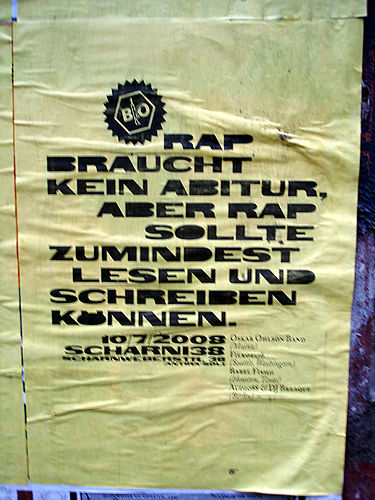 ...And venue of the gig with Filkoe, Babel Fishh, Oskar Ohlson Band and Audio 88.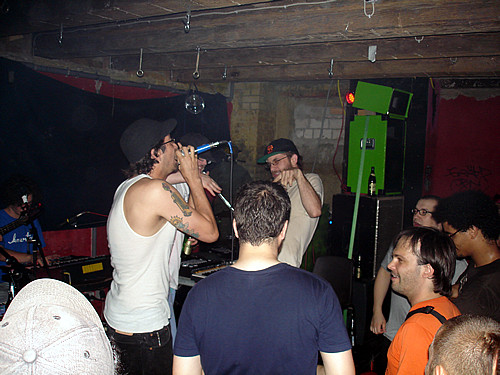 Bleubird (left) was in on a bit of the fun with Babel Fishh (right).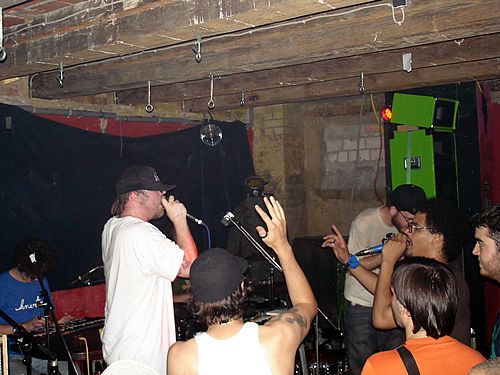 Filkoe (left) with the Oskar Ohlson band and another freestyler for the grand finale.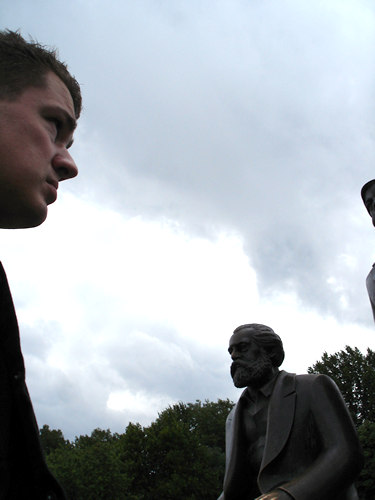 Yo, Karl, how's it hangin'?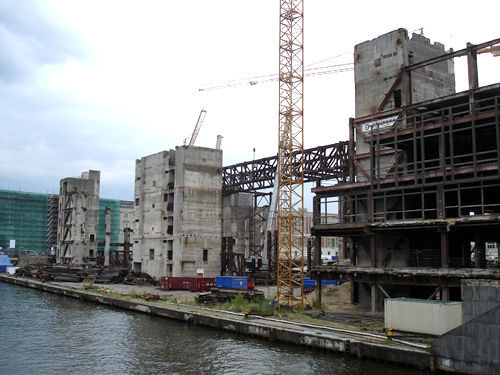 Not much left of Palast Der Republik these days.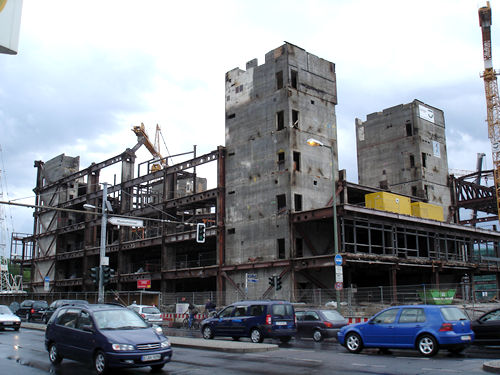 It does seem to take quite a while to take apart. They've been at it for a while now.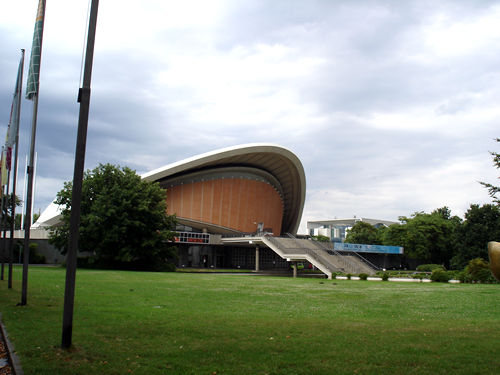 Haus Der Kulturen Der Welt at the Tiergarten. Venue of the Wasser Festival.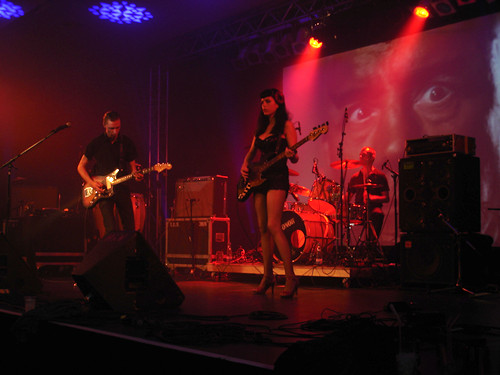 Russian surf band Messer Chups twanged away in inch-thick kitsch.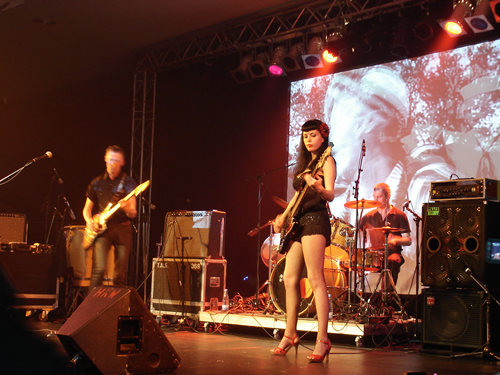 With Betty Page lookalike on the bass 'n' all.


Tentstation, as it's called. View from the terrace over the empty pool.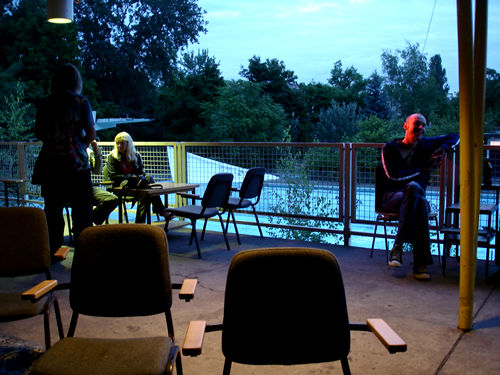 As many places in Berlin there's plenty of greenery around.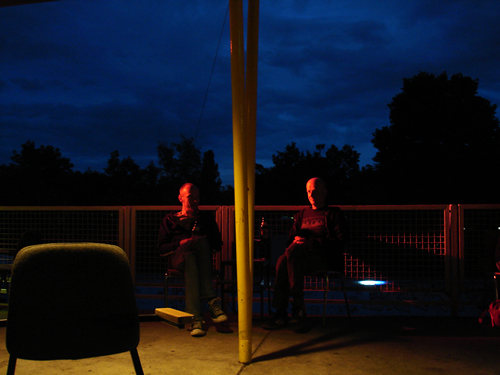 The evening descents on Tentstation. We're ready for the 'Urban Peas Session'.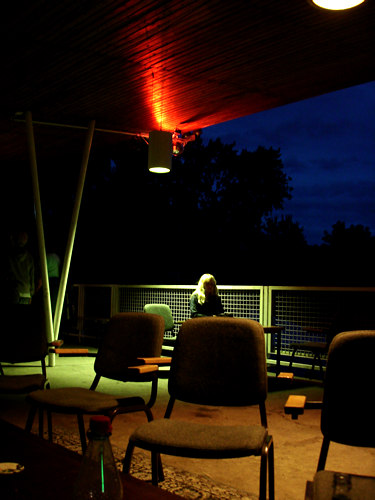 There was actually more people there. But that particular moment I caught
this picture which I thought looked kinda cool.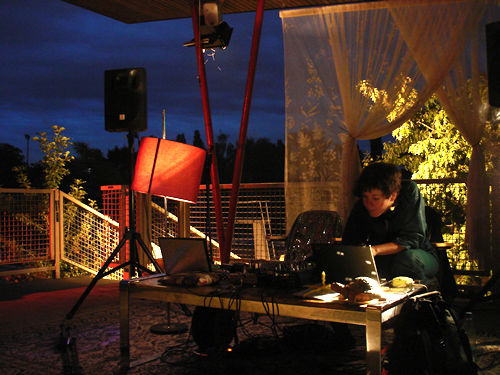 Manou (a.k.a. Manuela Krause), organizer of 'Urban Peas Sessions' and dj with
an utterly superb taste in music. The selections this evening fitted so well.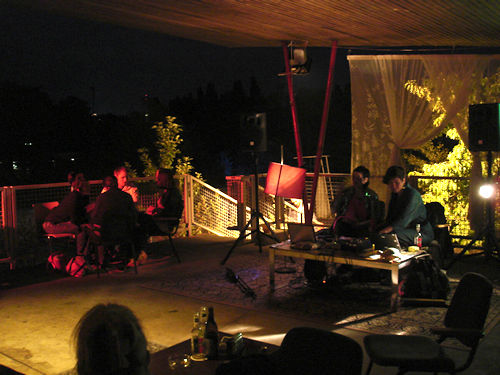 Getting ready for the Marzipan Marzipan gig.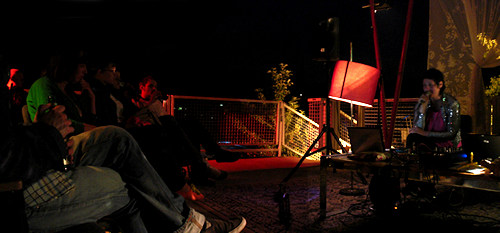 Marzipan Marzipan crooning along to her Casio toykeyboard and laptop. Lovely songs.
Even the Dead Kennedys cover "To Drunk To Fuck". You have probably never heard it like that.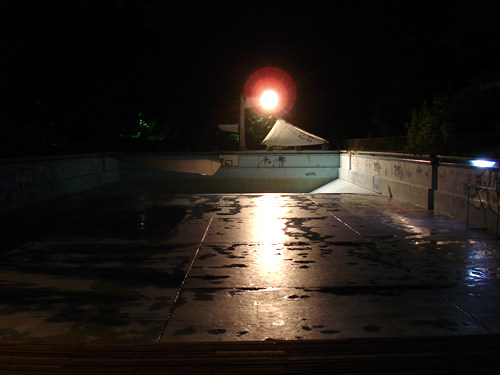 The pool. With soccer goals and basket hoop.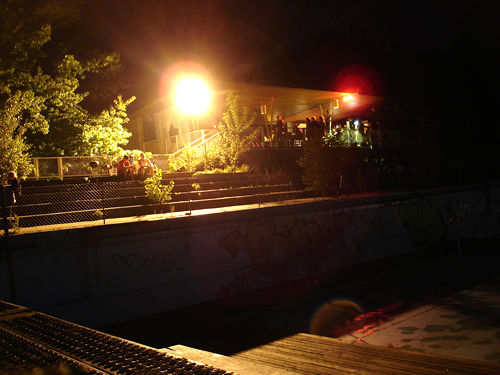 A look up at the terrace.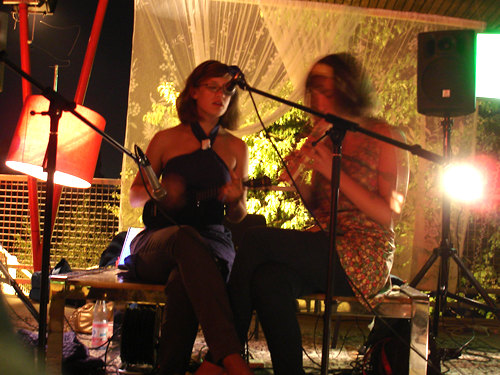 Betty Confetti playing the ukulele and singing songs in all sorts of languages.
Superb little set they did. Perfect in all its charming imperfection... and vocal talent.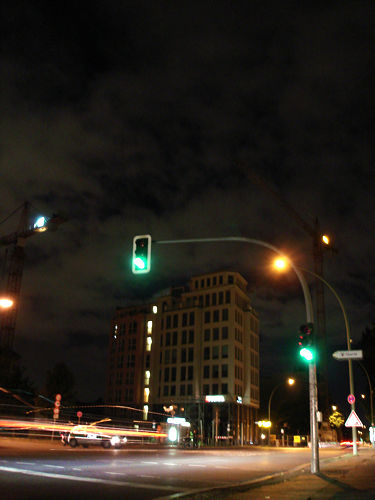 Walking home along Invalidenstrasse... which connects to Veteranenstrasse
and vice versa. Go figure...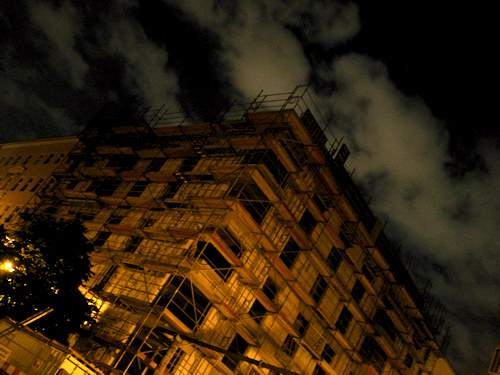 The semi-cloudy sky with slight city illumination made for some interesting pictures.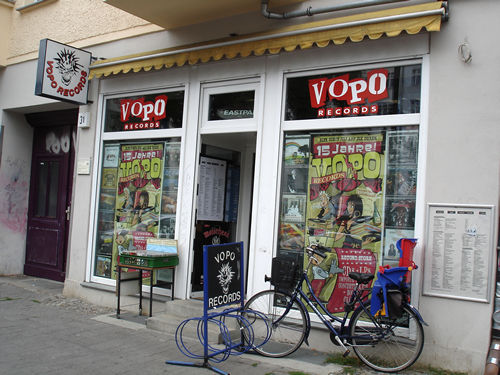 Found a nice new record store this time. Vopo Records on Danziger Strasse.
Well, new to me. It's been there for 15 years.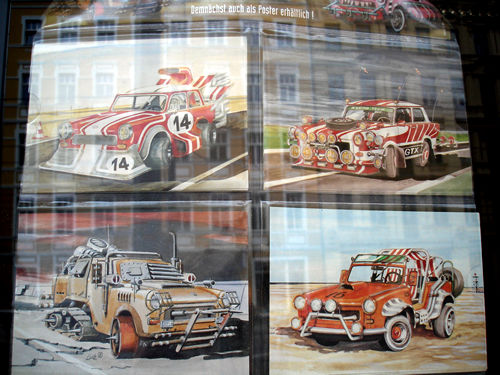 How would you like to modify your Trabi?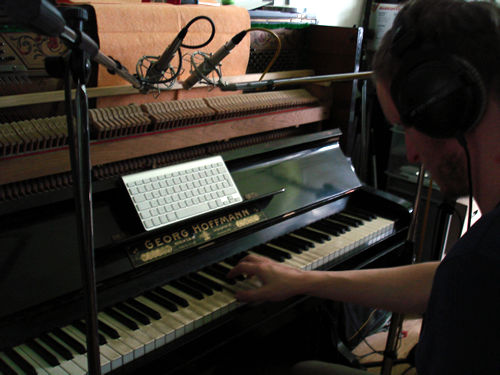 Marco recording some piano in his little home studio.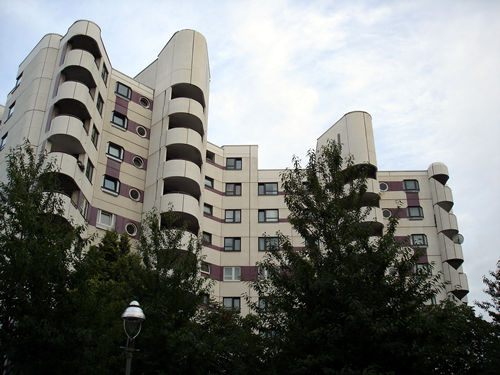 The Kreuzbergian architecture around Kottbusser Tor Station has many different shapes.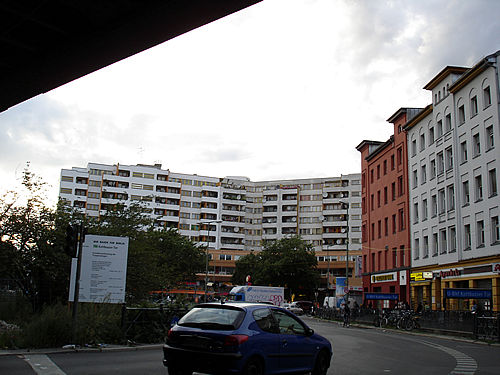 I guess it's Berlin's 'Little Turkey', in lack of a better word?
Satellite dishes everywhere.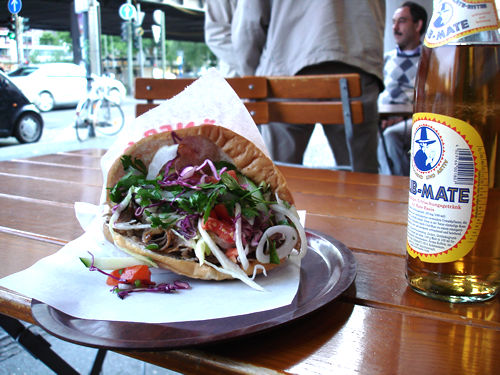 They just don't make the kebabs like this at home.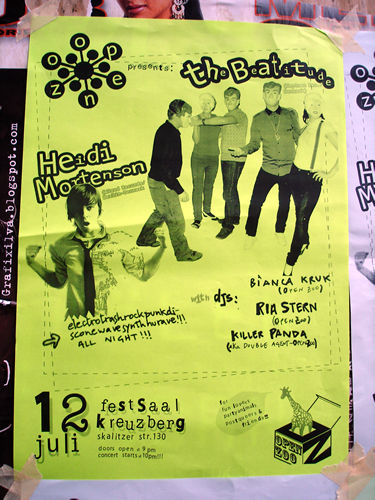 Tonight's entertainment at Festsaal Kreuzberg. Stumbled on the word
"post-queer" on the poster. Wondered. Pondered. Is that "straight" then?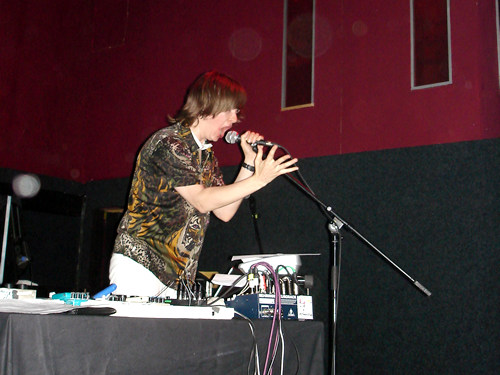 Heidi Mortenson growling like a lion. She really did.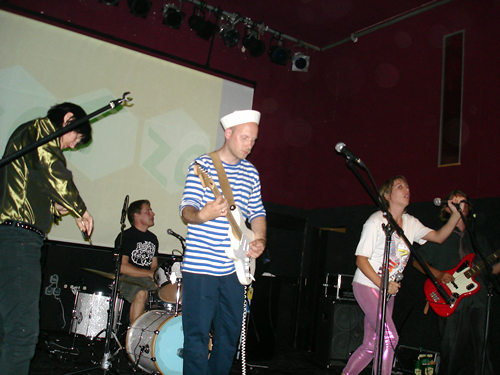 The Beatitude rocking after Heidi's kicking and funny set.

Festsaal Kreuzberg.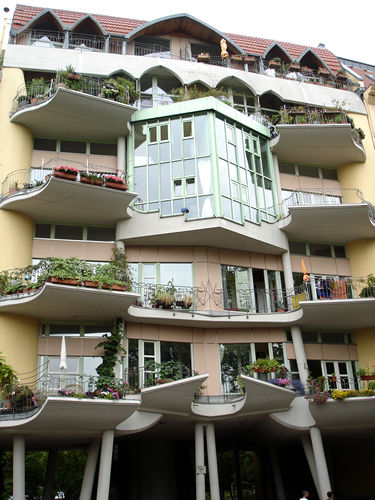 A bit of Kreuzberg by the canal close to Neukölnn.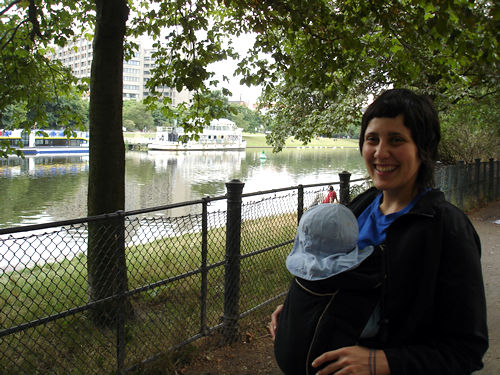 Roberta at the canal with a little sleeping Captain Ilpo at the helm.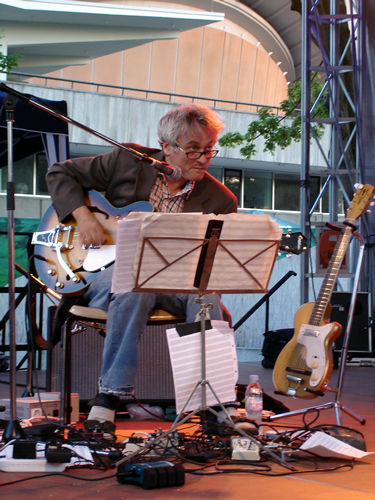 Back at the Wasser Festival with Marc Ribot.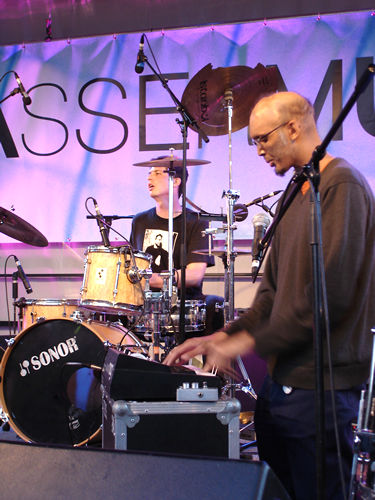 With Ches Smith on drums and Shahzad Ismaily on bass, Moog, percussion etc.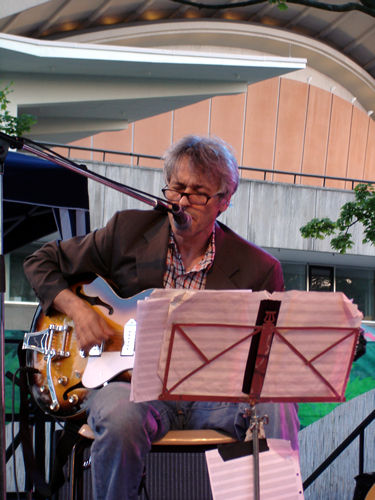 Together called: Ceramic Dog.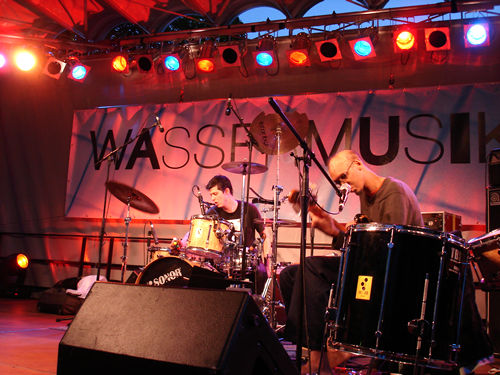 A stellar gig and the perfect end to a great trip.

Mr. Ribot picking away at his guitar - on which he also lends his services
on a regular basis to a certain Tom Waits. Fits perfectly, of course.

A view from the ferry of a large bunchs of sea windmills in the sunset.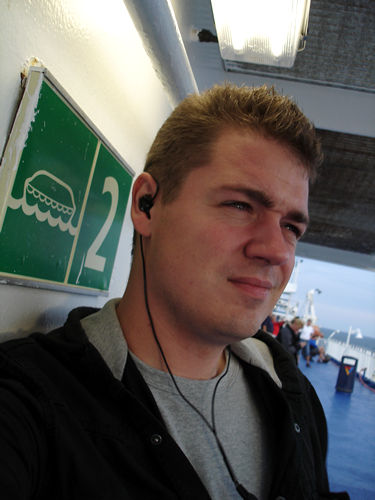 Aaaand a little sunset-gazing selfportrait to round off these way too many pictures.