Reflecting on a bit of an old paradox

Cities go through many changes. Berlin probably more than most. Being pretty much in the center of two world wars and the idealogical battleground of the cold war. The tension there when the wall was still there must have been immense. These days the atmosphere is a more relaxed one. More "bohemian" in lack of a better word. Still, this part of Berlin seems to be under siege - as most likely so many other places - from "big money" city development of the unimaginative kind. Renovating houses without keeping the heart of the original in it. Building malls or worse on the exact spots of the city's cultural pulse - where the seeds of the very uniqueness of Berlin are being sown.

I find it sad. Of course, people can't live in old, cold houses, just because tourists or artists have a nostalgic relationship with the past. Progress is a natural process. But it's like someone is hellbent on painting over the past to forget about it. There's noone taking the middle road and then taking into account the paradox of moving forward while preserving the very soul and creative essense that makes the place unique and sets it apart from other cities around the world. It goes against any contemporary thinking about development having to be innovative in order secure it's own future. There are two worlds that have to meet here. Polarized they both loose.

Imagine a man looking out upon his beautiful lawn. A few odd growths pop up here and there. He can't really decide if they're weed or actual flowers. To save himself the trouble of reflecting on it any further he decides to pave over his entire garden with asphalt. Maybe he can even rent it out as a parking lot and make a few bucks, he thinks.

Okay... Unless the entire planet is paved over it should be possible to go to the edge where the asphalt is thinner and see what comes up there. Weed always find a way through?

Money vs. heart?
It's not like anyone is putting in any effort to preserve what's there. Does progress really have to be without heart? Does it have to be just about money? Are people too lazy? Too busy? Not bothering to reflect on things like... the past and what can be learned from it... the art that questions the status quo... the human relations with a face of love instead of fear?

Okay, despite all of the above thoughts and knowing that lovely places like Antje Öklesund and Bar 25 will be "paved over" before long I had a great five days in Berlin. A city that this time around suddenly felt small. All because of everyone I knew from different places seemed to be connected somehow. Going to the same show, staying in the same places, being friends etc. Many funny coincidences that just confirms the old saying that "it's a small world".

Homemade electronics and oldies with soup
My programme got really packed. Something going on all the time. Upon arriving Saturday I dropped by Bugbrand workshop of Tom Bug (out of Bristol in the UK) where Marco (my host) was working on some noisemaking electronics alongside a whole table of people. This was beyond "regular" circuit-bending of existing electronics to make new sounds. They made their own instruments from scratch. That same night I went to Bar 25 at the Spree river where I had learned that Bleubird was doing an improv set. It worked out really well. Kiki Bohemia also played there. It was all a release party for a dvd about last year's Goldmund Festival. Really nice film with lots of very exciting music in it. I got to figure out who they all were.
Sunday I visited the huge fleamarket at Mauerpark. A bit of a tourist magnet, but enjoyable nevertheless. Too crowded, but also a place to find some nice vinyl records. And loads of different crap things, he-he. Later I went to Intersoup where I hung out, listened to the cool music they had on the stereo while eating their delicios soup. In the evening my good friend Zelda Panda was going to DJ her oldies songs there. That was a great way to spent an evening.

Musicals pearls on a string
Monday night Swiss electronica chick Gustav played at Festsaal Kreuzberg. Golden Diskó Ship was support act which is why I went. She really has a lot of talent. Great show.
The following evening... yet another gig. Wanted to go to Antje Öklesund anyway and by luck Snöleoparden out of Aarhus performed there. Alongside Bobby & Blumm which was a really pleasant act to experience.
Wednesday was the night I actually went to Berlin for to start with. 9 was playing at Zur Moebelfabrik and I was to DJ. Great fun. Cool place. Even though at first the air down in that basement was incredible humid in that "locked up for too long" kind of way. Had a great reaction to what I played: "It was great. I'm tired of that minimal Berliner techno". He-he. Also spun a bit of vinyl bought during my days in Berlin. Herbie Hancocks old "Rockit" breakdance hit caused a nice reaction with some.

Heavy trip home
So yeah, ended up with bringing quite a bit of vinyl records home. But also a guitar. Was looking for an electric one, but I just can't seem to find one that fits me. So I stumbled on an old German acoustic one instead. A boxlike sound... just right for doing some crappy blues songs, oh yeah... After all, the trip was to "mend my heart", so a few songs in that vein seemed to pop up.

Below you can download the two parts of my DJ set:

DJ set @ Zur Moebelfabrik Part 1 (mp3, 97 min, 133 mb) - download
Lucky Dragons, Battles, Köhn, Aphex Twin, Murcof, Berg Sans Nipple, Trans Am, Jab Mica Och El, Jean-Michel Jarre, Busdriver, Food For Animals, Public Enemy, Radian, Panda Bear, Daedelus, Karsten Pflum, Cains & Abels, Moussa Duombia, Akron/Family, Battles, Apparat Organ Quartet, Malcolm McLaren, Y.A.C.H.T.

DJ set @ Zur Moebelfabrik Part 2 (mp3, 40 min, 55 mb) - download
Singvogel, David Bowie, Analogik, DAT Politics, Karsten Pflum, Herbie Hancock, Deerhoof, Laid Back, Beastie Boys, Pierre Henry, Trans Am, Four Tet (Battles Remix).


A bit of video from the trip. Basically a sound'n'vision version of a lot of the pictures below.

Below is a video with more footage from the Prinzenallee show (Bleubird and Jayrope) at Bar 25.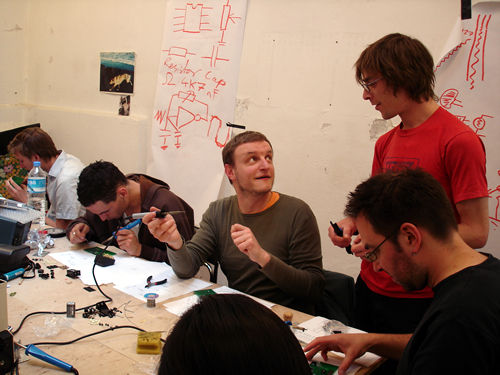 Marco getting a few pointers from Tom Bug at the Bugbrand workshop.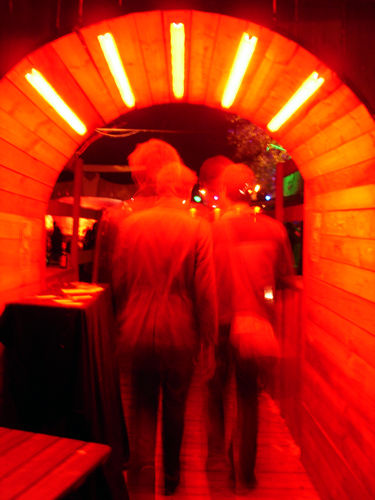 Entrance to the 'Circus' at Bar 25.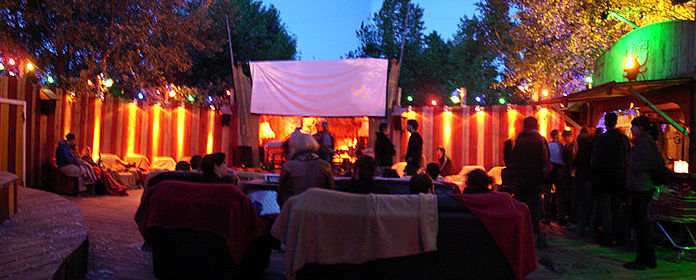 The 'Circus' at Bar 25.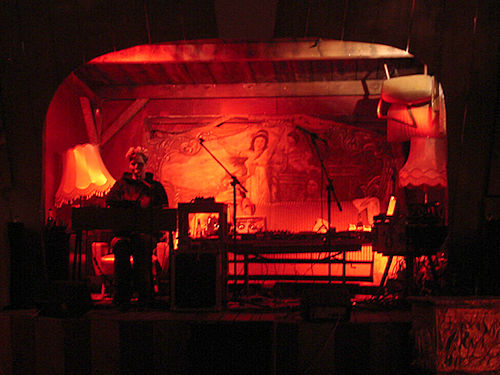 Kiki Bohemia at Bar 25.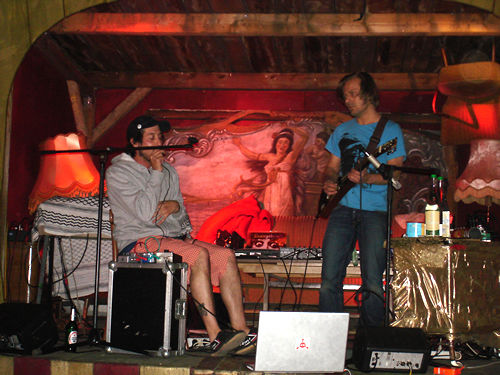 Bleubird and roommate - a.k.a. Prinzenallee - improvising a set at Bar 25.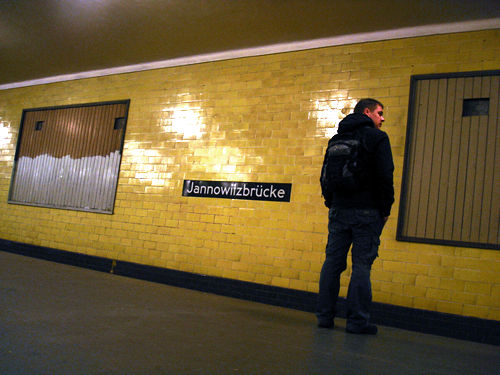 Yeah, quite a yellow station it is.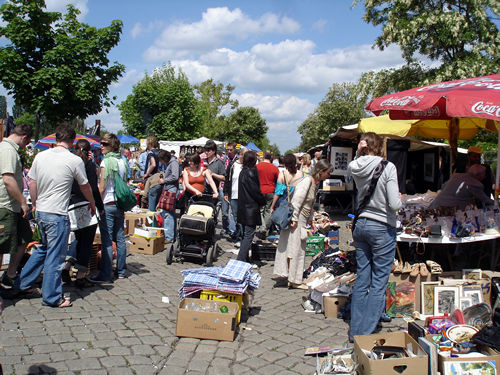 Mauerpark - a lot of crap, a lot of tourists...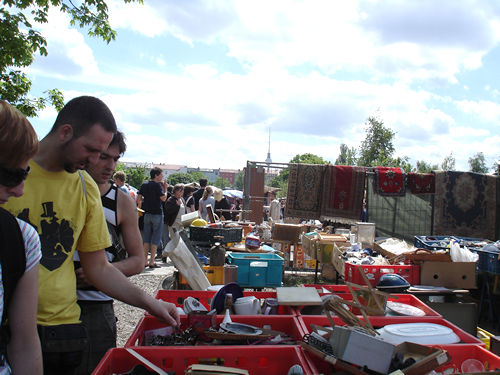 ...But if you need some old school / semi-retro stuff for your apartment it's here.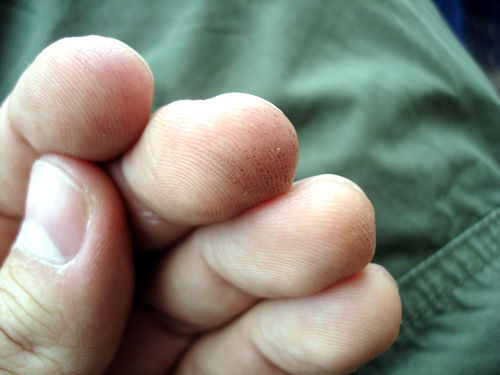 Old-vinyl-flipping fingertips. Water and soap needed.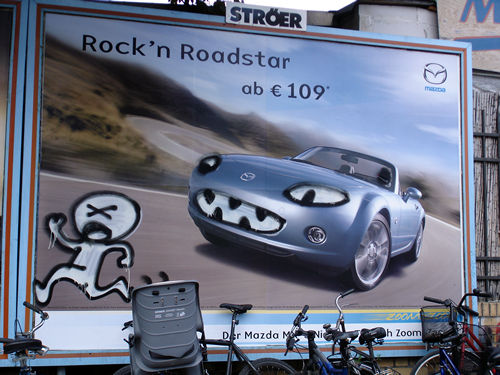 A bit of creativity at street level, oh yeah.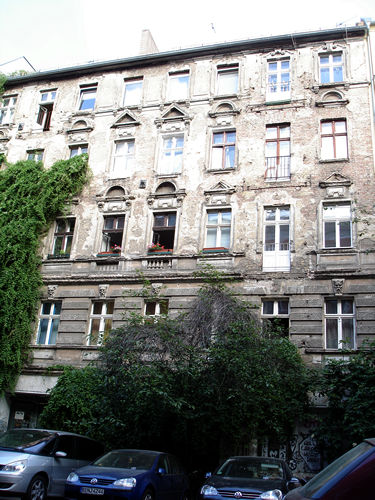 The last unrenovated house in Schliemannstrasse, I think. Right opposite Intersoup.

Retro Unlimited... for your ass. Outside Intersoup.

Chillin' inside Intersoup digging the tunes, the ambience...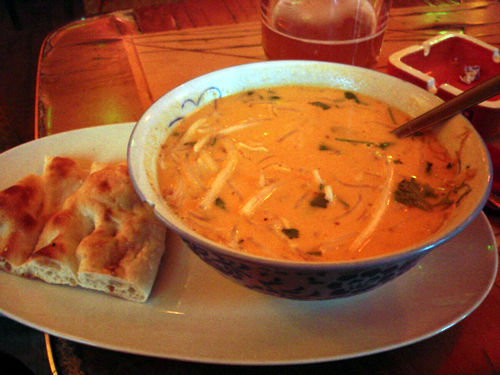 ...And the soup. It's so good it needed to be photographed. Go eat!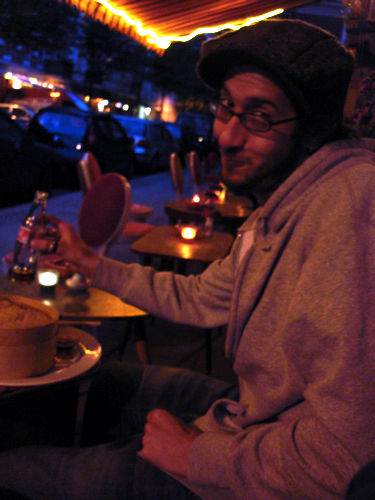 The dumplings are good too. Jacques 'Bleubird' digs in with an innocent smirk.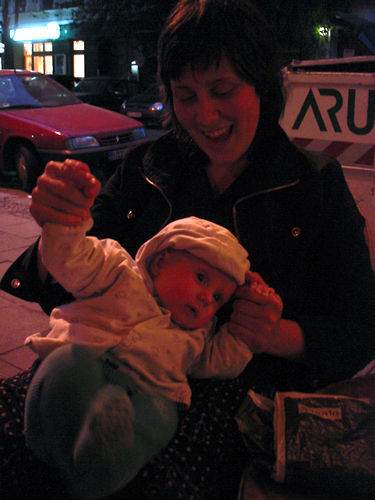 "Mammapanda" with little Ilpo superstar.

DJ Zelda Panda trying the laptop to spin the oldies.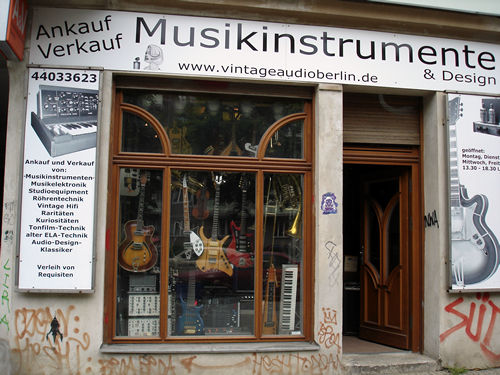 Vintage Audio Berlin on Schönhauser Allee.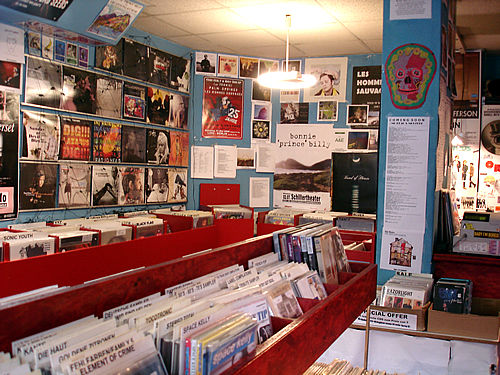 Inside Mr. Dead & Mrs. Free where you can satisfy all your "americana" needs.
May 2008

The times are a-changing...


October 2006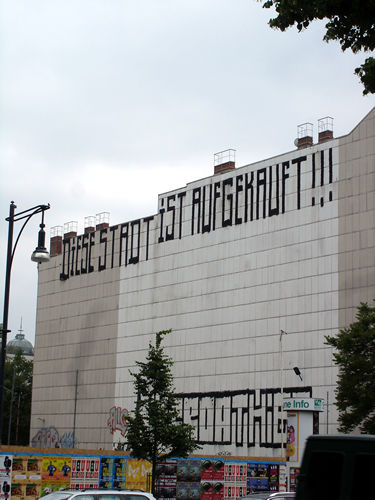 Saying it differently - in big letters - that this city has been sold - or has sold out?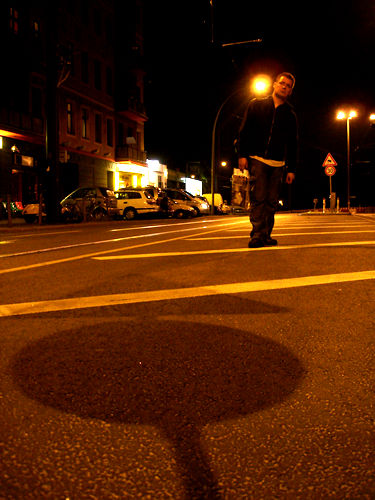 In the middle of Eberswalder Strasse.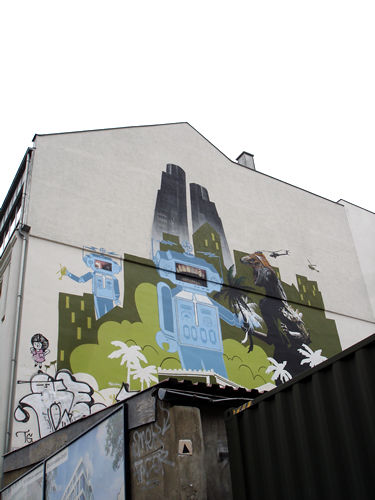 Don't know about this one, but some of these arty walls are sponsored
by companies such as Nokia. The uprising has been assimilated.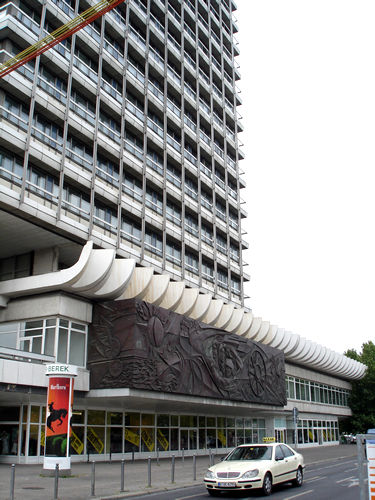 The past is allowed to poke its head out in a few places.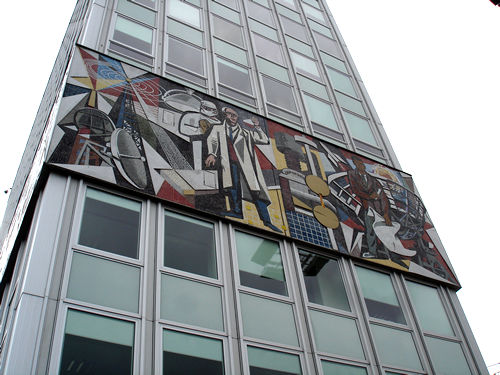 But for how long?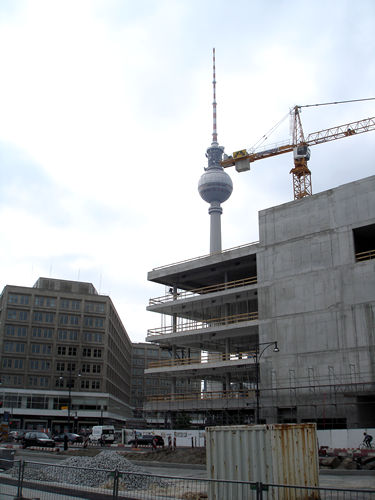 Is this one of those classic cases where you
don't know what you had until it's gone?

The new mega mall Alexia at Alexanderplatz. Why don't money
and creative thinking just meet once in a while?

Comedian Bill Hicks once reflected on the possible evolution of a race of humans in
the future - "mall creatures" - that had actually never seen the light of day.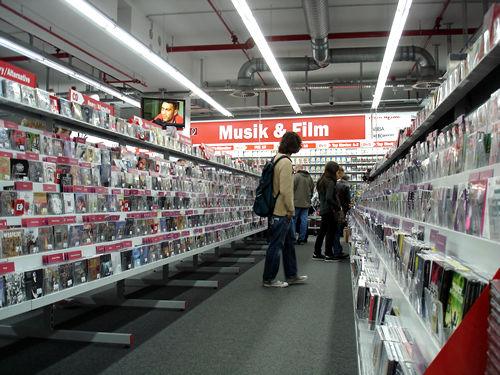 And some wonder why people don't care enough about music anymore to
want to pay for it. As Public Enemy asked in 1991: Who stole the soul?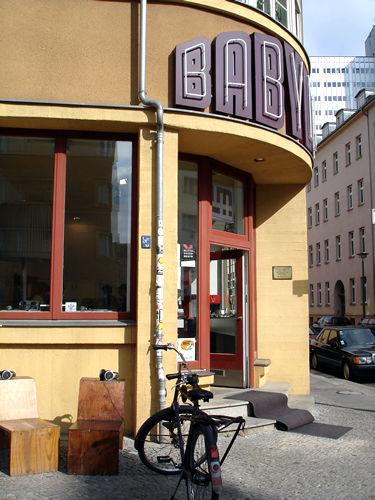 The Leila M music store.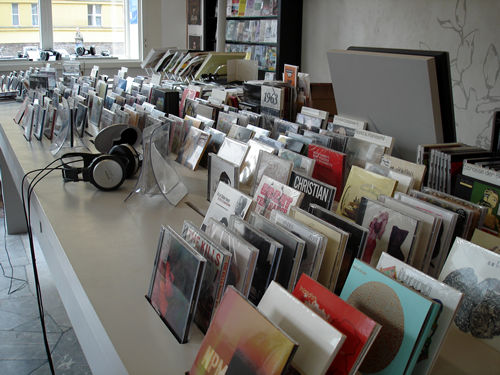 Quality over quantity.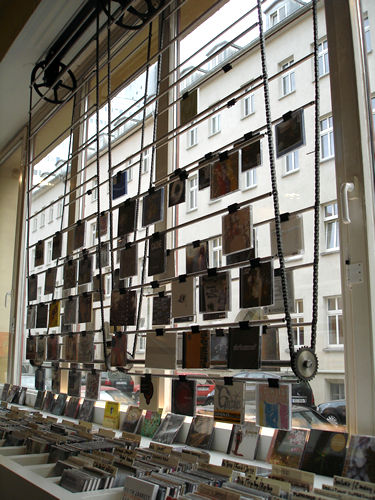 Neat construction.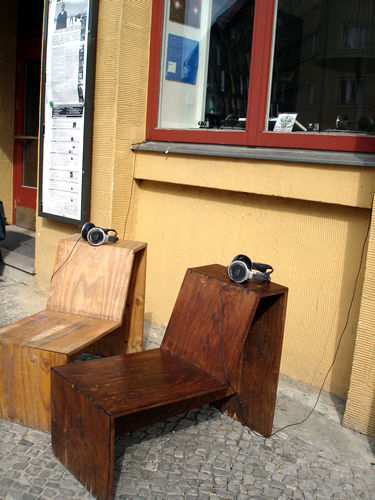 A brilliant idea in all its simplicity.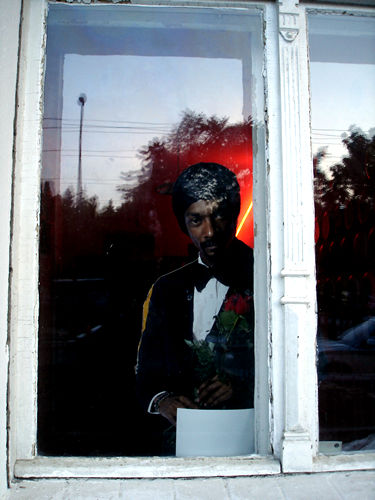 Two late nights in a row this life-size Cardboard-Snoop spooked me
when I caught him out of the corner of my eye. Sneaky bastard.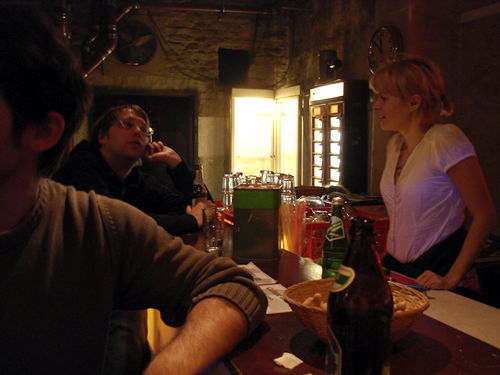 The bar at Antje Öklesund...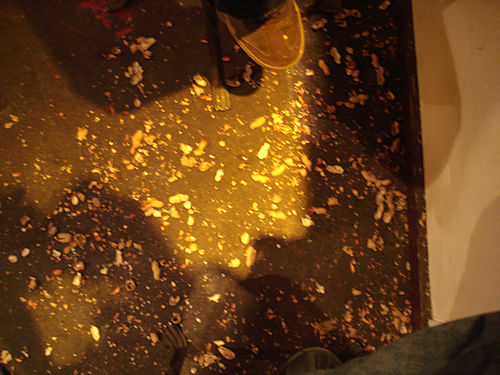 ...Where the peanuts are complementary and you throw the shells on the floor. A crunchy walk.

Always arty stuff to look at when at Antje.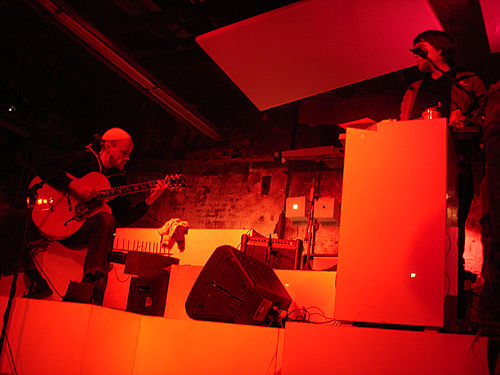 Bobby & Blumm at Antje.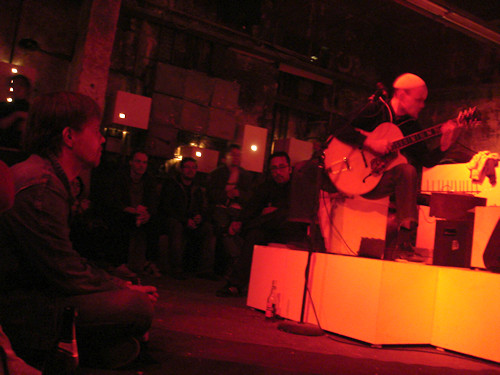 An attentive audience. Nice.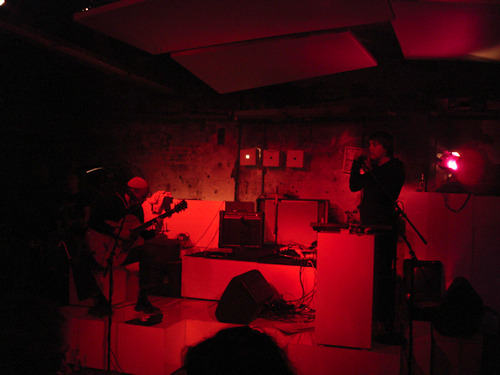 German guitar and Swedish voice and toy keyboard. Pleasant combo.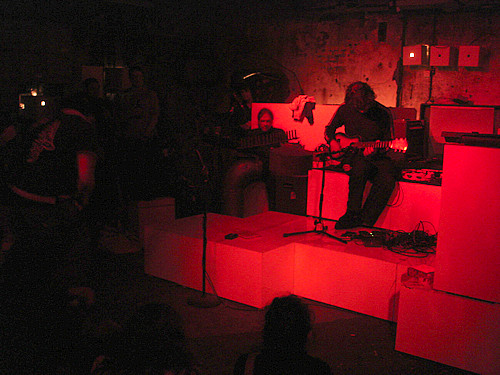 Snöleoparden at Antje. Whipping up a trance-like set.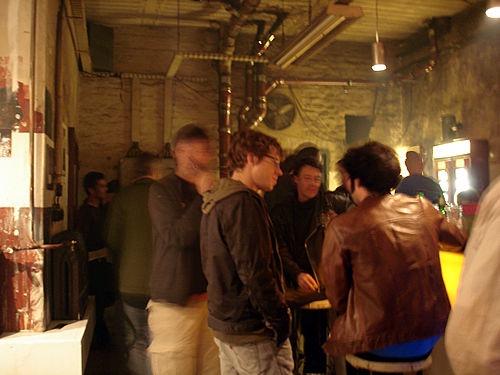 Antje is a fantastic place to hang out.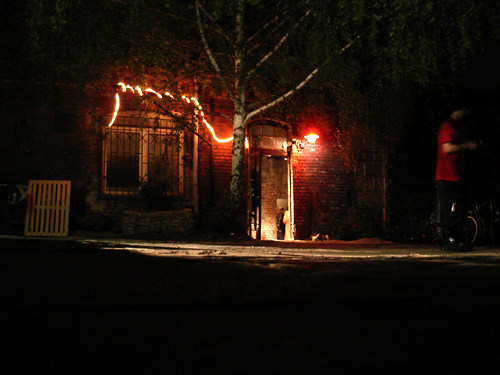 Antje from the outside. Not the easiest place to find. It's in a backyard.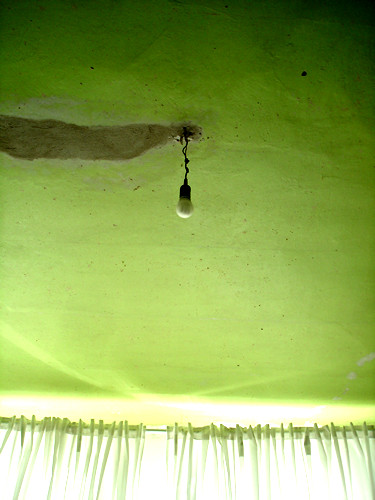 Morning view.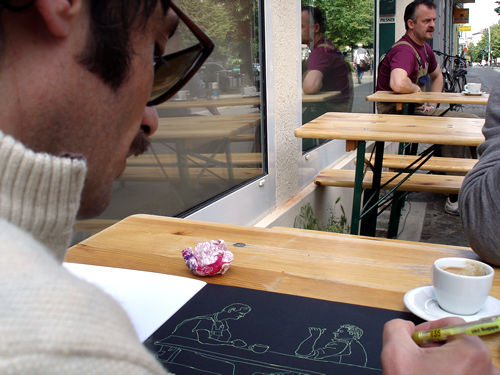 Alvise being the artist - capturing a little scene with pen.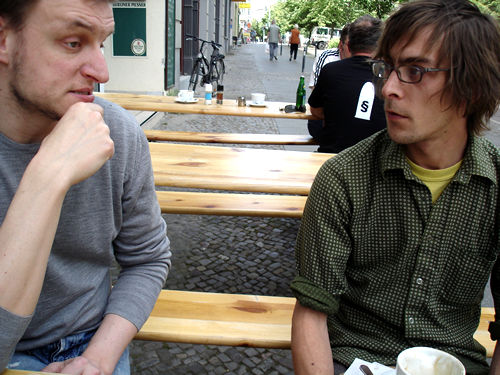 Marco and Tom discussing tech stuff that would make any mere mortal brain go limp.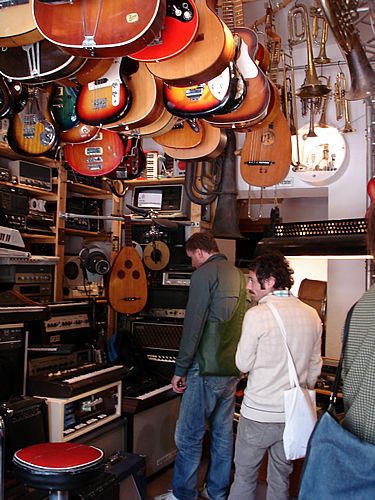 Back at Vintage Audio Berlin for a look.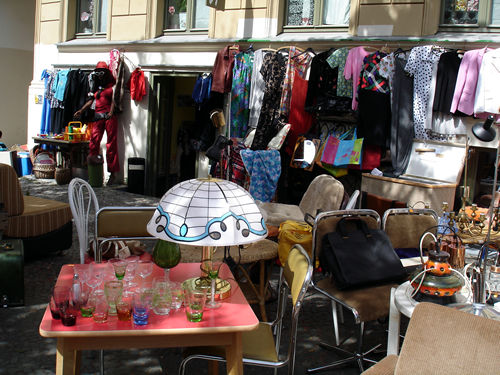 A shop for all your kitsch needs. Plenty of those on Oderberger Strasse.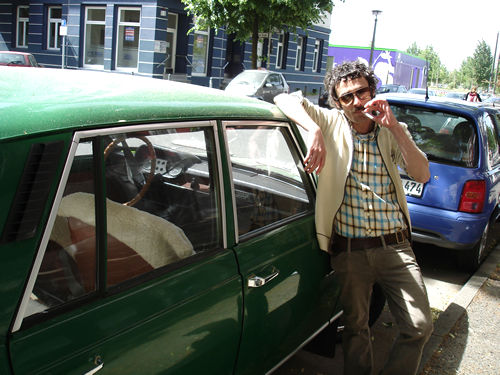 Maybe there's a part for Alvise in the next Beastie Boys video? Coolness...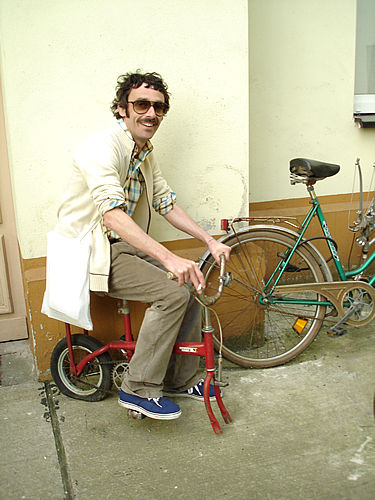 A little less coolness.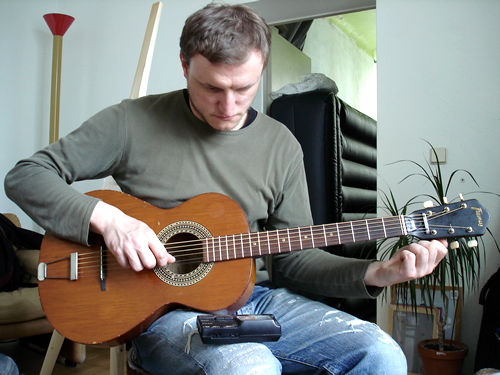 Guitar expert (more than me anyway) Marco adjusts the old thing I bought at Vintage Audio.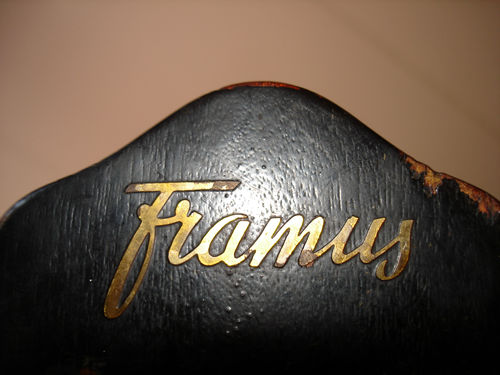 Framus...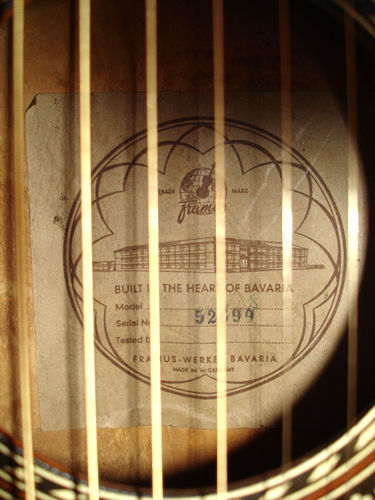 ..."Built in the heart of Bavaria."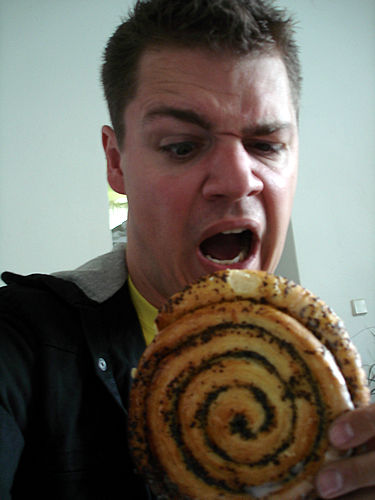 German pastry has a thing about size. What are they compensating for?!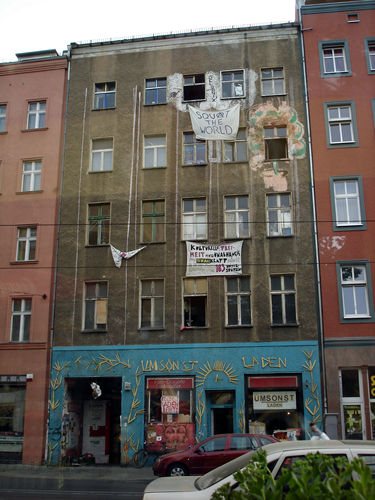 Squat in Brunnenstrasse proclaims: "Kulturelle Freiheit muss unabhängig von Finanskraft sein."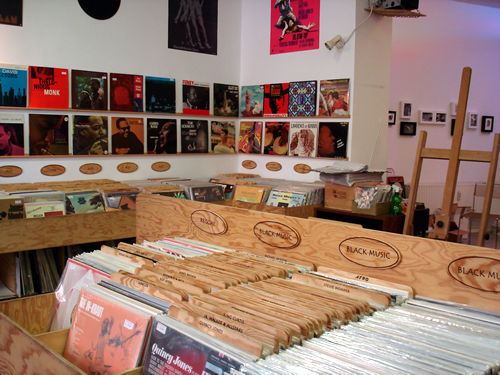 A record store called "The Record Store" in Brunnenstrasse. Nice selection. Pricey rarities, though.

When in Zschermany do as ze Zschermans...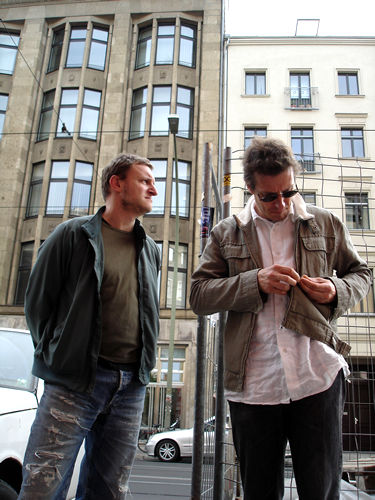 Duo Italiano.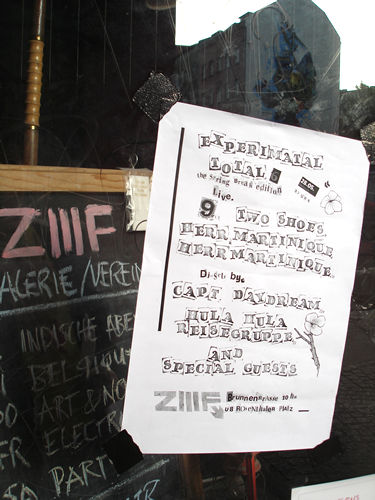 Yeah, made it onto the poster, he-he!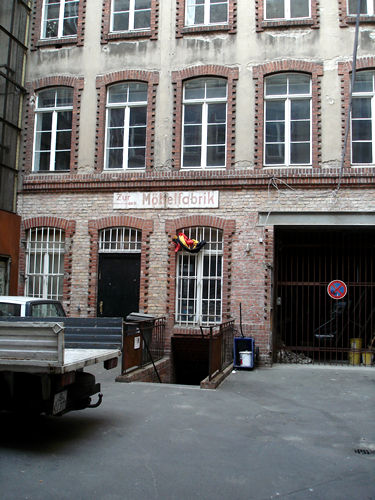 Recipe for a Berliner joint: Keep the building's old name...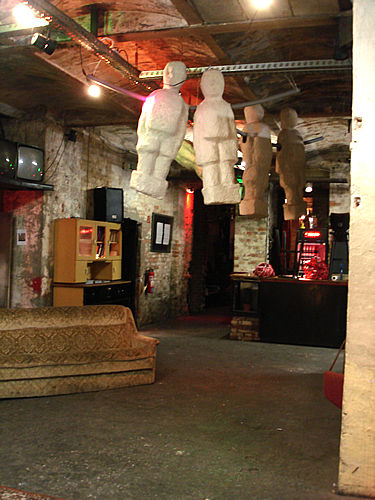 Don't clean up too much. Then add some art and old furniture.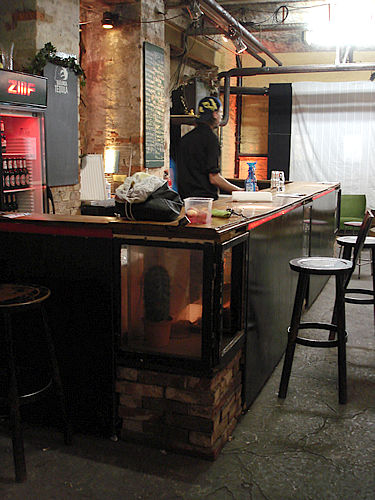 Make a bar and add some funny little details like the cactus.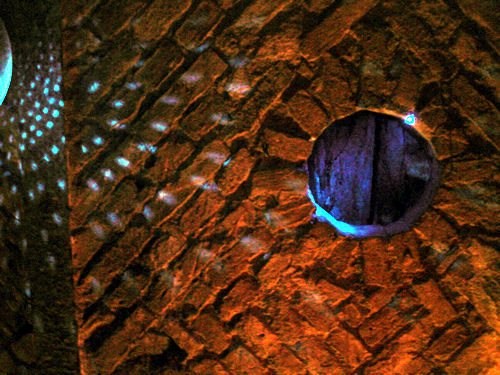 Or light diodes in the ceiling and different places...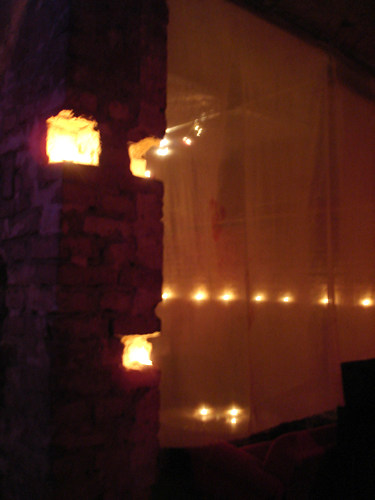 Or add some old school candle lights to fit the old surroundings.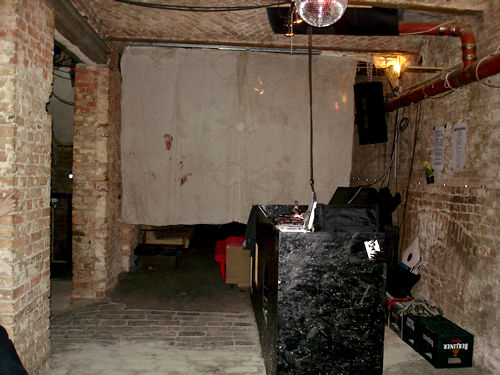 Yeah, 'old' is the word. Super! The air was thick with moisture when we arrived.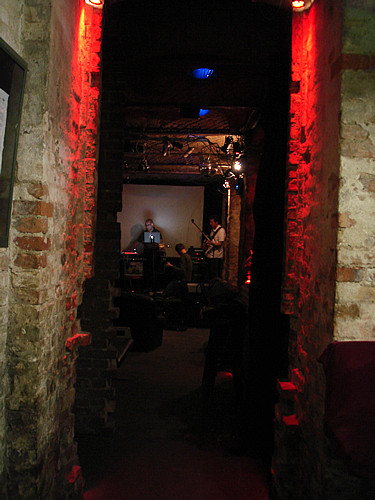 The 9 crew soundchecking.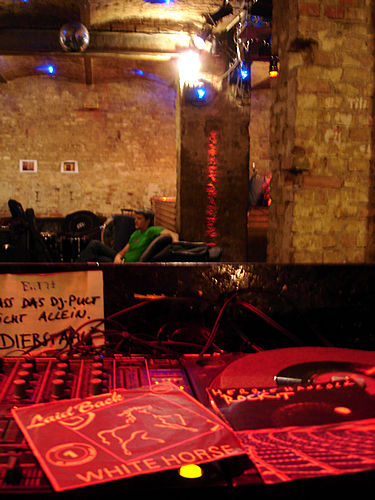 Spinning a few new 1 euro 7-inches bought at Mauerpark: Herbie Hancock and Laid Back.

Wandering around the place a bit.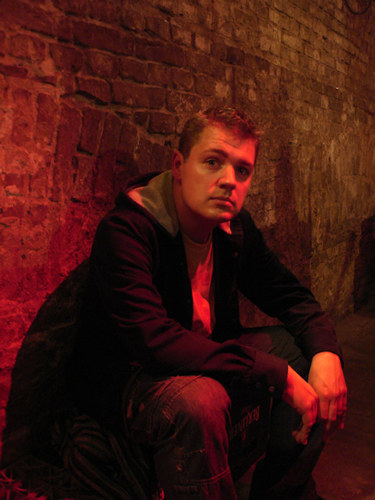 Despite the look here... I was in a really great mood.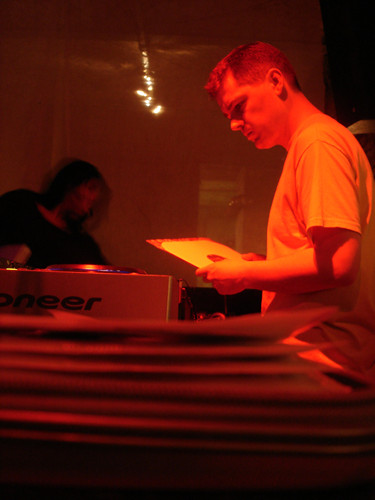 The socalled "Capt. Daydream" in action at the decks.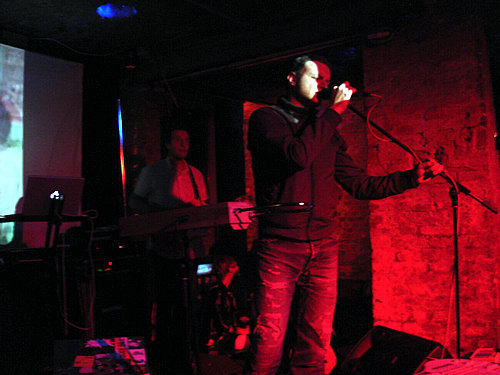 Marco crooning his way through the 9 set with Polsi and the others.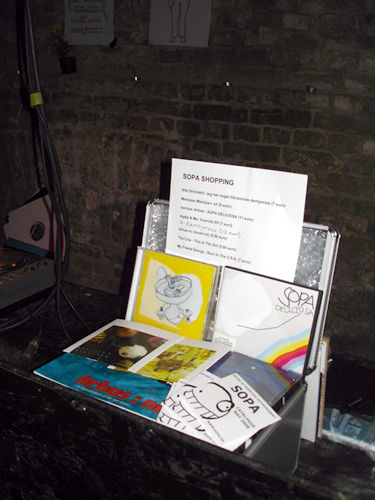 Yup! SOPA shopping is the thing to do!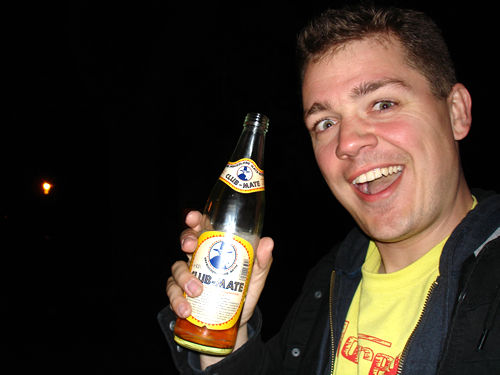 New discovery for me... non-alcoholic 'Klub-Mate'. Damn tasty and good for the
late nights. You can almost see its caffeine protruding from the eyeballs!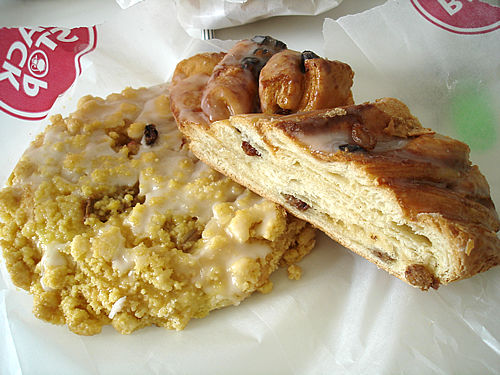 The sin is sweet.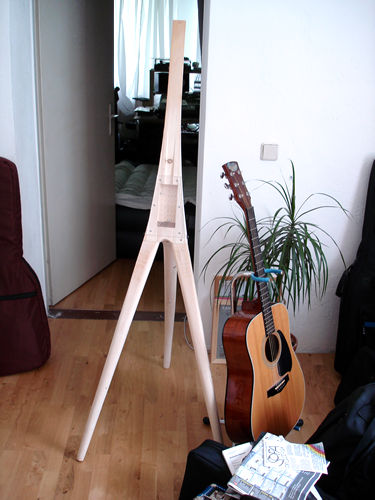 Once the electronics go into Marco's contraption it will become an instrument
of sorts. What will it sound like? And what will it be called? 'Marcotonium'?!