When in need of a break nothing's easier and better than just going for a little trip to Berlin. Didn't have much planned before going on this one. Met up with Aarhus friend and photographer Steffen (a.k.a. Jint) when down there and we hung out a bit soaking up the atmosphere.
On the first night I accidently discovered that Austrialian trio The Necks were playing at Haus Der Kulturen Der Welt at the Tiergarten. Lucky me! Went there. Was extremely tired from the early departure from home that day. I dozed off a few times during the show. Very comfortable seating and the repetitive music just rolled over me in waves. Despite my tired state I seemed to absorb and assimilate the whole thing. Because it was an utterly beautiful experience.
I also dropped by some of the places in Berlin I like the most: Intersoup and Antje Öklesund. That is, besides the record stores which of course I was checking out as well.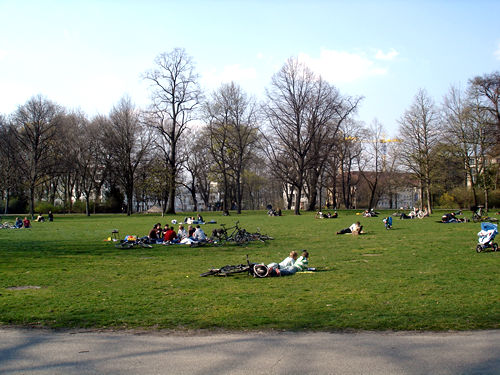 Chilling in the Friedrichshain park.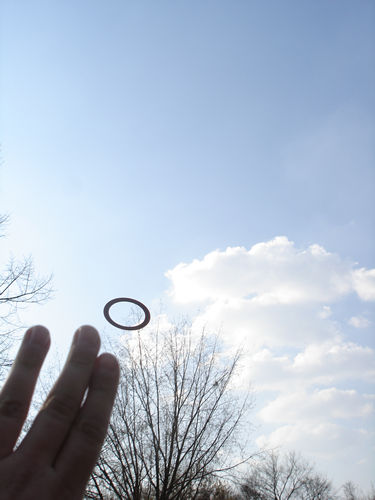 ...With some frisbee'ing!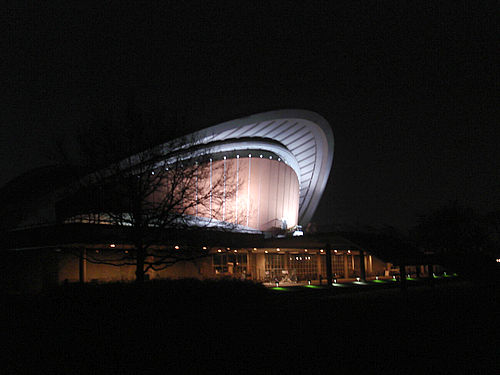 Haus Der Kulturel Der Welt at the Tiergarten.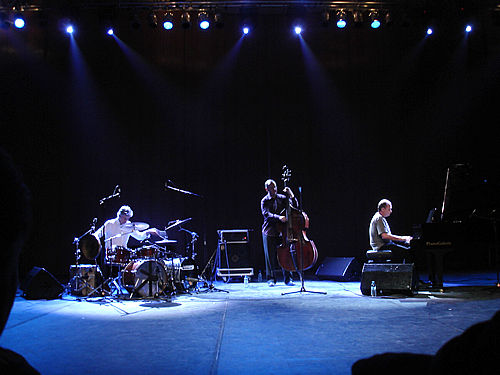 The Necks on stage.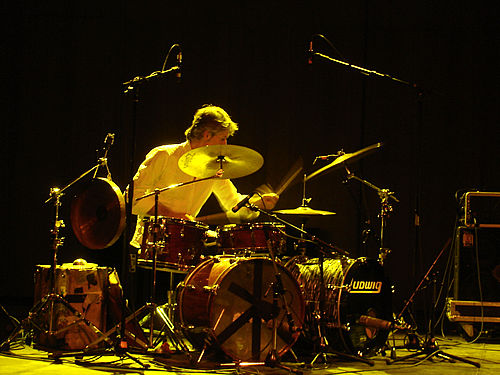 Superb show - just one ever-evolving repetitive tune for the whole gig.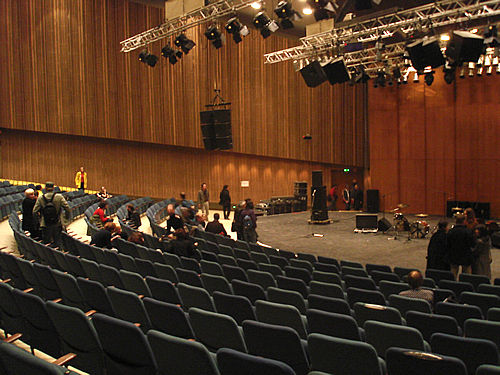 The concert hall after the show.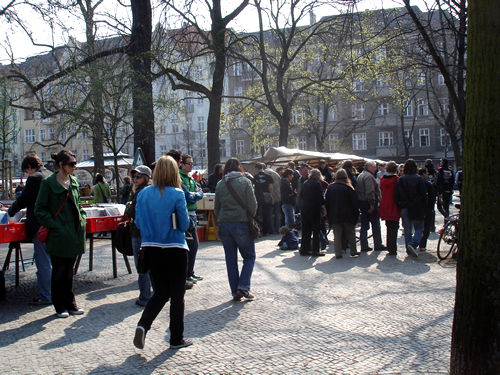 A nice market.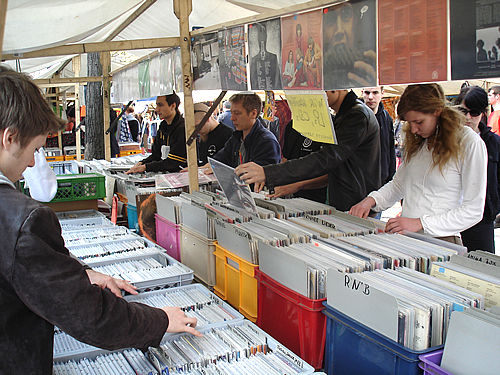 So much nicer than the Danish ones... for obvious reason.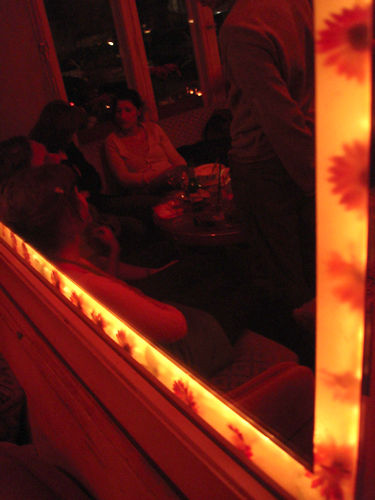 Ambiance at Intersoup.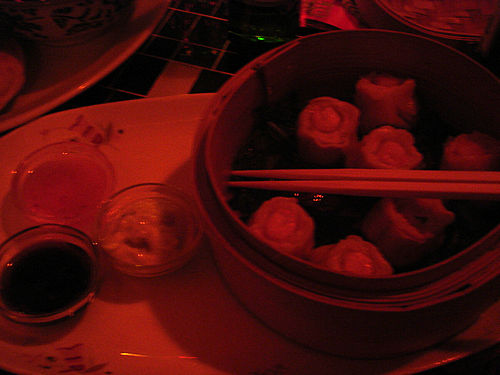 The usual soup-only menu had these nice dumplings added to it. Yummy.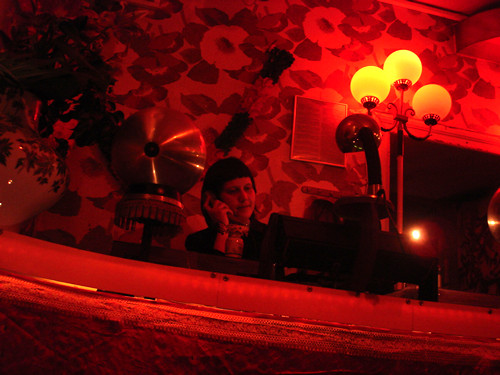 Zelda Panda spinning tunes from her lovely oldies collection. Perfect!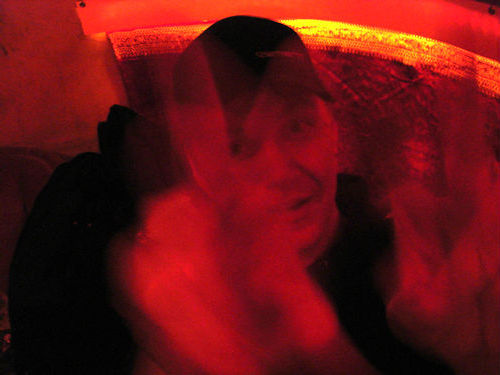 Mr. "Photoshop is your friend" Steffen doing some amazing live photo effects!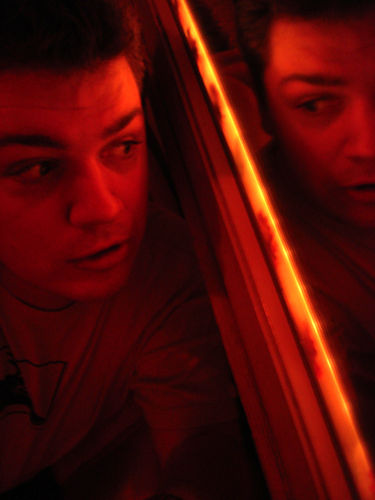 Miwwor miwwor on ze wall, who iz ze fäirest offf zem all?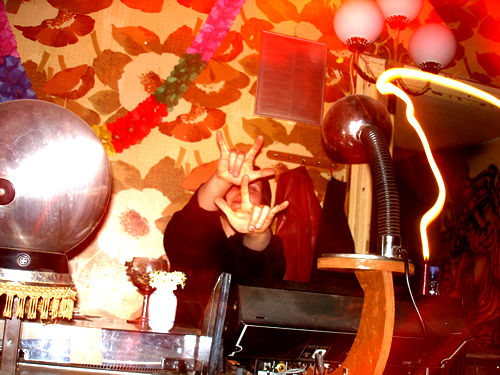 Bill Hicks quote: "Let's say we know for a fact that
rock'n'roll is the devil's music... At least he fucking rocks!"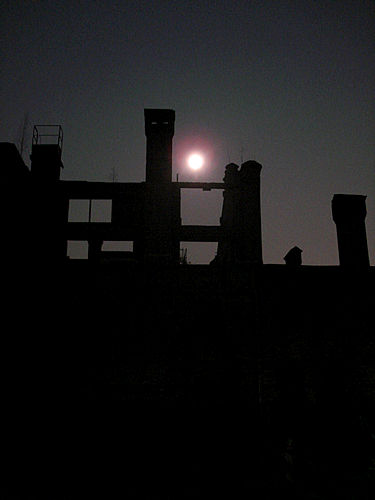 Late night semi-ruin backyard around Friedrichshain.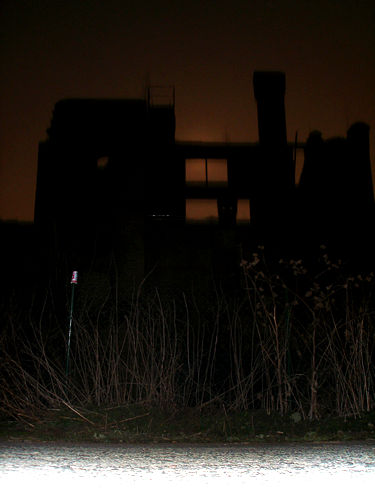 More pseudo arty farty backyard night photography.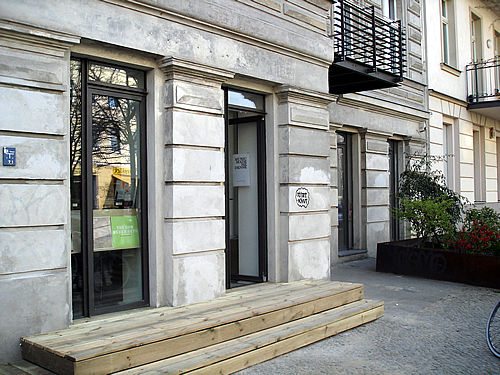 The new Dense Store on Oderberger Strasse.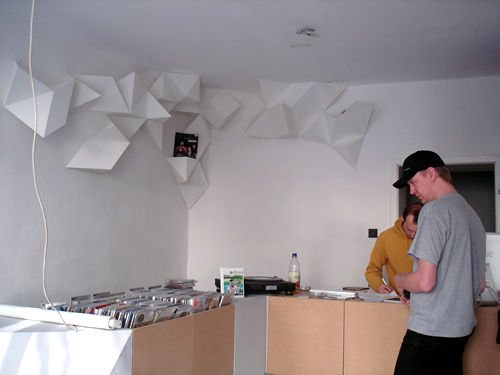 With nice decorations.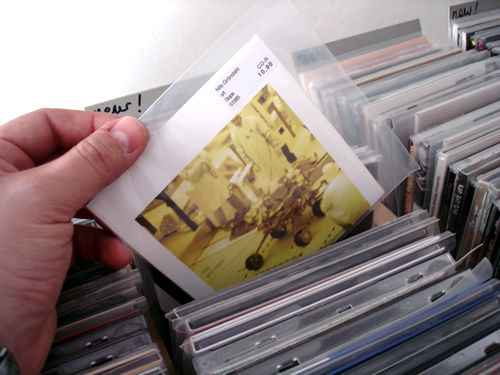 They stock lots of good stuffs. Even SOPA!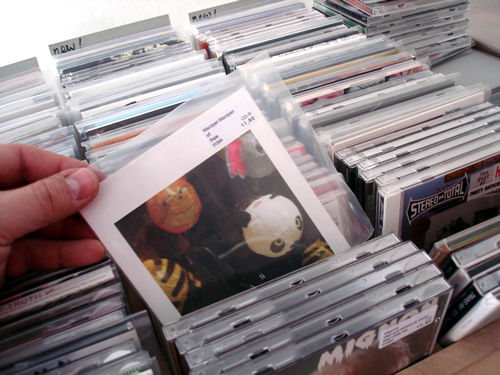 Yeah, everybody loves this one!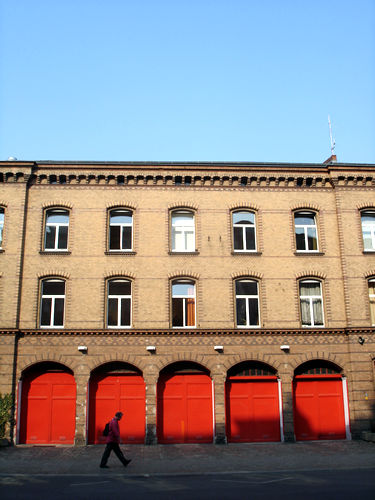 Looks like a fire station. Nice symmetry in Oderberger Strasse.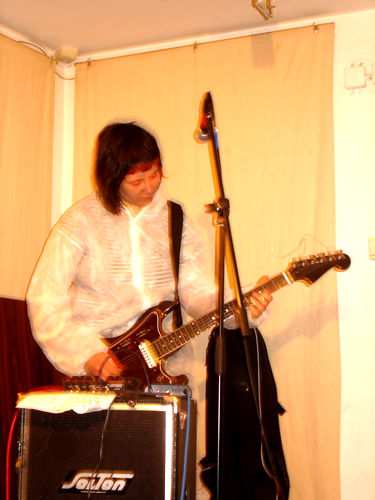 Marzipan Marzipan rehearsal...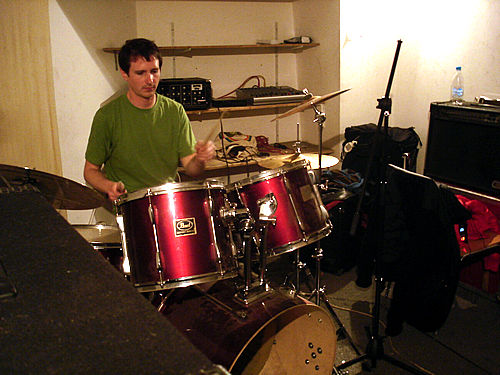 ...With Big Daddy Mugglestone on drums.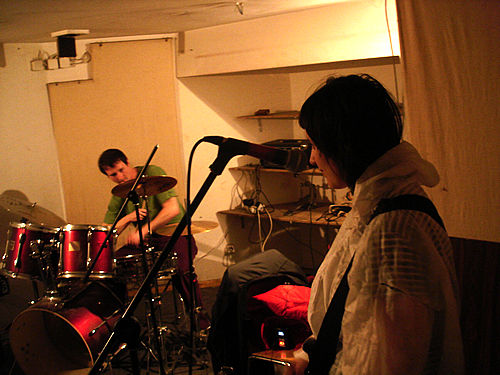 New flavours find their way when the drums meet the marzipan.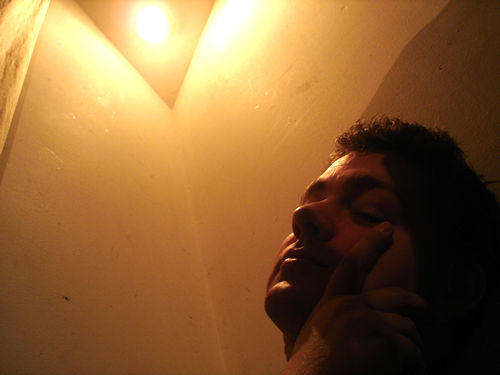 Not taking part in the music, but then just selfportraiting in the corner.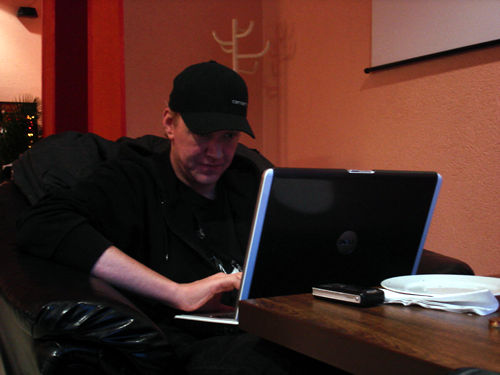 Wireless at the corner of Griefswalder and Am Friedrichshain. Laptop online.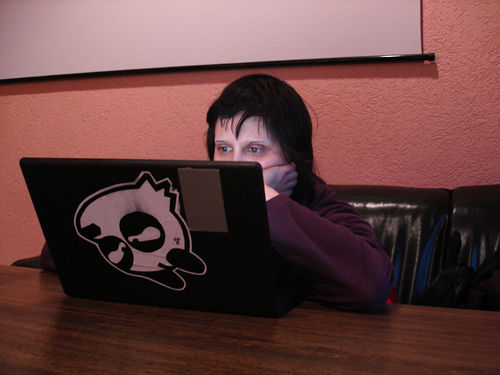 Pandatop online.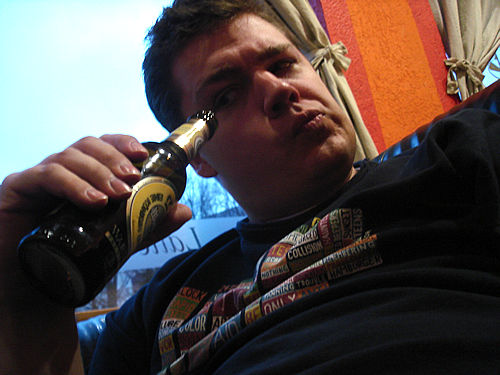 ...And when you didn't bring along your laptop you have to find other things to do.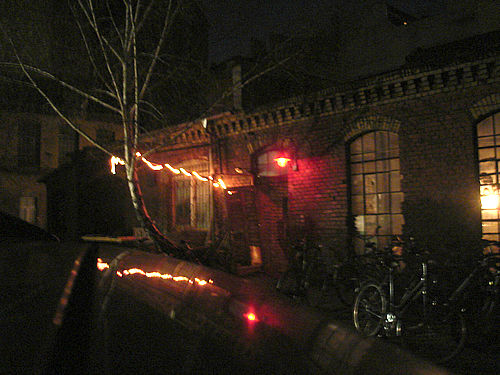 Antje Öklesund - must be one of my favourite places in Berlin.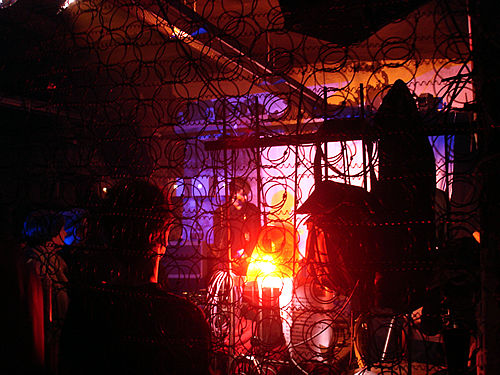 Yeah, that's an upright springy bed we're looking through.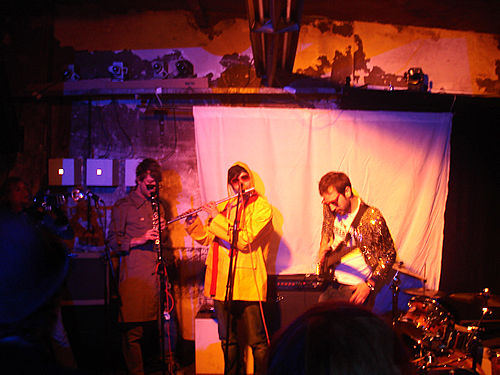 The evening's concept: each band - one song - each dj - also one song.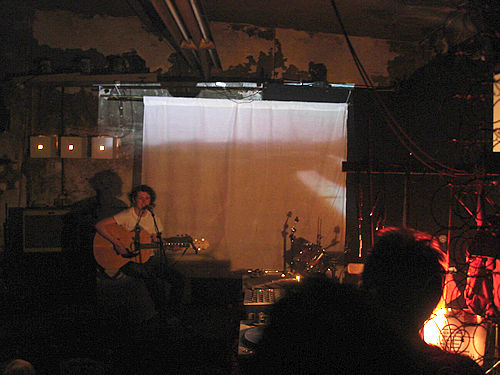 My first taste of the talented Golden Diskó Ship.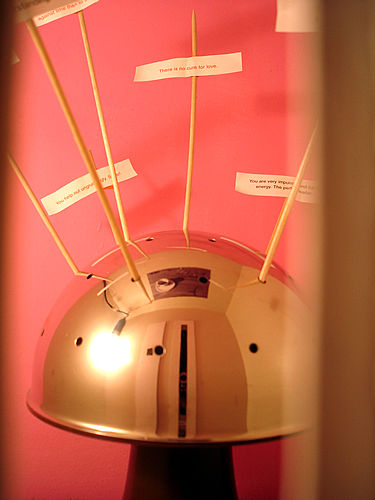 Lots of art there. Some in boxes which require a real close look.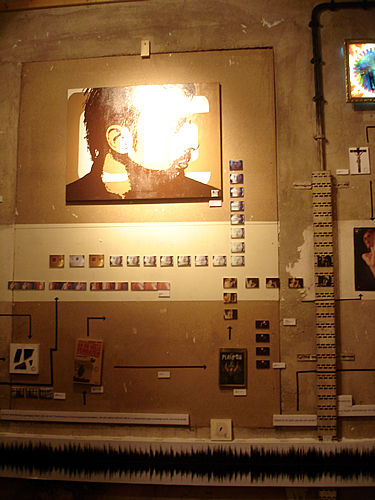 But also lots on the walls.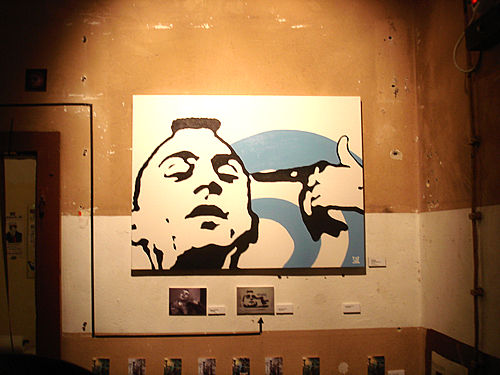 "You talking to me?" Well, just looking. Nice one.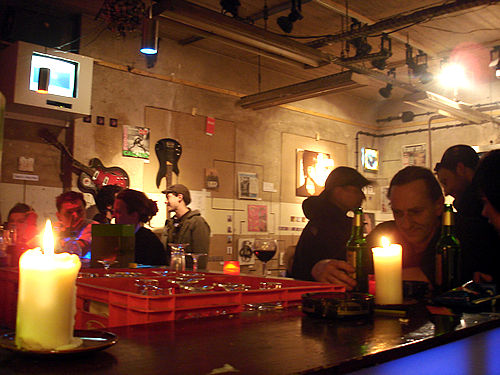 The bar at Antje. The floor crunchy with peanut shells.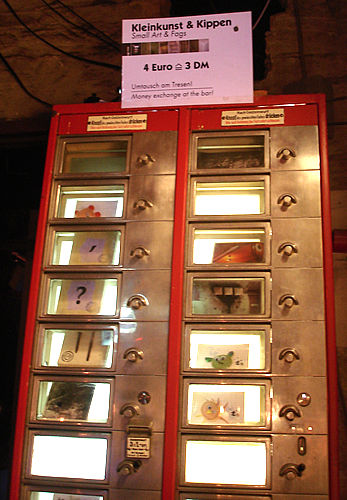 More art in boxes. And this you can buy rather cheap.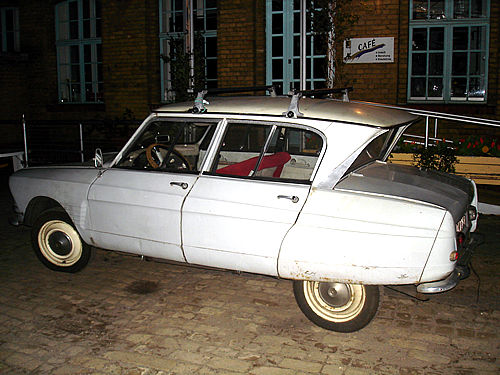 Another reason to love Antje. Owner Thomas' cool ride!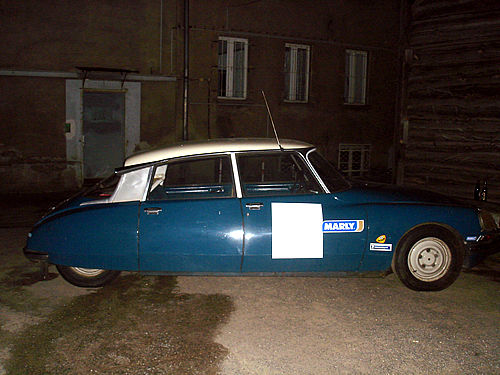 And there was another one!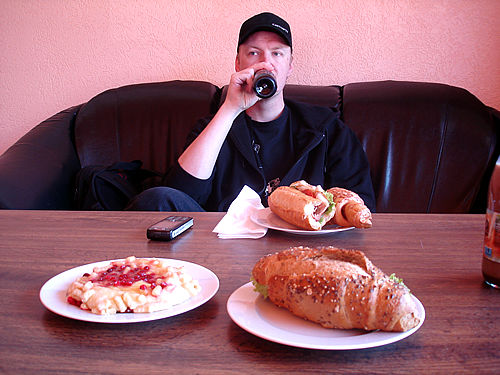 Breakfast and extra sugar intake at the corner of Griefswalder and Am Friedrichshain. Güf!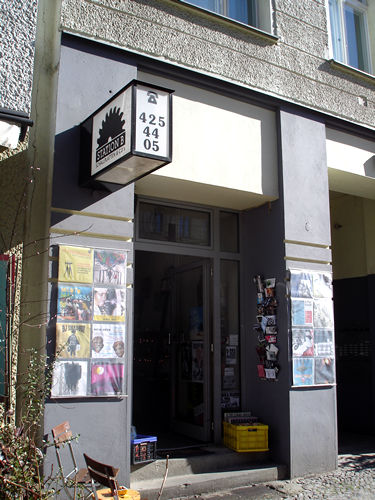 Station B record store, Kastanienallee.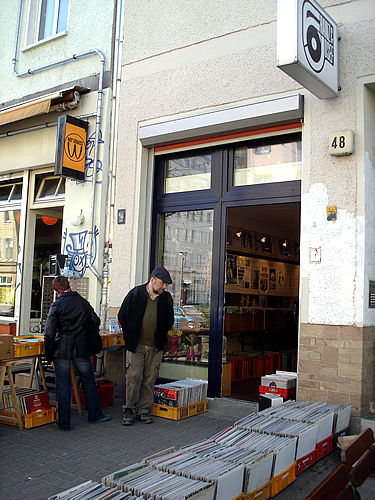 Another store, same street. Found Laurie Anderson's "United States" live 4 LP box there.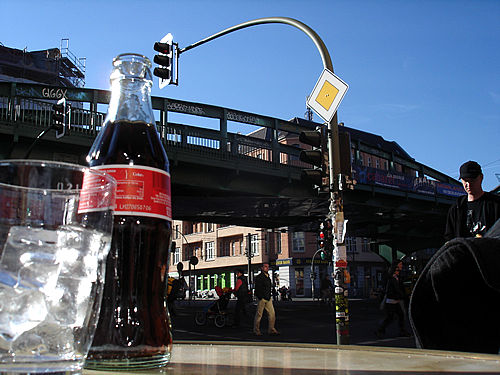 Chillin' on the corner of Danziger and Schönhauser.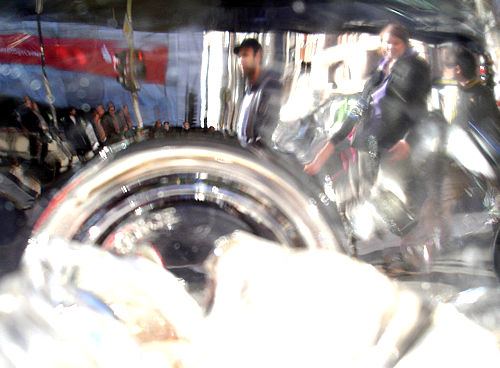 Through the looking glass... or 'Lars in Wunderland'.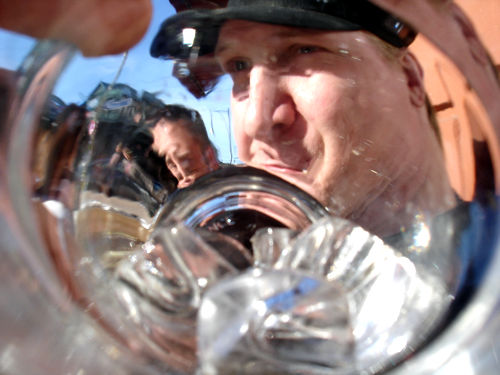 Steffen trying to ignore the idiot with the glass and digicam.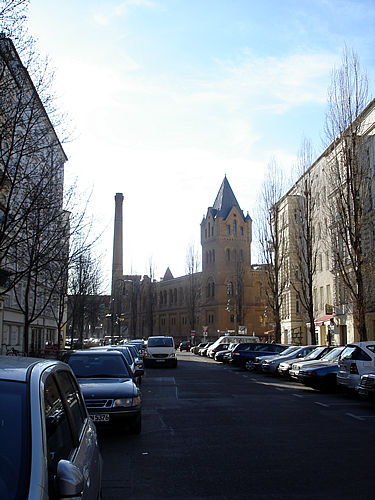 The Kulturbrauerei. Where they brew... culture.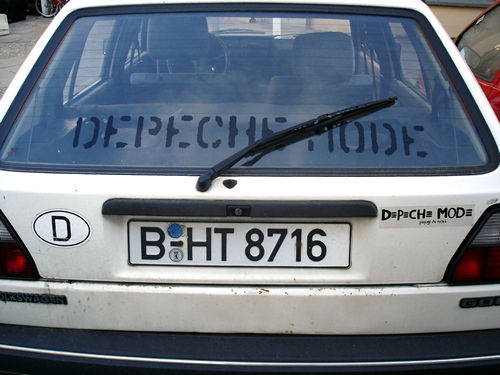 Always big in Germany.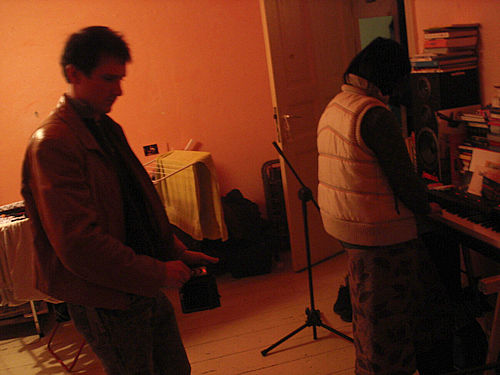 Mr. Mugglestone with chirpy semi-circuit-bent mini-amp jammin' with
the Panda on keyboard and yours truly on guitar somewhere.